Abstract
An experiment was conducted in Nobéré, Burkina Faso to assess the effect of shade of two indigenous fruit trees, Adansonia digitata (Baobab) and Parkia biglobosa (Néré), on a shade-tolerant crop called taro (Colocasia esculenta) in comparison with millet (Pennisetum glaucum) a shade-intolerant crop. Photosynthetically active radiation (PAR) and performance of crops under trees and in the open field were assessed during three cropping seasons. Millet performed better under baobab (806.1 ± 121.48 kg ha−1) compared to the control plot (595.8 ± 83.43 kg ha−1) and néré (320.2 ± 59.91 kg ha−1). In contrast, the yield of taro was higher under néré (4124.0 ± 469.05 kg ha−1) compared to the control plot (2336.9 ± 617.04 kg ha−1) and baobab (2738.3 ± 595.61 kg ha−1). There was a strong relationship between the amount of PAR intercepted by trees and crop yields under trees. As PAR decreased the yield of millet decreased whereas the yield of taro increased. Hence, it was concluded that parkland productivity could be enhanced by cropping taro under néré where light reduction was 83, 56 and 18% in zones A, B and C, respectively. An efficient association of baobab with crops could be the production of taro in zone A and millet in zones B and C where PAR reduction was 62, 38 and 15%, respectively.
Access options
Buy single article
Instant access to the full article PDF.
US$ 39.95
Tax calculation will be finalised during checkout.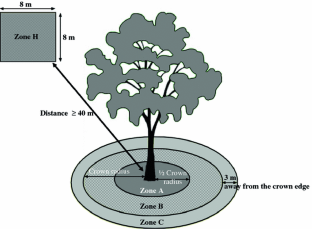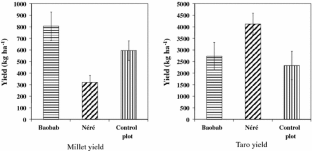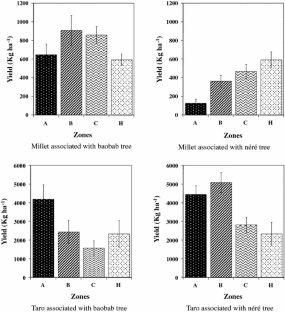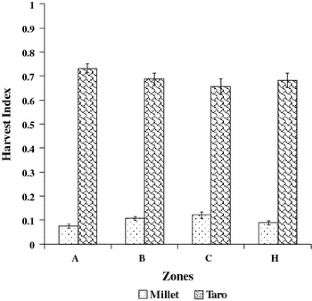 References
Andrews DJ, Kumar KA (2006) Pennisetum glaucum (L) RBr. In: Brink M, Belay G (eds) PROTA 1: Cereals and pulses/Céréales et légumes secs. [CD-Rom]. PROTA, Wageningen, The Netherlands

Bayala J (2002) Tree pruning as a management tool to enhance the productivity of parklands in West Africa. PhD Thesis, school of agricultural and Forest Sciences, University of Wales, Bangor, UK

Bayala J, Teklehaimanot Z, Ouedraogo SJ (2002) Millet production under pruned tree crowns in a parkland system in Burkina Faso. Agroforest Syst 54:203–214

Bayala J, Teklehaimanot Z, Ouédraogo SJ (2004) Fine root distribution of pruned trees and associated crops in parkland system in Burkina Faso. Agroforest Syst 60:13–26

Bayala J, Balesdent J, Marol C, Zapata F, Teklehaimanot Z, Ouédraogo SJ (2006) Relative contribution of trees and crops to soil carbon content in a parkland system in Burkina Faso using variations in natural 13C abundance. Nutr Cycl Agroecosys 76:193–201

Bellow JG, Nair PK (2003) Comparing common methods for assessing understory light availability in shaded-perennial agroforestry systems. Agr Forest Meteorol 114:197–211

Belsky AJ, Amundson RG, Duxbury JM, Riha SJ, Ali AR, Mwonga SM (1989) The effects of trees on their physical, chemical, and biological environments in a semi-arid savanna in Kenya. J Appl Ecol 26:1005–1024

Bieler P (1992) Agronomic and physiological aspects of post-flowering drought tolerance of pearl millet (Pennisetum glaucum (L) R Br) in the Sahel. PhD Dissertation, Swiss Federal Institute of Technology, Zurich

Boffa JM (1999) Agroforestry parklands in sub-Saharan Africa. FAO Conservation Guide 34. Rome, Italy

Boffa JM, Taonda SJ, Dickey JB, Knudson DM (2000) Field-scale influence of karité (Vitellaria paradoxa) on sorghum production in the Sudan zone of Burkina Faso. Agroforest Syst 49:153–175

Breman H, Kessler JJ (1995) Woody plants in agro-ecosystems of semi-arid regions, with an emphasis on the Sahelian countries. Springer Verlag, Berlin

Brookfield H, Padoch C (1994) Appreciating agrodiversity: a look at the dynamism and diversity of indigenous farming practices. Environ 36(5):271–289

Bussel WT, Bonin MJ (1998) Effects of high and low watering levels on growth and development of taro. New Zeal J Crop Hortic Sci 26:313–317

Caesar K (1980) Growth and development of Xanthosoma and Colocasia under different light and water supply conditions. Field Crop Res 3:235–244

Diop AG, Sakho M, Dornie M, Cissé M, Reynes M (2005) Le baobab africain (Adansonia digitata L.): principales caractéristiques et utilisations. Fruits 61(1):55–69

Ekanem AM, Osuji JO (2006) Mitotic index studies on edible cocoyams (Xanthosoma and Colocasia spp.). Afr J Biotechnol 5(10):846–849

Gebauer J, El-Siddig K, Ebert G (2002) Baobab (Adansonia digitata L.): a review on a multipurpose tree with promising future in the Sudan. Gartenbauwissenschaft 67(4):155–160

Gijbers HJ, Kessler JJ, Knevel MK (1994) Dynamics and natural regeneration of woody species in farmed parklands in the Sahel region (Province of Passoré, Burkina Faso). Forest Ecol Manag 64:1–12

Hay R, Porter J (2006) The physiology of crop yield. Blackwell, Oxford (UK)

Johnston M, Onwueme IC (1998) Effect of shade on photosynthetic pigments in the tropical root crops: yam, taro, tannia, cassava and sweet potato. Exp Agr 34:301–312

Jonsson K (1995) Agroforestry in dry savannah areas in Africa: Interactions between trees, soils and crops. PhD dissertation. Swedish University of Agricultural Sciences, Umea, Sweden

Jonsson K, Ong CK, Odongo JC (1999) Influence of scattered néré and karité trees on microclimate, soil fertility and millet yield in Burkina Faso. Exp Agr 35:39–53

Kater LJ, Kante S, Budelman A (1992) Karité (Vitellaria paradoxa) and néré (Parkia biglobosa) associated with crops in South Mali. Agroforest Syst 18:89–105

Kessler JJ (1992) The influence of Karité (Vitellaria paradoxa) and Néré (Parkia biglobosa) trees on sorghum production in Burkina Faso. Agroforest Syst 17:97–118

Kho RM, Yacouba B, Yayé M, Katkoré B, Moussa A, Iktam A, Mayaki A (2001) Separating the effects of trees on crops: the case of Faidherbia albida and millet in Niger. Agroforest Syst 52(3):219–238

Lott JE, Ong CK, Black CR (2009) Understorey microclimate and crop performance in a Grevillea robusta-based agroforestry system in semi-arid Kenya. Agr Forest Meteorol 149:1140–1151

Lu HY, Lu CT, Chan LF, Wei ML (2001) Seasonal variation in linear increase of taro harvest index explained by growing degree days. Agron J 93:1136–1141

Maiga A (1987) L'arbre dans les systèmes agroforestiers traditionnels dans la province de Bazega. Influence du karité, du néré et de l'Acacia albida sur le sorgho et le mil. Ouagadougou: IRBET/CNRST, Ouagadougou, Burkina Faso

Miyasaka SC, Ogoshi RM, Tsuji GY, Kodani LS (2003) Site and planting date effects on taro growth: comparison with aroid model predictions. Agron J 95:545–557

Nikiéma A (2005) Agroforestry parkland species diversity: Uses and management in semi-arid West Africa (Burkina Faso). PhD thesis Wageningen University, Wageningen

Ong CK, Leakey RR (1999) Why tree-crop interactions in agroforestry appear at odds with tree-grass interactions in tropical savannahs. Agroforest Syst 45:109–129

Onwueme I (1999) Taro Cultivation in Asia and the Pacific. FAO, Regional office for Asia and the Pacific, Bangkok, Thailand. www.fao.org/docrep/005/ac450e/ac450e00.html#Contents

Onwueme IC, Johnston M (2000) Influence of shade on stomatal density, leaf size and other characteristics in the major tropical root crops, tannia, sweet potato, yam, cassava and taro. Exp Agr 36:509–516

Osborne CP, Wythe EJ, Ibrahim D, Gilbert ME, Ripley BS (2008) Low temperature effects on leaf physiology and survivorship in the C3 and C4 subspecies of Alloteropsis semialata. J Exp Bot 59(7):1743–1754

Pherson (Mc) HG, Slatyer RO (1973) Mechanisms regulating photosynthesis in Pennisetum thyphoides. Aust J Biol Sci 2:329–339

Rao MR, Nair PK, Ong CK (1998) Biophysical interactions in tropical agroforestry systems. Agroforest Syst 38:3–50

Sanchez PA (1995) Science in agroforestry. Agroforest Syst 30(1–2):1–55

Schaffer B, O'hair SK (1987) Net CO2 assimilation of taro and cocoyam as affected by shading and leaf age. Photosynth Res 11:245–251

Sina S (2006) Reproduction et Diversité Génétique chez Parkia biglobosa (Jacq.) G.Don. PhD Thesis, Wageningen University, Wageningen, the Netherlands

Teklehaimanot Z (2004) Exploiting the potential of indigenous agroforestry trees: Parkia biglobosa and Vitellaria paradoxa in sub-Saharan Africa. Agroforest Syst 61:207–220

Tomlinson H, Traoré A, Teklehaimanot Z (1998) An investigation of the root distribution of Parkia biglobosa in Burkina Faso, West Africa, Using a logarithmic spiral trench. Forest Ecol Manag 107:173–182

Tostain S, Marchais L (1993) Evaluation de la diversité génétique des mils (Pennisetum glaucum (L.) R Br.) au moyen de marqueurs enzymatiques et relation entre formes sauvages et cultivées. In: Hamon S (ed) Le mil en Afrique. Diversité génétique et agro-physiologique: potentialités et contraintes pour l'amélioration génétique et l'agriculture. Colloques et séminaires. ORSTOM, Paris, France, pp 33–52

Van Oosterom EJ, Carberry PS, O'Leary GJ (2001) Simulation, growth, development and yield of tillering pearl millet. I. Leaf area profiles an main shoots and tillers. Field Crops Res 72:51–66

Van Oosterom EJ, Weltzien E, Yadav OP, Bidinger FR (2006) Grain yield components of pearl millet under optimum conditions can be used to identify germplasm with adaptation to arid zones. Field Crops Res 96:407–421

Wilson TD, Brook RM, Tomlinson HF (1998) Interaction between Néré (Parkia biglobosa) and under-planted sorghum in parkland systems in Burkina Faso. Exp Agr 35:85–98

Yang J-D, Zhao H-L, Zhang T-H (2004) Diurnal patterns of net photosynthetic rate, stomatal conductance and chlorophyll fluorescence in leaves of field-grown mungbean (Phaseolus radiatus) and millet (Setaria italica). New Zeal J Crop Hort Sci 32:273–279

Zomboudré G, Zombré G, Ouedraogo M, Guinko S, Roy Macauley H (2005) Réponse physiologique et productivité des cultures dans un système agroforestier traditionnel: cas du maïs (Zea mays L.) associé au karité (Vitellaria paradoxa Gaertn.) dans la zone est du Burkina Faso. Biotechnol Agron Soc Environ 9:75–85
Acknowledgments
This study was funded by the project SAFRUIT/INCO contract number 015465 of the European Commission. Yonli H Hermann is acknowledged for field assistance. We wish to thank the farmers in Nobéré for their permission and participation in the field experiment.
About this article
Cite this article
Sanou, J., Bayala, J., Teklehaimanot, Z. et al. Effect of shading by baobab (Adansonia digitata) and néré (Parkia biglobosa) on yields of millet (Pennisetum glaucum) and taro (Colocasia esculenta) in parkland systems in Burkina Faso, West Africa. Agroforest Syst 85, 431–441 (2012). https://doi.org/10.1007/s10457-011-9405-4
Received:

Accepted:

Published:

Issue Date:
Keywords
Adansonia digitata
Colocasia esculenta

Shading

Parkia biglobosa
Pennisetum glaucum

Shade tolerance