Abstract
Changes in coffee economics are leading producers to reduce agrochemical use and increase the use of shade. Research is needed on how to balance the competition from shade trees with the provision of ecological services to the coffee. In 2000, long-term coffee experiments were established in Costa Rica and Nicaragua to compare coffee agroecosystem performance under full sun, legume and non-legume shade types, and intensive and moderate conventional and organic inputs. Coffee yield from intensive organic production was not significantly different from intensive conventional in Nicaragua, but in Costa Rica it was lower during three of the six harvests. Full sun coffee production over 6 years was greater than shaded coffee in Costa Rica (61.8 vs. 44.7 t ha−1, P = 0.0002). In Nicaragua, full sun coffee production over 5 years (32.1 t ha−1) was equal to coffee with shade that included Tabebuia rosea (Bertol.) DC., (27–30 t ha−1) and both were more productive (P = 0.03) than coffee shaded with Inga laurina (Sw.) Willd. (21.6 t ha−1). Moderate input organic production was significantly lower than other managements under all shade types, except in the presence of Erythrina poepiggina (Walp.) O.F. Cook. Inga and Erythrina had greater basal area and nutrient recycling from prunings than other shade species. Intensive organic production increased soil pH and P, and had higher K compared to moderate conventional. Although legume shade trees potentially provide ecological services to associated coffee, this depends on management of the competition from those same trees.
Access options
Buy single article
Instant access to the full article PDF.
USD 39.95
Price includes VAT (USA)
Tax calculation will be finalised during checkout.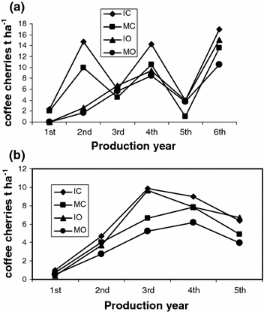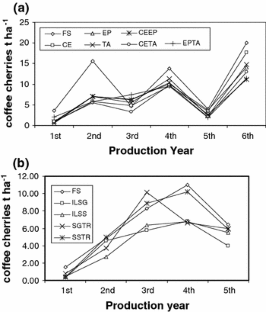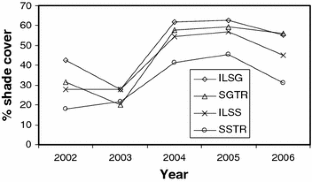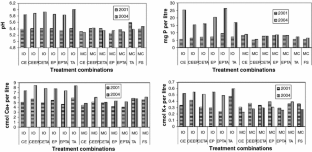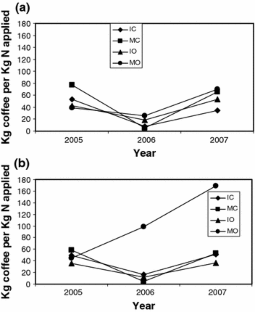 References
Anderson JM, Ingram JSI (1993) Tropical soil biology and fertility. A handbook of methods, 2nd edn. CAB International, UK

Babar L, Zak D (1995) Nitrogen cycling in coffee agroecosystems: net nitrogen mineralization and denitrification in the presence and absence of shade trees. J Environ Qual 24:227–233

Beer J, Muschler R, Somarriba E, Kass D (1998) Shade management in coffee and cacao plantations—a review. Agrofor Syst 38:139–164

CEPAL (2002) Centroamérica, El impacto de la caída de los precios de café en 2001. Comisión Económica para Latinoamérica y el Caribe. LC/MEX/R.822

Fassbender HW (1993) Modelos edafológicos de sistemas agroforestales. Serie de materiales de enseñanza No 3. CATIE, Costa Rica

Fernandez C, Muschler R (1999) Aspectos de la sostenibilidad de los sistemas de cultivo de café en América Central. In: Bertrand B, Rapidel B (eds) Desafíos de la Caficultura en Centroamérica. IICA, Costa Rica, pp 69–96

Guharay F, Monterroso D, Muschler R, Staver C (2001) Designing pest-suppressive multi-strata perennial crop systems: shade-grown coffee in Central America as a case study. Agrofor Syst 53:151–170

Haggar JP, de Melo E, Staver C (2001) Sostenibilidad y sinergismo en sistemas agroforestales con café: estudio de interacciones entre plagas, fertilidad de suelo y árboles de sombra. Agroforestería en Las Américas. 8(29):49–51

Harmand J, Avila H, Dambrine E, Skiba U, de Miguel S, Renderos R, Oliver R, Jimenez F, Beer J (2007) Nitrogen dynamics and soil nitrate retention in a Coffea arabica—Eucalyptus deglupta agroforestry system in Southern Costa Rica. Biogeochemistry 85:125–139

Hergoual'ch K, Harmand J, Skiba U (2007) Soil N2O emissions and carbon balance in coffee monocultures and agroforestry plantations on Andosols in Costa Rica. Proceedings of IUFRO Symposium on Multistrata Agroforestry Systems, CATIE, Costa Rica, Sept 2007. http://web.catie.ac.cr/cd_multiestrata/Poster/session2/Soil.pdf. Cited 15 June 2009

InfoStat (2004). InfoStat versión 2004. Grupo InfoStat, FCA, Universidad Nacional de Córdoba, Argentina

Lemmon P (1956) A spherical densitometer for estimating overstory density. For Sci 2:314–320

Lyngbæk AE, Muschler RG, Sinclair FL (2001) Productivity and profitability of multistrata organic versus conventional coffee farms in Costa Rica. Agrofor Syst 53:205–213

Merlo M (2007) Comportamiento productivo del poró (Erythrina poeppigiana), amarillón (Terminalia amazonia), cashá (Chloroleucon eurycyclum) y el café (Coffea arabica var caturra) en sistemas agroforestales bajo manejo convencionales y orgánicos en Turrialba, Costa Rica. MSc thesis, CATIE, Costa Rica

Montenegro GEJ (2005). Efecto de la dinámica de la materia de nutrientes de la biomasa de tres tipos de árboles de sombra en sistemas de manejo de café orgánico y convencional. MSc thesis, CATIE Costa Rica

Muschler RG (2001) Shade improves coffee quality in a sub-optimal coffee zone of Costa Rica. Agrofor Syst 85:131–139

Palm CA, Gachengo CN, Delve RJ, Cadisch G, Giller KE (2001) Organic inputs for soil fertility management in tropical agroecosystems: application of an organic resource database. Agric Ecosyst Environ 83:27–42

Perfecto I, Rice R, Greenberg R, van der Moort M (1996) Shade coffee: a disappearing refuge for biodiversity. Bioscience 46:598–608

Porras CM (2006) Efecto de los sistemas agroforestales de café orgánico y convencional sobre las características de suelos en el Corredor Biológico Turrialba-Jiménez, Costa Rica. MSc thesis CATIE, Costa Rica

Reynolds J (1991) Soil nitrogen dynamics in relation to groundwater contamination in the Valle Central, Costa Rica. PhD thesis., University of Michigan

Rice R, Ward J (1996) Coffee, conservation, and Ccommerce in the western hemisphere. Smithsonian Migratory Bird Center, National Resources Defense Fund, Washington, DC

Romero SA (2006) Aporte de biomasa y reciclaje de nutrientes en seis sistemas agroforestales de café (Coffea arabica var. Caturra), con tres niveles de manejo. MSc thesis, CATIE, Costa Rica

Siman J (1992) Contradicciones entre decisiones macro y microeconómicas: El caso de café en Nicaragua. El Observador Económico (FIDEG, Managua, Nicaragua) 9:3–4

Van der Vossen HAM (2005) A critical analysis of the agronomic and economic sustainability of organic coffee production. Exp Agric 41:449–473

Virginio Filho E, Haggar JP, Staver CP (2002) Sostenibilidad y sinergismo en sistemas agroforestales con café: Estudio de largo plazo de interacciones agroecológicas. Café y Cacao 3:31–35

Zuluaga J (2004) Dinámica de la material orgánica del suelo en sistemas agroforestales con Erythrina poeppigiana en Costa Rica. MSc thesis, CATIE, Costa Rica
Acknowledgements
This research was conducted with funding from the Norwegian Ministry of Foreign Affairs and United States Department of Agriculture. We acknowledge and thank our research assistants, Elvin Navarette, Ledys Navarette and Luis Romero for their considerable dedication in maintaining these experiments.
About this article
Cite this article
Haggar, J., Barrios, M., Bolaños, M. et al. Coffee agroecosystem performance under full sun, shade, conventional and organic management regimes in Central America. Agroforest Syst 82, 285–301 (2011). https://doi.org/10.1007/s10457-011-9392-5
Received:

Accepted:

Published:

Issue Date:
Keywords
Erythrina poepiggiana

Ecological services

Inga laurina

Nitrogen mineralization

Nutrient balance

Nutrient recycling

Sustainable coffee production

Tabebuia rosea
Terminalia amazonia