Abstract
Silvopastures may have the potential to increase forage yields beneath trees compared to open pasture at some sites. This has been attributed to a combination of factors including improved water use efficiency by shaded grass and increased water availability through hydraulic lift by trees. The objectives of this research were to determine if silvopastures changed forage mass production and available soil water, and to determine how these two factors were related. Forage mass and soil water were sampled at 1.0, 2.0, and 3.6 m from the tree stem, or plot center under honey locust (Gleditsia triacanthos L.), black walnut (Juglans nigra L.) and shade cloth in 2006 and 2007. Soil water was measured in the top 10 cm of soil using a capacitance probe, and at 30-cm intervals, from 45 to 105 cm, using a neutron probe. Forage was collected to determine dry mass and annual yield. In 2006, forage mass was greater under black walnuts and honey locusts than under 70% shade cloth. In 2007, with a 50% shade cloth, forage growth was similar in all treatments. In both 2006 and 2007, soil moisture in the top 10 cm was higher under shade cloth compared to honey locust or black walnut trees. Similarities in forage mass between treatments in 2007 indicate that the differences in soil water were not biologically significant for forage growth. Lower forage mass under the 70% shade cloth in 2006 was due to suppressed growth from intense shading. The major implication for pasture managers is that trees in these pastures had no negative effect on soil water availability and forage growth.
Access options
Buy single article
Instant access to the full article PDF.
USD 39.95
Price excludes VAT (USA)
Tax calculation will be finalised during checkout.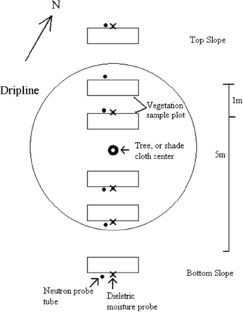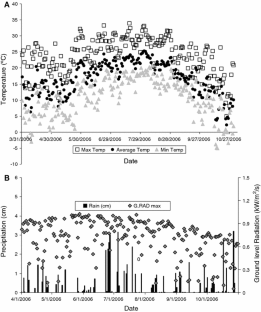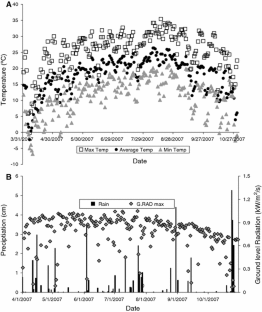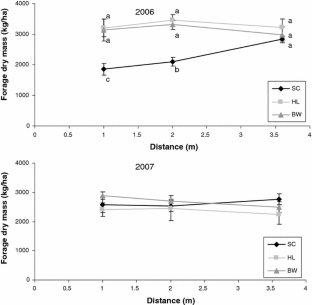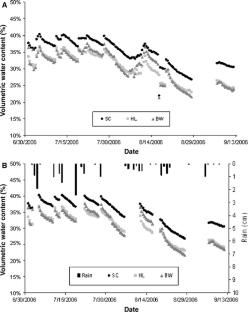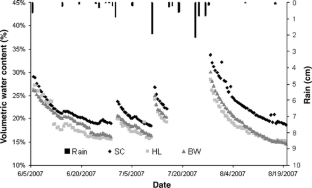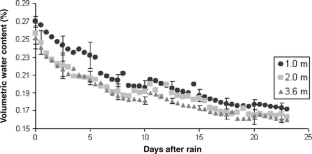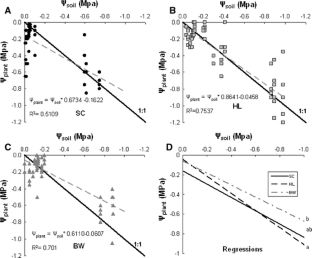 References
Allard G, Nelson CJ, Pallardy SG (1991) Shade effects on growth of tall fescue: I. Leaf anatomy and dry matter partitioning. Crop Sci 31:163–167

Bauerle TL, Richards JH, Smart DR, Eissenstat DM (2008) Importance of internal hydraulic redistribution for prolonging the lifespan of roots in dry soil. Plant Cell Environ 31:177–186

Belesky DP (2005) Growth of Dactylis glomerata along a light gradient in the central Appalachian region of the eastern USA: I. Dry matter production and partitioning. Agrofor Syst 65:81–90

Buergler AL, Fike JH, Burger JA, Feldhake CR, McKenna JA, Teutsch CD (2005) Botanical composition and forage production in an emulated silvopasture. Agron J 97:1141–1147

Burner DM (2003) Influence of alley crop environment on orchardgrass and tall fescue herbage. Agron J 95:1163–1171

Campbell CS (2006) Application note: response of ECH2O soil moisture sensors to temperature variation. Decagon Devices, Inc, Pullman

Clason TR (1999) Silvopastoral practices sustain timber and forage production in commercial loblolly pine plantations of northwest Louisiana, USA. Agrofor Syst 44:293–303

Corak SJ, Blevins DG, Pallardy SG (1987) Water transfer in an alfalfa/maize association: survival of maize during drought. Plant Physiol 84:582–586

Cregger HW, Hudson HC (1985) Soil survey of Montgomery County Virginia. USDA: Soil Conservation Service, Richmond

Cruz P (1997) Effect of shade on the growth and mineral nutrition of a C4 perennial grass under field conditions. Plant Soil 188:227–237

Dawson TE (1993) Hydraulic lift and water use by plants: implications for water balance, performance and plant-plant interactions. Oecologia 95:565–574

Espeleta JF, West JB, Donovan LA (2004) Species-specific patterns of hydraulic lift in co-occuring adult trees and grasses in a sandhill community. Oecologia 138:341–349

Feldhake CM (2002) Forage frost protection potential of conifer silvopastures. Agric For Meteorol 112:123–130

Fernández ME, Gyenge J, Licata J, Schlichter T, Bond BJ (2008) Belowground interactions for water between trees and grasses in a temperate semiarid agroforestry system. Agrofor Syst 74:185–197

Garrett HE, Kerley MS, Ladyman KP, Walter WD, Godsey LD, Van Sambeek JW, Brauer DK (2004) Hardwood silvopasture management in North America. Agrofor Syst 61:21–33

Green S, Clothier B (1999) The root zone dynamics of water uptake by a mature apple tree. Plant Soil 206:61–77

Hirota I, Sakuratani T, Sato T, Higuchi H, Nawata E (2004) A split-root apparatus for examining the effects of hydraulic lift by trees on the water status of neighbouring crops. Agrofor Syst 60:181–187

Ishikawa CM, Bledsoe CS (2000) Seasonal and diurnal patterns of soil water potential in the rhizosphere of blue oaks: evidence for hydraulic lift. Oecologia 125:459–465

Jose S, Gillespie AR, Pallardy SG (2004) Interspecific interactions in temperate agroforestry. Agrofor Syst 61:237–255

Kallenbach RL, Kerley MS, Bishop-Hurley GJ (2006) Cumulative forage production, forage quality and livestock performance from an annual ryegrass and cereal rye mixture in a pine-walnut silvopasture. Agrofor Syst 66:43–53

Kohli A, Saini BC (2003) Microclimate modification and response of wheat planted under trees in a fan design in northern India. Agrofor Syst 58:109–118

Leffler AJ, Peek SM, Ryel RJ, Ivans CY, Caldwell MM (2005) Hydralic redistribution through the root systems of senesced plants. Ecology 86:633–642

Lehmann L, Peter I, Steglich C, Gebauer G, Huwe B, Zech W (1998) Below-ground interactions in dryland agroforestry. For Ecol Manage 111:157–169

Ludwig F, Dawson T, Kroon H, Berendase F, Prins HHT (2003) Hydraulic lift in Acacia tortilis trees on an East African savanna. Oecologia 134:293–300

Peñuelas J, Filella I (2003) Deuterium labeling of roots provide evidence of deep water access and hydraulic lift by Pinus nigra in a Mediterranean forest of NE Spain. Environ Exp Bot 49:2001–2008

Weltzin JF, McPherson GR (1997) Spatial and temporal soil moisture resource partitioning by trees and grasses in a temperate savanna, Arizona, USA. Oecologia 112:156–164

Wilson JR (1996) Shade-stimulated growth and nitrogen uptake by pasture grasses in a subtropical environment. Aust J Agric Resour 47:1075–1093

Wilson SD (1998) Competition between grasses and woody plants. In: Cheplick GP (ed) Population biology of grasses. Cambridge University Press, Cambridge, pp 231–254

Yoder CK, Nowak RS (1999) Hydraulic lift among native plant species in the Mojave Desert. Plant Soil 215:93–102

Zou CB, Barnes PW, Archer S, McMurtry CR (2005) Soil moisture redistribution as a mechanism of facilitation in savanna tree-shrub clusters. Oecologia 145:32–40
About this article
Cite this article
DeBruyne, S.A., Feldhake, C.M., Burger, J.A. et al. Tree effects on forage growth and soil water in an Appalachian silvopasture. Agroforest Syst 83, 189–200 (2011). https://doi.org/10.1007/s10457-011-9376-5
Received:

Accepted:

Published:

Issue Date:

DOI: https://doi.org/10.1007/s10457-011-9376-5
Keywords