Abstract
Nitrogen inputs from biological nitrogen fixation contribute to productivity and sustainability of agroforestry systems but they need to be able to offset export of N when trees are harvested. This study assessed magnitudes of biological nitrogen fixation (natural 15N abundance) and N balance of Acacia mangium woodlots grown in farmer's fields, and determined if N2 fixation capacity was affected by tree age. Tree biomass, standing litter, understory vegetation and soil samplings were conducted in 15 farmer's fields growing A. mangium as a form of sequential agroforestry in Claveria, Misamis Oriental, Philippines. The trees corresponded to ages of 4, 6, 8, 10 and 12 years, and were replicated three times. Samples from different plant parts and soils (0–100 cm) were collected and analyzed for δ15N and nutrients. The B-value, needed as a reference of isotopic discrimination when fully reliant on atmospheric N, was generated by growing A. mangium in an N2-free sand culture in the glasshouse. Isotopic discrimination occurring during N2 fixation and metabolic processes indicated variation of δ15N values in the order of nodules > old leaves > young leaves > stems > litterfall and roots of the trees grown in the field, with values ranging from −0.8 to 3.5‰ except nodules which were enriched and significantly different from other plant parts (P < 0.0001). Isotopic discrimination was not affected by tree age (P > 0.05). Plants grown in N free sand culture exhibited the same pattern of isotopic discrimination as plants grown in the field. The estimated B-value for the whole plant of A. mangium was −0.86‰. Mature tree stands of 12 years accumulated up to 1994 kg N ha−1 in aboveground biomass. Average proportion of N derived from N2 fixation of A. mangium was 54% (±22) and was not affected by age (P > 0.05). Average yearly quantities of N2 fixed were 128 kg N ha−1 in above-ground biomass amounting to 1208 kg N fixed ha−1 over 12 years. Harvest of 12-year old trees removed approximately 91% of standing aboveground biomass from the site as timber and fuel wood. The resulting net N balance was +151 kg N ha−1 derived from remaining leaves, twigs, standing litter, and +562 kg N ha−1 when tree roots were included in the calculation. The fast growing A. mangium appears to be a viable fallow option for managing N in these systems. However, other nutrients have to be replaced by using part of the timber and fuel wood sales to compensate for large amounts of nutrient removed in order for the system to be sustainable.
Access options
Buy single article
Instant access to the full article PDF.
USD 39.95
Price includes VAT (USA)
Tax calculation will be finalised during checkout.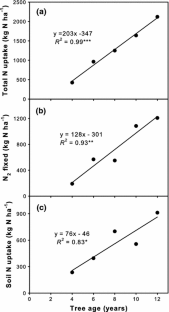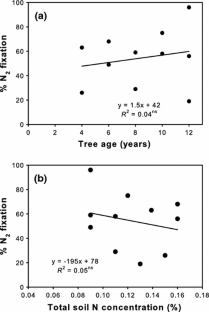 References
Albrecht A, Cadisch G, Blanchart E, Sitompul SM, Vanlauwe B (2004) Below-ground inputs: relationships with soil quality, soil C storage and soil structure. In: Van Noordwijk M, Cadisch G, Ong C (eds) Belowground interactions in tropical agroecosystems with multiple plant components. CAB International, Wallingford, UK, pp 193–207

Bala A, Giller KE (2001) Symbiotic specifity of tropical tree rhizobia for host legumes. New Phytol 149:495–507

Bingham IJ, Glass ADM, Kronzucker HJ, Robinson D (2000) Isotope techniques. In: Smit AL, Bengough AG, Engels C, van Noordjwick M, Pellerin S, van de Geijen SC (eds) Root methods: a handbook. Springer, Berlin, Germany, pp 365–402

Bouillet JP, Laclau JP, Gonzalves JLM, Moreira MZ, Trivelin PCO, Jourdan C, Silva EV, Piccolo MC, Tsai SM, Galiana A (2008) Mixed-species plantations of Acacia mangium and Eucalyptus grandis in Brazil. 2: Nitrogen accumulation in the stands and biological N2 fixation. For Ecol Manag 255:3918–3930

Brockwell J, Searle SD, Jeavons AC, Waayers M (2005) Nitrogen fixation in Acacias: an untapped resource for sustainable plantations, farm forestry and land reclamation. ACIAR Monograph No 115. Australian Center for Agricultural Research, Canberra, Australia

Cadisch G, Sylvester-Bradley R, Nösberger J (1989) 15N based estimation of nitrogen fixation of eight tropical forage legumes at two levels of P:K supply. Field Crops Res 22:181–194

Cadisch G, Hairiah K, Giller KE (2000) Applicability of the natural 15N abundance technique to measure N2 fixation in Arachis hypogaea grown on an Ultisol. Netherlands J Agric Sci 48:31–45

Galiana A, Gnahoua GM, Chaumont J, Lesueur D, Prin Y, Mallet B (1998) Improvement of nitrogen fixation in Acacia mangium through inoculation with rhizobium. Agrofor Sys 40:297–307

Gathumbi SM, Cadisch G, Giller KE (2002) 15N natural abundance as a tool for assessing N2-fixation of herbaceous, shrub and tree legumes in improved fallows. Soil Biol Biochem 34:1059–1071

Giller KE (2001) Nitrogen fixation in tropical cropping systems, 2nd edn. CAB International, Wallingford, UK, p 448

Giller KE, Cadisch G (1995) Future benefits from biological nitrogen fixation: an ecological approach to agriculture. Plant Soil 174:255–277

Guha A (1988) Nutritional studies of Acacia mangium—a pot culture experiment. Report, Agricultural Research and Advisory Bureau, Sabah Forestry Development Authority, Sabah, Malaysia, p 14

Hairiah K, Van Noordwijk M, Cadisch G (2000) Biological N2 fixation of hedgerow trees in N. Lampung. Netherlands J Agric Sci 48:47–59

Handayanto E, Giller KR, Cadisch G (1997) Regulating N release from legume tree prunings by mixing residues of different quality. Soil Biol Biochem 29:1417–1426

Hewitt EJ (1952) Sand and water culture methods used in the study of plant nutrition. C.A.B, Farnham Royal, p 241

Högberg P (1997) Tansley review no. 95 natural abundance in soil-plant systems. New Phytol 137:179–203

Khanna PK (1998) Nutrient cycling under mixed-species tree systems in southeast Asia. Agrofor Syst 38:99–120

Leblanc HA, McGraw RL, Nygren P (2007) Dinitrogen-fixation by three neotropical agroforestry tree species under semi-controlled field conditions. Plant Soil 291:199–209

Ledgard SF, Peoples MB (1988) Measurement of nitrogen fixation in the field. In: Wilson JR (ed) Advances in nitrogen cycling in agricultural ecosystems. CAB International, Wallingford, UK, pp 351–367

Lesueur D, Diem HG (1997) The requirement of iron for modulation and growth of Acacia mangium. Can J For Res 27:686–692

Lesueur D, Diem HG, Dianda M, Le Roux C (1993) Selection of Bradyrhizobium strains and provenances of Acacia mangium and Faidherbia albida: relationship with their tolerance to acidity and aluminium. Plant Soil 149:159–166

Magbanua RD, Garrity DP (1988) Acid upland rice ecosystems: micro-level analysis of the Claveria research site. Acid upland research design workshop. International Rice Research Institute (IRRI). Los Banos, Laguna, Philippines, pp 34–42

Mansur I (2000) Diversity of Rhozobia nodulating the tree legumes, Acacia mangium and Paraserianthes falcataria, and their interaction with arbuscular mycorrhizal fungi in young seedlings. PhD Thesis, University of Kent, Canterbury, United Kingdom

Mead DJ, Speechly HT (1991) Acacia mangium for high quality sawlogs in Peninsular Malaysia. In: Abod SA (ed) Recent developments in tree plantations of humid/subhumid tropics of Asia. Faculty of Forestry, Universiti Pertanian Malaysia, Perdang, Malaysia, pp 54–71

Mercado JAR (2007) Potential of timber based hedgerow intercropping for smallholder agroforestry on degraded soils in the humid tropics of Southeast Asia. PhD thesis, Institute of Plant Production and Agroecology in the Tropics and Subtropics, University of Hohenheim, Stuttgart, Germany, 216 pp

Niklas KJ, Enquist BJ (2002) Canonical rules for plant organ biomass partitioning and annual allocation. Am J Bot 89:812–819

Nygren P, Leblanc HA (2009) Natural abundance of 15N in two cacao plantations with legume and non-legume shade trees. Agrofor Syst 76:303–315

Palm CA, Gachengo C, Delve R, Cadisch G, Giller KE (2001) Organic inputs for soil fertility management in tropical agroecosystems: Application of an organic resource database. Agric Ecosyst Environ 83:27–42

Parrotta JA, Baker DD, Fried M (1996) Changes in dinitrogen fixation in maturing stands of Casuarina equisetifolia and Leucaena leucocephala. Can J For Res 26:1684–1691

Peoples MB, Bergersen FJ, Turner GL, Sampet C, Berkasem B, Bhromsiri A, Nurhayati DP, Faizah AW, Sudin MN, Norhayati M, Herridge DF (1991) Use of the natural enrichment of 15N in plant available soil N for the measurement of symbiotic N2 fixation. In: EA IA (ed) Stable isotopes in plant nutrition, soil fertility and environmental studies. IAEA, Vienna, pp 117–129

Poorter H, Nagel O (2000) The role of biomass allocation in the growth response of plants to different levels of light, CO2, nutrients and water: a quantitative review. Aust J Plant Physiol 27:595–607

Shearer G, Kohl DH (1986) N2-fixation in field settings: estimations based on natural 15N abundance. Aust J Plant Physiol 13:699–756

Torquebiau EF, Kwesiga F (1996) Root development in a Sesbania sesban fallow-maize system in Eastern Zambia. Agrofor Syst 34:193–211

Turpin JE, Herridge DF, Robertson MJ (2002) Nitrogen fixation and soil nitrate interactions in field-grown chickpea (Cicer arietinum) and fababean (Vicia faba). Aust J Agric Res 53:599–608

Unkonvich M, Herridge D, Peoples M, Cadisch G, Boddey B, Giller KE, Alves B, Chalk P (2008) Measuring plant-associated nitrogen fixation in agricultural systems. ACIAR Monograph 136. Australian Center for Agricultural Research, Canberra, Australia, p 258

Unkovich MJ, Pate JS, Sanford P, Armstrong EL (1994) Potential precision of the delta 15N natural abundance method in field estimates of nitrogen fixation by crop and pasture legumes in south-west Australia. Aust J Agric Res 45:119–132

van Kessel C, Farell RE, Roskoski JP, Kaene KM (1994) Recycling of the naturally occuring 15N in an established stand of Leucaena leucocephala. Soil Biol Biochem 26:757–762

Van Noordwijk M, Hairiah K, Lusiana B, Cadisch G (1996) Tree-soil-crop interactions in sequential and simultaneous agroforestry systems. In: Bergstrom L, Kirchmann H (eds) Carbon and nutrient dynamics in natural and agricultural tropical ecosystems. CAB International, Wallingford, UK, pp 173–189

Van Noordwijk M, Rahayu S, Hairiah K, Wulan YC, Farida A, Verbist B (2002) Carbon stock assessment for a forest-to-coffee conversion landscape in Sumber-Jaya (Lampung, Indonesia): from allometric equations to land use change analysis. Sci China 45:75–86

Youpensuk S, Lumyong S, Dell B, Rerkasem B (2004) Arbuscular mycorrhizal fungi in the rhizosphere of Macaranga denticulata Muell. Arg., and their effect on the host plant. Agrofor Syst 60:239–246
About this article
Cite this article
Mercado, A.R., Van Noordwijk, M. & Cadisch, G. Positive nitrogen balance of Acacia mangium woodlots as fallows in the Philippines based on 15N natural abundance data of N2 fixation. Agroforest Syst 81, 221–233 (2011). https://doi.org/10.1007/s10457-010-9309-8
Received:

Accepted:

Published:

Issue Date:
Keywords
N2 fixation

B value

Isotopic discrimination