Abstract
The importance of agroforestry systems as carbon sinks has recently been recognized due to the need of climate change mitigation. The objective of this study was to compare the carbon content in living biomass, soil (0–10, 10–20, 20–30 cm in depth), dead organic matter between a set of non-agroforestry and agroforestry prototypes in Chiapas, Mexico where the carbon sequestration programme called Scolel'te has been carried out. The prototypes compared were: traditional maize (rotational prototype with pioneer native trees evaluated in the crop period), Taungya (maize with timber trees), improved fallow, traditional fallow (the last three rotational prototypes in the crop-free period), Inga-shade-organic coffee, polyculture-shade organic coffee, polyculture-non-organic coffee, pasture without trees, pasture with live fences, and pasture with scattered trees. Taungya and improved fallow were designed agroforestry prototypes, while the others were reproduced traditional systems. Seventy-nine plots were selected in three agro-climatic zones. Carbon in living biomass, dead biomass, and soil organic matter was measured in each plot. Results showed that carbon in living biomass and dead organic matter were different according to prototype; while soil organic carbon and total carbon were influenced mostly by the agro-climatic zone (P < 0.01). Carbon density in the high tropical agro-climatic zone (1,000 m) was higher compared to the intermediate and low tropical agro-climatic zones (600 and 200 m, respectively, P < 0.01). All the systems contained more carbon than traditional maize and pastures without trees. Silvopastoral systems, improved fallow, Taungya and coffee systems (especially polyculture-shade coffee and organic coffee) have the potential to sequester carbon via growing trees. Agroforestry systems could also contribute to carbon sequestration and reducing emissions when burning is avoided. The potential of organic coffee to maintain carbon in soil and to reduce emissions from deforestation and ecosystem degradation (REDD) is discussed.
Access options
Buy single article
Instant access to the full article PDF.
USD 39.95
Price excludes VAT (USA)
Tax calculation will be finalised during checkout.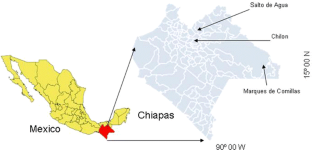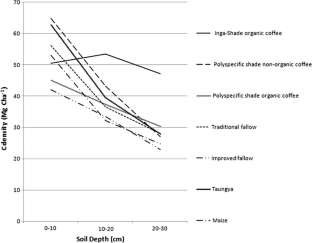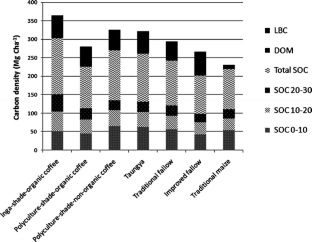 References
Acosta M (2003) Diseño y aplicación de un método para medir los almacenes de carbono en sistemas con vegetación forestal agrícola de ladera de México. Colegio de Postgraduados, Instituto de Recursos Naturales, Programa Forestal. Doctoral Thesism, Montecillo, Mexico, 121 p

Albrecht A, Kandji ST (2003) Carbon sequestration in tropical agroforestry systems. Agric Ecosyst Environ 99:15–27

Albrecht A, Cadisch G, Blanchart E, Sitompul SM, Vanlauwe B (2004) Below-ground inputs: relationships with soil quality, soil C storage and soil structure. In: van Noordwijk M, Cadisch G, Ong CK (eds) Below-ground interactions in tropical agroecosystems. CAB International, Wallingford, pp 193–207

Anderson JM, Ingram JSI (1993) Tropical soil biology and fertility: a handbook of methods. CAB International, UK

BSAS (2008) Livestock and global climate change. Cambridge University Press. British Society of Animal Science, UK 216 p

Batjes NH (1999) Management options for reducing CO2-concentrations in the atmosphere by increasing carbon sequestration in the soil. NRP report: 410-200-131, International Soil Reference and Information Centre, Wageningen

Brown S (1996) Present and potential roles of forests in the global climate change debate. Unasylva 185:3–10

Brown S (1997) Estimating biomass and biomass change of tropical forests. A primer. FAO Forestry Paper No.134. Rome, Italy

Cairns MA, Brown S, Helmer EH, Baumgardner EH (1997) Root biomass allocation in the world's upland forest. Oecología 111:1–11

Callo-Concha DA (2001) Cuantificación del carbono secuestrado por algunos sistemas agroforestales y testigos en tres pisos ecológicos de la Amazonia el Perú. Universidad Autónoma Chapingo. Master in Science in Agroforestry for Sustainable Development. Mexico, 72 p

Canadell JG, Raupach MR (2008) Managing forests for climate change mitigation. Science 320(5882):1456–1457

Castellanos J, Maass M, Kummerow J (1991) Root biomass of a dry deciduous tropical forest in Mexico. Plant Soil 131:225–228

Chave J, Andalo C, Brown S, Cairn MA, Chambers JQ, Eamus D, Fölster H, Fromard F, Higuchi N, Kira T, Lescure JP, Nelson BW, Ogawa H, Puig H, Riéra B, Yamakura T (2005) Tree allometry and improved estimation of carbon stocks and balance in tropical forests. Oecologia 145:87–99

Cordero J, Boshier DH (2003) Arboles de Centroamerica: Un manual para extensionistas. Oxford Forestry Institute and Centro Agronomico Tropical de Investigacion y Ensenanza

de Jong BH, Montoya-Gomez G, Nelson K, Soto-Pinto L, Taylor J, Tipper R (1995) Community forest management and carbon sequestration: a feasibility study from Chiapas, Mexico. Interciencia 20(6):409–416

de Jong B, Ochoa S, Cairns MA (2000) Carbon flux and patterns of land-use/land-cover change in the Selva Lacandona, Mexico. Ambio 29(8):504–511

Dixon RK (1995) Agroforestry systems: sources or sinks of greenhouse gases? Agrofor Syst 31:99–116

Dixon RK, Smith JB, Brown S, Masera O, Mata LJ, Buksha I (1999) Simulations of forest system response and feedbacks to global change: experiences and results from the U.S. Country Studies Program. Ecol Modell 122:289–305

Esquivel E (2005) Uso de suelo y almacenamiento de carbono en dos comunidades del municipio de Marqués de Comillas, Chiapas. Master Thesis. Instituto Politécnico Nacional, Mexico

FAO (Food and Agriculture Organization) (2006) La evaluación del almacenamiento del carbono en el suelo y los principales cambios. In: http://www.fao.org/docrep/005/Y2779S/y2779s06.htm. Accessed 15 Jan 2008

Frangi JL, Lugo AE (1985) Ecosystem dynamics of a subtropical floodplain forest. Ecol Monogr 55:351–369

Garrity DP (2004) Agroforestry and the achievement of the millennium development goals. Agrofor Syst 61:5–17

Grewal SS, Singh ML, Singh S (1994) A comparison of two agroforestry systems for soil water and nutrient conservation on degraded land. Soil Technol 7:145–153

Hairiah K, Sitompul SM, Van Noordwijk M, Palm C (2001) Methods for sampling carbon stocks above and below ground. International Centre for Research in Agroforestry, Bogor

Houghton JT, Ding Y, Griggs DJ, Noguer M, van der Linden PJ, Dai X, Maskell K, Johnson CA (eds) (2001) Climate change 2001: the scientific basis. Intergovernmental Panel on Climate Change (IPCC). Cambridge University Press, Cambridge

Ibrahim M, Chacon M, Cuartas C, Naranjo C, Ponce G, Vega P, Casasola F, Rojas J (2007) Almacenamiento de carbono en el suelo y la biomasa arbórea en sistemas de usos de la tierra en paisajes ganaderos de Colombia, Costa Rica y Nicaragua. Agroforesteria en las Américas 45:27–35

INEGI (Instituto Nacional de Estadistica, Geografia e informatica) (1984) Carta de uso del suelo y vegetacion 1:25000. Maps E 15–8, E 15–11. Instituto Nacional de Estadística e Informática, Aguascalientes

IPCC (2000) IPCC Special report on land use, land-use change and forestry. Special Report. Intergovernmental Panel on Climate Change. Cambridge University Press, Cambridge, USA (http://www.grida.no/publications/other/ipcc_sr/)

IPCC (2007) Climate Change 2007. Mitigation of climate change. Intergovernmental panel of climate change. Special report. Cambridge University Press, Cambridge, USA (http://www.ipcc.ch/ipccreports/ar4-wg3.htm)

Jarecki MK, Lal R (2003) Crop management for soil carbon sequestration. CRC Crit Rev Plant Sci 22(5):471–502

Kass DCL, Foletti C, Szott LT, Landaverde R, Nolasco R (1993) Traditional fallow systems of the Americas. Agrofor Syst 23:207–218

Kiyono Y, Ochiai Y, Chiba Y, Asai H, Saito K, Shiraiwa T, Horie T, Songnoukhai V, Navongxai V, Inoue Y (2007) Predicting chronosequential changes in carbon stocks of pachymorph bamboo communities in slash-and-burn agricultural fallow, northern Lao People's Democratic Republic. J For Res 12(5):371–383

Kotto-Same J, Woomer PL, Appolinaire M, Louis Z (1997) Carbon dynamics in slash-and-burn agriculture and land use alternatives of the humid forest zone in Cameroon. Agric Ecosyst Environ 65:245–256

Lamprecht H (1990) Silvicultura en los Trópicos. Los ecosistemas forestales en los bosques tropicales y sus especies arbóreas, posibilidades y métodos para un aprovechamiento sostenido. Technical Cooperation, Eschborn

MacDicken KG (1997) A guide to monitoring carbon storage in Forestry and agroforestry projects. Winrock International Institute for Agricultural Development. Forest Carbon Monitoring Program

Mafongoya PL, Dzowela BH (1999) Biomass production of tree fallows and their residual effect on maize in Zimbabwe. Agrofor Syst 47:139–151

Makundi WR, Sathaye JA (2004) GHG mitigation potential and cost in tropical forestry-relative role for agroforestry. Environ Dev Sustain 6(1/2):235–260

Masera O, Ordoñez J, Dirzo R (1997) Carbon emissions from Mexican forests: the current situation and long-term scenarios. Clim Change 35:265–295

Masera OR, Cerón AD, Ordoñez A (2001) Forestry mitigation options for Mexico: finding synergies between national sustainable development priorities and global concerns. Mitig Adapt Strat Glob Change 6:291–312

McNeely JA, Schroth G (2006) Agroforestry and biodiversity conservation—traditional practices, present dynamics, and lessons for the future. Biodivers Conserv 15:549–554

Melo Cruz OA, Vargas R (2003) Evaluación ecológica y silvicultural de ecosistemas boscosos. Universidad del Tolima, Colombia

Miles L, Kapos V (2008) Reducing greenhouse gas emissions from deforestation and forest degradation: global land-use implications. Science 320(5882):1454–1455

Moguel P, Toledo VM (1999) Biodiversity conservation in traditional coffee systems of Mexico. Conserv Biol 13(1):9–25

Montagnini F (ed) (2007) Environmental services of agroforestry systems. Lucknow, International Book Distributing, New York, 126 p

Montoya G, de Jong B, Nelson K, Soto L, Farías P, Taylor J, Tipper R (1995) Desarrollo forestal sustentable: captura de carbono en dos zonas Tzeltal y Tojolabal del estado de Chiapas. Cuadernos de Trabajo No.4 Instituto Nacional de Ecología. México, DF, 79 p

Murgueitio E (2005) Silvopastoral systems in the neotropics. In: Mosquera MR, McAdam J, Rigueiro-Rodriguez A (eds) International silvopastoral and sustainable land management. CAB, Lugo, pp 24–29

Mutuo PK, Cadisch G, Albrecht A, Palm CA, Verchot L (2005) Potential of agroforestry for carbon sequestration and mitigation of greenhouse gas emissions from soils in the tropics. Nutr Cycl Agroecosyst 71(1):43–54

Nair PKR (1993) An introduction to agroforestry. Kluwer, Dordrecht

Nations JD, Nigh RB (1980) The evolutionary potential of lacandon maya sustained-yield tropical forest agriculture. J Anthropol Res 36(1):1–30

Nyamadzawo G, Chikowo R, Nyamugafata P, Nyamangara J, Giller KE (2008) Soil organic carbon dynamics of improved fallow-maize rotation systems under conventional and no-tillage in Central Zimbabwe. Nutr Cycl Agroecosyst 81:85–93

Palm CA, Giller KE, Mafongoya PL, Swift MJ (2001) Management of organic matter in the tropics: translating theory into practice. Nutr Cycl Agroecosyst 61:63–75

Paustian K (2000) Modelling soil organic matter dynamics–global challenges. In: Rees RM, Ball BC, Campbell CD, Watson CA (eds) Sustainable management of soil organic matter. CABI, Oxon, pp 45–53

Peeters LYK, Soto-Pinto L, Perales H, Montoya G, Ishiki M (2003) Coffee production, timber and firewood in Southern Mexico. Agric Ecosyst Environ 95(2–3):481–493

Peichl M, Thevathasan NV, Gordon A, Huss J, Abohassan RA (2006) Carbon sequestration potentials in temperature tree-based intercropping systems, southern Ontario, Canada. Agrofor Syst 66:243–257

Penman J, Gytarsky M, Hiraishi T, Krug T, Kruger D, Pipatti R, Buendia L, Miwa K, Ngara T, Tanabe K, Wagner F (2003) Good practice guidance for land use, land-use change and forestry. Intergovernmental Panel on Climate Change (IPCC), Kanagawa

Perfecto I, Rice RA, Greenberg R, van der Voort ME (1996) Shade coffee: a disappearing refuge for biodiversity. Bioscience 46(8):598–608

Perfecto I, Ambrecht I, Philpott S, Soto-Pinto L, Dietsch T (2007) Shaded coffee and the stability of rainforest margins in Northern Latin America. In: Tscharntke T, Leuschener C, Zeller M, Guhardja E, Bidin A (eds) Stability of tropical rainforest margins. Linking ecological, economic and social constraints of land use and conservation. Springer, New York, pp 227–263

Power JS (2004) Changes in soil carbon and nitrogen after contrasting land-use transitions in northeastern Costa Rica. Ecosystems 7:134–146

Raintree JB (1987) The state-of-art of agroforestry diagnosis and design. Agrofor Syst 5:219–250

Rao MR, Nair PKR, Ong CK (1998) Biophysical interactions in tropical agroforestry systems. Agrofor Syst 38:3–50

Richards PW (1996) The tropical rain forest, 2nd edn. Cambridge University Press, London

Romero-Alvarado Y, Soto-Pinto L, García-Barrios y LE, Barrera Gaytán JF (2002) Coffee yields and soil nutrients under the shades of Inga sp. Vs. multiple species in Chiapas, Mexico. Agrofor Syst 54:215–224

Roncal-García S, Soto-Pinto L, Castellanos-Albores J, Ramírez-Marcial N, de Jong B (2008) Sistemas agroforestales y almacenamiento de carbono en comunidades indígenas de Chiapas, México. Interciencia 33(3):200–206

SAS Institute Inc (2000) SAS/STAT User's Guide. Release 6.03 edn. SAS Institute, Cary

Schoeneberger MM (2008) Agroforestry: working trees for sequestering carbon on agricultural lands. Agrofor Syst. Online First

Schroeder P (1994) Carbon storage benefits of agroforestry systems. Agrofor Syst 27:89–97

Scott NA, Rodrigues H, Hugues J, Lee T, Davidson EA, Dail DB, Malerba P, Hollinger DY (2004) Changes in carbon storage and net carbon exchange one year after an initial shelterwood harvest at Howland Forest. Environ Manage 33:9–22

Soto-Pinto L, Romero-Alvarado Y, Caballero-Nieto J, Segura WG (2001) Woody plant diversity and structure of shade-grown-coffee plantations in Northern Chiapas, Mexico. Rev Biol Trop (Costa Rica) 49(3):977–987

Soto-Pinto L, Jimenez-Ferrer G, Vargas-Guillen A, de Jong B, Esquivel-Bazan E (2004) Experiencia agroforestal para la captura de carbono en comunidades indígenas de México. Rev For Iberoam 1:44–50

Soto-Pinto L, de Jong B, Jiménez-Ferrer G, Esquivel Bazan E (2007) Exploring the potential of agroforestry and tree plantations as carbon storage systems. APANews 31:10–12

Steel R, Torrie J (1992) Bioestadística. Principios y Procedimientos. Editorial Graf América, México 622 p

Tennigkeit T, Wilkes A (2008) Las finanzas del carbono de los pastizales. Una evaluación en los pastizales comunales. ICRAF, Kunning 38 p

Tian G, Kang BT, Kolawole GO, Idinoba P, Salako FK (2005) Long-term effects of fallow systems and lengths on crop production and soil fertility maintenance in West Africa. Nutr Cycl Agroecosyst 71:139–150

Vogt KA, Vogt DF, Palmiotto PA, Boon P, O′Hara J, Asbjornsen H (1996) Review of root dynamics in forest ecosystems grouped by climate, climatic forest type and species. Plant Soil 187:159–219

Wise R, Cacho O (2005) A bioeconomic analysis of carbon sequestration in farm forestry: a simulation study of Gliricidia sepium. Agrofor Syst 64:237–250

Young A (1997) Agroforestry for soil management. CAB International, Wallingford
Acknowledgments
The authors would like to thank the farmers and their families of the study communities for their participation. We also thank the Consejo Nacional de Ciencia y Tecnologia of Mexico (CONACYT) for financial support (SEP-2004-C01-46244), Cooperative Ambio researchers and consultants for their participation; Marcela Delgadillo, Sandra Roncal, Carlos M. Aguirre, Victor Aguilar for field support; Miguel Lopez Anaya, Juan Martinez and Guadalupe Perez for their support in laboratory analysis; and to Sandy Fournier and anonymous reviewers.
About this article
Cite this article
Soto-Pinto, L., Anzueto, M., Mendoza, J. et al. Carbon sequestration through agroforestry in indigenous communities of Chiapas, Mexico. Agroforest Syst 78, 39–51 (2010). https://doi.org/10.1007/s10457-009-9247-5
Received:

Accepted:

Published:

Issue Date:

DOI: https://doi.org/10.1007/s10457-009-9247-5
Keywords
Climate change

Coffee

Improved fallow

Maize

Reduced deforestation

Taungya

Silvopastoral systems