Abstract
Improved fallow is a technology that can help to raise agricultural productivity in systems of poor soil fertility and low financial capital. Models, once calibrated, can be used to investigate a range of improved fallow systems relatively quickly and at relatively low cost, helping to direct experimental research towards promising areas of interest. Six fallow crop rotations were simulated using the WaNuLCAS model in a bimodal rainfall setting in Kenya over a 10 year period: (A) alternating fallow and crop seasons, (B) one season fallow followed by three seasons crop, (C) one season fallow followed by four seasons crop, (D–F) 1–3 seasons fallow periods followed by 3–5 seasons crop. The strategies were tested using a number of fallow growth rates, soil clay contents, and rainfall amounts to determine the interaction of fallow rotation and biophysical variables on maize (Zea mays (L.)) yield and sustainability (organic matter, N2 fixation, leaching). The best simulated fallow strategies doubled maize yield compared to continuous maize over a 10 year period. Across all biophysical treatments strategy A and B of no more than three consecutive cropping seasons and of one consecutive fallow season yielded the most maize. This was because fallow benefits were largely due to the immediate fallow soil fertility benefit (IFB) rather than the cumulative benefit (CFB). The difference in yield between the two strategies was through a balance between (1) their interaction with the biophysical variables affecting accumulation of organic matter, hence increasing soil fertility and (2) the extra intrinsic soil fertility used for maize productivity by the inclusion of more cropping seasons within the rotation. We propose the following conceptual framework to manage fallows for maximum maize yield: when environmental factors are strongly limiting to fallow and crop growth then fallow strategy A would be the best strategy to employ (less risk but more labour) and when factors are less limiting then strategy B would be the best to employ.
Access options
Buy single article
Instant access to the full article PDF.
USD 39.95
Price includes VAT (USA)
Tax calculation will be finalised during checkout.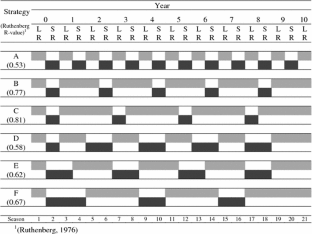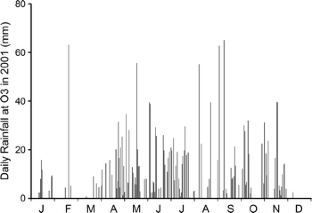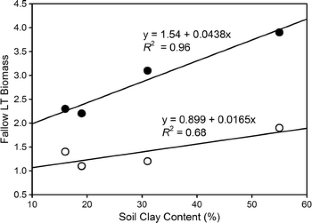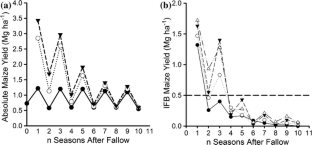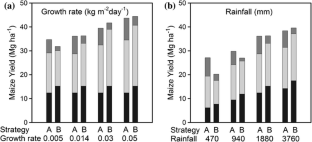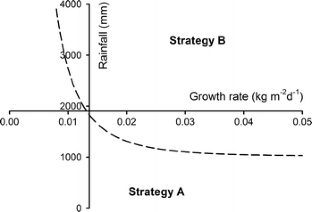 References
Adejuwon JO, Adesina FA (1990) Organic matter and nutrient status of soils under cultivated fallows—an example of Gliricidia sepium fallows from south western Nigeria. Agrofor Syst 10:23–32

Ayanaba A, Tuckwell SB, Jenkinson DS (1976) The effect of clearing and cropping on the organic reserves and biomass of tropical forest soils. Soil Biol Biochem 8:519–525

Drechsel P, Steiner KG, Hagedorn F (1996) A review on the potential of improved fallows and green manure in Rwanda. Agrofor Syst 33:109–136

Gathumbi SM, Cadisch G, Giller KE (2002) 15N natural abundance as a tool for assessing N2- fixation of herbaceous, shrub and tree legumes in improved fallows. Soil Biol Biochem 34:1059–1071

Gathumbi SM, Cadisch G, Buresh RJ, Giller KE (2003) Subsoil nitrogen capture in mixed legume stands as assessed by deep 15N placement. Soil Sci Soc Am J 67:573–582

Gichuru MP (1991) Residual effects of natural bush, Cajanus cajan and Tephrosia candida on the productivity of an acid soil in Southeastern Nigeria. Plant Soil 134:31–36

IMPALA (2002) Improved fallows by legume plants (trees, shrubs and grasses) in Eastern and Southern Africa. 2nd annual report EU-INCO project No ICA4-CT-2000-30011. IRD, Montpellier, France

Kwesiga FR, Franzel S, Place F, Phiri D, Simwanza CP (1999) Sesbania sesban improved fallows in eastern Zambia: their inception, development and farmer enthusiasm. Agrofor Syst 47:49–66

Mafongoya PL, Dzowela BH (1999) Biomass production of tree fallows and their residual effect on maize in Zimbabwe. Agrofor Syst 47:139–151

Matthews RB, Stephens W (2002) Crop-soil models: applications in developing countries. CAB International, Wallingford, UK

Nair PKR (1997) Directions in tropical agroforestry research: past, present, and future. Agrofor Syst 38:223–247

Ndufa JK (2001) Nitrogen and soil organic matter benefits to maize by fast-growing pure and mixed-species legume fallows in Western Kenya. Department of Biology, Imperial College at Wye, University of London, Wye, Kent, UK, p 323

Palm CA, Giller KE, Mafongoya PL, Swift MJ (2001) Management of organic matter in the tropics: translating theory into practice. Nutr Cycl Agroecosyst 61:63–76

Parton WJ, Schimel DS, Cole CV, Ojima DS (1987) Analysis of factors controlling soil organic matter levels in Great Plains grasslands. Soil Sci Soc Am J 51:1173–1179

Phiri ADK, Kanyama-Phiri GY, Snapp S (1999) Maize and sesbania production in relay cropping at three landscape position in Malawi. Agrofor Syst 47:153–196

Rao MR, Mathuva MN, Gacheru E, Radersma S, Smithson PC, Jama B (2002) Duration of sesbania fallow effect for nitrogen requirement of maize in planted fallow-maize rotation in western Kenya. Exp Agric 38:223–236

Rowe E, Cadisch G, Giller KE (1998) Root distribution and 15N uptake activity in a hedgerow intercropping system. Agrofor Forum 9:46

Ruthenberg H (1976) Farming systems in the tropics. Oxford University Press, Oxford, UK, 366 pp

Rykiel EJ (1996) Testing ecological models: the meaning of validation. Ecol Modell 90:229–244

Shepherd KD, Swinkels RA, Muturi WM, Ohlsson E, Ndufa JK (1992) Evaluation of hedgerow intercropping on farms in western Kenya. I. Diagnosis of technology potential and farmers' interest. International Centre for Research in Agroforestry (ICRAF), Nairobi, Kenya, Rep. No. 50

Szott LT, Palm CA, Buresh RJ (1999) Ecosystem fertility and fallow function in the humid and subhumid tropics. Agrofor Syst 47:163–197

Trenbath BR (1984) Decline of soil fertility and the collapse of shifting cultivation systems under intensification. In: Chadwick AC, Sutton SL (eds) Tropical rain-forest: the Leeds symposium. Leeds Philosophical and Literary Society, Leeds, UK, pp 279–292

Trenbath BR (1989) The use of mathematical models in the development of shifting cultivation systems. In: Proctor J (ed) Mineral nutrients in tropical forest and savanna ecosystems. Blackwell Scientific Publications, Oxford, pp 353–371

van Keulen H (2001) Tropical soil organic matter modelling: problems and prospects. Nutr Cycl Agroecosyst 61:33–40

van Noordwijk M (1989) Rooting depth in cropping systems in the humid tropics in relation to nutrient use efficiency. In: van der Heide J (ed) Nutrient management for food crop production in tropical farming systems. Institute for Soil Fertility, Haren, The Netherlands, pp 129–144

van Noordwijk M (1999) Productivity of intensified crop fallow rotations in the Trenbath model. Agrofort Syst 47:223–237

van Noordwijk M, Luisiana B (1999) WaNuLCAS a model of water, nutrient and light capture in agroforestry systems. Agrofor Syst 43:217–242

van Noordwijk M, Luisiana B (2004) WaNuLCAS version 3.1. Background on a model of water, nutrient and light capture in agroforestry systems. ICRAF, Bogor, Indonesia

Walker AP, Mutuo PK, van Nordwijk M, Albrecht A, Cadisch G (2007) Modelling of planted legume fallows in Western Kenya using WaNuLCAS. (I) Model calibration and validation. Agrofor Syst 70:197–209

Wösten JHM, Lilly A, Nemes A, Le Bas C (1998) Using existing soil data to derive hydraulic parameters for simulation models in environmental studies and in land use planning. Report 156, SC-DLO, Wageningen, The Netherlands, 106 pp
Acknowledgements
We thank Anya Boye, Patrick Mutuo and Alain Albrecht for their support during the setup and validation of the model. This work is part of the EU-INCO funded project IMPALA (Improved fallows by legume plants (trees, shrubs and grasses) in Eastern and Southern Africa) ICA4-CT-2000-30011.
About this article
Cite this article
Walker, A.P., van Noordwijk, M. & Cadisch, G. Modelling of planted legume fallows in Western Kenya. (II) Productivity and sustainability of simulated management strategies. Agroforest Syst 74, 143–154 (2008). https://doi.org/10.1007/s10457-008-9137-2
Received:

Accepted:

Published:

Issue Date:
Keywords
Computer simulation

Organic matter

Pedotransfer functions

Soil fertility

Tropical

Water limitation

Leaching

WaNuLCAS