Abstract
Silvopastoral systems, where stock graze between widely spaced trees, are a viable land use option in the British Isles. An experiment (the National Network Silvopastoral Experiment—NNE) was set up at 6 sites in the late 1980s to quantify outputs from and to study the ecological interactions occurring between components of the system. Studies were carried out on the effect of developing silvopastoral systems on certain invertebrate groups, including carabid beetles and spiders and on the number of individuals and species of birds. The common protocols adopted across sites enable broad conclusions on the impact of such systems on wildlife to be made. The presence of trees on grassland attracted invertebrates of epigeal groups which may have provided an enhanced food supply which attracted birds. Spiders responded more rapidly after planting of the silvopastoral systems than did carabid beetles. It was concluded that, even at this early stage, silvopastoral systems have an impact on birds: birds normally associated with woodland are being attracted to silvopasture along with birds normally found in open fields, although there are problems in the scale of evaluation in the assessment of impact. However, it has been shown that even relatively recently established silvopastoral systems can significantly enhance biodiversity.
Access options
Buy single article
Instant access to the full article PDF.
US$ 39.95
Tax calculation will be finalised during checkout.
Subscribe to journal
Immediate online access to all issues from 2019. Subscription will auto renew annually.
US$ 119
Tax calculation will be finalised during checkout.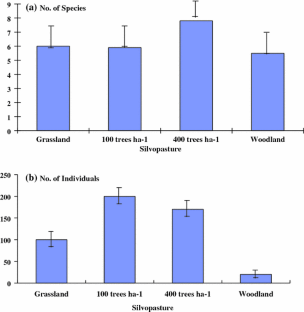 References
Agnew RDM, Sibbald A (1996) The avifauna of the Glensaugh silvopastoral site. Agroforest Forum 7(3):20–21

Crowe SR, McAdam JH (1992) Sward dynamics in a mature poplar agroforestry system grazed by sheep. Asp Appl Biol 29:413–418

Cuthbertson A, McAdam JH (1996) The effect of tree density and species on carabid beetles in a range of pasture – tree agroforestry systems on a lowland site. Agroforest Forum 7(3):17–20

Dennis P Shellard LJF, Agnew RDM 1996 Shifts in arthropod species assemblages in relation to silvopastoral establishment in upland pastures. Agroforest Forum 7(3):14–17

Eason WR (1988) Effect of tree litter on sward botanical composition and growth. In: Proceedings of a Research Meeting held at the Welsh Agricultural College, Aberystwyth 13–15 September 1988. UK British Grassland Society, Hurley, UK

Greenberg CH, Forrest TG (2003) Seasonal abundance of ground – occurring macroarthropods in forest and canopy gaps in the southern Appalachians. Southeast Nat 2(4):591–608

Greenberg CH, McGrane A (1996) A comparison of relative abundance and biomass of ground-dwelling arthropods under different forest management practices. For Ecol Man 89:31–41

Hawke MF, Gillingham AG (1997) Changes in understorey pasture composition in agroforestry regimes in New Zealand. In: Proceedings of the 1997 XVIII International Grassland Congress, Saskatchewan, Canada

Johnston R (1996) The effect of tree density and species on spiders in a range of lowland pasture-tree agroforestry systems. Unpublished thesis. Queen's University of Belfast, UK

Jones D, Eason WR (1995) The influence of a developing agroforestry system on bird population dynamics. Q J For 89(2):120–125

McAdam JH (1996) Vegetation change and management in temperate agroforestry systems. Asp Appl Biol 44:95–100

McAdam JH, Hoppe GM, Toal L, Whiteside L (1999) The use of wide-spaced trees to enhance faunal diversity in managed grasslands. Grassl Sci Eur 4:293–296

Mosquera-Losada MR, McAdam JH, Rigueiro-Rodriguez A (eds) (2005) Silvopastoralism sustainable land management, CABI Publishing, Wallingford

Nwaigbo LC, Sibbald AR, Hudson G (1995) Tree-scale trends in available soil nutrient and cone penetration resistance in a grazed hybrid larch (Larix eurolepis) silvopastoral system. Agroforest Forum 6(2):48–50

Poulin B, Lefebvre G (1997) Estimation of arthropods available to birds: effect of trapping technique, prey distribution, and bird diet. J Field Ornithol 68(3):426–442

Rushdon SD, Luff ML, Eyre MD (1989) Effects of pasture improvement and management on the ground beetle and spider communities of upland grasslands. Appl Ecol 26:489–503

Sibbald AR, Sinclair F (1990) A review of agroforestry research in progress in the UK. Agrofor Abstr 3:149–164

Sibbald AR, Dick J, Iason GR (1995) The effects of the presence of widely spaced trees on the behaviour of sheep. Agroforest Forum 6(2):22–25

Sibbald AR, Eason WR, McAdam JH, Hislop AM (2001) The establishment phase of a silvopstoral national network experiment in the United Kingdom. Agroforest Sys 39:39–53

Söderström B, Svensson B, Vessby K, Glimskär A (2001) Plants, insects and birds in semi-natural pastures in relation to local habitat and landscape factors. Biodivers Conserv 10:1839–1863

Teklehaimanot Z, Sinclair F, Jones M (2002) Tree and livestock productivity in relation to tree-planting configuration in a silvopastoral system in North Wales, UK. Agroforest Sys 56:47–55

Toal L, McAdam JH (1995) Avifauna in establishing silvopastoral systems in Northern Ireland. Agroforest Forum 6(2):25–30

Wilson JD, Morris AJ, Arroyo BE, Clark SC, Bradbury RB (1999) A review of the abundance and diversity of invertebrates and plant foods of granivorous birds in northern Europe in relation to agricultural change. Agric Ecosyst Environ 75:13–30
Acknowledgements
The provision of core funding by the organisations associated with the NNE is gratefully acknowledged,—DARD, DEFRA, MLURI, UWB, IGER and the Forestry Authority. (IGER work was also funded by DEFRA). Additional support funding from the EU (Contract AIR3-CT92-0134) contributed to some of the data collected.
About this article
Cite this article
Mcadam, J.H., Sibbald, A.R., Teklehaimanot, Z. et al. Developing silvopastoral systems and their effects on diversity of fauna. Agroforest Syst 70, 81–89 (2007). https://doi.org/10.1007/s10457-007-9047-8
Keywords
Birds

Carabids

Invertebrates

Spiders

Silvopastoral systems