Abstract
The water dynamics of cropping systems containing mixtures of Gliricidia sepium (Jacq.) Walp trees with maize (Zea mays L.) and/or pigeonpea (Cajanus cajan L.) were examined during three consecutive cropping seasons. The trees were pruned before and during each cropping season, but were left unpruned after harvesting the maize; prunings were returned to the cropping area in all agroforestry systems to provide green leaf manure. The hypothesis was that regular severe pruning of the trees would minimise competition with crops for soil moisture and enhance their growth by providing additional nutrients. Neutron probe measurements were used to determine spatial and temporal changes in soil moisture content during the 1997/98, 1998/99 and 1999/00 cropping seasons for various cropping systems. These included gliricidia intercropped with maize, with and without pigeonpea, a maize + pigeonpea intercrop, sole maize, sole pigeonpea and sole gliricidia. Soil water content was measured to a depth of 150 cm in all treatments at 4–6 week intervals during the main cropping season and less frequently at other times. Competition for water was apparently not a critical factor in determining crop performance as rainfall exceeded potential evaporation during the cropping season in all years. The distribution of water in the soil profile was generally comparable in all cropping systems, implying there was no spatial complementarity in water abstraction by tree and crop roots. However, available soil water content at the beginning of the cropping season was generally lower in the tree-based systems, suggesting that the trees continued to deplete available soil water during the dry season. The results show that, under rainfall conditions typical of southern Malawi, the soil profile contains sufficient stored water during the dry season (ca. 75–125 mm) to support the growth of gliricidia and pigeonpea, and that gliricidia trees pruned before and during the cropping season did not deleteriously compete for water with associated crops. Water use efficiency also appeared to be higher in the tree-based systems than in the sole maize and maize + pigeonpea treatments, subject to the proviso that the calculations were based on changes in soil water content rather than absolute measurements of water uptake by the trees and crops.
Access options
Buy single article
Instant access to the full article PDF.
US$ 39.95
Tax calculation will be finalised during checkout.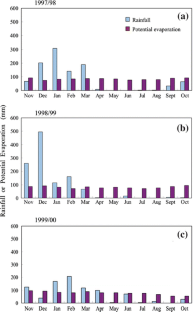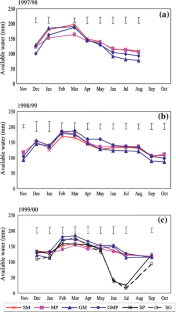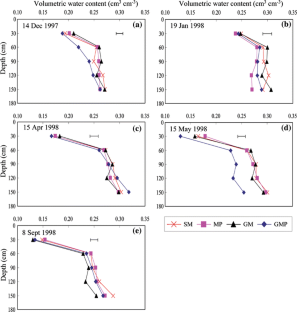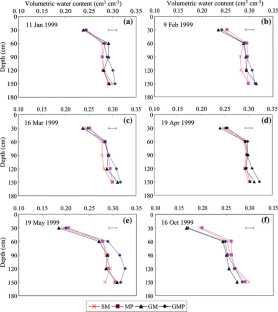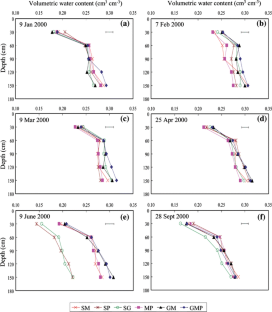 References
Akinnifesi FK, Kang BT, Ladipo DO (1999) Structural root form and fine root distribution of some woody species evaluated for agroforestry systems. Agroforest Syst 42:121–138

Anon (1998a) Soil fertility in Malawi: a review of policies, productivity and perception. Discussion Paper, Natural Resources Institute and The University of Greenwich, UK, 108 pp

Anon (1998b) Achievement in agroforestry research and development in Malawi in 1998. SADC-ICRAF Agroforestry Project, Zomba, Malawi. Makoka Agricultural Research Station, Malawi, 131 pp

Bell JP (1987) Neutron probe practice, Report 19, 3rd edn. Institute of Hydrology, Wallingford, UK, 29 pp

Black CR, Ong CK (2000) Utilisation of light and water in tropical agriculture. Agric Forest Meteorol 104:25–47

Chirwa PW (2002) Water and nutrient interactions in agroforestry systems: a comparison of intercropping systems with maize in Malawi. PhD Thesis, University of Nottingham, UK, 213 pp

Chirwa PW, Black CR, Maghembe JA, Ong CK (2003) Tree and crop productivity in gliricidia/maize/pigeonpea cropping systems in southern Malawi. Agroforest Syst 59:267–277

Chirwa PW, Black CR, Ong CK and Maghembe JL (2006) Nitrogen dynamics in a Gliricidia sepium/pigeonpea/maize mixed cropping system in southern Malawi. Agroforest Syst 67:93–106

Cooper PJM, Gregory PJ, Tully D, Harris HC (1987) Improving water use efficiency of annual crops in rainfed farming systems of West Asia and North Africa. Exp Agric 23:113–158

Cooper PJM, Keatinge JDH, Hughes G (1983) Crop evapotranspiration—a technique for calculation of its components by field measurements. Field Crop Res 7:299–312

Droppelmann KJ, Lehmann J, Ephrath J, Berliner PR (2000) Water use efficiency and uptake patterns in a run off agroforestry system in an arid environment. Agroforest Syst 49:223–243

Giller KE, Cadish G, Ehaliotis C, Adams E, Sakala WD, Mafongoya PL (1997) Building soil nitrogen capital in Africa. In: Buresh RJ, Sanchez PA, Calhoun F (eds) Replenishing soil fertility in Africa. Soil Science Society of America Special Publication Number 51, pp. 150–192

Ikerra ST, Maghembe JA, Smithson PC, Buresh RJ (1999). Soil nitrogen dynamics and relationships with maize yields in a gliricidia-maize intercrop in Malawi. Plant Soil 211:155–164

Ikerra ST, Maghembe JA, Smithson PC, Buresh RJ (2001) Dry season Sesbania fallows and their influence on nitrogen availability and maize yields in Malawi. Agroforest Syst 52:13–21

Jackson NA, Wallace JS, Ong CK (2000) Tree pruning as a means of controlling water use in an agroforestry system in Kenya. Forest Ecol Manag 126: 133–148

Jonnson K, Fidgeland L, Maghembe JA, Hogberg P (1988) The vertical distribution of fine roots of five tree species and maize in Morogoro, Tanzania. Agroforest Syst 6:63–69

Lott JE, Khan AAH, Black CR, Ong CK (2003) Water use by trees and crops in a Grevillea robusta-based overstorey agroforestry system in semi-arid Kenya. Forest Ecol Manag 180:45–59

Morris RA, Garrity DR (1993). Resource capture and utilization in intercropping. Field Crop Res 34: 303–317

Ong CK, Leakey RRB (1999) Why tree-crop interactions in agroforestry appear at odds with tree-grass interactions in tropical savannahs. Agroforest Syst 45:109–129

Ong CK, Black CR, Marshall FM, Corlett JE (1996) Principles of resource capture and utilization of light and water. In: Ong CK, Huxley P (eds) Tree-crop interactions: a physiological approach. CAB International, Wallingford, UK, pp. 73–150

Ong CK, Black CR, Wallace JS, Khan AAH., Lott JE, Jackson NA, Howard SB, Smith DM (2000). Productivity, microclimate and water use in Grevillea robusta-based agroforestry systems on hillslopes in Kenya. Agric Ecosyst Environ 80:121–141

Ong CK, Odongo JCW, Marshall F, Black CR (1992) Water use of agroforestry systems in semi-arid India. In: Calder IR, Hall RL, Adlard PG (eds) Growth and water use of plantations. Wiley, Chichester, UK, pp. 347–358

Rowe EC, Hairiah K, Giller KE, van Noordwijk M, Cadisch G (1999) Testing the safety net role of hedgerow tree roots by 15N placement at different soil depths. Agroforest Syst 43:81–93

Schroth G (1999) A review of below ground interactions in agroforestry, focusing on mechanisms and management options. Agroforest Syst 43:5–34

van Noordwijk M, Purnomosidhi P (1995) Root architecture in relation to tree-soil-crop interactions and shoot pruning in agroforestry. Agroforest Syst 30:161–173

van Noordwijk M, Widianto HM, Hairiah K (1991) Old tree root channels in acid soils in humid tropics; Important for crop root penetration, water infiltration and nitrogen management. Plant Soil 134:37–44

Vijaya Kumar P, Srivastava NN, Victor USM, Gangadhar Rao D, Subba Rao AVM, Ramakrishna YS, Ramana Rao BV (1996) Radiation and water use efficiencies of rainfed castor beans (Ricinus communis L.) in relation to different weather patterns. Agric Forest Meteorol 81: 241–253

Wallace JS (1991) The measurement and modelling of evaporation from semiarid land. In: Sivakumar MVK, Wallace JS, Renard C, Giroux C (eds) Soil water balance in the Sudano-Sahelian Zone. Proceedings of Niamey Workshop, 1991, IAHS Publication No. 199, pp. 131–148

Wallace JS (1996) The water balance of mixed tree-crop systems. In: Ong CK, Huxley P (eds) Tree-crop interactions: a physiological approach. CAB International, Wallingford, UK, pp. 189–233
Acknowledgement
Paxie Chirwa thanks Rockefeller Foundation for the Doctoral Fellowship which enabled the present study to be carried out.
About this article
Cite this article
Chirwa, P.W., Ong, C.K., Maghembe, J. et al. Soil water dynamics in cropping systems containing Gliricidia sepium, pigeonpea and maize in southern Malawi. Agroforest Syst 69, 29–43 (2007). https://doi.org/10.1007/s10457-006-9016-7
Received:

Accepted:

Published:

Issue Date:
Keywords
Cajanus cajan
Gliricidia sepium

Mixed cropping

Water availability

Water use

Zea mays