Abstract
Vasculogenic mimicry (VM) formed by aggressive tumor cells to mimic vasculogenic networks plays an important role in the tumor malignancy of HCC. However, the pathogenesis underlying VM is complex and has not been fully defined. m6A is a common mRNA modification and has many biological effects. However, the relationship between m6A and VM remains unclear. In this research, we found that m6A methyltransferase METTL3 in HCC tissues was positively correlated with VM. The m6A level of mRNA significantly increased in 3D cultured cells treated with VEGFa and was related to VM formation. Transcriptome sequencing analysis of 3D cultured cells with knockdown Mettl3 showed that the Hippo pathway was involved in m6A-mediated VM formation. Further mechanism research indicated that the m6A modification of YAP1 mRNA affected the translation of YAP1 mRNA. In conclusion, m6A methylation plays a key role in VM formation in HCC. METTL3 and YAP1 could be potential therapeutic targets via impairing VM formation in anti-metastatic strategies.
This is a preview of subscription content, log in to check access.
Access options
Buy single article
Instant access to the full article PDF.
US$ 39.95
Price includes VAT for USA
Subscribe to journal
Immediate online access to all issues from 2019. Subscription will auto renew annually.
US$ 99
This is the net price. Taxes to be calculated in checkout.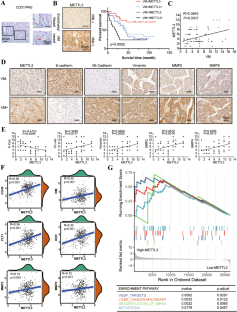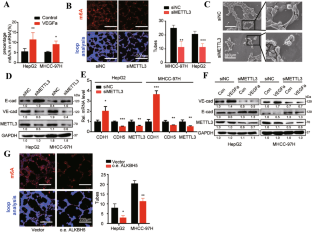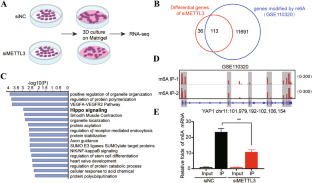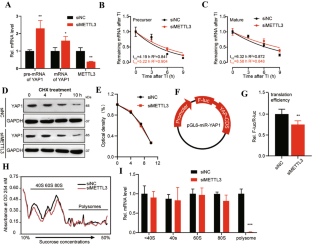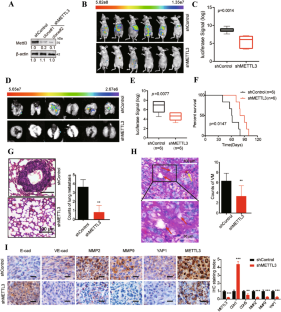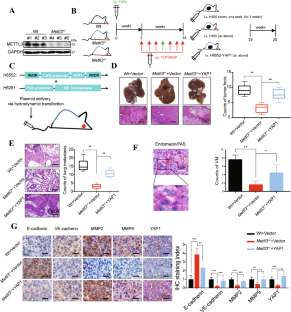 Abbreviations
HCC:

Hepatocellular carcinoma

VM:

Vasculogenic mimicry

m6A:

N6-methyladenosine

VEGFa:

Vascular endothelial growth factor a

YAP1:

Yes associated protein 1

DEN:

Diethylnitrosamine

METTL3:

Methyltransferase-like 3

ALKBH5:

AlkB homolog 5

PAS:

Periodic acid–Schiff

IHC:

Immunohistochemistry

CDH5:

Cadherin 5

MMP2:

Matrix metallopeptidase 2

MMP9:

Matrix metallopeptidase 9

FN1:

Fibronectin 1

MeRIP:

Methylated RNA immunoprecipitation
Acknowledgements
We are grateful to Prof. Chuan He, Prof. Jianhua Yang, and Prof. Jianjun Chen for providing us with the omics data of MeRIP. This study was supported by National Science and Technology Major Project (Grant No. 2018ZX09736005), the National Natural Science Foundation of China (Grant Nos. 81872374, 81972629, 81972746, 81703581), the Tianjin Science and Technology Project (Grant No. 19JCJQJC63200), and the Taishan Scholars Program of Shandong Province (Grant No. tsqn201909193)
Ethics declarations
Conflict of interest
There are no competing interests.
Ethical approval
HCC tissue microarrays from 75 and 96 cases were purchased from US Biomax for IHC. Each single tissue spot on every array slide was individually examined by certified pathologists according to the WHO published standards for diagnosis, classification, and pathological grading.
Research involving human and animal rights
Animal experiments were conducted in accordance with the National Institutes of Health Animal Use Guidelines. All experimental protocols were approved by the Institutional Animal Care and Use Committee at Tianjin International Joint Academy of Biomedicine.
Additional information
Publisher's Note
Springer Nature remains neutral with regard to jurisdictional claims in published maps and institutional affiliations.
Electronic supplementary material
Below is the link to the electronic supplementary material.
About this article
Cite this article
Qiao, K., Liu, Y., Xu, Z. et al. RNA m6A methylation promotes the formation of vasculogenic mimicry in hepatocellular carcinoma via Hippo pathway. Angiogenesis (2020). https://doi.org/10.1007/s10456-020-09744-8
Received:

Accepted:

Published:
Keywords
Metastasis

Vasculogenic mimicry

N6-methyladenosine

METTL3

YAP1