Abstract
Renal microvascular rarefaction characterizes chronic kidney disease (CKD). In murine models of CKD, micro-CT imaging reflected capillary rarefaction using quantification of renal relative blood volume (rBV). In addition, micro-CT imaging revealed morphological alterations of the intrarenal vasculature including reduced vascular branching and lumen diameter. Here, we retrospectively quantified rBV in contrast-enhanced CT angiography in patients and found that, compared to non-CKD patients, those with CKD and renal fibrosis had significantly reduced rBV in the renal cortex. rBV values closely mirrored capillary rarefaction in the corresponding nephrectomy specimens. In patients with follow-up CT angiography, reduction of renal function was paralleled by a decline in rBV. Using virtual autopsy, i.e., postmortem CT angiography, morphometry of intrarenal arteries in 3D-rendered CT images revealed significantly reduced arterial diameter and branching in CKD compared to non-CKD cases. In conclusion, in CKD patients, contrast-enhanced CT imaging with quantification of rBV correlates with functional renal vasculature, whereas virtual autopsy allows morphometric analyses of macrovascular changes. Importantly, the observed vascular alterations in CKD patients mirror those in animals with progressive CKD, suggesting a high relevance of animal models for studying vascular alterations in CKD and renal fibrosis.
This is a preview of subscription content, log in to check access.
Access options
Buy single article
Instant access to the full article PDF.
US$ 39.95
Price includes VAT for USA
Subscribe to journal
Immediate online access to all issues from 2019. Subscription will auto renew annually.
US$ 99
This is the net price. Taxes to be calculated in checkout.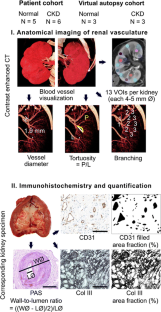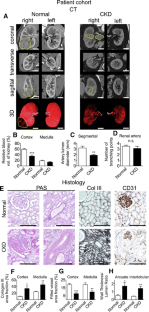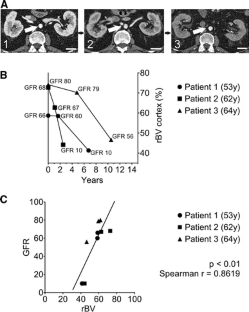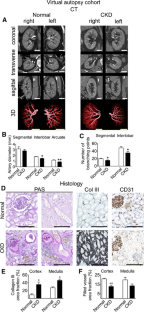 References
1.

Boor P, Floege J (2015) Renal Allograft Fibrosis: Biology and Therapeutic Targets. Am J Transplant Off J Am Soc Transplant Am Soc Transplant Surg 15(4):863–886. doi:10.1111/ajt.13180

2.

Boor P, Ostendorf T, Floege J (2010) Renal fibrosis: novel insights into mechanisms and therapeutic targets. Nat Rev Nephrol 6(11):643–656. doi:10.1038/nrneph.2010.120

3.

Tonelli M, Wiebe N, Culleton B, House A, Rabbat C, Fok M, McAlister F, Garg AX (2006) Chronic kidney disease and mortality risk: a systematic review. J Am Soc Nephrol JASN 17(7):2034–2047. doi:10.1681/ASN.2005101085

4.

Weiner DE (2004) Chronic kidney disease as a risk factor for cardiovascular disease and all-cause mortality: a pooled analysis of community-based studies. J Am Soc Nephrol 15(5):1307–1315. doi:10.1097/01.ASN.0000123691.46138.E2

5.

Ballermann BJ, Obeidat M (2014) Tipping the balance from angiogenesis to fibrosis in CKD. Kidney Int Suppl 4(1):45–52. doi:10.1038/kisup.2014.9

6.

Chawla LS, Kimmel PL (2012) Acute kidney injury and chronic kidney disease: an integrated clinical syndrome. Kidney Int 82(5):516–524. doi:10.1038/ki.2012.208

7.

Hörbelt M, Lee S-Y, Mang HE, Knipe NL, Sado Y, Kribben A, Sutton T (2007) Acute and chronic microvascular alterations in a mouse model of ischemic acute kidney injury. Am J Physiol Renal Physiol 293(3):F688–695. doi:10.1152/ajprenal.00452.2006

8.

Advani A, Connelly KA, Yuen DA, Zhang Y, Advani SL, Trogadis J, Kabir MG, Shachar E, Kuliszewski MA, Leong-Poi H, Stewart DJ, Gilbert RE (2011) Fluorescent microangiography is a novel and widely applicable technique for delineating the renal microvasculature. PLoS One 6(10):e24695–e24695. doi:10.1371/journal.pone.0024695

9.

Kelsen S, He X, Chade AR (2012) Early superoxide scavenging accelerates renal microvascular rarefaction and damage in the stenotic kidney. Am J Physiol Renal Physiol 303(4):F576–583. doi:10.1152/ajprenal.00154.2012

10.

Kramann R, Tanaka M, Humphreys BD (2014) Fluorescence microangiography for quantitative assessment of peritubular capillary changes after AKI in mice. J Am Soc Nephrol. doi:10.1681/ASN.2013101121

11.

Small DM, Sanchez WY, Hickey MJ, Gobe GC (2014) Multiphoton fluorescence microscopy of the live kidney in health and disease multiphoton fluorescence microscopy of the live kidney in health and disease. J Biomed Opt 19(2):020901–020901. doi:10.1117/1

12.

Urbieta-Caceres VH, Syed FA, Lin J, Zhu X-Y, Jordan KL, Bell CC, Bentley MD, Lerman A, Khosla S, Lerman LO (2012) Age-dependent renal cortical microvascular loss in female mice. Am J Physiol Endocrinol Metab 302(8):E979–986. doi:10.1152/ajpendo.00411.2011

13.

Ehling J, Bábíčková J, Gremse F, Klinkhammer BM, Baetke S, Knuechel R, Kiessling F, Floege J, Lammers T, Boor P (2015) Quantitative Micro-Computed Tomography Imaging of Vascular Dysfunction in Progressive Kidney Diseases. J Am Soc Nephrol. doi:10.1681/ASN.2015020204

14.

Bakker RC, Koop K, Sijpkens YW, Eikmans M, Bajema IM, De Heer E, Bruijn JA, Paul LC (2003) Early interstitial accumulation of collagen type I discriminates chronic rejection from chronic cyclosporine nephrotoxicity. J Am Soc Nephrol JASN 14(8):2142–2149. doi:10.1097/01.ASN.0000077345.81206.00

15.

Soylemezoglu O, Wild G, Dalley AJ, MacNeil S, Milford-Ward A, Brown CB, El Nahas AM (1997) Urinary and serum type III collagen: markers of renal fibrosis. Nephrol Dial Transplant 12(9):1883–1889. doi:10.1093/ndt/12.9.1883

16.

Bohle A, Gise H (1981) The obliteration of the postglomerular capillaries and its influence upon the function of both glomeruli and tubuli. Klin Wochenschr 59:1043–1051

17.

Bohle A, Mackensen-Haen S, Wehrmann M (1996) Significance of Postglomerular Capillaries in the Pathogenesis of Chronic Renal Failure. Kidney and Blood Press Res 19(3–4):191–195. doi:10.1159/000174072

18.

Kida Y, Tchao BN, Yamaguchi I (2014) Peritubular capillary rarefaction: a new therapeutic target in chronic kidney disease. Pediatric Nephrology 29(3):333–342. doi:10.1007/s00467-013-2430-y

19.

Chade AR, Kelsen S (2012) Reversal of renal dysfunction by targeted administration of VEGF into the stenotic kidney: a novel potential therapeutic approach. Am J Physiol Renal Physiol 302(10):F1342–1350. doi:10.1152/ajprenal.00674.2011

20.

Prasad PV, Thacker J, Li LP, Haque M, Li W, Koenigs H, Zhou Y, Sprague SM (2015) Multi-parametric evaluation of chronic kidney disease by MRI: a preliminary cross-sectional study. PLoS One 10(10):1–14. doi:10.1371/journal.pone.0139661

21.

Inoue T, Kozawa E, Okada H, Inukai K, Watanabe S, Kikuta T, Watanabe Y, Takenaka T, Katayama S, Tanaka J, Suzuki H (2011) Noninvasive evaluation of kidney hypoxia and fibrosis using magnetic resonance imaging. J Am Soc Nephrol JASN 22(8):1429–1434. doi:10.1681/ASN.2010111143

22.

Mimura I, Nangaku M (2010) The suffocating kidney: tubulointerstitial hypoxia in end-stage renal disease. Nat Rev Nephrol 6(11):667–678

23.

Adair A, Mitchell DR, Kipari T, Qi F, Bellamy COC, Robertson F, Hughes J, Marson LP (2007) Peritubular capillary rarefaction and lymphangiogenesis in chronic allograft failure. Transplantation 83(12):1542–1550. doi:10.1097/01.tp.0000266689.93615.cd

24.

Garcia-Sanz A, Rodriguez-Barbero A (1998) Three-dimensional microcomputed tomography of renal vasculature in rats. Hypertension 31:440–444

25.

Bagnasco S, Good D, Balaban R, Burg M (1985) Lactate production in isolated segments of the rat nephron. Am J Physiol 248(4 Pt 2):F522–F526

26.

Basile DP, Anderson MD, Sutton TA (2012) Pathophysiology of acute kidney injury. Compr Physiol 2(2):1303–1353. doi:10.1002/cphy.c110041.Pathophysiology

27.

Neuhofer W, Beck F-X (2006) Survival in hostile environments: strategies of renal medullary cells. Physiology 21:171–180. doi:10.1152/physiol.00003.2006

28.

Boor P, Bábíčková J, Steegh F, Hautvast P, Martin IV, Djudjaj S, Nakagawa T, Ehling J, Gremse F, Bücher E, Eriksson U, van Roeyen CRC, Eitner F, Lammers T, Floege J, Peutz-Kootstra CJ, Ostendorf T (2015) Role of platelet-derived growth factor-CC in capillary rarefaction in renal fibrosis. Am J Pathol 185(8):2132–2142. doi:10.1016/j.ajpath.2015.04.022

29.

Maric-Bilkan C, Flynn ER, Chade AR (2012) Microvascular disease precedes the decline in renal function in the streptozotocin-induced diabetic rat. Am J Physiol Renal Physiol 302(3):F308–315. doi:10.1152/ajprenal.00421.2011

30.

Tanaka T, Nangaku M (2013) Angiogenesis and hypoxia in the kidney. Nat Rev Nephrol 9(4):211–222. doi:10.1038/nrneph.2013.35

31.

Saba L, Sanfilippo R, Montisci R, Mallarini G (2010) Associations between carotid artery wall thickness and cardiovascular risk factors using multidetector CT. AJNR Am J Neuroradiol 31(9):1758–1763. doi:10.3174/ajnr.A2197

32.

Sharma VK, Dwivedi P, Dubey AK (2014) Correlation of serum phosphate with carotid intimal-medial thickness in chronic kidney disease patients. Indian J Nephrol 24(1):15–19. doi:10.4103/0971-4065.125050

33.

Matsuda N, Takei T, Fujiu A, Ogawa T, Nitta K (2009) Arterial stiffness in patients with non-diabetic chronic kidney disease (CKD). J Atheroscler Thromb 16(1):57–62

34.

Mourad JJ, Girerd X, Boutouyrie P, Laurent S, Safar M, London G (1997) Increased stiffness of radial artery wall material in end-stage renal disease. Hypertension 30(6):1425–1430

35.

Mahnken AH, Bruners P, Mommertz G, Muhlenbruch G, Jacobs MJ, Gunther RW, Langer S (2008) Carbon dioxide contrast agent for CT arteriography: results in a porcine model. J Vasc Interv Radiol 19(7):1055–1064. doi:10.1016/j.jvir.2008.03.012

36.

Onuigbo MA (2015) Renoprevention revisited–The impact of preemptive withdrawal of RAAS blockade prior to iodinated contrast exposure in older CKD patients: results of a new meta-analysis. Cardiology 130(1):25–26. doi:10.1159/000369295

37.

Higashigaito K, Schmid T, Puippe G, Morsbach F, Lachat M, Seifert B, Pfammatter T, Alkadhi H, Husarik DB (2016) CT Angiography of the Aorta: prospective evaluation of individualized low-volume contrast media protocols. Radiology. doi:10.1148/radiol.2016151982

38.

Mukundan S, Steigner ML, Hsiao LL, Malek SK, Tullius SG, Chin MS, Siedlecki AM (2016) Ferumoxytol-enhanced magnetic resonance imaging in late-stage CKD. Am J Kidney Dis 67(6):984–988. doi:10.1053/j.ajkd.2015.12.017

39.

Saritas EU, Goodwill PW, Croft LR, Konkle JJ, Lu K, Zheng B, Conolly SM (2013) Magnetic particle imaging (MPI) for NMR and MRI researchers. J Magn Reson 229:116–126. doi:10.1016/j.jmr.2012.11.029

40.

Martens RJ, Henry RM, Houben AJ, van der Kallen CJ, Kroon AA, Schalkwijk CG, Schram MT, Sep SJ, Schaper NC, Dagnelie PC, Muris DM, Gronenschild EH, van der Sande FM, Leunissen KM, Kooman JP, Stehouwer CD (2016) Capillary rarefaction associates with albuminuria: the maastricht study. J Am Soc Nephrol. doi:10.1681/ASN.2015111219

41.

Boor P (2016) Biomarkers: albuminuria—a marker of systemic microvascular function. Nat Rev Nephrol 12(8):449–450. doi:10.1038/nrneph.2016.82

42.

Alberti K, Zimmet P (1998) Definition, diagnosis and classification of diabetes mellitus and its complications, part 1: diagnosis and classification of diabetes mellitus—provisional report of a WHO consultation. Diabet Med 15:539–553

43.

Gerstein HC, Yusuf S, Mann JFE, Hoogwerf B, Zinman B, Held C, Fisher M, Wolffenbuttel B, Bosch J, Richardson L, Pogue J, Halle JP, Yusuf S, Sleight P, Dagenais G, Montague T, Bosch J, Pogue J, Taylor W, Sardo L, Arnold M, Baigrie R, Davies R, Gerstein H, Jha P, Johnstone D, Joyner C, Kuritzky R, Lonn E, Mitchell B, Morris A, Sussex B, Teo K, Tsuyuki R, Zinman B, Probstfield J, Young J, Diaz R, Paolasso E, Avezum A, Piegas L, Mann J, Wolffenbuttel B, Ostergren J, Meaney E, Aprile M, Bedard D, Cossett J, Ewart G, Harris L, Kellen J, LaForge D, Magi A, Skanes J, Squires P, Stevens K, Bosch J, Cherian F, Holadyk-Gris I, Kalkbrenner P, Lonn E, Mazur F, McQueen M, Micks M, Monti S, Pogue J, Sardo L, Thompson K, Westfall L, Yusuf S, Richardson L, Raw N, Genisans M, Diaz R, Paolasso E, Avezum A, Piegas L, Gerstein H, Zinman B, Dagenais G, Arnold M, Auger P, Avezum A, Bata I, Bernstein V, Bourassa M, Diaz R, Fisher B, Gerstein H, Grover J, Gun C, Gupta M, Held C, Hoeschen R, Kouz S, Lonn E, Mann J, Mathew J, Meaney E, Meldrum D, Pilon C, Ramos R, Roccaforte R, Starra R, Trivi M, Davies R, Johnstone D, Lonn E, Probstfield J, McQueen M, Sackett D, Collins R, Davis E, Furberg C, Hennekens C, Pitt B, Turner R, Braver J, Cuneo C, Diaz M, Dizeo C, Guzman L, Lipshitz S, Llanos S, Lopez J, Lorenzatti A, Machado R, Mackey C, Mancini M, Marino M, Martinez F, Matrone A, Nordaby R, Orlandini A, Romero G, Ruiz M, Rusculleda M, Saavedra S, San Damaso J, Serra J, Tuero E, Zapata G, Zavala A, Grisold M, Klein W, Brosch E, Baumans P, Brusselmans H, Bodson A, Boland J, Cano J, Chaudron JM, Degaute JP, Duprez D, Heyndrickx G, Krzentowski G, Mockel J, Wautrecht J, Alexandre E, Amodeo C, Armaganijan D, Ayub J, Bertolami M, Bodanese L, Borges J, Caramelli B, Carvalho A, Coelho O, Dioguardi G, Faludi A, Brage JF, Fichino M, Franken R, Ghorayeb N, de Souza MG, Greque G, Guedes A, Kadri T, Kawamura T, Labrunie A, Malheiros F, Marafon L, Nakamura M, Nonohay N, Ogawa C, Pavanello R, Puech-Leao P, Ramires F, Ramires L, Sampaio M, Saraiva L, Savioli F, Seixas A, Shibata M, Souza A, Tanajura L, Ueti O, Vitola D, Armstrong F, Armstrong W, Baptie B, Basinger M, Bell N, Beresford P, Black W, Brass N, Browne M, Browne K, Brownoff R, Chaytors G, Cottier W, Donnelly R, Dzavik V, Edwards A, Felker P, Giannoccaro P, Goeres M, Greenwood P, Grose M, Grossman L, Gulamhusein S, Hui W, Hutchison F, Irving A, Kasian L, Kasza L, Korner L, Kvill L, Lakhani Z, Lam S, Lesoway R, Ma P, Martinez V, Meldrum D, Mitchell B, Mitchell D, Montague T, Musseau A, Muzyka T, Neffgen C, Neffgen J, Nichol R, O'Beirne M, Paradis J, Paterson D, Plesko A, Prosser A, Radomsky N, Roth D, Ryan E, Senaratne M, Simon M, Stenerson P, Stone J, Talibi T, Wedel R, Wyse D, Altwasser F, Ashton T, Askew J, Bernstein V, Bishop W, Bloomberg G, Boone J, Breakwell L, Buller L, Calvert K, Carere G, Dahl M, Dawson K, Dodek A, Dufton J, Geddis R, Ghosh S, Heath J, Hilton D, Imrie J, Jay D, Kiess M, Klinke P, Kornder J, Lee P, Leong W, Lewis J, Lounsbury N, MacDonald L, MacDonald K, MacNeil A, MacRitchie D, McGee L, Mitchell L, Mulcahy K, O'Donoghue S, Pearce A, Perreault L, Polasek P, Rabkin S, Reilly M, Richardson P, Scoffield E, Sweeney R, Terwiel M, Thompson C, Wagner K, Webb J, Wedding K, Woo K, Wright M, Zutz A, Briol L, Hoeschen R, Mehta P, Mohammed I, Ong A, Ong G, Bessoudo R, O'Brien L, McLellan L, Milton J, Elgar F, Joyce C, O'Keefe D, Parsons M, Ravalia M, Sherman G, Smith R, Worrall G, Atkinson A, Barnhill S, Bata I, Crossman L, Folkins D, Hatheway R, Johnson B, MacFarlane M, Machel T, Morash J, Sheridan W, Shirley M, Anderson I, Arnold M, Baigrie R, Baird M, Baitz T, Barnie A, Basta M, Blakely J, Bozek B, Bradley W, Brown K, Burnham G, Cameron W, Cann M, Carroll S, Carter R, Chan N, Chan Y, Charles J, Cheung M, Cina C, Cleghorn L, Curnew G, Currado P, Davies R, DeGagne S, DeYoung P, Dhaliwal R, Dowell H, Drobac M, Dubbin J, Duffield K, Edmonds M, Fallen E, Feldman D, Fell D, Ferguson C, Finkelstein L, Fong G, Fowlis R, Fraser M, Frenette L, Fulop J, Glanz A, Goode E, Gupta M, Hanna A, Harris K, Hess A, Hierlihy P, Houlden R, Hramiak I, Hrycyshyn B, Iwanochko R, Janzen I, Kannampuzha P, Keely E, Kennedy R, Kenshole A, Kent E, Khan S, Kostuk W, Kowaleski M, Krupa M, Kumar G, Kuruvilla G, Kwok K, Lai C, Langer A, Laor J, Lau D, LaVallee T, Lent B, Liu P, Lochnan H, Lovell M, Lowe D, Mabb T, Maclean S, Man K, Marois L, Massel D, Matthews E, McManus R, McPhee E, McQueen M, McSherry J, Millar D, Miller F, Miners L, Misterski J, Moe G, Mulaisho C, Munoz C, Nawaz S, Noseworthy C, O'Keefe H, Oosterveld L, Panju A, Paquette H, Parkovnick M, Paterson R, Pflugfelder P, Powers S, Rebane T, Redda A, Reeves E, Ricci J, Sasson Z, Sayles M, Scott M, Sibbick M, Singh N, Southern R, Spence D, Sternberg L, Stewart J, Styling S, Sulllivan B, Sullivan H, Sullivan M, Swan J, Taichman J, Tan K, Tanser P, Tartaglia C, Taylor K, Thomson D, Turek M, Vakani T, vanWalraven A, Varey M, Vexler R, Walters J, Weeks A, Weingert M, Wetmore S, Whitsitt P, Willing J, Wilson C, Wilson J, Wisenberg G, Wolfe M, Wolter B, Yao L, Costain G, Hickey E, MacMillan E, Aris-Jilwan N, Auger P, Banville P, Beaudoin J, Belanger A, Belanger N, Belleville L, Bilodeau N, Bogaty P, Boulianne M, Bourassa M, Brophy J, Brouillette M, Buithieu J, Calve C, Campeau J, Carmichael P, Carrier S, Chiasson J, Coutu B, Coutu D, Croteau S, D'Amours G, Dagenais N, Delage F, Deschamps J, Dion D, Douville Y, Dumont F, Dupuis R, Frechette L, Gauthier S, Gervais P, Giguere G, Giroux R, Gossard D, Gosselin G, Goulet G, Grondin F, Halle J, Henri L, Houde G, Joyal M, Kandalaft N, Karabatsos A, Kiwan G, Kouz S, Labbe R, Langlais M, Lauzon C, LeBlanc M, Lenis J, Leroux S, Loisel R, MacLellan K, Morissette A, Noel H, Ouimet F, Pedneault L, Piche J, Pilon C, Plourde P, Poirier C, Poisson D, Primeau L, Pruneau G, Remillard C, Roberge B, Robert M, Rodrique M, Roy C, Roy L, Ruel M, Samson M, Saulnier D, Savard D, Serpa A, Sestier F, Smilovitch M, Starra R, St-Hilaire R, Theroux P, Toupin-Halle A, Tremblay J, Truchen H, Turcotte J, Vachon S, Vienneau R, Wilson P, Habib M, Habib N, Ahmed S, Hart M, Walker J, Walker M, Thomasse G, Meunier L, Sayeed Z, Juhl H, Kolendorf K, Hamalainen T, Gin H, Rigellau V, Bohm M, Erdmann E, Forst P, Gordalla A, Hampel R, Hartmann C, Hasslacher G, Henrichs H, Hensen J, Hopf R, Kromer E, Martin T, Maus J, Mayer B, Miedlich S, Moeller A, Nast H, Oehmen-Britsch R, Paschke R, Prehn B, Riegger G, Riel R, Rosak C, Schroeder C, Schulze-Schleppinghoff B, Schunkert H, Schweda R, Stablein A, Stein U, Truchon H, Unger H, Wetzel H, Crean P, White U, Aina F, Balzan C, Barbaresi F, Brancaleoni R, Brunazzi M, Brunelli C, Cambiano A, Caponnetto S, Casaccia M, Centofante P, Cernigliaro C, Goi AC, Cicciarello C, Cotogni A, DeJoannon U, Dellavesa P, di Gerogio L, Di Luzio S, Fava A, Frigeni G, Gatto E, Giani P, Giorgi-Pierfranceschi D, Imparato C, Landoni M, Magnani B, Manicardi E, Mantovani B, Marini M, Martini U, Mazzantini S, Merni M, Miglierina E, Marini M, Molinari G, Nanni D, Paciaroni E, Pareschi P, Pasqualini M, Perazzoli F, Polese A, Poletti F, Portioli I, Provasoli S, Repetto S, Rigatelli G, Roccaforte R, Romano E, Rossi E, Rugolotto M, Rusticali F, Saccomanno G, Simoni C, Stucci N, Terranova P, Tortul C, Velussi M, Vincenzi M, Vincenzi P, Zavaroni D, Cardona-Munoz E, Elizondo L, Fausto M, Galindo R, Gloria-Breceda F, Hernandez-Garcia H, Ibarra-Flores M, Illescas-Diaz J, Lopez-Alvarado A, Meaney E, Olvera-Ruiz R, Rivera-Capello J, Romero-Soltero M, Samaniego-Mendez V, Vidrio-Velazquez M, Kruseman A, Mulder H, Sels J, van Doorn L, Vogel N, Hjerkinn E, Reikvam A, Albert X, Alvarez A, Cardona M, Cosio FG, Gilabert R, Karoni A, Lopez-Bescos L, Masia R, Saenz L, Sanz G, Ahnberg K, Andersson D, Andersson O, Astrom L, Bergsten L, Bjorkman H, Borgman C, Cervin P, Dalhgren C, Ekholm L, Ericsson UB, Eriksson C, Fagher B, Gertow O, Gillberg P, Hagg A, Hallberg A, Hansson B, Hansson P, Held C, Heinonen M, Henning R, Jacobsson L, Jagren C, Jonasson T, Kahan T, Katzman P, Kristensson B, Krogager K, Leijd B, Lennerhagen P, Ljungdahl L, Menyes H, Ohman P, Olsson PO, Rosenqvist U, Ryden L, Sartor G, Sjostedt P, Smith L, Stahl L, Svensson A, Svensson K, Taghavi A, Thulin T, Torebo E, Weber P, Wysocki M, Anesini A, Boman P, Cozzi R, Gerber P, Honegger R, Kick A, Kiowski W, Lehmann R, Lull B, Moccetti T, Pasotti E, Rojas J, Rossi A, Rossi M, Safwan E, Schindler R, Sessa F, Spinas G, Allan B, Cumming L, Fisher B, Heller S, Kennedy J, Kesson C, Lochiel R, Manns J, McGroarty E, Raeburn K, Small M, Struthers S, Wilkinson I, Brown E, Holt J, Perry G, Singh B, Szlachcic Y, Vlachou M, Yee F, Clegg L, Horwitz L, St John M, Anderson J, Rashkow A, Schwartz K, Abercrombie L, Cintron G, Garrett D, McHale J, Miller A, Sullebarger J, Tripp G, Zoble R, Orander P, Sridharan M, Sridharan V, Berger S, Davidson M, Geohas J, Islam N, Rajanahally R, Seikel K, Susmano A, Wentworth M, Advani S, Rough R, Wickemeyer W, Young N, Goldstein M, Dinneen S, Farkouh M, Helgemoe P, Miller T, Parkulo M, Pierpont G, Weigenant J, Rich M, Schmidt P, Abrams J, Robbins D, Bonora M, Cohen G, Constantinou M, Dimova A, Fitzpatrick P, Gage L, Graham S, Kohn R, Lader E, Powers J, Reiter P, Witt N, Buchsbaum R, Donese B, Gupta S, Hoogwerf B, Suhan P, Suryaprasad A, Williams D, Danisa K, Lowery M, Lyon K, Rae C, Gandara B, Gramberg M, Grover J, Amidi M, Bell M, DiTommaso M, Day J, Durand J, Farmer J, Torre G, Vooletich M, Gorham J, Gowing B, Kingry C, Lehmann K, Letterer R, Lorch G, Lwai S, Mack R, Nemanich J, Primm R, Utley R, Vaughn L, Bergentoft A, Borgman C, Brosch E, Engbers A, Flores M, Forst P, Frisenda L, Gerle S, Huber D, La Tour F, Lehtonen R, Luca C, Keays JS, Masterson N, Moore R, Morales-Virgen J, Penson Persson C, Pina C, Plouffe D, Reglier JC, Riley J, Rolstad T, Ronsted P, Spinewine P, Styner L, van den Boom N, Yuki-Miyakoshi S, Evaluati HOP (2000) Effects of ramipril on cardiovascular and microvascular outcomes in people with diabetes mellitus: results of the HOPE study and MICRO-HOPE substudy. Lancet 355(9200):253–259

44.

Kellum JA, Lameire N, Group KAGW (2013) Diagnosis, evaluation, and management of acute kidney injury: a KDIGO summary (Part 1). Crit Care 17(1):204. doi:10.1186/cc11454

45.

Westphal SE, Apitzsch JC, Penzkofer T, Kuhl CK, Mahnken AH, Knüchel R (2014) Contrast-enhanced postmortem computed tomography in clinical pathology: enhanced value of 20 clinical autopsies. Hum Pathol 45(9):1813–1823. doi:10.1016/j.humpath.2014.05.007

46.

Tong RT, Boucher Y, Kozin SV, Winkler F, Hicklin DJ, Jain RK (2004) Vascular normalization by vascular endothelial growth factor receptor 2 blockade induces a pressure gradient across the vasculature and improves drug penetration in tumors. Cancer Res 64(11):3731–3736. doi:10.1158/0008-5472.CAN-04-0074

47.

Schneider CA, Rasband WS, Eliceiri KW (2012) NIH Image to ImageJ: 25 years of image analysis. Nat Methods 9(7):671–675. doi:10.1038/nmeth.2089

48.

Boor P, Celec P, Martin IV, Villa L, Hodosy J, Klenovicsová K, Esposito C, Schäfer S, Albrecht-Küpper B, Ostendorf T, Heidland A, Šebeková K (2011) The peroxisome proliferator-activated receptor-α agonist, BAY PP1, attenuates renal fibrosis in rats. Kidney Int 80(11):1182–1197. doi:10.1038/ki.2011.254

49.

Pushpakumar SB, Kundu S, Metreveli N, Tyagi SC, Sen U (2013) Matrix metalloproteinase inhibition mitigates renovascular remodeling in salt-sensitive hypertension. Physiol Rep 1(3):e00063–e00063. doi:10.1002/phy2.63
Acknowledgments
This work was supported by grants from the Deutsche Forschungsgemeinschaft (DFG) of the SFB/Transregio 57 "Mechanisms of organ fibrosis" (to PB and JF), by Else-Kröner Fresenius Stiftung (EKFS 2012_A216 to PB), by the German Ministry of Education and Research (BMBF Consortium STOP-FSGS number 01GM1518A to PB) and by the Interdisciplinary Center for Clinical Research within the Faculty of Medicine at the RWTH Aachen University to PB and JF (K7-3).
Ethics declarations
Disclosure
Statement of competing financial interests: The authors have nothing to declare.
Additional information
Saskia von Stillfried and Jonas C. Apitzsch have contributed equally to this work.
Electronic supplementary material
About this article
Cite this article
von Stillfried, S., Apitzsch, J.C., Ehling, J. et al. Contrast-enhanced CT imaging in patients with chronic kidney disease. Angiogenesis 19, 525–535 (2016). https://doi.org/10.1007/s10456-016-9524-7
Received:

Accepted:

Published:

Issue Date:
Keywords
Microvasculature

Capillary rarefaction

Relative renal blood volume

Renal fibrosis

Progression of kidney disease

Non-invasive imaging