Abstract
Introduction
The antioxidant Taurine found to display antineoplastic effect through down regulation of angiogenesis and enhancement of tumor cell apoptosis. It has been found that progressive inhibition of apoptosis and induction of angiogenesis may contribute to tumor initiation, growth and metastasis in the pathogenesis of breast cancer.
Aim of the study
To correlate taurine level with the levels of some bioomolecules operating in both angiogenesis (VEGF, CD31) and apoptosis (TNF-α and Caspas-3) which could help for breast cancer pronostication and to evaluate a possible role of serum taurine level as an early marker for breast cancer in Egyptian patients.
Patients and methods
Four groups of a total 85 female candidates were studied in this work. The first group consists of 50 female patients at National Cancer Institute (NCI), Cairo University were diagnosed and undergoing surgery for breast carcinoma. In the second group 10 having benign breast lesions, were included. The third group consists of five cases, with positive family history. Twenty healthy females were also recruited as control. A preoperative blood sample were taken from each patient to measure serum level of VEGF; Taurine; CA15.3 and TNF- α. Sample of fresh tumor and their corresponding safety margins were obtained from the first and second groups, for determination of caspase-3; histopathological examination and immunohistochemical assay of VEGF and CD31.
Result
No significant differences in the serum level of CA15.3 between the breast cancer patients, the high risk and the control group. TNF-α (apoptotic biomolecule) level showed a significant difference only between breast cancer group and control group. The VEGF (angiogenic biomarker) showed a highly significant difference between breast cancer patients, the high risk and the control group. Regarding the antioxidant taurine (antiangiogenic biomolecule) serum level in breast cancer group exhibited a value strongly lower than the high risk and control group. Also the correlative ratio between the angiogenic/apoptotic biomarker (VEGF/TNF-α) showed a highly significant difference between the main previous three groups. Same observation were also noticed in the correlation between angiogenic/antiangiogenic (VEGF/taurine) ratio in the same groups. Moreover the enzymatic activities of Casp-3 in the tissue homogenate were statistically higher in adjacent normal tissues than in malignant tissues. The result of immunohistochemical investigation showed a significant increase in the density of intracellular VEGF and microvessel density expressed as CD31 in cancer cases compared to normal adjacent tissue.
Conclusion
It is suggested that assessment of taurine level in sera of patients with high risk for breast cancer are of great value in the early diagnosis of malignant changes in the breast.
Access options
Buy single article
Instant access to the full article PDF.
US$ 39.95
Tax calculation will be finalised during checkout.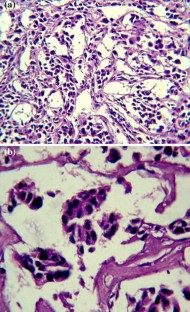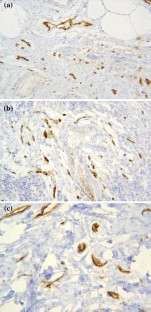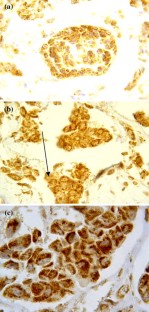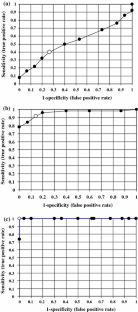 References
1.

Omar S, Khaled H, Gaafar R, Zekry R, Eissa S, El-Khatib O (2003) Breast cancer in Egypt: a review of disease presentation and detection strategies. East Mediterr Health J 9(3):448–463

2.

Boulos S, Gadallah M, Neguib S, Essam E, Youssef A et al (2005) Breast screening in the emerging world: high prevalence of breast cancer in Cairo. Breast 14(5):340–346

3.

Mobley J, Brueggemeier R (2004) Estrogen receptor-mediated regulation of oxidative stress and DNA damage in breast cancer. Carcinogenesis 25(1):3–9

4.

Lin J, Manson J, Selhub J, Buring J, Zhang S (2007) Plasma cysteinylgly-cine Llevels and breast cancer risk in women. Cancer Res 67(23):11123–11127

5.

Ries LAG, Eisner MP, Kosary CL et al (2002) SEER cancer statistics review, 1973–1999. National Cancer Institute, Bethesda, MD

6.

Folkman J (2004) Angiogenesis in breast cancer. In: Bland K, Copland E (eds) The breast "comprehensive management of benign and malignant disorders", vol 1, 3rd edn. Saunders, Missouri, pp 563–586

7.

Folkman J, Kalluri R (2006) Tumor angiogenesis. In: Kufe DW, Bast RC, Hart WN, et al. (Holland- Frei Cancer Medicin) (ONLINE 7th edn) by BC Decker Inc Hamilton. Londn 2006. (AACR) www.bcdecker.com/cm7), pp 161–194

8.

Heer K, Kumar H, Read R, Fox N et al (2001) Serum vascular endothelial growth factor in breast cancer its relation with cancer type and estrogen receptor. Clin Cancer Res 7:3491–3494

9.

Choi W, Lewis M, Lawson D, Yin-Goen Q, Birdsong G et al (2005) Angiogenic, lymphangiogenic microvessel density in breast carcinoma: correlation with clinicopathologic parameters, VEGF-family gene expression. Mod Pathol 18(1):143–152

10.

Parton M, Smith I (2001) Studies of apoptosis in breast cancer. Cancer Breast BMJ 322:1528–1532

11.

Hadjiloucas I, Glimor AP, Bundred J, Streuli H (2001) Assessment of apoptosis in human breast tissue using an antibody against the active form of caspase -3; relation to tumor histopathologyical charechteristics. Br J Cancer 85(10):1522–15260

12.

Yang H, Edgareton S, Thor D (2005) Reconstituation of caspase-3 sensitizes mcf-7 breast cancer cells to radiation. Int J Oncol 26(6):1675–1680

13.

Ames BN (1983) Dietary carcinogens and anticarcinogens; oxygen radicals and degenerative diseases. Science (Washington, DC) 221:1256–1264

14.

Daigeler A, Chromik AM, Geisler A, Bulut D, Hilgert C, Krieg A, Klein-Hitpass L, Lehnhardt M, Uhl W, Mittelkotter U (2008) Synergistic apoptotic effects of taurolidine, TRAIL on squamous carcinoma cells of oesophagus. Int J Oncol 32(6):1205–1220

15.

Jacobi A, Menenakos C, Braumann C (2005) Taurolidine a new drug with anti-tumor, anti-angiogenic effects. Anticancer Drugs 16(9):917–921

16.

Sadszuka Y, Matsuura M, Snobobe T (2009) The effect of taurine, a novel biochemical modulator, on the antitumor activity of Doxorubicin. Biol Pharm Bull 32(9):1584–1587

17.

El Agouza I, Eissa S, Mansure M, El Nashare D (2010) The possiblity of antiangiogenetic effect of Taurine in hepatocellular carcinoma: human and expremental evaluation (in press)

18.

El Agouza IM, El Nashar D (2011) Serum taurine as a marker in endometrial carcinoma. Women Health Care. Accepted June 2011

19.

McMahon GP, O'Kennedy R, Kelly MT (1996) High-performance liquid chromatographic determination of ne in human plasma using pre-column extraction and derivatization. Pharm Biomed Anal 148(10):1287–1294

20.

Sox HC, Blatt MA, Higgins MC, Marton KI (1988) Medical decision making. Butterworths, Boston, MA

21.

Duffy M (2006) Serum tumor markers in breast cancer: are they of clinical value? Clin Chem 52(3):345–351

22.

Rodak R, Kubota H, Ishihara H, Eugster HP, Konu D, Mohler H et al (2005) Induction of reactive oxygen intermediates-dependent programmed cell death in human malignant ex vivo glioma cells, inhibition of the vascular endothelial growth factor production by taurolidine. J Neurosurg 102(6):1055–1068

23.

Bast C, Ravdin P, Hayes F, Bates S, Fritsche H, Jessup M et al (2001) Update of recommendations for the use of tumor markers in breast and colorectal cancer: clinical practice guidelines of the American Society of Clinical Oncology. J Clin Oncol 19:1865–1878

24.

Martinez-Trufero J, de Lobera AR, Lao J, Puertolas T, Artal-Cortes A et al (2005) Serum markers and prognosis in locally advanced breast cancer. Tumor 91(6):522–530

25.

Sorak M, Arsenijević S, Lukić G, Arsenijević N, Ristić P et al (2007) Relations-hip of serum levels of tumor markers with tissue expression of gene products in ovarian carcinoma. J BUON 12(1):99–104

26.

Ragaz J, Miller K, Badve S, et al. (2004) Advers association of expressed vascular endothelial growth factor (VEGF), Her-2, Cox-2, uPA and EMSY with long-term outcome of stage I-III breast cancer. J Clin Oncol 22(Suppl 14S):524

27.

Schneider P, Miller D (2005) Overview: VEGF and angiogenesis in breast cancer "Angiogenesis, the process of new blood vessel formation, plays a central role in both local tumor growth and distant metastasis in breast cancer". J Clin Oncol 23:1782–1790

28.

Gasparini G, Toi M, Miceli R et al (1999) Clinical relivance of vascular endothelial growth factor and thiamdine phosphorlase in patient with node-positive breast cancer trated with ither adiuvant chemotherapy or hormone therapy. Cancer J Sci Am 5:101–111

29.

Linderholm B, Grankvist K, Wilking N, Johansson M, Tavelin B, Henriksson R (2000) Correlation of vascular endothelial growth factor content with recurrences, survival, and first relapse site in primary node-positive breast carcinoma after adjuvant treatment. J Clin Oncol 18:1423–1431

30.

Foekens JA, Peters HA, Grebenchtchikov N et al (2001) High tumor levels of vascular endothelial growth factor predict poor response to systemic therapy in advanced breast cancer. Cancer Res 61:5407–5414

31.

Konecny E, Meng G, Untch M et al (2004) Association between Her-2/neu and vascular endothelial rowth factor expression predicts clinical outcome in primary breast patients. Clin Cancer Res 10:1706–1716

32.

Yang H, Edgareton S, Thor D (2005) Reconstituation of caspase-3 sensitizes mcf-7 breast cancer cells to radiation. Int J Oncol 26(6):1675–1680

33.

Faraglia B, Bonsignore A, Scaldaferri F, Boninsegna A, Cittadini A (2005) Caspase-3 inhibits the growth of breast cancer cells independent of protease activity. J Cell Physiol 202(2):478–482

34.

Van Antwerp J, Martin J, Verma M, Green R (1998) Inhibition of TNF-induced apoptosis by NF-kappa B. Trends Cell Biol 8:107–111

35.

Sardisia V (1995) Role of antioxidant in health maintenance. Natur Clin Pract 10(1):19–25

36.

Fuchs GJ (2005) Antioxidants for children with kwashiorkor. BMJ 330:1095–1096

37.

Halliwell B, Gutteridge J (2006) Free radicals in biology and medicine, ed 4. Clarendon Press, Oxford, JMC

38.

Percival M (1998) Antioxidant. Clin Nutr Insights 25:738

39.

Calabresi P, Goulette F, Darnowski J (2001) Taurolidine: cytotoxic and mechanistic evaluation of a novel antineoplastic agent. Cancer Res 61:6816–6821

40.

Stendel R, Stoltenburg-Didinger G, Al Keikh CL, Wattrodt M, Brock M (2002) The effect of taurolidine on brain tumor cells. Anticancer Res 22(2A): 809–814

41.

Nici L, Monfils B, Calabresi P (2004) The effects of taurolidine, a novel antineoplastic agent, on human malignant mesothelioma. Clin Cancer Res 10:7655–7661

42.

Obrosova I, Minchenko A, Marinescu V et al (2001) Antioxidant attenuate early up regulation of retinal vascular endothelial growth factor in streptozotocin-diabetic rats. Diabetologia 44(9):1102–1110

43.

Maulik N, Das D (2002) Redox signaling in vascular angiogenesis. Free Radic Biol Med 33:1047–1060

44.

Brown N, Bicknell R (2001) Hypoxia and oxidative stress in breast cancer: oxidative stress—its effects on the growth, metastatic potential and response to therapy of breast cancer. Breast Cancer Res 3:323–327. doi:10.1186/bcr315

45.

Ilhan N, Ilhan N (2003) Vascular endothelial growth factor and oxidative damage in cancer. Clin Biochem 36(3):225–228

46.

Nespereira B, Perez-Ilzarbe M, Fermandez P, Fuentes A et al (2003) Vitamin E and C dowenregulat VEGF and VEGFR-2 expression in apolipoprotein-E-deficient. Atherosclerosis 17:63–73

47.

Ambrosone CB, Marshall JR, Vena JE, Laughlin R, Graham S et al (1995) Interaction of family history of breast cancer and dietary antioxidants with breast cancer risk. Cancer Causes Control 6:407–415

48.

Freudenheim L, Marshall R, Vena E, Laughlin R, Brasure R et al (1996) Premenopausal breast cancer risk and intake of vegetables, fruits, and related nutrients. J Natl Cancer Inst 88:340–348

49.

Abramjuk C, Bueschges M, Schnorr J, Jung K, Staack A, Lein M (2009) Divergent effects of taurolidine as potential anti-neoplastic agent: inhibition of bladder carcinoma cells in vitro and promotion of bladder tumor in vivo. Oncol Rep 22(2):409–414

50.

Braumann C, Gutt CN, Scheele J, Menenakos C, Williams W, Muller JM, Jacobi CA (2009) Taurolidin reduces the tumor stimulating cytokine interleukin-1beta in patients with respectable gastrointestinal cancer: a multicentre prospective randomized trial. World J Surg Oncol 7:32

51.

Hoksch B, Rufer B, Gazdhar A, Bilici M, Beshay M, Gugger M, Schmid RA (2009) Taurolidin in the prevention and therapy of lung metastasis. Eur J Cardiothorac Surg 36(6):1058-1063. Epub 2009 Oct 21

52.

Aceto N, Bertino P, Barbone D, Tassi G, Manozo L, Porta C, Mutti L, Guadino G (2009) Taurilidine and Oxidative stress: a rationale for local treatment of methothelioma. Eur Respir J. 34(6):1399-1407. Epub 200 May 21

53.

Srivastava S, Roy R, Siggh S, Kumar P, Alela D, Sankhwar SN, Goel A, Sonkar AA (2010) Taurine-apossible fingerprint biomarker in non-muscle invasive bladder cancer: a pilot study by 1H NMR spectroscopy. Cancer Biomarker 6(1):11–20
About this article
Cite this article
El Agouza, I.M., Eissa, S.S., El Houseini, M.M. et al. Taurine: a novel tumor marker for enhanced detection of breast cancer among female patients. Angiogenesis 14, 321 (2011). https://doi.org/10.1007/s10456-011-9215-3
Received:

Accepted:

Published:
Keywords
Antioxidant taurine

Angiogenesis (VEGF, CD31)

Apoptosis (TNF-α and Caspas-3)