Abstract
Nucleolin is specifically transported to the surface of proliferating endothelial cells in vitro and in vivo. In contrast to its well defined functions in the nucleus and cytoplasm, the function of cell surface nucleolin is poorly defined. We have previously identified the nucleolin-binding antibody NCL3 that specifically binds to cell surface nucleolin on angiogenic blood vessels in vivo and is internalized into the cell. Here, we show that NCL3 inhibits endothelial tube formation in vitro as well as angiogenesis in the matrigel plaque assay and subcutaneous tumor models in vivo. Intriguingly, the specific targeting of proliferating endothelial cells by NCL3 in subcutaneous tumor models leads to the normalization of the tumor vasculature and as a result to an increase in tumor oxygenation. Treatment of endothelial cells with anti-nucleolin antibody NCL3 leads to a decrease of mRNA levels of the anti-apoptotic molecule Bcl-2 and as a consequence induces endothelial cell apoptosis as evidenced by PARP cleavage. These data reveal a novel mode of action for anti-angiogenic therapy and identify cell surface nucleolin as a novel target for combinatorial chemotherapy.
Access options
Buy single article
Instant access to the full article PDF.
US$ 39.95
Tax calculation will be finalised during checkout.
Subscribe to journal
Immediate online access to all issues from 2019. Subscription will auto renew annually.
US$ 79
Tax calculation will be finalised during checkout.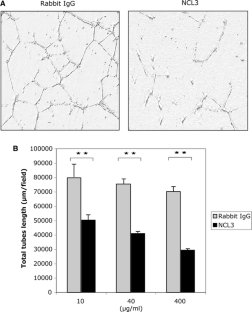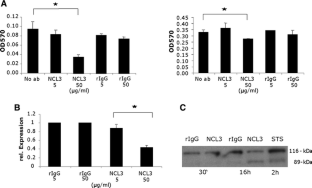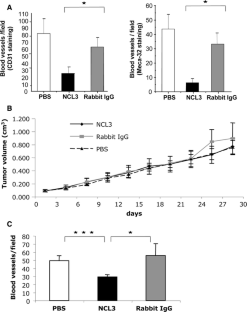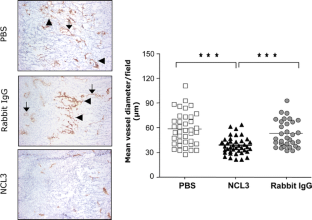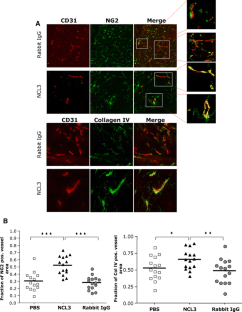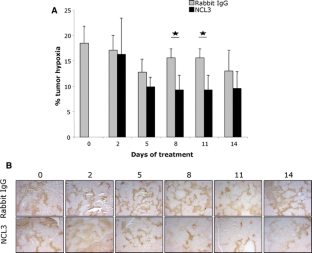 References
1.

Hanahan D, Folkman J (1996) Patterns and emerging mechanisms of the angiogenic switch during tumorigenesis. Cell 86(3):353–364. doi:10.1016/S0092-8674(00)80108-7

2.

Ruoslahti E (2002) Specialization of tumour vasculature. Nat Rev Cancer 2(2):83–90. doi:10.1038/nrc724

3.

St Croix B, Rago C, Velculescu V et al (2000) Genes expressed in human tumor endothelium. Science 289(5482):1197–1202. doi:10.1126/science.289.5482.1197

4.

Fukumura D, Jain RK (2007) Tumor microvasculature and microenvironment: targets for anti-angiogenesis and normalization. Microvasc Res 74(2–3):72–84. doi:10.1016/j.mvr.2007.05.003

5.

Ferrara N, Hillan KJ, Gerber HP et al (2004) Discovery and development of bevacizumab, an anti-VEGF antibody for treating cancer. Nat Rev Drug Discov 3(5):391–400. doi:10.1038/nrd1381

6.

Christian S, Pilch J, Akerman ME et al (2003) Nucleolin expressed at the cell surface is a marker of endothelial cells in angiogenic blood vessels. J Cell Biol 163(4):871–878. doi:10.1083/jcb.200304132

7.

Huang Y, Shi H, Zhou H et al (2006) The angiogenic function of nucleolin is mediated by vascular endothelial growth factor and nonmuscle myosin. Blood 107(9):3564–3571. doi:10.1182/blood-2005-07-2961

8.

Destouches D, El Khoury D, Hamma-Kourbali Y et al (2008) Suppression of tumor growth and angiogenesis by a specific antagonist of the cell-surface expressed nucleolin. PLoS ONE 3(6):e2518. doi:10.1371/journal.pone.0002518

9.

Ginisty H, Sicard H, Roger B et al (1999) Structure and functions of nucleolin. J Cell Sci 112(Pt 6):761–772

10.

Srivastava M, Pollard HB (1999) Molecular dissection of nucleolin's role in growth and cell proliferation: new insights. FASEB J 13(14):1911–1922

11.

Borer RA, Lehner CF, Eppenberger HM et al (1989) Major nucleolar proteins shuttle between nucleus and cytoplasm. Cell 56(3):379–390. doi:10.1016/0092-8674(89)90241-9

12.

Yu D, Schwartz MZ, Petryshyn R (1998) Effect of laminin on the nuclear localization of nucleolin in rat intestinal epithelial IEC-6 cells. Biochem Biophys Res Commun 247(1):186–192. doi:10.1006/bbrc.1998.8754

13.

Harms G, Kraft R, Grelle G et al (2001) Identification of nucleolin as a new L-selectin ligand. Biochem J 360(Pt 3):531–538. doi:10.1042/0264-6021:3600531

14.

Said EA, Krust B, Nisole S et al (2002) The anti-HIV cytokine midkine binds the cell surface-expressed nucleolin as a low affinity receptor. J Biol Chem 277(40):37492–37502. doi:10.1074/jbc.M201194200

15.

Sinclair JF, O'Brien AD (2002) Cell surface-localized nucleolin is a eukaryotic receptor for the adhesin intimin-gamma of enterohemorrhagic Escherichia coli O157:H7. J Biol Chem 277(4):2876–2885. doi:10.1074/jbc.M110230200

16.

Fahling M, Steege A, Perlewitz A et al (2005) Role of nucleolin in posttranscriptional control of MMP-9 expression. Biochim Biophys Acta 1731(1):32–40

17.

Otake Y, Soundararajan S, Sengupta TK et al (2007) Overexpression of nucleolin in chronic lymphocytic leukemia cells induces stabilization of bcl2 mRNA. Blood 109(7):3069–3075

18.

Soundararajan S, Chen W, Spicer EK et al (2008) The nucleolin targeting aptamer AS1411 destabilizes Bcl-2 messenger RNA in human breast cancer cells. Cancer Res 68(7):2358–2365. doi:10.1158/0008-5472.CAN-07-5723

19.

Shi H, Huang Y, Zhou H et al (2007) Nucleolin is a receptor that mediates antiangiogenic and antitumor activity of endostatin. Blood 110(8):2899–2906. doi:10.1182/blood-2007-01-064428

20.

Fulgham DL, Widhalm SR, Martin S et al (1999) FGF-2 dependent angiogenesis is a latent phenotype in basic fibroblast growth factor transgenic mice. Endothelium 6(3):185–195. doi:10.3109/10623329909053409

21.

Ngo CV, Gee M, Akhtar N et al (2000) An in vivo function for the transforming Myc protein: elicitation of the angiogenic phenotype. Cell Growth Differ 11(4):201–210

22.

Zhang J, Tsaprailis G, Bowden GT (2008) Nucleolin stabilizes Bcl-X L messenger RNA in response to UVA irradiation. Cancer Res 68(4):1046–1054. doi:10.1158/0008-5472.CAN-07-1927

23.

Morikawa S, Baluk P, Kaidoh T et al (2002) Abnormalities in pericytes on blood vessels and endothelial sprouts in tumors. Am J Pathol 160(3):985–1000

24.

Dhanabal M, Ramchandran R, Waterman MJ et al (1999) Endostatin induces endothelial cell apoptosis. J Biol Chem 274(17):11721–11726. doi:10.1074/jbc.274.17.11721

25.

Abdollahi A, Hahnfeldt P, Maercker C et al (2004) Endostatin's antiangiogenic signaling network. Mol Cell 13(5):649–663. doi:10.1016/S1097-2765(04)00102-9

26.

Jain RK (2005) Antiangiogenic therapy for cancer: current and emerging concepts. Oncology 19(4, Suppl 3):7–16 Williston Park

27.

Dickson PV, Hamner JB, Sims TL et al (2007) Bevacizumab-induced transient remodeling of the vasculature in neuroblastoma xenografts results in improved delivery and efficacy of systemically administered chemotherapy. Clin Cancer Res 13(13):3942–3950. doi:10.1158/1078-0432.CCR-07-0278

28.

Hamzah J, Jugold M, Kiessling F et al (2008) Vascular normalization in Rgs5-deficient tumours promotes immune destruction. Nature 453(7193):410–414. doi:10.1038/nature06868

29.

Winkler F, Kozin SV, Tong RT et al (2004) Kinetics of vascular normalization by VEGFR2 blockade governs brain tumor response to radiation: role of oxygenation, angiopoietin-1, and matrix metalloproteinases. Cancer Cell 6(6):553–563

30.

Jain RK (2008) Lessons from multidisciplinary translational trials on anti-angiogenic therapy of cancer. Nat Rev Cancer 8(4):309–316. doi:10.1038/nrc2346

31.

Herbst RS, O'Neill VJ, Fehrenbacher L et al (2007) Phase II study of efficacy and safety of bevacizumab in combination with chemotherapy or erlotinib compared with chemotherapy alone for treatment of recurrent or refractory non small-cell lung cancer. J Clin Oncol 25(30):4743–4750. doi:10.1200/JCO.2007.12.3026

32.

Sandler A, Gray R, Perry MC et al (2006) Paclitaxel-carboplatin alone or with bevacizumab for non-small-cell lung cancer. N Engl J Med 355(24):2542–2550. doi:10.1056/NEJMoa061884
Acknowledgments
We thank Dr Masanobu Komatsu for comments on the manuscript and Dr William Stallcup for providing the anti NG2 antibody. V. Fogal received support from the Susan Komen Foundation.
About this article
Cite this article
Fogal, V., Sugahara, K.N., Ruoslahti, E. et al. Cell surface nucleolin antagonist causes endothelial cell apoptosis and normalization of tumor vasculature. Angiogenesis 12, 91–100 (2009). https://doi.org/10.1007/s10456-009-9137-5
Received:

Accepted:

Published:

Issue Date:
Keywords
Angiogenesis

Bcl-2

Homing peptides

Tumor targeting