Abstract
Ambrosia, specifically Ambrosia artemisiifolia, are known throughout the world as invasive, allergenic and noxious weeds. This research leads to the first map of the spread of Ambrosia species in Israel and describes the risk associated with their distribution to the public health. Six Ambrosia species were identified in Israel. There is one invasive species, A. confertiflora DC (Burr ragweed), which is most abundant in central Israel. There are three naturalized species: A. tenuifolia Spreng (Lacy ragweed) which is found in several locations; A. psilostachya DC (Cuman ragweed) and A. grayi (woolly leaf bur ragweed), which are restricted to a single location each. There are two casual species: A. artemisiifolia L. (short ragweed, common ragweed) and A. trifida L. (Giant ragweed). There are pronounced and clear differences between the species in their life cycle, morphology and phenology, which may explain the level of invasion of each one in Israel. The causes of the invasion are mainly anthropogenic. Many populations of Ambrosia are found near fishponds and animal feed centers, indicating that ragweed seeds feasibly arrived to Israel in grain shipments. Human sensitization to local pollen extracts of A. confertiflora and A. tenuifolia was studied by skin test reaction and compared with commercial extracts of A. artemisiifolia and A. trifida. Patient's response was three times stronger in A. confertiflora with respect to the other three species. The rapid dissemination of A. confertiflora, the manner in which its pollen is dispersed and its allergenic potential indicate risks to public health.
Access options
Buy single article
Instant access to the full article PDF.
US$ 39.95
Tax calculation will be finalised during checkout.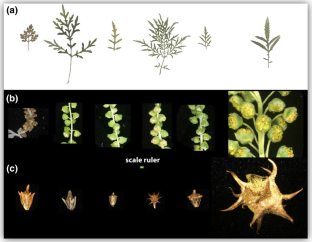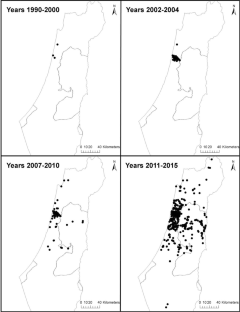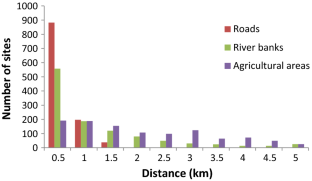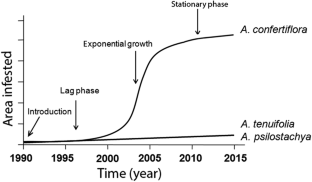 References
Bass, D. J., Delpech, V., Beard, J., Bass, P., & Walls, R. S. (2000). Ragweed in Australia. Aerobiologia (Bologna), 16, 107–111.

Behçet, L. (2004). A new record for the flora of Turkey: Ambrosia tenuifolia Spreng (Compositae). Turkish Journal of Botany, 28, 201–203.

Bradford, M. M. (1976). A rapid and sensitive method for the quantitation of microgram quantities of protein utilizing the principle of protein-dye binding. Analytic Biochemistry, 72, 248–254.

Breton, M. C., Garneau, M., Fortier, I., Guay, F., & Louis, J. (2006). Relationship between climate, pollen concentrations of Ambrosia and medical consultations for allergic rhinitis in Montreal, 1994-2002. Science of the Total Environment, 370, 39–50.

Bullock, J. M. (2012). Assessing and controlling the spread and the effects of common ragweed in Europe, Final Report, Natural Environment Research Council, UK.

Callaway, R. M., Miao, S. L., & Guo, Q. (2006). Are trans-Pacific invasions the new wave? Biological Invasions, 8, 1435–1437.

Cecchi, L., Malaspina, T. T., Albertini, R., Zanca, M., Ridolo, E., Usberti, I., et al. (2007). The contribution of long-distance transport to the presence of Ambrosia pollen in Central Northern Italy. Aerobiologia (Bologna), 23, 145–151.

Celenk, S., & Malyer, H. (2017). The occurrence of Ambrosia pollen in the atmosphere of Northwest Turkey: Investigation of possible source regions. International Journal of Biometeorology, 61, 1499–1510.

Chapman, D. S., Makra, L., Albertini, R., Bonini, M., Páldy, A., Rodinkova, V., et al. (2016). Modelling the introduction and spread of non-native species: International trade and climate change-driven ragweed invasion. Global Change Biology, 22, 3067–3079.

Chauvel, B., Dessaint, F., Cardinal-Legrand, C., & Bretagnolle, F. (2006). The historical spread of Ambrosia artemisiifolia L. in France from herbarium records. Journal of Biogeography, 33, 665–673.

Chen, H., Chen, L., & Albright, T. P. (2007). Developing habitat-suitability maps of invasive ragweed (Ambrosia artemisiifolia L) in China using GIS and statistical methods GIS for Health and the Environment. Berlin: Springer.

Csontos, P., Vitalos, M., Barina, Z., & Kiss, L. (2010). Early distribution and spread of Ambrosia artemisiifolia in Central and Eastern Europe. Botanica Helvetica, 120, 75–78.

Dahl, A., Strandhede, S. O., & Wihl, J. A. (1999). Ragweed: An allergy risk in Sweden? Aerobiologia (Bologna), 15, 293–297.

Danin, A. (1994). Contributions to the flora of Israel and Sinai: VI Stipagrostis drarii and Ambrosia confertiflora and A tenuifolia, new records from Israel. Israel Journal of Plant Sciences, 42, 59–61.

Dechamp, C., Rimet, M. L., Meon, H., & Deviller, P. (1997). Parameters of ragweed pollination in the Lyon's area (France) from 14 years of pollen counts. Aerobiologia (Bologna), 13, 275–279.

Ding, W., Huang, R., Zhou, Z., & Li, Y. (2015). New sesquiterpenoids from Ambrosia artemisiifolia L. Molecules, 20, 4450–4459.

Feinbrun-Dothan, N. (1978). Flora Palaestina (Vol. 3). Jerusalem: The Israel Academy of Sciences and Humanities.

Fernandez-Llamazares, A., Belmonte, J., Alarcón, M., & López-Pacheco, M. (2012). Ambrosia L. in Catalonia (NE Spain): Expansion and aerobiology of a new bioinvader. Aerobiologia, 28, 435–451.

Follak, S., Dullinger, S., Kleinbauer, I., Moser, D., & Essl, F. (2013). Invasion dynamics of three allergenic invasive Asteraceae (Ambrosia trifida, Artemisia annua, Iva xanthiifolia) in Central and Eastern Europe. Preslia, 85, 41–61.

Frick, G., Boschung, H., Schulz-Schroeder, G., Russ, G., Ujčič-Vrhovnik, I., Jakovac-Strajn, B., et al. (2011). Ragweed (Ambrosia sp) seeds in bird feed. Biotechnologie, Agronomie, Société et Environnement, 15, 39–44.

Friedman, J., & Barrett, S. C. H. (2008). High outcrossing in the annual colonizing species Ambrosia artemisiifolia (Asteraceae). Annals of Botany, 101, 1303–1309.

Fumanal, B., Chauvel, B., & Bretagnolle, F. (2007). Estimation of pollen and seed production of common ragweed in France. Annals of Agricultural and Environmental Medicine, 14, 233–236.

Gaudeul, M., Giraud, T., Kiss, L., & Shykoff, J. A. (2011). Nuclear and chloroplast microsatellites show multiple introductions in the worldwide invasion history of common ragweed, Ambrosia artemisiifolia. PLoS One, 6, e17658.

Genton, B. J., Shykoff, J. A., & Giraud, T. (2005). High genetic diversity in French invasive populations of common ragweed, Ambrosia artemisiifolia, as a result of multiple sources of introduction. Molecular Ecology, 14, 4275–4285.

Gerber, E., Schaffner, U., Gassmann, A., Hinz, H. L., Seier, M., & Müller-Schärer, H. (2011). Prospects for biological control of Ambrosia artemisiifolia in Europe: learning from the past. Weed Research, 51, 559–573.

Jäger, S. (1998). Ragweed (Ambrosia) sensitisation rates correlate with the amount of inhaled airborne pollen A 14-year study in Vienna, Austria. Aerobiologia, 16, 149–153.

Joly, M., Bertrand, P., Gbangou, R. Y., White, M. C. C., Dubé, J., & Lavoie, C. (2011). Paving the way for invasive species: Road type and the spread of common ragweed (Ambrosia artemisiifolia). Environmental Management, 48, 514–522.

Karrer, G., Skjøth, C. A., Šikoparija, B., Smith, M., Berger, U., & Essl, F. (2015). Ragweed (Ambrosia) pollen source inventory for Austria. Science of the Total Environment, 523, 120–128.

Keynan, N. (1992). Comparison of Pollen Allergenicity of Closely Related Plant Populations and Species. Ph.D. thesis, Tel Aviv University, Israel (pp. 115).

Keynan, N., Geller-Bernstein, C., Waisel, Y., Bejerano, A., Shomer-Ilan, A., & Tamir, R. (1987). Positive skin tests to pollen extracts of four species of Pistacia in Israel. Clinical and Experimental Allergy, 17, 243–249.

Lavoie, C., Jodoin, Y., & de Merlis, A. G. (2007). How did common ragweed (Ambrosia artemisiifolia L) spread in Quebec? A historical analysis using herbarium records. Journal of Biogeography, 34, 1751–1761.

Liu, Z. G., Song, J. J., & Kong, X. L. (2010). A study on pollen allergens in China. Biomedical and Environmental Sciences, 23, 319–322.

Makra, L., Juhász, M., Béczi, R., & Borsos, E. (2005). The history and impacts of airborne Ambrosia (Asteraceae) pollen in Hungary. Grana, 44, 57–64.

Montagnani, C., Gentili, R., Smith, M., Guarino, M. F., & Citterio, S. (2017). The worldwide spread, success, and impact of ragweed (Ambrosia spp.). Critical Reviews in Plant Sciences, 36, 139–178.

Park, H. J., Lee, J., Park, K. H., Kim, K. R., Han, M. J., & Choe, H. (2016). A six-year study on the changes in airborne pollen counts and skin positivity rates in Korea: 2008–2013. Yonsei Medical Journal, 57, 714–720.

Parsons, W. T., & Cuthbertson, E. G. (2001). Noxious Weeds of Australia (2nd ed., pp. 245–253). Collingwood, Victoria: CSIRO Publishing.

Payne, W. W. (1962). Biosystematics studies of four widespread weedy species of ragweeds (Ambrosia: Compositae) Ph.D. thesis University Microfilms, Ann Arbor, MI (pp. 319).

Payne, W. W. (1964). A re-evaluation of the genus Ambrosia (Compositae). Journal of the Arnold Arboretum, 65, 401–438.

Richardson, D. M., Pysek, P., Rejmanek, M., Barbour, M. G., Dane, F., & Wes, C. J. (2000). Naturalization and invasion of alien plants: concepts and definitions. Diversity and Distributions, 6, 1076–1109.

Shmida, A., & Pollak, G. (2007). Red data book: Endangered plants of Israel (Vol. 1). Israel: Israel Nature and Parks Authority.

Šikoparija, B., Skjøth, C. A., Alm Kübler, K., Dahl, A., Sommer, J., Grewling, L., et al. (2013). A mechanism for long distance transport of Ambrosia pollen from the Pannonian Plain. Agricultural and Forest Meteorology, 180, 112–117.

Smith, E. G. (1984). Sampling and identifying allergenic pollens and molds: An illustrated manual for physicians and lab technicians (p. 92). San Antonio: Blewstone Press, The University of Michigan.

Smith, M., Skjøth, C. A., Myszkowska, D., Uruska, A., Puc, M., Stach, A., et al. (2008). Long-range transport of Ambrosia pollen to Poland. Agricultural and Forest Meteorology, 148, 1402–1411.

Sommer, J., Smith, M., Šikoparija, B., Kasprzyk, I., Myszkowska, D., Grewling, Ł., et al. (2015). Risk of exposure to Airborne ambrosia pollen from local and distant sources in Europe-an example from Denmark. Annals of Agricultural and Environmental Medicine, 22, 625–631.

State of Victoria, Department of Primary Industries. (2010). Invasive Plants and Animals Policy Framework. http://agriculture.vic.gov.au/agriculture/pests-diseases-and-weeds/protecting-victoria-from-pest-animals-and-weeds/invasive-plants-and-animals/invasive-plants-and-animals-policy-framework. Accessed 14 Sept 2017.

Strother, J. L. (2006). Asteraceae. In Flora of North America Editorial Committee, (eds). 1993+ . Flora of North America North of Mexico. 20+. (Vol. 21). New York.

Thibaudon, M., Šikoparija, B., Oliver, G., Smith, M., & Skjøth, C. A. (2014). Ragweed pollen source inventory for France: The second largest centre of Ambrosia in Europe. Atmospheric Environment, 83, 62–71.

Tosi, A., Wüthrich, B., Bonini, M., & Pietragalla-Köhler, B. (2011). Time lag between Ambrosia sensitisation and Ambrosia allergy: A 20-year study (1989-2008) in Legnano, Northern Italy. Swiss Medical Weekly, 141, 13253.

Wadii, A., & Dardona, Y. (2016). Floristic biodiversity and phytogeographical study in few sites of Gaza Strip, Palestine. International Journal of Current Science, 19, 165–182.

Waisel, Y., Eshel, A., Keynan, N., & Langgut, D. (2008). Ambrosia: A new impending disaster for the Israeli allergic population. Israel Medical Association Journal, 10, 856–857.

Waisel, Y., Ganor, E., Glikman, M., Epstein, V., & Brenner, S. (1997). Seasonal distribution of airborne pollen in the coastal plain of Israel. Aerobiologia, 13, 127–134.

Wopfner, N., Gadermaier, G., Egger, M., Asero, R., Ebner, C., Jahn-Schmid, B., et al. (2005). The spectrum of allergens in ragweed and mugwort pollen. International Archives of Allergy and Immunology, 138, 337–346.

Yair, Y., Kapiluto, O., Yaacoby, T., Rubin, B., Eizenberg, H., Dufour-Dror, J. M. (2017b). Ambrosia grayi, a new Ambrosia species in Israel. Kalanit 4. www.kalanit.org.il/August-2017/.

Yair, Y., Sibony, M., & Rubin, B. (2017a). Four Ambrosia species in Israel: Invasive, naturalized and casual alien plants. Israel Journal of Plant Sciences, 64, 93–98.

Ziska, L., Knowlton, K., Rogers, C., Dalan, D., Tierney, N., Elder, M. A., et al. (2011). Recent warming by latitude associated with increased length of ragweed pollen season in Central North America. Proceedings of the National Academy of Sciences USA, 108, 4248–4251.
Acknowledgements
We thank Prof. Amram Eshel, Dr. Tuvia Yaacoby, Yehuda Geller, Dr. Oz Golan, Dr. Jean-Marc Dufour-Dror, Yair Ur, Tom Kliper and Omer Kapiluto for their help during this study. Special thanks are due to Hagar Leshner and The National Herbarium of the Hebrew University of Jerusalem for providing us with specimens. We acknowledge the partial financial support of the Office of the Chief Scientist, Ministry of Agriculture, Israel.
About this article
Cite this article
Yair, Y., Sibony, M., Goldberg, A. et al. Ragweed species (Ambrosia spp.) in Israel: distribution and allergenicity. Aerobiologia 35, 85–95 (2019). https://doi.org/10.1007/s10453-018-9542-6
Received:

Accepted:

Published:

Issue Date:
Keywords
Ambrosia confertiflora
Ambrosia tenuifolia
Ambrosia artemisiifolia
Ambrosia psilostachya
Ambrosia grayi
Ambrosia maritima

Pollen sensitization

Skin prick allergy test

Invasive species