Abstract
Relationships between meteorological factors and airborne pollen concentrations at high altitudes are virtually unknown. We used cross-correlation analyses to test the relationships between daily variation in meteorological factors (i.e. temperature, humidity and wind speed) and airborne pollen concentration, diversity (number of families and Shannon and Simpson diversity indices) and evenness (Pielou index) in an Apennine high-altitude site (Gran Sasso Massif, 2117 m elevation). In contrast to patterns observed at low altitudes, the temperature had a negative correlation with pollen abundance and diversity, whereas humidity had a positive correlation. The unexpected negative correlations with temperature can be explained with the particular position of our sampling site. Wind speed was positively correlated with pollen diversity and abundance in the short term, which can be explained by the fact that higher wind speed promotes both primary emission of pollen from the anthers and subsequent re-suspension. Evenness and wind speed were negatively correlated in the short term because of the different response of different species to meteorological conditions. In the longer term, the average concentrations of the various taxa tend to reach similar values, leading to increased values of diversity. Our finding of a decrease in pollen emission with increasing temperature has important implications for the study of the impacts of global change on high-altitude plant communities. We also detected a high abundance of Cupressaceae/Taxaceae pollen, a reflection of the expansion of thermophilic species, such as Juniperus, due to climate change.
Access options
Buy single article
Instant access to the full article PDF.
US$ 39.95
Tax calculation will be finalised during checkout.
Subscribe to journal
Immediate online access to all issues from 2019. Subscription will auto renew annually.
US$ 79
Tax calculation will be finalised during checkout.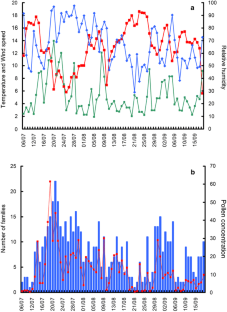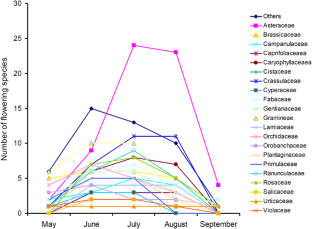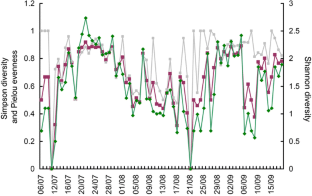 References
Abu-Dieyeh, M. H., & Ratrout, Y. S. (2012). Seasonal variation of airborne pollen grains in the atmosphere of Zarqa area, Jordan. Aerobiologia, 28, 527–539.

Albertini, R., Brighetti, M. A., Galàn, C., Torrigiani- Malaspina, T., Manfredi, M., Marcer, M., et al. (2009). Manuale di Gestione e Qualità della Rete Italiana di Monitoraggio in Aerobiologia. R.I.M.A. Ozzano Emilia, Bologna: Associazione Italiana di Aerobiologia.

Allen, C. D., & Breshears, D. D. (1998). Ecology drought-induced shift of a forest–woodland ecotone: Rapid landscape response to climate variation. Proceedings of the National Academy of Sciences of the United States of America, 95, 14839–14842.

Altintas, D. U., Karakoc, B. G., Yilmaz, M., Pinar, M., Kendirli, G., & Cakan, H. (2004). Relationship between pollen counts and weather variables in East-Mediterranean Coast of Turkey. Clinical and Developmental Immunology, 11, 87–96.

Alwadie, M. H. (2008). Pollen concentration in the atmosphere of Abha City, Saudi Arabia and its relationship with meteorological parameters. Journal of Applied Sciences, 8, 842–847.

Angelosante Bruno, A., Pace, L., Tomassetti, B., Coppola, E., Verdecchia, M., Pacioni, G., et al. (2007). Estimation of fungal spore concentrations associated to meteorological variables. Aerobiologia, 23, 221–228.

Ayres, J. G., Forberg, B., Annesi-Maesano, I., Dey, R., Ebi, K. L., et al. (2009). Climate change and respiratory disease. European Respiratory Society position paper on behalf of the Environment and Human Health Committee. European Respiratory Journal, 34, 295–302.

Bachert, C., Vignola, A. M., Gevaert, P., Leynaert, B., Van Cauwenberge, P., & Bousquet, J. (2004). Allergic rhinitis, rhinosinusitis, and asthma: One airway disease. Immunology and Allergy Clinics of North America, 24, 19–43.

Bahn, M., & Korner, C. (1987). Vegetation und Phanologie der hochalpinen Gipfelflur des Glungezer in Tirol. Berichte des Naturwissenschaftlich-medizinischen Vereins in Innsbruck, 74, 61–80.

Belmonte, J., & Vilà, M. (2004). Atmospheric invasion of non-native pollen in the Mediterranean region. American Journal of Botany, 91, 1243–1250.

Bianchi, M. M., & Olabuenaga, S. E. (2006). A 3-year airborne pollen and fungal spores record in San Carlos de Bariloche, Patagonia, Argentina. Aerobiologia, 22, 247–257.

Biondi, E., Ballelli, S., Allegrezza, M., Taffetani, M., Frattaroli, A. R., Guitian, J., et al. (1999). La vegetazione di Campo Imperatore (Gran Sasso d'Italia). Braun Blanquetia, 16, 53–116.

Brauer, M., Hoek, G., Smit, H. A., De Jongste, J. C., Gerritsen, J., Postmae, D. S., et al. (2007). Air pollution and development of asthma, allergy and infections in a birth cohort. European Respiratory Journal, 29, 879–888.

Brooks, J., & Shaw, G. (2009). Sporopollenin: A review of its chemistry, palaeochemistry and geochemistry. Grana, 17, 91–97.

Bruun, H. H., Moen, J., Virtanen, R., Grytnes, J., Oksanen, L., & Angerbjörn, A. (2006). Effects of altitude and topography on species richness of vascular plants, bryophytes and lichens in alpine communities. Journal of Vegetation Science, 17, 37–46.

Camacho, I., Grinn-Gofroń, A., Camacho, R., Berenguer, P., & Sadyś, M. (2016). Madeira—A tourist destination for asthma sufferers. International Journal of Biometeorology, 60, 1739–1751.

Comtois, P., Alcazar, P., & Neron, D. (1999). Pollen counts statistics and its relevance to precision. Aerobiologia, 15, 19–28.

Conti, F., Abbate, G., Alessandrini, A., & Blasi, C. (2005). An annotated checklist of the Italian vascular flora. Roma: Palombi Editore.

Conti, F., & Bartolucci, F. (2015). The vascular flora of the National Park of Abruzzo, Lazio and Molise (Central Italy). An annotated checklist. Geobotany Studies 6. Berlin: Springer.

Cristofanelli, P., Di Carlo, P., D' Altorio, A., Dari Salisburgo, C., Tuccella, P., et al. (2013). Analysis of summer ozone observations at a high mountain site in Central Italy (Campo Imperatore, 2388 m a.s.l.). Pure and Applied Geophysics, 170, 1985–1999.

D'Amato, G., Cecchi, L., Bonini, S., Nunes, C., Annesi-Maesano, I., Behrendt, H., et al. (2007). Allergenic pollen and pollen allergy in Europe. Allergy, 62, 976–990.

D'Amato, G., Rottem, M., Dahl, R., Blaiss, M., Ridolo, E., Cecchi, L., et al. (2011). Climate change, migration, and allergic respiratory diseases: An update for the allergist. World Allergy Organ Journal, 4, 120–125.

De La Cruz, D., Sánchez-Reyes, E., & Sánchez-Sánchez, J. (2012). Analysis of Chenopodiaceae-Amaranthaceae airborne pollen in Salamanca, Spain. Turkish Journal of Botany, 36, 336–343.

Diana, B., Finocchiaro, A. M., La Delfa, S., Patanè, G., Presti, F., Timpanaro, M., et al. (2006). Aerobiological monitoring applications in the Etnean volcanic plume evaluation (Mt. Etna, Sicily) and correlation with allergopathies. Aerobiologia, 22, 285–293.

Fernández-Llamazares, Á., Belmonte, J., Boada, M., & Fraixedas, S. (2014). Airborne pollen records and their potential applications to the conservation of biodiversity. Aerobiologia, 30, 111–122.

Franchi, G. G., Piotto, B. N., Nepi, M., Baskin, C. C., Baskin, J. M., & Pacini, E. (2011). Pollen and seed desiccation tolerance in relation to degree of developmental arrest, dispersal and survival. Journal of Experimental Botany, 62, 5267–5281.

Galán, C., Emberlin, J., Domíguez, E., Bryant, R. H., & Villamandos, F. (1995). A comparative analysis of daily variations in the Gramineae pollen counts at Córdoba, Spain and London, UK. Grana, 34, 189–198.

Galán, C., Garcìa-Mozo, H., Vàzquez, L., Ruiz-Valenzuela, L., Dìaz de la Guardia, C., & Trigo-Pèrez, M. (2005). Heat requirement for the onset of the Olea europaea L. Pollen season in several places of Andalusia region and the effect of the expected future climate change. International Journal of Biometeorology, 49, 184–188.

García-Mozo, H., Galán, C., Belmonte, J., Bermejo, D., Candau, P., Díaz de la Guardia, C., et al. (2009). Predicting the start and peak dates of the Poaceae pollen season in Spain using process-based models. Agriculture and Forest Meteorology, 149, 256–262.

Guardia, C., Alba, F., Linares, C., Nieto-Lugilde, D., & Caballero, D. (2006). Aerobiological and allergic analysis of Cupressaceae pollen in Granada (Southern Spain). Journal of Investing Allergy and Clinical Immunology, 16, 24–33.

Guarín, F. A., Abril, M. A. Q., Alvarez, A., & Fonnegra, R. (2015). Atmospheric pollen and spore content in the urban area of the city of Medellin, Colombia. Hoehnea, 42, 9–19.

Halwagy, M. (1988). Concentration of airborne pollen at three sites in Kuwait. Grana, 27, 53–62.

Hammer, O., Harper, D. A. T., & Ryan, P. D. (2001). PAST: Paleontological Statistics software package for education and data analysis. Palaeontologia Electronica, 4, 9.

Hart, M. L., Ventworth, J. E., & Bailey, J. P. (1994). The effects of trap height and weather variables on recorded pollen concentration at Leicester. Grana, 33, 100–103.

Hilaire, D., Rotach, M. W., & Clot, B. (2012). Building models for daily pollen concentrations. The example of 16 pollen taxa in 14 Swiss monitoring stations. Aerobiologia, 28, 499–513.

Hirst, J. M. (1952). An automatic volumetric spore trap. The Annals of Applied Biology, 39(2), 257–265.

Hong, C. S., Hwang, Y., Oh, S. H., Kim, H. J., Huh, K. B., & Lee, S. Y. (1986). Survey of the airborne pollen in Seoul Korea. Yonsei Medical Journal, 27(2), 114–120.

Izquierdo, R., Belmonte, J., Avila, A., Alarcón, M., Cuevas, E., & Alonso-Pérez, S. (2011). Source areas and long-range transport of pollen from continental land to Tenerife (Canary Islands). International Journal of Biometeorology, 55(1), 67–85.

Jochner, S., Ziello, C., Böck, A., Estrella, N., Buters, J., Weichenmeier, I., et al. (2012). Spatio-temporal investigation of flowering dates and pollen counts in the topographically complex Zugspitze area on the German–Austrian border. Aerobiologia, 28, 541–556.

Käpylä, M. (2009). Diurnal variation of tree pollen in the air in Finland. Grana, 23, 167–176.

Keyynan, N., Waisel, Y., Shomer-Ilan, A., Goren, A., & Brener, S. (1991). Annual variations of airborne pollen in the coastal plain of Israel. Grana, 30, 477–480.

Körner, C. (2003). Alpine Plant Life. Functional plant ecology of high mountain ecosystems. Berlin: Springer.

Kumar, S. (1985). A survey of aerollergenic pollen and spores in the urban environment of Bareilly (India). Geophytology, 15, 188–198.

Lu, G., Glovsky, M. M., House, J., Flagan, R. C., & Taylor, P. E. (2005). Quantifying emissions of grass pollen and pollen fragments. Journal of Allergy and Clinical Immunology, 115, S21.

Magurran, A. E. (1988). Ecological diversity and its measurement. New South Wales: Croom Helm.

Magyar, D., Frenguelli, G., Bricchi, E., Tedeschini, E., Csontos, P., Li, D. W., et al. (2009). The biodiversity of air spora in an Italian vineyard. Aerobiologia, 25, 99–109.

Mandrioli, P. (2000). Metodo di campionamento e conteggio dei granuli pollinici e delle spore fungine aerodisperse. Progetto di norma proposto alla Commissione Ambiente UNI. Consiglio Nazionale delle Ricerche, Istituto di Scienze dell'Atmosfera e dell'Oceano (ISAO). http://www.arpae.it/cms3/documenti/_cerca_doc/pollini/conteggio_pollini_spore.pdf.

Markgraf, V. (1980). Pollen dispersal in a mountain area. Grana, 19, 127–146.

Marshall, J. B. (2004). European allergy white paper. Allergic diseases as a public health problem in Europe. The UCB Institute of Allergy.

Menzel, A. (2003). European phenological response to climate change matches the warming pattern. Climatic Change, 57, 243.

Morris, E. K., Caruso, T., Buscot, F., Fischer, M., Hancock, C., Maier, T. S., et al. (2014). Choosing and using diversity indices: Insights for ecological applications from the German Biodiversity Exploratories. Ecology and Evolution, 4, 3514–3524.

Nowosad, J., Stach, A., Kasprzyk, I., Latałowa, M., Puc, M., Myszkowska, D., et al. (2015). Temporal and spatiotemporal autocorrelation of daily concentrations of Alnus, Betula, and Corylus pollen in Poland. Aerobiologia, 31, 159–177.

Nualart, N. (2003). Modelització de la distribuciópotencial a Catalunya de 24 espècies vegetals vasculars. Barcelona: Universidad de Barcelona.

Osborne, C. P., Chiune, I., Viner, D., & Woodward, F. I. (2000). Olive phenology as a sensitive indicator of future climatic warming in the Mediterranean. Plant, Cell and Environment, 23, 701–710.

Övergaard, R., Gemmel, P., & Karlsson, M. (2007). Effects of weather conditions on mast year frequency in beech (Fagus sylvatica L.) in Sweden. Forestry, 80, 555–565.

Pace, L., De Martinis, M., Sansonetti, G., Sirufo, M., Casilli, M., & Ginaldi, L. (2013). The aerobiological data in allergology in the provinces of L'Aquila and Teramo (Abruzzo). Allergy, 68(Supplement s97), 265–266.

Pace, L., Pacioni, G., Pirone, G., & Ranieri, L. (2005). Il Giardino Alpino di Campo Imperatore (Gran Sasso d'Italia). Informatore Botanico Italiano, 37, 1211–1214.

Pauli, H., Gottfried, M., & Grabherr, G. (1999). Vascular plant distribution patterns at the lowtemperature limits of plant life—The Alpine-nival ecotone of Mount Schrankogel (Tyrol, Austria). Phytocoenologia, 29, 297–325.

Pérez, C., Gassmann, M., & Covi, M. (2009). An evaluation of the airborne pollen-precipitation relationship with the superposed epoch method. Aerobiologia, 25, 313–320.

Perveen, A., & Khan, M. (2014). Seasonal fluctuations of airborne pollen grains count and its correlation with climatic factors from Khairpur Sindh, Pakistan. Pakistan Journal of Botany, 46, 299–306.

Perveen, A., Qaiser, M., & Islam, M. (2007). Airborne pollen survey of karachi and adjacent areas in relation to allergy. World Applied Sciences Journal, 2, 289–298.

Pitari, G., Coppari, E., De Luca, N., Di Carlo, P., & Pace, L. (2014). Aerosol measurements in the atmospheric surface layer at L'Aquila, Italy: Focus on biogenic primary particles. Pure and Applied Geophysics, 171, 2425.

Puc, M., & Wolski, T. (2002). Betula and Populus pollen counts and meteorological conditions in Szczecin, Poland. Annals of Agricultural and Environmental Medicine, 9, 65–69.

Ribeiro, H., Cunha, M., & Abreu, A. (2003). Airborne pollen concentration in the region of Braga, Portugal, and its relationship with meteorological parameters. Aerobiologia, 19, 21–27.

Riediker, M., Koller, T., & Monn, C. (2000). Determination of birch pollen allergens in different aerosol sizes. Aerobiologia, 16, 251–254.

Sánchez Mesa, J. A., Smith, M., Emberlin, J., Allitt, U., Caulton, E., & Galan, C. (2003). Characteristics of grass pollen seasons in areas of southern Spain and the United Kingdom. Aerobiologia, 19, 243–250.

Satpute, M., Dutta, B. K., & Rao, R. R. (1983). Contributions to the aerobiology of Shilling, I. Studies on the seasonal variation of atmospheric pollen and fungal spores. Proceedings of the Indian Academy of Sciences (Plant Science), B49, 675–686.

Scheifinger, H., Belmonte, J., Celenk, S., Damialis, A., Dechamp, C., Garcia-Mozo, H., et al. (2013). Monitoring, modelling and forecasting of the pollen season. In M. Sofiev & K. Bergmann (Eds.), Allergenic pollen: A review of the production, release, distribution and health impact. The Netherlands: Springer.

Sebők, F., Dobolyi, C., Bobvos, J., Szoboszlay, S., Kriszt, B., & Magyar, D. (2016). Thermophilic fungi in air samples in surroundings of compost piles of municipal, agricultural and horticultural origin. Aerobiologia, 32, 255–263.

Stanisci, A. (1997). Gli arbusteti altomontani dell'Appennino centrale e meridionale. Fitosociologia, 34, 3–46.

Tammaro, F. (1998). Il paesaggio vegetale dell'Abruzzo. Penne: Cogecstre edizioni.

Theurillat, J. P. (1995). Climate change and the alpine flora: Some perspectives. In A. Guisan, J. I. Holten, R. Spichigerand, & L. Tessier (Eds.), Potential ecological impacts of climate change in the Alps and Fennoscandian mountains (pp. 121–127). Genève: Conservatoire du Jardin Botanique de Genève.

Thomas, C. D., Cameron, A., Green, R. E., Bakkenes, M., Beaumont, L. J., Collingham, Y. C., et al. (2004). Extinction risk from climate change. Nature, 427, 145–148.

Van Vliet, A. J. H., Overeem, A., De Groot, R. S., Jacobs, A. F. G., & Spieksma, F. T. M. (2002). The influence of temperature and climate change on the timing of pollen release in the Netherlands. International Journal of Climatology, 22, 1757–1767.
Acknowledgements
We are grateful to two anonymous referees for their comments on a previous version of this paper.
About this article
Cite this article
Pace, L., Boccacci, L., Casilli, M. et al. Correlations between weather conditions and airborne pollen concentration and diversity in a Mediterranean high-altitude site disclose unexpected temporal patterns. Aerobiologia 34, 75–87 (2018). https://doi.org/10.1007/s10453-017-9499-x
Received:

Accepted:

Published:

Issue Date:
Keywords
Temperature

Humidity

Wind speed

Gran Sasso National Park

Italy

Diversity indices

Climate change