Abstract
The impact of climate change on fungal growth and spore production is less well documented than for allergenic pollen grains, although similar implications for respiratory tract diseases in humans occur. Fungal spores are commonly described as either "dry" or "wet" according to the type of weather associated with their occurrence in the air. This study examined the distribution of selected fungal spores (Alternaria spp., Cladosporium spp., Didymella spp., Epicoccum spp., Leptosphaeria spp. and rusts) occurring in the West Midlands of UK during 2 years of contrasting weather. Spore specimens were collected using a 7-day volumetric air sampler and then analysed with the aid of light microscopy. Distributions of spores were then studied using normality tests and Mann–Whitney U test, while relationships with meteorological parameters were investigated using Spearman's rank test and angular-linear correlation for wind direction analysis. Our results showed that so-called wet spores were more sensitive to the weather changes showing statistically significant differences between the 2 years of study, in contrast to "dry" spores. We predict that in following years we will observe accelerated levels in allergenic fungal spore production as well as changes in species diversity. This study could be a starting point to revise the grouping system of fungal spores as either "dry" or "wet" types and their response to climate change.
Access options
Buy single article
Instant access to the full article PDF.
USD 39.95
Price excludes VAT (USA)
Tax calculation will be finalised during checkout.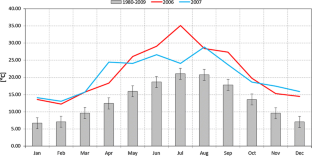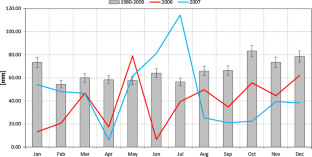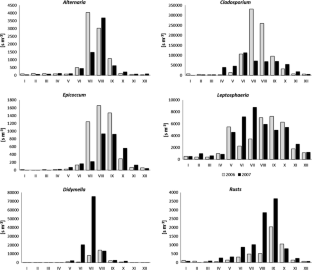 References
Airaksinen, M., Pasanen, P., Kurnitski, J., & Seppänen, O. (2004). Microbial contamination of indoor air due to leakages from crawl space—A field study. Indoor Air, 14(1), 55–64.

Allali, A., Bojariu, R., Diaz, S., Elgizouli, I., Griggs, D., Hawkins, D. et al. (eds) (2007). Climate change 2007: Synthesis report. An assessment of the Intergovernmental Panel on Climate Change. Cambridge University Press, Cambridge.

Cecchi, L., D'Amato, G. D., Ayres, J. G., Galan, C., Forastiere, F., Forsberg, B., et al. (2010). Projections of the effects of climate change on allergenic asthma: The contribution of aerobiology. Allergy, 65(9), 1073–1081.

Codina, R., Fox, R. W., Lockey, R. F., DeMarco, P., & Bagg, A. (2008). Typical levels of airborne fungal spores in houses without obvious moisture problems during a rainy season in Florida, USA. Journal of investigational Allergology and Clinical Immunology, 18(3), 156–162.

Corden, J. M., & Millington, W. M. (2001). The long-term trends and seasonal variation of the aeroallergen Alternaria in Derby, UK. Aerobiologia, 17, 127–136.

D'Amato, G. D., & Cecchi, L. (2008). Effects of climate change on environmental factors in respiratory allergic diseases. Clinical and Experimental Allergy, 38, 1264–1274.

D'Amato, G. D., Rottem, M., Dahl, R., Blaiss, M. S., Ridolo, E., Cecchi, L., et al. (2011). Climate change, migration, and allergic respiratory diseases: An update for the allergist. WAO Journal, 4, 121–125.

Damialis, A., Mohammad, A. B., Halley, J. M., & Gange, A. C. (2014). Fungi in a changing world: Growth rates will be elevated, but spore production may decrease in future climates. International Journal of Biometeorology,. doi:10.1007/s00484-014-0927-0.

Damialis, A., Vokou, D., Gioulekas, D., & Halley, J. M. (2015). Long-term trends in airborne fungal-spore concentrations: A comparison with pollen. Fungal Ecology, 13, 150–156.

Del Mar Trigo, M., Toro, F. J., Recio, M., & Cabezudo, B. (2000). A statistical approach to comparing the results from different aerobiological stations. Grana, 39(5), 252–258.

Frankland, A. W., & Davies, R. R. (1965). Allergy to mold spores in England. Le Poumon et le coeur, 21, 11–31.

Gange, A. C., Gange, E. G., Sparks, T. H., & Boddy, L. (2007). Rapid and recent changes in fungal fruiting patterns. Science, 316, 71.

Heseltine, E., & Rosen, J. (2009). World Health Organisation guidelines for indoor air quality: Moulds and dampness. Copenhagen: WHO.

Hirst, J. (1952). An automatic volumetric spore trap. Annals of Applied Biology, 39, 257–265.

Hjelmroos, M. (1993). Relationship between airborne fungal spore presence and weather variables. Cladosporium and Alternaria. Grana, 32, 40–47.

Humperson-Jones, F. M., & Phelps, K. (1989). Climatic factors influencing spore production in Alternaria brassicae and Alternaria brassicicola. Annals of Applied Biology, 114, 449–458.

Kauserud, H., Heegaard, E., Büntgen, U., Halvorsen, R., Egli, S., Senn-Irlet, B., et al. (2012). Warming-induced shift in European mushroom fruiting phenology. PNAS, 109(36), 14488–14493.

Kauserud, H., Heegaard, E., Halvorsen, R., Boddy, L., Høiland, K., & Stenseth, N. C. (2011). Mushroom's spore size and time of fruiting are strongly related: Is moisture important? Biology Letters, 7, 273–276.

Kauserud, H., Stige, L. C., Vik, J. O., Økland, R. H., Høiland, K., & Stenseth, N. C. (2008). Mushroom fruiting and climate change. PNAS, 105(10), 3811–3814.

Kennedy, R., & Smith, M. (2012). Effects of aeroallergens on human health under climate change. In S. Vardoulakis & C. Heaviside (Eds.), Health effects of climate change in the UK 2012. Current evidence, recommendations and research gaps (pp. 83–96). London: Health Protection Agency.

Kennedy, R., & Wakeham, A. J. (2015). Centenary Editorial: Measuring biological particles in the air using the Hirst type spore trap: Aerobiology in the age of genomics. Annals of Applied Biology, 166, 1–3. doi:10.1111/aab.12192.

Lacey, J. (1981). The aerobiology of conidial fungi. In G. T. Cole (Ed.), Biology of conidial fungi (pp. 373–416). New York: Academic Press.

Lacey, J. (1996). Spore dispersal—Its role in ecology and disease: the British contribution to fungal aerobiology. Mycological Research, 100(6), 641–660.

Lacey, M. E., & West, J. (2006). The air spora. A manual for catching and identifying airborne biological particles., Dordrecht: Springer.

Marsh, T. J., & Hannaford, J., (2007). The summer 2007 floods in England and Wales—A hydrological appraisal. Wallingford: Centre for Ecology & Hydrology.

Meredith, D. S. (1962). Some components of the air-spora in Jamaican banana plantations. Annals of Applied Biology, 50(3), 577–594.

Meredith, D. S. (1963). Violent spore release in some fungi imperfecti. Annals of Botany, 27(1), 39–47.

Met Office. (2011). Climate: Observations, projections and impacts. http://www.metoffice.gov.uk/media/pdf/t/r/UK.pdf.

Met Office. (2012a). Record breaking heat and sunshine—July 2006. http://www.metoffice.gov.uk/climate/uk/interesting/july2006.

Met Office (2012b). Heavy rainfall/flooding—June 2007. http://www.metoffice.gov.uk/climate/uk/interesting/june2007.

Met Office. (2013). Warmest, driest and sunniest summer since 2006. http://www.metoffice.gov.uk/news/releases/archive/2013/early-summer-stats.

Mukaka, M. M. (2012). Statistics corner: A guide to appropriate use of correlation coefficient in medical research. Malawi Medical Journal, 24(3), 69–71.

Nilsson, S., & Persson, S. (1981). Tree pollen spectra in the Stockholm region (Sweden), 1973–1980. Grana, 20(3), 179–182.

O'Connor, D. J., Sadyś, M., Skjøth, C. A., Healy, D. A., Kennedy, R., & Sodeau, J. R. (2014). Atmospheric concentrations of Alternaria, Cladosporium, Ganoderma and Didymella spores monitored in Cork (Ireland) and Worcester (England) during the summer of 2010. Aerobiologia, 30, 397–411.

Oliveira, M., Ribeiro, H., Delgado, J. L., & Abreu, I. (2009). Seasonal and intradiurnal variation of allergenic fungal spores in urban and rural areas of the North of Portugal. Aerobiologia, 25, 85–98.

Pakpour, S., Li, D.-W., & Klironomos, J. (2015). Relationships of fungal spore concentrations in the air and meteorological factors. Fungal Ecol., 13, 130–134.

Reid, C. E., & Gamble, J. L. (2009). Aeroallergens, allergic disease, and climate change: Impacts and adaptation. EcoHealth, 6, 458–470.

Sadyś, M., Skjøth, C. A., & Kennedy, R. (2014). Back-trajectories show export of airborne fungal spores (Ganoderma sp.) from forests to agricultural and urban areas in England. Atmospheric Environment, 84, 88–99.

Sadyś, M., Strzelczak, A., Grinn-Gofroń, A., & Kennedy, R. (2015). Application of redundancy analysis for aerobiological data. International Journal of Biometeorology, 59, 25–26.

Şakiyan, N., & İnceoğlu, Ö. (2003). Atmospheric concentrations of Cladosporium Link and Alternaria Nées in Ankara and the effects of meteorological factors. Turkish Journal of Botany, 27, 77–81.

Skjøth, C. A., Sommer, J., Frederiksen, L., & Karlson, U. G. (2012). Crop harvest in Denmark and Central Europe contributes to the local load of airborne Alternaria spore concentrations in Copenhagen. ACP, 12(22), 11107–11123.

UKCP. (2009). UK climate projections. http://ukclimateprojections.metoffice.gov.uk/.

West, J. S., Townsend, J. A., Stevens, M., & Fitt, B. D. L. (2012). Comparative biology of different plant pathogens to estimate effects of climate change on crop diseases in Europe. European Journal of Plant Pathology, 133, 315–331.

Wolf, J., O'Neil, N. R., Rogers, C. A., Muilenberg, M. L., & Ziska, L. H. (2010). Elevated atmospheric carbon dioxide concentrations amplify Alternaria alternata sporulation and total antigen production. Environmental Health Perspectives, 118, 1223–1228.

Ziska, L. H., Blumenthal, D. M., Runion, G. B., Hunt, E. R, Jr, & Diaz-Soltero, H. (2011). Invasive species and climate change: An agronomic perspective. Climate Change, 105, 13–42.

Ziska, L. H., Epstein, P. B., & Rogers, C. A. (2008). Climate change, aerobiology, and public health in the northeast United States. Mitigation and Adaptation Strategies for Global Change, 13, 607–613.
Ethics declarations
Conflict of interest
Authors declare no conflict of interest.
Electronic supplementary material
Below is the link to the electronic supplementary material.
About this article
Cite this article
Sadyś, M., Kennedy, R. & West, J.S. Potential impact of climate change on fungal distributions: analysis of 2 years of contrasting weather in the UK. Aerobiologia 32, 127–137 (2016). https://doi.org/10.1007/s10453-015-9402-6
Received:

Accepted:

Published:

Issue Date:

DOI: https://doi.org/10.1007/s10453-015-9402-6
Keywords
Dry spores

Wet spores

Fungal ecology

Aerobiology

Allergy

Climate change