Abstract
In this study, the seasonally averaged intradiurnal patterns of four different pollen types (Fraxinus, Betula, Poaceae and Artemisia) and the role of traffic volume, air pollution and selected weather parameters were investigated. Measurements were carried out with a 7-day recording volumetric spore trap (Hirst type) near a congested city motorway (the A 100) in Berlin, Germany, in 2012, 2013 and partly 2011. Both Poaceae and Artemisia pollen showed distinct patterns which were similar across the years. The main period of grass pollen concentrations in the air was from 8 a.m. to 10 p.m. with peaks about midday or in the afternoon. Mugwort pollen mainly occurred between 6 a.m. and 2 p.m. with a clear maximum from 8 to 10 a.m. With regard to Fraxinus and Betula pollen, the patterns were not as clear and showed differences throughout the years. The intradiurnal patterns of traffic volume and pollen load, mainly of Poaceae in the afternoon and Artemisia in the morning, were partly coincident. The combination of both a high pollen count and air pollution, due to exhaust emissions, represents a special health threat which could result in a double burden for allergy sufferers. In the case of the daily means of Betula and Poaceae, relative humidity had a significantly negative effect on pollen concentrations on the same and/or next day/s, sunshine duration (Poaceae) and air temperature (Artemisia) a positive one.
Access options
Buy single article
Instant access to the full article PDF.
US$ 39.95
Tax calculation will be finalised during checkout.
Subscribe to journal
Immediate online access to all issues from 2019. Subscription will auto renew annually.
US$ 79
Tax calculation will be finalised during checkout.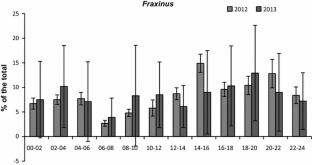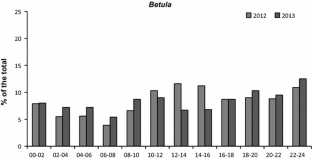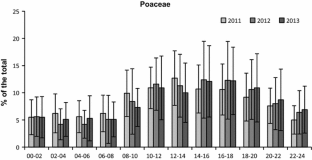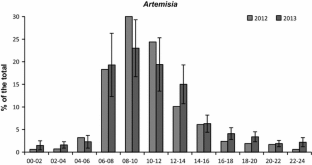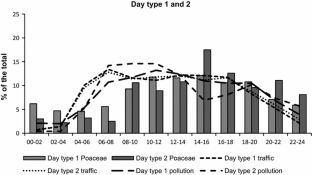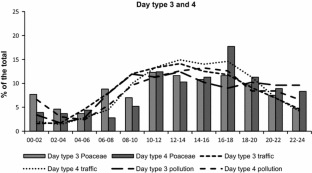 References
Behrendt, H., Becker, W.M., Friedrichs, K. H., et al. (1992). Interaction between aeroallergens and airborne particulate matter. International Archives of Allergy and Immunology, 99, 425–428.

Behrendt, H., Becker, W.M., Fritzsche, C., et al. (1997). Air pollution and allergy: Experimental studies on modulation of allergen release from pollen by air pollutants. International Archives of Allergy and Immunology, 113, 69–74.

Bergmann, K.-C., & Jäger, S. (2010). Pollenflug über Europa - Indikator des Klimawandels? Rundgespräche der Kommission für Ökologie, Bd. 38 "Bioaerosole und ihre Bedeutung für die Gesundheit", 43–53.

Bergmann, K.-C., Simoleit, A., Wagener, S., Mücke, H.-G., Werchan, M., & Zuberbier, T. (2013). The distribution of pollen and particulate matter in an urban agglomeration using the city of Berlin as an example. Allergo Journal. doi:10.1007/s15007-013-0430-7.

Bergmann, K.-C., Zuberbier, T., Augustin, J., et al. (2012). Klimawandel und Pollenallergie: Städte und Kommunen sollten bei der Bepflanzung des öffentlichen Raums Rücksicht auf Pollenallergiker nehmen. Allergo Journal, 21, 103–108.

Blomme, K., Tomassen, P., Lapeere, H., Huvenne, W., Bonny, M., Acke, F., et al. (2013). Prevalence of allergic sensitization versus allergic rhinitis symptoms in an unselected population. International Archives of Allergy and Immunology, 160, 200–207.

Cakmak, S., Dales, R. E., & Coates, F. (2012). Does air pollution increase the effect of aeroallergens on hospitalization for asthma? Journal of Allergy and Clinical Immunology, 129(1), 228–231.

Dales, R. E., Cakmak, S., Judek, S., & Coates, F. (2008). Tree pollen and hospitalization for asthma in urban Canada. International Archives of Allergy and Immunology, 146(3), 241–247.

D'Amato, G., Bergmann, K.-C., Cecchi, L., Annesi-Maesano, I., Sanduzzi, A., Liccardi, G., et al. (2014). Climate change and air pollution—Effects on pollen allergy and other allergic respiratory diseases. Allergo Journal International, 23, 17–23.

D'Amato, G., Cecchi, L., D'Amato, M., & Liccardi, G. (2010). Urban air pollution and climate change as environmental risk factors of respiratory allergy: An update. Journal of Investigational Allergology and Clinical Immunology, 20(2), 95–102.

Galán, C., Smith, M., Thibaudon, M., et al. (2014). Pollen monitoring: Minimum requirements and reproducibility of analysis. Aerobiologia, 30, 385–395.

Hecht, R. (1994). 3. Europäisches Pollenflug-Symposium - Bad Lippspringe - Vorträge und Berichte. In K.-C. Bergmann, Stiftung Deutscher Polleninformationsdienst (Eds.), Pollenbestimmungstechnik, Ergebniswertung und die Herausgabe von Pollenfluginformationen (pp. 21–32). Düsseldorf: Vereinigte Verlagsanstalten GmbH.

Hirst, J. M. (1952). An automatic volumetric spore trap. Annals of Applied Biology, 39, 257–265.

Jäger, S. (1990). Tageszeitliche Verteilung und langjährige Trends bei allergiekompetenten Pollen. Allergologie, 13(5), 159–182.

Jäger, S., Mandrioli, P., Spieksma, F., et al. (1995). News. Aerobiologia, 11, 69–70.

Jariwala, S. P., Kurada, S., Moday, H., et al. (2011). Association between tree pollen counts and asthma ED visits in a high-density urban center. Journal of Asthma, 48(5), 442–448.

Käpylä, M. (1981). Diurnal variation of non-arboreal pollen in the air in Finland. Grana, 20, 55–59.

Käpylä, M. (1984). Diurnal variation of tree pollen in the air in Finland. Grana, 23, 167–176.

Langen, U., Schmitz, R., & Steppuhn, H. (2013). Häufigkeit allergischer Erkrankungen in Deutschland - Ergebnisse der Studie zur Gesundheit Erwachsener in Deutschland (DEGS1). Bundesgesundheitsblatt. doi:10.1007/s00103-012-1652-7.

Mazzarella, G., Esposito, V., Bianco, A., et al. (2012). Inflammatory effects on human lung epithelial cells after exposure to diesel exhaust micron sub particles (PM1.0) and pollen allergens. Environmental Pollution, 161, 64–69.

Morgenstern, V., Zutavern, A., Cyrys, J., et al. (2008). GINI Study Group, LISA Study Group. Atopic diseases, allergic sensitization and exposure to traffic-related air pollution in children. American Journal of Respiratory and Critical Care Medicine, 177, 1331–1337.

Namork, E., Johansen, B. V., & Løvik, M. (2006). Detection of allergens adsorbed to ambient air particles collected in four European cities. Toxicology Letters, 165(1), 71–78.

Nilsson, S., & Persson, St. (1981). Tree pollen spectra in the Stockholm region (Sweden), 1973–1980. Grana, 20(3), 179–182.

Norris-Hill, J. (1999). The diurnal variation of Poaceae pollen concentrations in a rural area. Grana, 38, 301–305.

Thompson, J. L., & Thompson, J. E. (2003). The urban jungle and allergy. Immunology and Allergy Clinics of North America, 23(3), 371–387.

VMZ (Traffic Management Centre) Berlin Betreibergesellschaft mbH, Ullsteinstr. 114, Turm C, 12109 Berlin, Germany.

von Wahl, P.-G., Gebhart, S., & Chlebarov, S. (1989). Tageszeitliche Veränderungen des Birken- und Gräserpollengehaltes der Luft auf der ostfriesischen Insel Borkum. Allergologie, 12(6), 249–257.

Ziello, C., Sparks, T. H., Estrella, N., et al. (2012). Changes to airborne pollen counts across Europe. PLoS One, 7(4), e34076.

Ziska, L. H., Gebhard, D. E., Frenz, D. A., et al. (2003). Cities as harbingers of climate change: Common ragweed, urbanization and public health. Journal of Allergy and Clinical Immunology, 111(2), 290–295.

Zuberbier, T., Lötvall, J., Simoens, S., Subramanian, S. V., & Church, M. K. (2014). Economic burden of inadequate management of allergic diseases in the European Union: A GA2LEN review. Allergy, 69, 1275–1279.
Acknowledgments
The authors are grateful to the Traffic Management Centre Berlin (VMZ), Germany, for providing the traffic data free of charge and to the Department of Environmental Hygiene of the Federal Environment Agency, Berlin, Germany, for the possibility to use the monitoring site near the city motorway A 100.
Conflict of interest
The authors declare that they have no conflict of interest.
About this article
Cite this article
Simoleit, A., Gauger, U., Mücke, HG. et al. Intradiurnal patterns of allergenic airborne pollen near a city motorway in Berlin, Germany. Aerobiologia 32, 199–209 (2016). https://doi.org/10.1007/s10453-015-9390-6
Received:

Accepted:

Published:

Issue Date:
Keywords
Pollen

Intradiurnal patterns

Large city

City motorway

Traffic volume

Air pollution