Abstract
The patient's hay-fever diary (PHD) is a newly developed, internet-based tool for self-documentation of pollen-induced symptoms (eyes, nose and airways), general well-being and medication use. In Germany, more than 1,600 users made over 60,500 reports in 3 years (2009–2011). An analysis of these reports reveal that the nose symptom "sneezing" is the most commonly reported (3/10 of reports), followed by eye symptom "itching" and nose "blocked". In addition, medication use follows a similar pattern every year, with tablets being the most commonly used medication type (up to 60 % of the reports made in the years 2009 and 2011). Temporal variations in overall symptoms and organ-specific symptom scores are found to be associated with atmospheric concentrations of birch and grass pollen. Data from the PHD can be analysed with the aid of various mathematical methods and may provide information about symptoms and their severity for pollen-allergic sufferers. They may also be valuable for clinical studies in immunotherapy with pollen extracts.
Access options
Buy single article
Instant access to the full article PDF.
USD 39.95
Price includes VAT (USA)
Tax calculation will be finalised during checkout.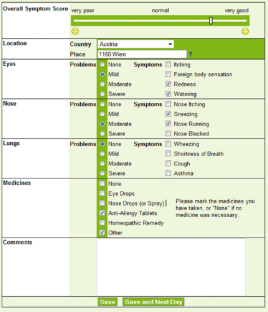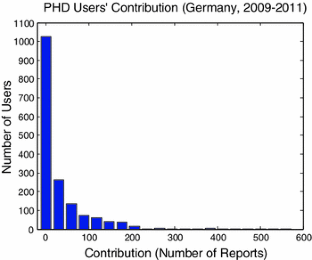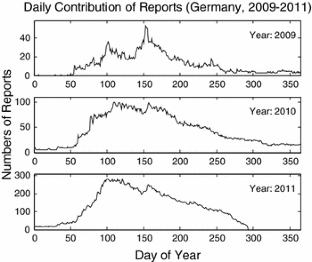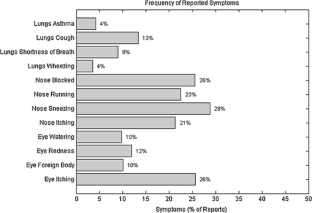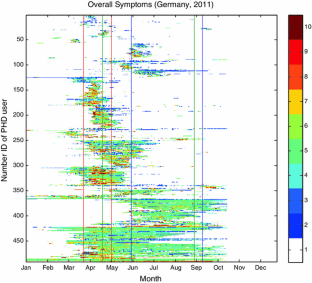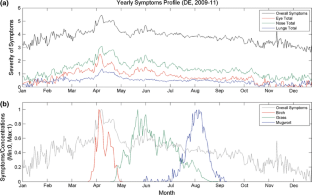 References
Aït-Khaled, N., Pearce, N., Anderson, H. R., Ellwood, P., Montefort, S., Shah, J., et al. (2009). Global map of the prevalence of symptoms of rhinoconjunctivitis in children: The international study of asthma and allergies in childhood (ISAAC) phase three. Allergy, 64(1), 123–148.

Berger, U., Jaeger, S., & Bergmann, K.C. (2011). PHD, the electronic patient's hay-fever diary. ERS congress Amsterdam, oral presentation. European Respiratory Journal, 38(s55), 569 s, abstract 3213 (available on line; accessed on 19 Jan. 2013). http://www.ers-education.org/ersMade/abstract_print_11/main_frameset.htm.

Blaiss, M. S. (2003). Important aspects in management of allergic rhinitis; compliance, cost, and quality of life. Allergy and Asthma Proceedings, 24(4), 231–238.

Bousquet, J., Van Cauwenberge, P., Khaltaev, N., Ait-Khaled, N., Annesi-Maesano, I., Baena-Cagnani, C., et al. (2001). Allergic rhinitis and its impact on asthma. Journal of Allergy and Clinical Immunology, 108, S147–S334.

D'Amato, G., Cecchi, L., Bonini, S., Nunes, C., Annesi-Maesano, I., Behrendt, H., et al. (2007). Allergenic pollen and pollen allergy in Europe. Allergy, 62(9), 976–990.

De Weger, L., Beerthuizen, T., Gast-Strookman, J. M., van der Plas, D. T., Terreehorst, I., Hiemstra, P. S., et al. (2011). Difference in symptom severity between early and late grass pollen season in patients with seasonal allergic rhinitis. Clinical and Translational Allergy, 1, 1–18.

DESTATIS. (2013), Use of information technologies, information and communication technology in households 2012, average internet use by individuals. https://www.destatis.de/EN/FactsFigures/SocietyState/IncomeConsumptionLivingConditions/UseInformationTechnologies/Tables/UseInternet_Age_IKT.html. Assessed 20 February 2013.

EMEA. (2008), Guideline on the clinical development of products for specific immunotherapy for the treatment of allergic diseases, Doc. Ref. CHMP/EWP/18504/2006. http://www.emea.europa.eu/docs/en_GB/document_library/Scientific_guideline/2009/09/WC500003605.pdf. Accessed 28 February 2013.

Ferguson, B. J. (2004). Influences of allergic rhinitis on sleep. Otolaryngology-Head and Neck Surgery, 130(5), 617–629.

Hecht, R. & Winkler, H. (1994). Empfehlungen zur Präparationstechnik, Bestimmung und Auswertung bei der Pollenflugerfassung mit der Burkard-Pollenfalle. In: Bergmann KC, Stiftung Deutscher Polleninformationsdienst, Hrsg. 3. Europäisches Pollenflug-Symposium—Bad Lippspringe—Vorträge und Berichte. Düsseldorf: Vereinigte Verlagsanstalten GmbH, 135–141.

Heinzerling, L., Mari, A., Bergmann, K. C., Bresciani, M., Burbach, G., Darsow, U., et al. (2013). The skin prick test—European standards. Clinical and Translational Allergy, 3, 3.

Hirst, J. M. (1952). An automatic volumetric spore trap. Annals of Applied Biology, 39(2), 257–265.

Klein, Τh., Kukkonen, J., Dahl, Å., Bossioli, E., Baklanov, A., Fahre Vik, Α., et al. (2012). Interactions of physical, chemical and biological weather calling for an integrated assessment, forecasting and communication of air quality. Ambio, 41(8), 851–864.

Kovats, S., Ebi, K. L., Menne, B., Campbell-Lendrum, D., Canziani, O. F., Githeko, A., Kuhn, K., Le Sueur, D., Martens, P., McMichael, A. J., Moreno, A. R., Patz, J., Riedel, D., Scheraga, J., Seymour, E., Sharpe, M., & Street, R. (2003). Methods of assessing human health vulnerability and public health adaptation to climate change. World Health Organization: http://www.euro.who.int/__data/assets/pdf_file/0009/91098/E81923.pdf. Accessed 28 February 2013.

Laatikainen, T., von Hertzen, L., Koskinen, J.-P., Makela, M. J., Jousilahti, P., Kosunen, T. U., et al. (2011). Allergy gap between Finnish and Russian Karelia on increase. Allergy, 66, 886–892.

Marple, B., Fornadle, J., Patel, A., Fineman, S., Fromer, L., Krouse, J., et al. (2007). Keys to successful management of patients with allergic rhinitis: Focus on patient confidence, compliance, and satisfaction. Otolaryngology—Head and Neck Surgery, 136(6), S107–S124.

Meltzer, E. O. (1998). Treatment options for the child with allergic rhinitis. Clinical Pediatrics, 37, 1–10.

Meltzer, E. O. (2007). Allergic rhinitis: The impact of discordant perspectives of patient and physician on treatment decisions. Clinical Therapeutic, 29(7), 1428–1440.

Mirkin, B. (2005). Clustering for data mining: a data recovery approach. London: Chapman and Hall/CRC, Computer science and data analysis series.

Murtagh, F. (1984). Complexities of hierarchic clustering algorithms: The state of the art. Computational Statistics, 1, 101–113.

Traidl-Hoffmann, C., Jakob, T., & Behrendt, H. (2009). Determinants of allergenicity. Journal of Allergy and Clinical Immunology, 123(3), 558–566.

Voukantsis, D., Karatzas, K., Jaeger, S., Berger, U., & Smith, M. (2013). Analysis and forecasting of airborne pollen–induced symptoms with the aid of computational intelligence methods. Aerobiologia, 29, 175–185.

Wallace, D., Dykewicz, M., Bernstein, D., Blessing-Moore, J., Cox, L., Khan, D., et al. (2008). The diagnosis and management of rhinitis: An updated practice parameter. The Journal of Allergy and Clinical Immunology, 122(2), S1–S84.
Acknowledgments
The authors greatly acknowledge the contribution of all colleagues involved in the pollen concentration data collection, as well as in the operation and maintenance of the EAN and PHD databases. We would also like to greatly acknowledge all those PHD users contributing information via the PHD and to state that no ethical issues arise from this study and from the use of PHD data. All information was handled as anonymous.
Ethical standard
The authors of this paper state that they have taken into account the ethical standards laid down in the 1964 Declaration of Helsinki. All users of the PHD have given their consent prior to their inclusion in the PHD while in addition they had the option to give information anonymously. Details that might disclose the identity of the subjects participating in the study have been omitted. All data related to persons that have registered their symptoms and medication use to the PHD have been treated anonymously in this paper. On this basis, no ethical issues arise from this study and from the use of PHD data.
About this article
Cite this article
Karatzas, K., Voukantsis, D., Jaeger, S. et al. The patient's hay-fever diary: three years of results from Germany. Aerobiologia 30, 1–11 (2014). https://doi.org/10.1007/s10453-013-9303-5
Received:

Accepted:

Published:

Issue Date:
Keywords
Pollen

Symptoms monitoring

Pollen hay-fever diary