Abstract
Many studies have focused on the sources of fungal contamination in indoor spaces. Pathogenic fungi have been detected in the potting mix of indoor plants; however, it is unclear if plants in indoor work spaces make qualitative or quantitative contributions to the aeromycota within buildings. The current work represents a field study to determine, under realistic office conditions, whether indoor plants make a contribution to the airborne aeromycota. Fifty-five offices, within two buildings in Sydney's central business district, were studied over two seasonal periods: autumn and spring. We found that indoor plant presence made no significant difference to either indoor mould spore counts or their species composition. No seasonal differences occurred between autumn and spring samples. Indoor spore loads were significantly lower than outdoor levels, demonstrating the efficiency of the heating, ventilation and air conditioning systems in the buildings sampled. Neither the number of plants nor the species of plant used had an influence on spore loads; however, variations of those two variables offer potential for further studies. We conclude that conservative numbers of indoor plants make no substantial contribution to building occupants exposure to fungi.
This is a preview of subscription content, log in to check access.
Access options
Buy single article
Instant access to the full article PDF.
US$ 39.95
Price includes VAT for USA
Subscribe to journal
Immediate online access to all issues from 2019. Subscription will auto renew annually.
US$ 99
This is the net price. Taxes to be calculated in checkout.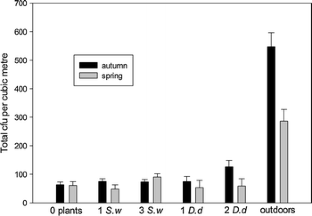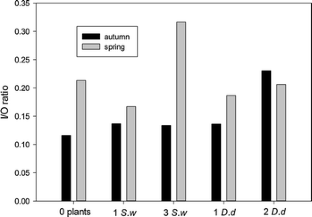 References
Adan, O. C. G., & Samson, R. A. (2011). Fundamentals of mold growth in indoor environments and strategies for healthy living. Wageningen, The Netherlands: Wageningen Academic Publishers.

Alexopoulos, C. J., Mims, C. W., & Blackwell, M. (1996). Introductory mycology. New York: Wiley.

American Conference of Governmental Industrial Hygienists (ACGIH) (1989). Fungi. Committee on Bioaerosols. Cincinnati, OH: American Conference of Governmental Industrial Hygienists.

American Conference of Governmental Industrial Hygienists (ACGIH) (1999). TLVs and BEIs. Threshold limit values for chemical substances and physical agents, biological exposure indices. Cincinnati, OH: American Conference of Governmental Industrial Hygienists.

Anaissie, E. J., Stratton, S. J., Dignani, M. C., Summerbell, R. C., Rex, J. H., & Monson, T. P. (2002). Pathogenic Aspergillus species recovered from a hospital water system: A 3-year prospective study. Clinical Infectious Disease, 34, 780–789.

ASHRAE (1992). Thermal environmental conditions for human occupancy. (Vol. 5). Atlanta: American Society of Heating, Refrigerating and Air-Conditioning Engineers Inc.

Burge, H. A., Pierson, D. L., Groves, T. O., Strawn, K. F., & Mishra, S. K. (2000). Dynamics of airborne fungal populations in a large office building. Current Microbiology, 40(1), 10–16.

Burge, H. A., Solomon, W. R., & Muilenberg, M. S. (1982). Evaluation of indoor plantings as allergen exposure sources. Journal of Allergy and Clinical Immunology, 70(2), 101–108.

Chih-Shan, L., & Hsu, C.-W. (1997). Indoor pollution and sick building syndrome symptoms among workers in day care centres. Archives of Environmental Health, 52(3), 200.

Costa, P. R., & James, R. W. (1999). Air conditioning and noise control using vegetation. In: Proceedings of the 8th International Conference on Indoor Air Quality and Climate, pp. 234–239.

Dharmage, S., Bailey, M., Raven, J., Mitakakis, T., Thien, F., Forbes, A., et al. (1999). Prevalence and residential determinants of fungi within homes in Melbourne, Australia. Clinical & Experimental Allergy, 29(11), 1481–1489.

El-Ani, A. S. (1975). Variation in vivo and isolation of Aspergillus fumigatus from a case of human aspergillosis. Mycologia, 67, 114–1118.

Ellis, D., Davis, S., Alexiou, H., Handke, R., & Bartley, R. (2007). Descriptions of medical fungi (2nd ed.). Adelaide: Published by the Authors.

Engelhart, S., Rietschel, E., Exner, M., & Lange, L. (2009). Childhood hypersensitivity pneumonitis associated with fungal contamination of indoor hydroponics. International Journal of Hygiene and Environmental Health, 212(1), 18–20.

Flannigan, B. (1997). Air sampling for fungi in indoor environments. Journal of Aerosol Science, 28(3), 381–392.

Gonçalves, F., Bauer, H., Cardoso, M., Pukinskas, S., Matos, D., Melhem, M., et al. (2010). Indoor and outdoor atmospheric fungal spores in the São Paulo metropolitan area (Brazil): species and numeric concentrations. International Journal of Biometeorology, 54(4), 347–355.

Gots, R. E., Layton, N. J., & Pirages, S. W. (2003). Indoor health: Background levels of fungi. AIHA Journal, 64(4), 427–438.

Green, C. F., Scarpino, P. V., & Gibbs, S. G. (2003). Assessment and modeling of indoor fungal and bacterial bioaerosol concentrations. Aerobiologia, 19, 159–169.

Grinn-Gofroń, A., & Rapiejko, P. (2009). Occurrence of Cladosporium spp. and Alternaria spp. spores in Western, Northern and Central–Eastern Poland in 2004–2006 and relation to some meteorological factors. Atmospheric Research, 93(4), 747–758.

Hargreaves, M., Parappukkaran, S., Morawska, L., Hitchins, J., He, C., & Gilbert, D. (2003). A pilot investigation into associations between indoor airborne fungal and non-biological particle concentrations in residential houses in Brisbane. Australia. Science of the Total Environment, 312(1–3), 89–101.

Hedayati, M. T., Mohseni-Bandpi, A., & Moradi, S. (2004). A survey on the pathogenic fungi in soil samples of potted plants from Sari hospitals, Iran. Journal of Hospital Infection, 58(1), 59–62.

Hess-Kosa, K. (2011). Indoor air quality: Sampling methodologies (2nd ed.). Boca Raton, FL, USA: Lewis Publishers, CRC Press.

Horner, W. E., Barnes, C., Codina, R., & Levetin, E. (2008). Guide for interpreting reports from inspections/investigations of indoor mold. Journal of Allergy and Clinical Immunology, 121(3), 592–597.

Hunter, C. A., Grant, C., Flannigan, B., & Bravery, A. F. (1988). Mould in buildings: the air spora of domestic dwellings. International Biodeterioration, 24(2), 81–101.

Jantunen, M. J., Nevalainen, A., Rytkonen, A. L., Pellikka, M., & Kalliokoski, P. (1987). The effect of humidification on indoor fungal spore counts in apartment buildings. In Proceedings of the 4th International Conference on Indoor Air Quality and Climate, Berlin. pp. 643–647.

Kenyon, E. M., Russell, L. H., & McMurray, D. N. (1984). Isolation of pathogenic Aspergillus species from commercially prepared potting media. Mycopathologia, 87(2), 171–173.

Klich, M. A., & Pitt, J. I. (1988). A laboratory guide to common aspergillus species and their teleomorphs: Sydney. Australia: CSIRO.

Lass-Flörl, C., Rath, P. M., Niederwieser, D., Kofler, G., Würzner, R., Krezy, A., et al. (2000). Aspergillus terreus infections in haematological malignancies: molecular epidemiology suggests association with in-hospital plants. Journal of Hospital Infection, 46(1), 31–35.

Lehtonen, M., Reponen, T., & Nevalainen, A. (1993). Everyday activities and variation of fungal spore concentrations in indoor air. International Biodeterioration and Biodegradation, 31(1), 25–39.

Levetin, E. (2004). Methods for aeroallergen sampling. Current Allergy and Asthma Reports, 4(5), 376–383.

Li, D.-W., & Kendrick, B. (1995). A year-round comparison of fungal spores in indoor and outdoor air. Mycologia, 87(2), 190–195.

Madelin, T. M. (1994). Fungal aerosols: A review. Journal of Aerosol Science, 25(8), 1405–1412.

Maschmeyer, G., Haas, A., & Cornely, O. A. (2007). Invasive aspergillosis: epidemiology, diagnosis and management in immunocompromised patients. Drugs, 67(11), 1567–1601.

Mendell, M. J., Mirer, A. G., Cheung, K., Tong, M., & Douwes, J. (2011). Respiratory and allergic health effects of dampness, mold, and dampness. Related agents: A review of the epidemiologic evidence. Environmental Health Perspectives, 119(6), 748–756.

Mentese, S., Arisoy, M., Rad, A. Y., & Güllü, G. (2009). Bacteria and Fungi Levels in Various Indoor and Outdoor Environments in Ankara, Turkey. CLEAN—Soil, Air, Water, 37(6), 487–493.

Meyer, H. W., Wurtz, H., Suadicani, P., Valbjorn, O., Sigsgaard, T., & Gyntelberg, F. (2004). Molds in floor dust and building-related symptoms in adolescent school children. Indoor Air, 14(1), 65–72.

Miller, J. D., & Young, J. C. (1997). The use of ergosterol to measure exposure to fungal propagules in indoor air. American Industrial Hygiene Association Journal, 58, 39–43.

Mycology Online (2008–2012). Identification of Medically Important Fungi. http://www.mycology.adelaide.edu.au/ Accessed 28 April 2008–2013 June 2010.

O'Gorman, C. M. (2011). Airborne Aspergillus fumigatus conidia: a risk factor for aspergillosis. Fungal biology reviews, 25(3), 151–157.

O'Gorman, C. M., & Fuller, H. T. (2008). Prevalence of culturable airborne spores of selected allergenic and pathogenic fungi in outdoor air. Atmospheric Environment, 42(18), 4355–4368.

Parat, S., Perdrix, A., Fricker-Hidalgo, H., Saude, I., Grillot, R., & Baconnier, P. (1997). Multivariate analysis comparing microbial air content of an air-conditioned building and a naturally ventilated building over one year. Atmospheric Environment, 31(3), 441–449.

Pasanen, A. L., Pasanen, P., Jantunen, M. J., & Kalliokoski, P. (1991). Significance of air humidity and air velocity for fungal spore release into the air. Atmospheric Environment. Part A. General Topics, 25(2), 459–462.

Reponen, T., Lehtonen, M., Raunemaa, T., & Nevalainen, A. (1992). Effect of indoor sources on fungal spore concentrations and size distributions. Journal of Aerosol Science, 23, Supplement 1(0), 663–666.

Saldanha, R., Manno, M., Saleh, M., Ewaze, J. O., & Scott, J. A. (2008). The influence of sampling duration on recovery of culturable fungi using the Andersen N6 and RCS bioaerosol samplers. Indoor Air, 18(6), 464–472.

Singh, J., Yu, C. W. F., & Kim, J. T. (2010). Building pathology, investigation of sick buildings—toxic moulds. Indoor and Built Environment, 19(1), 40–47.

Smith, C. M., & Kagan, S. H. (2005). Prevention of systemic mycoses by reducing exposure to fungal pathogens in hospitalized and ambulatory neutropenic patients. Oncology Nursing Forum, 32(3), 565–579.

Staib, F., Tompak, B., Thiel, D., & Blisse, A. (1978). Aspergillus fumigatus and Aspergillus niger in two potted ornamental plants, cactus (Epiphyllum truncatum) and clivia (Clivia miniata). Biological and epidemiological aspects. Mycopathologia, 66(1), 27–30.

Summerbell, R. C., Krajden, S., & Kane, J. (1989). Potted plants in hospitals as reservoirs of pathogenic fungi. Mycopathologia, 106, 13–22.

Takahashi, T. (1997). Airborne fungal colony-forming units in outdoor and indoor environments in Yokohama, Japan. Mycopathologia, 139, 23–33.

Takeda, M., Saijo, Y., Yuasa, M., Kanazawa, A., Araki, A., & Kishi, R. (2009). Relationship between sick building syndrome and indoor environmental factors in newly built Japanese dwellings. International Archives of Occupational and Environmental Health, 82(5), 583–593.

Zhen, S., Li, K., Yin, L., Yao, M., Zhang, H., Chen, L., et al. (2009). A comparison of the efficiencies of a portable BioStage impactor and a Reuter centrifugal sampler (RCS) High Flow for measuring airborne bacteria and fungi concentrations. Journal of Aerosol Science, 40(6), 503–513.
Acknowledgments
This project was funded by Horticulture Australia Ltd with a nursery industry levy and voluntary contributions from the National Interior Plantscape Association (Australia) and matched funds from the Australian Government.
About this article
Cite this article
Torpy, F.R., Irga, P.J., Brennan, J. et al. Do indoor plants contribute to the aeromycota in city buildings?. Aerobiologia 29, 321–331 (2013). https://doi.org/10.1007/s10453-012-9282-y
Received:

Accepted:

Published:

Issue Date:
Keywords
Indoor air quality

Aeromycota

Indoor plants

Airborne fungi

Office buildings