Abstract
Allergies due to airborne pollen affect a considerable percentage of Europeans; thus, the provision of health-related information services concerning pollen-induced symptoms can improve the overall quality of life. In this paper, we demonstrate the development of personalized, health-related, quality-of-life information services by adopting a data-driven approach. The data we use consist of allergic symptoms reported by people as well as detailed pollen count information of the most allergenic taxa. We apply computational intelligence methods in order to analyze symptoms, identify possible interrelationships with several pollen taxa and develop models that associate pollen count levels with allergic symptoms on a personal level. The results for the case of Austria show that this approach can lead to accurate personalized symptom forecasting models; we report an average correlation coefficient of r = 0.70 for a sample of 102 users of the Patients Hayfever Diary. We conclude that some of these models could serve as the basis for personalized health information services.
Access options
Buy single article
Instant access to the full article PDF.
US$ 39.95
Tax calculation will be finalised during checkout.
Subscribe to journal
Immediate online access to all issues from 2019. Subscription will auto renew annually.
US$ 79
Tax calculation will be finalised during checkout.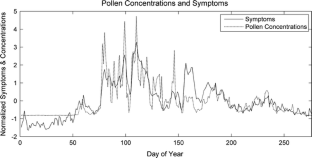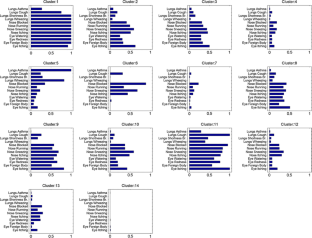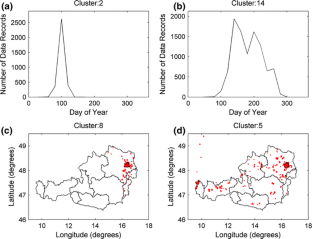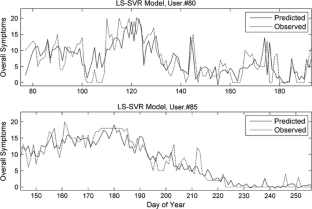 References
Annesi-Maesano, I. (1999). Epidemiological evidence of the occurrence of rhinitis and sinusitis in asthmatics. Allergy, 54, 7–13.

Beasley, R., Keil, U., von Mutius, E., Pearce, N., Ait-Khaled, N., Anabwani, G., Anderson, R., et al. (1998). Worldwide variation in prevalence of symptoms of asthma, allergic rhinoconjunctivitis, and atopic eczema: ISAAC. Lancet, 351, 1225–1232.

Berger, U., Jäger, S., & Bergmann, K. C. (2011). PHD, the electronic patient's hayfever diary. Amsterdam: ERS Congress.

Bousquet, J., Ansotegui, I. J., van Ree, R., Burney, P. G. J., Zuberbier, T., & van Cauwenberge, P. (2004). European Union meets the challenge of the growing importance of allergy and asthma in Europe. Allergy, 59, 1–4.

Bousquet, J., Chinn, S., Janson, C., Kogevinas, M., Burney, P., & Jarvis, D. (2007). Geographical variation in the prevalence of positive skin tests to environmental aeroallergens in the European Community Respiratory Health Survey I. Allergy, 62, 301–309.

Davies, D., & Bouldin, D. (1979). A cluster separation measure. IEEE Transactions on Pattern Analysis and Machine Intelligence, 2, 224–227.

de Monchy, J., Andersen, P. S., Bergmann, K. C., Chivato, T., Holm-Hansen, A., Jarisch, R., et al. (2004). Living and learning with allergy: A European perception study on respiratory allergic disorders. Respiratory Medicine, 98(5), 404–412.

Demoly, P., & Bousquet, J. (2006). The relation between asthma and allergic rhinitis. Lancet, 368, 711–713.

Emberlin, J. (2000). Aerobiology. In W. W. Busse & S. T. Holgate (Eds.), Asthma and rhinitis (Vol. 2, pp. 1083–1105). Oxford: Blackwell Science.

Emberlin, J., Mullins, J., Cordon, J., Jones, S., Millington, W., Brooke, M., et al. (1999). Regional variations in grass pollen seasons in the UK, long term trends and forecast models. Clinical and Experimental Allergy, 29, 347–356.

Galán, C., Cariñanos, P., Alcázar, P., & Dominguez-Vilches, E. (2007). Spanish aerobiology network (REA) management and quality manual. Cordoba: Servicio de Publicaciones Universidad de Córdoba.

Haykin, S. (1994). Neural networks: A comprehensive foundation. Upper Saddle River: Prentice Hall.

Hirst, J. M. (1952). An automatic volumetric spore trap. Annals of Applied Biology, 39(2), 257–265.

Huynen, M., Menne, B., Behrendt, H., Bertollini, R., Bonini, S., Brandao R., et al. (2003). Phenology and human health: Allergic disorders. In Report of a WHO meeting, Rome, Italy.

Jäger, S. (2000). Ragweed (Ambrosia) sensitisation rates correlate with the amount of inhaled airborne pollen. A 14-year study in Vienna, Austria. Aerobiologia, 16(1), 149–153.

Kohonen, T. (1997). Self-organizing maps. Berlin: Springer.

Kolehmainen, M., Martikainen, H., Hiltunen, T., & Ruuskanen, J. (2000). Forecasting air quality parameters using hybrid neural network modelling. Environmental Monitoring and Assessment, 65(1–2), 277–286.

MacQueen, J. (1967). Some methods for classification and analysis of multivariate observations. In L. M. Le Cam & J. Neyman (Eds.), The fifth Berkeley symposium on mathematical statistics and probability (Vol. 1, pp. 281–297). California: University of California Press.

Malone, D. C., Lawson, K. A., Smith, D. H., Arrighi, H. M., & Battista, C. A. (1997). Cost of illness study of allergic rhinitis in the United States. Journal of Allergy and Clinical Immunology, 99, 22–27.

Mandrioli, P., (1995). Method for sampling and counting of airborne pollen and fungal spores. Institute of Atmospheric and Oceanic Sciences (ISAO). Accessed February 9, 2012 from http://www.polleninfo.org/upload/images/original/1995.pdf.

Mandrioli, P., Comtois, P., & Levizzani, V. (1998). Methods in aerobiology. Bologna: Pitagora Editrice.

Peden, D., & Reed, C. E. (2010). Environmental and occupational allergies. Journal of Allergy and Clinical Immunology, 125, 150–160.

Peng, H., Long, F., & Ding, C. (2005). Feature selection based on mutual information: criteria of max-dependency, max-relevance, and min-redundancy. IEEE Transactions on Pattern Analysis and Machine Intelligence, 27(8), 1226–1238.

Piotrowska, K., & Weryszko-Chmielewska, E. (2006). Ambrosia pollen in the air of Lublin, Poland. Aerobiologia, 2006(22), 151–158.

Suykens, J. A. K., Van Gestel, T., De Brabanter, J., De Moor, B., & Vandewalle, J. (2002). Least squares support vector machines. Singapore: World Scientific.

Szeinbach, S. L., Seoane-Vazquez, E. C., Beyer, A., & Brock Williams, P. (2007). The impact of allergic rhinitis on work productivity. Primary Care Respiratory Journal, 16(2), 98–105.

Traidl-Hoffmann, C., Jakob, T., & Behrendt, H. (2009). Determinants of allergenicity. Journal of Allergy and Clinical Immunology, 123(3), 558–566.

Vapnik, V. (1995). The nature of statistical learning theory. New York: Springer.

Vesanto, J., & Alhoniemi, E. (2000). Clustering of the self-organizing map. IEEE Transaction on Neural Networks, 11(3), 586–600.

Voukantsis, D., Karatzas, K., Jaeger, S., & Berger, U. (2011). Personalized information services for quality of life: The case of airborne pollen induced symptoms. In L. S. Iliadis & C. Jayne (Eds.), Proceedings of the 12 th international conference, engineering applications of neural networks 2011, and 7th IFIP WG 12.5 international conference, AIAI 2011(pp. 509–515), Corfu, Greece, September 15–18, 2011, Part I.

Voukantsis, D., Karatzas, K., Rantio-Lehtimaki, A. & Sofiev, M. (2009). Investigation of relationships and interconnections between pollen and air quality data with the aid of computational intelligence methods. In Proceedings of the 23 rd conference on environmental informatics and industrial environmental protection: Concepts, methods and tools (pp. 189–198). Berlin.

Willmott, C. J. (1982). Some comments on the evaluation of model performance. Bulletin of the American Meteorological Society, 63, 1309–1313.

World Health Organization (2006). Fact sheet No. 307, Asthma, Geneva. Accessed June 11, 2012 from http://www.who.int/mediacentre/factsheets/fs307/en/index.html.
Acknowledgments
The authors greatly acknowledge the contribution of all colleagues involved in the pollen concentration data collection: Manfred Bobek, Sigmar Bortenschlager, Inez Bortenschlager, Uschi Brosch, Edith Bucher, Bernard Clot, Pramod Harvey, Veronika Kofler, Andreja Kofol-Seliger, Herta Koll, Sabine Kottik, Margit Langanger, Rudolf Litschauer, Karol Micieta, Anna Paldy, Ondrej Rybnicek, Hanna Schantl, Jutta Schmidt, Roland Schmidt, Ingrid Weichenmeier, Helmut Zwander. We would also like to greatly acknowledge all those PHD users contributing information via the PHD.
Ethical standard
The authors of this paper state that they have taken into account the ethical standards laid down in the 1964 Declaration of Helsinki. All users of the PHD have given their consent prior to their inclusion in the PHD; in addition, they had the option to give information anonymously. Details that might disclose the identity of the subjects participating in the study have been omitted. All data related to persons that have registered their symptoms and medication use to the PHD have been treated anonymously in this paper. On this basis, no ethical issues arise from this study and from the use of PHD data.
About this article
Cite this article
Voukantsis, D., Karatzas, K., Jaeger, S. et al. Analysis and forecasting of airborne pollen–induced symptoms with the aid of computational intelligence methods. Aerobiologia 29, 175–185 (2013). https://doi.org/10.1007/s10453-012-9271-1
Received:

Accepted:

Published:

Issue Date:
Keywords
Allergy

Computational intelligence

Symptoms forecasts

Personalized health services

Patients Hayfever Diary