Abstract
Environmental and spatial–temporal processes are proposed as important mechanisms regulating permanent pond communities, but comprehensive research of these factors at fine scales (i.e. patches or microhabitats) is still lacking. Here, we investigated environmental, spatial, and temporal variables influencing community structure and diversity (α, β, γ) in pond microhabitats over one annual cycle (i.e. four seasons). Standardized surveys were conducted monthly for one year, and a suite of biotic and abiotic variables were recorded at each microhabitat to test which assembly processes are important in structuring pond communities. As expected, spatial and environmental variables influenced local species organization at both the annual and seasonal scale. The high β diversity among pond microhabitats was mainly attributed to species turnover from one microhabitat to another rather than richness differences. Habitat heterogeneity largely explained the variation on α and β diversity among pond microhabitats. Overall, our results suggest that multiple ecological processes affect community assembly dynamics in permanent ponds. First, the temporal variation on the distribution of species across pond microhabitats that was associated with environmental fluctuations (mainly temperature, dissolved oxygen, substrate composition, and emergent vegetation) inferred that species sorting (i.e. niche-based processes) is an important driver of the observed community patterns, while the spatiotemporal turnover in species composition and density can be explained by colonization and dispersal events occurring within microhabitats. Our study emphasizes the need to include time, space and environmental variables in studies assessing communities in permanent pond systems, as they appear to be related to distinct processes regulating communities at fine scales.
Access options
Buy single article
Instant access to the full article PDF.
USD 39.95
Price excludes VAT (USA)
Tax calculation will be finalised during checkout.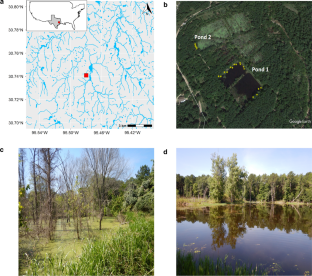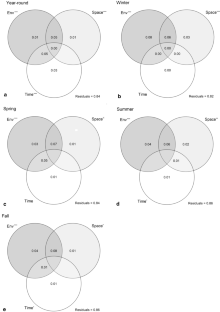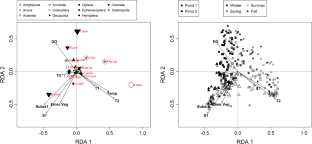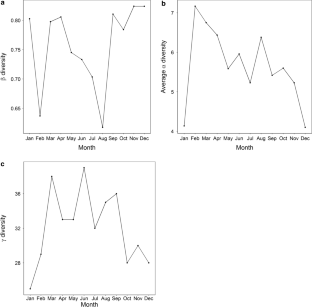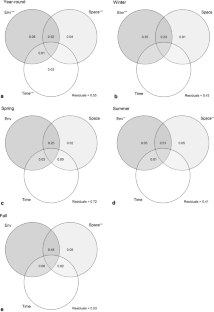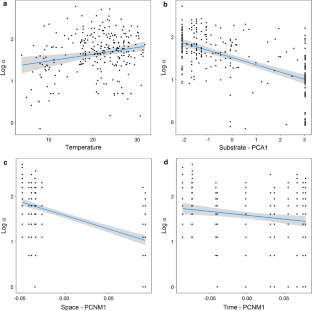 Data availability
Data that support the findings of this study are available via supplementary materials. Additional data are available from the corresponding author upon reasonable request.
References
Alford RA, Wilbur HM (1980) Priority effects in experimental pond communities: competition between Bufo and Rana. Ecology 66:1097–1105. https://doi.org/10.2307/1939161

Angeler DG, Viedma O, Moreno JM (2009) Statistical performance and information content of time lag analysis and redundancy analysis in time series modeling. Ecology 90:3245–3257. https://doi.org/10.1890/07-0391.1

Babbitt K, Tarr T (2002) Effects of habitat complexity and predator identity on predation of Rana clamitans larvae. Amphibia-Reptil 23:13–20. https://doi.org/10.1163/156853802320877591

Barth B, Wilson R (2010) Life in acid: interactive effects of pH and natural organic acids on growth, development and locomotor performance of larval striped marsh frogs Limnodynastes peronii. J Exp Biol 213:1293–1300. https://doi.org/10.1242/jeb.028472

Baselga A (2010) Partitioning the turnover and nestedness components of beta diversity. Glob Ecol Biogeog 19:134–143. https://doi.org/10.1111/j.1466-8238.2009.00490.x

Blanchet FG, Legendre P, Borcard D (2008) Forward selection of explanatory variables. Ecology 89:2623–2632. https://doi.org/10.1890/07-0986.1

Borcard D, Legendre P (2002) All-scale spatial analysis of ecological data by means of principal coordinates of neighbour matrices. Ecol Modell 153:51–68. https://doi.org/10.1016/S0304-3800(01)00501-4

Borcard D, Legendre P, Drapeau P (1992) Partialling out the spatial component of ecological variation. Ecology 73:1045–1055. https://doi.org/10.2307/1940179

Borcard D, Gillet F, Legendre P (2018) Numerical ecology with R. Springer, New York

Bower LM, Winemiller KO (2019) Intercontinental trends in functional and phylogenetic structure of stream fish assemblages. Ecol Evol 9(24):13862–13876. https://doi.org/10.1002/ece3.5823

Breheny P, Burchett W (2017) Visualization of regression models using visreg. R J 9:56–71

Brown JH, Gillooly JF, Allen AP, Savage VM, West GB (2004) Toward a metabolic theory of ecology. Ecology 85:1771–1789. https://doi.org/10.1890/03-9000

Ceneviva-Bastos M, Montaña CG, Schalk CM, Casatti L, Carmargo PB (2017) Responses of aquatic food webs to the addition of structural complexity and basal resource diversity in degraded Neotropical streams. Austral Ecol 42:908–919. https://doi.org/10.1111/aec.12518

Cottenie K (2005) Integrating environmental and spatial processes in ecological community dynamics. Ecol Lett 8:1175–1182. https://doi.org/10.1111/j.1461-0248.2005.00820.x

Cottenie K, Michels E, Nuytten N, De Meester L (2003) Zooplankton metacommunity structure: regional vs local processes in highly interconnected ponds. Ecology 84:991–1000. https://doi.org/10.1890/0012-9658(2003)084[0991:ZMSRVL]2.0.CO;2

Dalmolin DA, Tozetti AM, Ramos Pereira MJ (2019) Taxonomic and functional anuran beta diversity of a subtropical metacommunity respond differentially to environmental and spatial predictors. PLoS ONE 14:e0214902. https://doi.org/10.1371/journal.pone.0214902

De Block M, Stoks R (2003) Adaptive sex-specific life history plasticity to temperature and photoperiod in a damselfly. J Evol Biol 16:986–995. https://doi.org/10.1046/j.1420-9101.2003.00581.x

Dray S, Bauman D, Blanchet G, Borcard D, Clappe S et al (2019) Adespatial: multivariate multiscale spatial analysis. R package version 0.3–7

Duellman WE, Trueb L (1986) Biology of amphibians. The Johns Hopkins University Press, Baltimore

Eck B, Byrne A, Popescu VD, Harper EB, Patrick D (2014) Effects of water temperature on larval amphibian predator-prey dynamics. Herpetol Conserv Biol 9:302–308

Frances D, Moon JY, McCauley SJ (2017) Effects of environmental warming during early life history on libellulid odonates. Can J Zool 95:373–382. https://doi.org/10.1139/cjz-2016-0233

French S, McCauley SJ (2018) Canopy cover affects habitat selection by adult dragonflies. Hydrobiologia 818:129–143. https://doi.org/10.1007/s10750-018-3600-5

García-Girón J, Heino J, García-Criado F, Fernández-Aláez C, Alahuhta J (2020) Biotic interactions hold the key to understanding metacommunity organization. Ecography 43:1180–1190. https://doi.org/10.1111/ecog.05032

Gianuca AT, Declerck SA, Lemmens P, De Meester L (2017) Effects of dispersal and environmental heterogeneity on the replacement and nestedness components of β diversity. Ecology 98:525–533. https://doi.org/10.1002/ecy.1666

Gittleman JL, Kot M (1990) Adaptation: statistics and a null model for estimating phylogenetic effects. Syst Zool 39:227–241. https://doi.org/10.2307/2992183

Gleason JE, Rooney RC (2017) Pond permanence is a key determinant of aquatic macroinvertebrate community structure in wetlands. Freshw Biol 63:264–277. https://doi.org/10.1111/fwb.13057

Griffith DA, Peres-Neto PR (2006) Spatial modeling in ecoloy: the flexibility of eigenfunction spatial analyses. Ecology 87:2603–2613. https://doi.org/10.1890/0012-9658(2006)87[2603:SMIETF]2.0.CO;2

Grönroos M, Heino J, SiqueiraT LVL, Kotanen J, Bini LM (2013) Metacommunity structuring in stream networks: roles of dispersal mode, distance type, and regional environmental context. Ecol Evol 3:4473–4487. https://doi.org/10.1002/ece3.834

Haddad DFB, Prado CPA (2005) Reproductive modes in frogs and their unexpected diversity in the Atlantic Forest of Brazil. Bioscience 55:207–217. https://doi.org/10.1641/0006-3568(2005)055[0207:RMIFAT]2.0.CO;2

Heino J (2000) Lentic macroinvertebrate assemblage structure along gradients in spatial heterogeneity, habitat size and water chemistry. Hydrobiologia 418:229–242. https://doi.org/10.1023/A:1003969217686

Heino J (2013) Does dispersal ability affect the relative importance of environmental control and spatial structuring of littoral macroinvertebrate communities? Oecologia 171:971–980. https://doi.org/10.1007/s00442-012-2451-4

Heino J, Mykra H (2008) Control of stream insect assemblages: roles of spatial configuration and local environmental factors. Ecol Entomol 33:614–622. https://doi.org/10.1111/j.1365-2311.2008.01012.x

Heino J, Tolonen KT (2017) Ecological drivers of multiple facets of beta diversity in a lentic macroinvertebrate metacommunity. Limnol Oceanogr 62:2431–2444. https://doi.org/10.1002/lno.10577

Heino J, Bini LM, Karjalainen SM, Mykrä H, Soininen J et al (2010) Geographical patterns of microorganismal community structure: are diatoms ubiquitously distributed across boreal streams? Oikos 119:129–137. https://doi.org/10.1111/j.1600-0706.2009.17778.x

Heino J, Melo AS, Bini LM (2015) Reconceptualising the beta diversity-environmental heterogeneity relationship in running water systems. Freshw Biol 60:223–235. https://doi.org/10.1111/fwb.12502

Hill MJ, Heino J, Thornhill I, Ryves DB, Wood PJ (2017) Effects of dispersal mode on the environmental and spatial correlates of nestedness and species turnover in pond communities. Oikos 126:1575–1585. https://doi.org/10.1111/oik.04266

Hill MJ, White JC, Biggs J, Briers RA, Gledhill D et al (2021) Local contributions to beta diversity in urban pond networks: implications for biodiversity conservation and management. Divers Distrib 27:887–900. https://doi.org/10.1111/ddi.13239

Hubbell SP (2001) A unified neutral theory of biodiversity and biogeography. Princeton University Press, Princeton

Jeffries M (2005) Local-scale turnover of pond insects: intra-habitat quality and inter-pond geometry are both important. Hydrobiologia 543:207–220. https://doi.org/10.1007/s10750-004-7452-9

Keller A, Rödel MO, Linsenmair KE, Grafe TU (2009) The importance of environmental heterogeneity for species diversity and assemblage structure in Bornean stream frogs. J Anim Ecol 78:305–314. https://doi.org/10.1111/j.1365-2656.2008.01457.x

Kopp K, Eterovick PC (2006) Factors influencing spatial and temporal structure of frog assemblages at ponds in southeastern Brazil. J Nat Hist 40:1813–1830. https://doi.org/10.1080/00222930601017403

Kraft NJB, Adler PB, Godoy O, James EC, Fuller S, Levine JM (2015) Community assembly, coexistence and the environmental filtering metaphor. Funct Ecol 29:592–599. https://doi.org/10.1111/1365-2435.12345

Le Gall M, Fournier M, Chaput-Bardy A, Husté A (2018) Determinant landscape-scale factors on pond odonate assemblages. Freshw Biol 63:306–317. https://doi.org/10.1111/fwb.13065

Leão-Pires TA, Luiz AM, Sawaya RJ (2018) The complex roles of space and environment in structuring functional, taxonomic and phylogenetic beta diversity of frogs in the Atlantic Forest. PLoS ONE 13:e0196066. https://doi.org/10.1371/journal.pone.0196066

Legendre P (2014) Interpreting the replacement and richness difference components of beta diversity. Glob Ecol Biogeogr 23:1324–1334. https://doi.org/10.1111/geb.12207

Legendre P, Condit R (2019) Spatial and temporal analysis of beta diversity in the Barro Colorado Island forest dynamics plot, Panama. For Ecosyst 6:7. https://doi.org/10.1186/s40663-019-0164-4

Legendre P, De Cáceres M (2013) Beta diversity as the variance of community data: dissimilarity coefficients and partitioning. Ecol Lett 16:951–963. https://doi.org/10.1111/ele.12141

Legendre P, Gallagher ED (2001) Ecologically meaningful transformations for ordination of species data. Oecologia 129:271–280. https://doi.org/10.1007/s004420100716

Legendre P, Legendre S (2012) Numerical ecology. Elsevier, Amsterdam

Leibold MA, Chase JM (2018) Metacommunity ecology. Princeton University Press, Princeton

Leibold MA, Holyoak M, Mouquet N, Amarasekare P et al (2004) The metacommunity concept: a framework for multi-scale community ecology. Ecol Lett 7:601–613. https://doi.org/10.1111/j.1461-0248.2004.00608.x

Levin SA (1992) The problem of pattern and scale in ecology. Ecology 73:1943–1967. https://doi.org/10.2307/1941447

Li F, Tonkin J, Haase P (2020) Local contribution to beta diversity is negatively linked with community- wide dispersal capacity in stream invertebrate communities. Ecol Indic 108:105715. https://doi.org/10.1016/j.ecolind.2019.105715

May ML, Gregoire JA, Gregoire SM, Lubertazzi MA, Matthews JH (2017) Emergence phenology, uncertainty, and the evolution of migratory behavior in Anax junius (Odonata: Aeshnidae). PLoS ONE 12:e0183508. https://doi.org/10.1371/journal.pone.0183508

McCauley SJ (2007) The role of local and regional processes in structuring larval dragonfly distributions across habitat gradients. Oikos 116:121–133. https://doi.org/10.1111/j.2006.0030-1299.15105.x

McCauley SJ (2008) Slow, fast and in between: habitat distribution and behaviour of larvae in nine species of libellulid dragonfly. Freshw Biol 53:253–263. https://doi.org/10.1111/j.1365-2427.2007.01889.x

McCauley SJ, Davis CJ, Relyea RA, Yurewicz KL, Skelly DK, Werner EE (2008) Metacommunity patterns in larval odonates. Oecologia 158:329–342. https://doi.org/10.1007/s00442-008-1141-8

McPeek MA (1990) Determination of species composition in the Enallagma damselfly assemblages of permanent lakes. Ecology 71:85–98. https://doi.org/10.2307/1940249

Melo AS, Rangel TFVB, Diniz-Filho JAF (2009) Environmental drivers of beta-diversity patterns in New-World birds and mammals. Ecography 32:226–236. https://doi.org/10.1111/j.1600-0587.2008.05502.x

Melo AS, Garey MV, Rossa-Feres DC (2018) Looking for a place: how are tadpoles distributed within tropical ponds and streams? Herpetol Notes 11:379–396

Michel MJ, Adam MM (2009) Differential effects of structural complexity on predator foraging behavior. Behav Ecol 20:313–317. https://doi.org/10.1093/beheco/arp005

Montaña CG, Winemiller KO, Sutton A (2014) Intercontinental comparison of fish ecomorphology: null model tests of community assembly at the patch scale in rivers. Ecol Monogr 84:91–107. https://doi.org/10.1890/13-0708.1

Mouquet N, Loreau M (2003) Community patterns in source-sink metacommunities. Am Nat 162:544–557. https://doi.org/10.1086/378857

Oksanen J, Blanchet FG, Friendly M, Kindt R, Legendre P et al (2019) Vegan: community ecology package. R package version 2.5–6

Padial AA, Ceschin F, Declerck SAJ et al (2014) Dispersal ability determines the role of environmental, spatial and temporal drivers of metacommunity structure. PLoS ONE 9:e111227. https://doi.org/10.1371/journal.pone.0111227

Paradis E, Schliep K (2018) ape 5.0: an environment for modern phylogenetics and evolutionary analyses in R. Bioinformatics 35:526–528. https://doi.org/10.1093/bioinformatics/bty633

Peters RH, Wassenberg K (1983) The effect of body size on animal abundance. Oecologia 60:89–96. https://doi.org/10.1007/BF00379325

Pinel-Alloul B, Niyonsenga T, Legendre P (1995) Spatial and environmental components of freshwater zooplankton structure. Ecoscience 2:1–19. https://doi.org/10.1080/11956860.1995.11682263

Podani J, Ricotta C, Schmera D (2013) A general framework for analyzing beta diversity, nestedness and related community-level phenomena based on abundance data. Ecol Complex 15:52–61. https://doi.org/10.1016/j.ecocom.2013.03.002

Quiroz CS, da Silva FR, de Cerqueira Rossa-Feres D (2015) The relationship between pond habitat depth and functional tadpole diversity in an agricultural landscape. R Soc Open Sci 2:150165. https://doi.org/10.1098/rsos.150165

R Core Team (2019) R: a language and environment for statistical computing. R Foundation for Statistical Computing, Vienna, Austria. URL https://www.R-project.org/

Remsburg A, Olson A, Samways M (2008) Shade alone reduces adult dragonfly (Odonata: Libellulidae) abundance. J Insect Behav 21:460–468. https://doi.org/10.1007/s10905-008-9138-z

Saenz D, Baum KA, Fitzgerald LA, Schalk CM (2020) Refining the activity level-predation risk paradigm in larval anuran communities. Aquat Sci 83:1–11. https://doi.org/10.1007/s00027-020-00752-w

Saint-Germain M, Buddle CM, Larrivée M et al (2007) Should biomass be considered more frequently as currency in terrestrials arthropod community analyses? J Appl Ecol 44:330–339. https://doi.org/10.1111/j.1365-2664.2006.01269.x

Saito VS, Perkins DM, Katrina P (2021) A metabolic perspective of stochastic community assembly. Trends Ecol Evol 36:280–283. https://doi.org/10.1016/j.tree.2021.01.003

Schalk CM, Luhring TM, Crawford BA (2010) Summer microhabitat use of the greater siren (Siren lacertina) and two-toed amphiuma (Amphiuma means) in an isolated wetland. Amphibia-Reptil 31:251–256. https://doi.org/10.1163/156853810791069155

Schalk CM, Montaña CG, Winemiller KO, Fitzgerald LA (2017) Trophic plasticity, environmental gradients and food-web structure of tropical pond communities. Freshw Biol 62:519–529. https://doi.org/10.1111/fwb.12882

Schiesari L, Peacor SD, Werner EE (2006) The growth-mortality tradeoff: evidence from anuran larvae and consequences for species distributions. Oecologia 149:194–202. https://doi.org/10.1007/s00442-006-0440-1

Shurin J (2000) Dispersal limitation, invasion resistance, and the structure of pond zooplankton communities. Ecology 81:3074–3086. https://doi.org/10.1890/0012-9658(2000)081[3074:DLIRAT]2.0.CO;2

Skelly DK (1996) Pond drying, predators, and the distribution of Pseudacris tadpoles. Copeia 3:599–605. https://doi.org/10.2307/1447523

Skelly DK, Halverson MA, Freidenburg KK, Urban MC (2005) Canopy closure and amphibian diversity in forested wetlands. Wetl Ecol Manag 13:261–268. https://doi.org/10.1007/s11273-004-7520-y

Skelly DK, Bolden SR, Freidenburg LK (2014) Experimental canopy removal enhances diversity of vernal pond amphibians. Ecol Appl 24:340–345. https://doi.org/10.1890/13-1042.1

Tavares-Junior C, Eskinazi-Sant'Anna EM, Silvério Pires MR (2020) Environmental drivers of tadpole community structure in temporary and permanent ponds. Limnologica 81:125764. https://doi.org/10.1016/j.limno.2020.125764

Thabah CM, Devi LM, Hooroo RNK, Dey S (2018) Morphological alterations in external gills of some tadpoles in response to pH. J Morph Sci 35:142–152. https://doi.org/10.1055/s-0038-1669476

Thomaz SM, Bini LM, Bozelli RL (2007) Floods increase similarity among aquatic habitats in river-floodplain systems. Hydrobiologia 579:1–13. https://doi.org/10.1007/s10750-006-0285-y

Thompson R, Towsend C (2006) A truce with neutral theory: local deterministic factors, species traits and dispersal limitation together determine patterns of diversity in stream invertebrates. J Anim Ecol 75:476–484

Thompson PL, Guzman LM, De Meester L, Horvath Z, Vanschoenwinkel B, Viana DS, Chase JM (2020) A process-based metacommunity framework linking local and regional scale community ecology. Ecol Lett 23:1314–1329. https://doi.org/10.1111/ele.13568

Thornhill I, Batty L, Death RG, Friberg NR, Ledger ME (2017) Local and landscape scale determinants of macroinvertebrate assemblages and their conservation value in ponds across an urban land-use gradient. Biodivers Conserv 26:1065–1086. https://doi.org/10.1007/s10531-016-1286-4

Tolonen KE, Leinonen K, Erkinaro J, Heino J (2018) Ecological uniqueness of macroinvertebrate communities in high-latitude streams is a consequence of deterministic environmental filtering processes. Aquat Ecol 52:17–33. https://doi.org/10.1007/s10452-017-9642-3

Urban MC (2007) Predator size and phenology shape prey survival in temporary ponds. Oecologia 154:571–580. https://doi.org/10.1007/s00442-007-0856-2

Van Allen BG, Rasmussen NL, Dibble CJ, Clay PA, Rudolf VHW (2017) Top predators determine how biodiversity is partitioned across time and space. Ecol Lett 20:1004–1013. https://doi.org/10.1111/ele.12798

Van De Meutter F, De Meester L, Stoks R (2007) Metacommunity structure of pond macroinvertebrates: effects of dispersal mode and generation time. Ecology 88:1687–1695. https://doi.org/10.1890/06-0333.1

Vellend M (2010) Conceptual synthesis in community ecology. Q Rev Biol 85:183–206. https://doi.org/10.1086/652373

Villéger S, Grenouillet G, Brosse S (2013) Decomposing functional β-diversity reveals that low functional β-diversity is driven by low functional turnover in European fish assemblages. Glob Ecol Biogeogr 22:671–681. https://doi.org/10.1111/geb.12021

Wellborn GA, Skelly DK, Werner EE (1996) Mechanisms creating community structure across a freshwater habitat gradient. Annu Rev Ecol Syst 27:337–363. https://doi.org/10.1146/annurev.ecolsys.27.1.337

Werner EE, Skelly DK, Relyea RA, Yurewicz KL (2007) Amphibian species richness across environmental gradients. Oikos 116:1697–1712. https://doi.org/10.1111/j.0030-1299.2007.15935.x

Wetzel RG (2001) Limnology: lake and river ecosystems. Academic Press, San Diego

Winemiller KO, Taphorn DC, Kelso-Winemiller LC, López-Delgado EO, Keppeler FW, Montaña CG (2018) Fish metacommunity structure in Caño Maraca, an important nursery habitat in the Western Llanos of Venezuela. Neotrop Ichthyol 16:e180074. https://doi.org/10.1590/1982-0224-20180074
Acknowledgements
We thank Kelsey Kralman, Supuni Silva and Jakob Wager for their help in the field. Alan Byboth provided logistical support at the Centre of Biological Field Studies. We also thank the Department of Biology at Sam Houston State University (SHSU) for funding and the Daza Lab at SHSU for constructive comments during all stages of this project. This research was conducted under Scientific Research Permit no. SPR-0217-046 and Institutional Animal Care and Use Committee # 18-03-23-1032-3-01.
Funding
SHSU provided funding through an Undergraduate Research Student Award.
Ethics declarations
Conflict of interest
The authors declare that they have no conflict of interest.
Additional information
Publisher's Note
Springer Nature remains neutral with regard to jurisdictional claims in published maps and institutional affiliations.
Handling Editor: Télesphore Sime-Ngando.
Supplementary Information
Below is the link to the electronic supplementary material.
About this article
Cite this article
Montaña, C.G., Keppeler, F.W., Laughrey, C.P. et al. Community assembly within ponds: the roles of space, time, and environmental gradients. Aquat Ecol 56, 123–142 (2022). https://doi.org/10.1007/s10452-021-09902-0
Received:

Accepted:

Published:

Issue Date:

DOI: https://doi.org/10.1007/s10452-021-09902-0
Keywords
Beta diversity

Dispersal

Lentic habitats

Niche theory

Species richness