Abstract
Caribbean rivers are inhabited by native macrofauna with a diadromous life cycle. The factors influencing the upstream migration of diadromous species are not well understood. Suggested primary factors include species density, habitat suitability and food availability. We hypothesized that food quality could be a key parameter in the upstream migration of macrocrustaceans. We sampled the main shrimp species and their potential food sources along an altitudinal gradient in the Grand Carbet River of Guadeloupe. Lipid analyses of the different food items reveal that biofilm and drifting organic matter are main sources of eicosapentaenoic acid (EPA). Biofilm is richer in EPA upstream, while drifting material is richer in EPA downstream. These opposed altitudinal gradients are reflected in shrimp lipids depending on whether they feed on biofilm or drifting organic matter. In addition, low EPA levels in shrimp suggest that dietary EPA could be a limiting factor in this system and that this differential altitudinal distribution of EPA could influence shrimp settlement.
Access options
Buy single article
Instant access to the full article PDF.
USD 39.95
Price excludes VAT (USA)
Tax calculation will be finalised during checkout.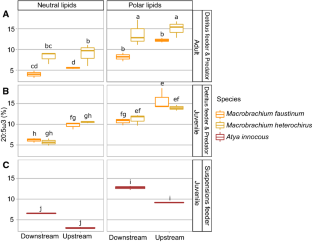 References
Arts MT, Brett MT, Kainz MJ (2009) Lipids in aquatic ecosystems. Springer, Dordrecht

Barbeyron C, Lefrançois E, Monti D, et al (2017) Gardening behaviour of Sicydium punctatum (Gobioidei: Sicydiinae): in vitro experiments in the context of chlordecone pollution in Guadeloupe Island rivers. Cybium 41:85–92, ISSN-0399–0974.

Brett MT, Bunn SE, Chandra S et al (2017) How important are terrestrial organic carbon inputs for secondary production in freshwater ecosystems? Freshw Biol 62:833–853

Brito EF, Moulton TP, De Souza ML, Bunn SE (2006) Stable isotope analysis indicates microalgae as the predominant food source of fauna in a coastal forest stream, south-east Brazil. Austral Ecol 31:623–633. https://doi.org/10.1111/j.1442-9993.2006.01610.x

Burns A, Walker KF (2000) Biofilms as food for decapods (Atyidae, Palaemonidae) in the River Murray, South Australia. Hydrobiologia 437:83–90

Cavalli RO, Lavens P, Sorgeloos P (1999) Performance of Macrobrachium rosenbergii broodstock fed diets with different fatty acid composition. Aquaculture 179:387–402. https://doi.org/10.1016/S0044-8486(99)00173-8

Cavalli RO, Tamtin M, Lavens P, Sorgeloos P (2001) Variations in lipid classes and fatty acid content in tissues of wild Macrobrachium rosenbergii (de Man) females during maturation. Aquaculture 193:311–324. https://doi.org/10.1016/S0044-8486(00)00497-X

Clark KE, Stallard R, Scholl M et al (2017) Extreme storms drive riverine particulate organic matter export from tropical mountains of estern Puerto Rico. HydroShare. http://www.hydroshare.org/resource/bd540b2b97e8428fb3b7c7ae4d2e704a

Coat S, Monti D, Bouchon C, Lepoint G (2009) Trophic relationships in a tropical stream food web assessed by stable isotope analysis. Freshw Biol 54:1028–1041. https://doi.org/10.1111/j.1365-2427.2008.02149.x

Covich AP, Palmer MA, Crowl TA (1999) The role of benthic invertebrate species in freshwater ecosystems: zoobenthic species influence energy flows and nutrient cycling. Bioscience 49:119–127. https://doi.org/10.2307/1313537

Crab R, Chielens B, Wille M et al (2010) The effect of different carbon sources on the nutritional value of bioflocs, a feed for Macrobrachium rosenbergii postlarvae. Aquac Res 41:559–567. https://doi.org/10.1111/j.1365-2109.2009.02353.x

Crenier C, Arce-Funck J, Bec A et al (2017) Minor food sources can play a major role in secondary production in detritus-based ecosystems. Freshw Biol 62:1155–1167

D'Abramo LR, Sheen SS (1993) Polyunsaturated fatty acid nutrition in juvenile freshwater prawn Macrobrachium rosenbergii. Aquaculture 115:63–86. https://doi.org/10.1016/0044-8486(93)90359-7

Dalsgaard J, St John M, Kattner G et al (2003) Fatty acid trophic markers in the pelagic marine environment. Adv Mar Biol 46:225–340

Das SK, Tiwari VK, Venkateshwarlu G et al (2007) Growth, survival and fatty acid composition of Macrobrachium rosenbergii (de Man, 1879) post larvae fed HUFA-enriched Moina micrura. Aquaculture 269:464–475. https://doi.org/10.1016/j.aquaculture.2007.04.069

Dudgeon D (1999) Tropical asian streams: zoobenthos, ecology and conservation. In: Regulated Rivers: Research and Management, Hong Kong. University of Hong Kong Press, Hong Kong, p 844

Fièvet E, Doledec S, Lim P (2001) Distribution of migratory fishes and shrimps along multivariate gradients in tropical island streams. J Fish Biol 59:390–402. https://doi.org/10.1006/jfbi.2001.1648

Freeman MC, Pringle CM, Greathouse EA, Freeman BJ (2003) Ecosystem-level consequences of migratory faunal depletion caused by dams. Am Fish Soc Symp 35:255–266

Frotté L, Ringelstein J, Monti D et al (2020a) Detection of full and limited amphidromous migratory dynamics of fish in Caribbean rivers. Ecol Freshw Fish 29:132–144. https://doi.org/10.1111/eff.12501

Frotté L, Cordonnier S, Bezault E et al. (2020) Effects of dams on demographic structures of amphidromous fish and crustacean species in Caribbean rivers. Cybium 44(2):113–125, ISSN-0399–0974.

Gillet G (1983) Fish and shrimp populations in Guadeloupe: some data on the biology, reproduction, distribution of species (in French). Rev Hydrobiol Trop 16:327–340

Guo F, Bunn SE, Brett MT et al (2018) Feeding strategies for the acquisition of high-quality food sources in stream macroinvertebrates: collecting, integrating, and mixed feeding. Limnol Oceanogr 63:1964–1978

Guo F, Kainz MJ, Valdez D et al (2016) High-quality algae attached to leaf litter boost invertebrate shredder growth. Freshw Sci 35:1213–1221

Heartsill-Scalley T, Aide TM (2003) Riparian vegetation and stream condition in a tropical agriculture-secondary forest mosaic. Ecol Appl 13:225–234. https://doi.org/10.1890/1051-0761(2003)013[0225:RVASCI]2.0.CO;2

Keith P (2003) Biology and ecology of amphidromous Gobiidae of the Indo-Pacific and the Caribbean regions. J Fish Biol 63:831–847. https://doi.org/10.1046/j.1095-8649.2003.00197.x

Keith P, Lord C (2011) Tropical freshwater gobies: Amphidromy as a life-cycle. In: Patzner RA, Van Tassel JL, Kovacic M, Kapoor BG (eds) The biology of gobies. CRC Press, Science Publishers Inc., Enfield, New Hampshire, pp 119–128

Koussoroplis AM, Bec A, Perga ME et al (2011) Fatty acid transfer in the food web of a coastal Mediterranean lagoon: evidence for high arachidonic acid retention in fish. Estuar Coast Shelf Sci 91:450–461. https://doi.org/10.1016/j.ecss.2010.11.010

Lagarde R (2018) Phénologies, mécanismes et perturbations anthropiques des dynamiques de migration dulçaquicoles des espèces amphidromes: cas des Sicydiinae de La Réunion. Ecologie, Environnement. Université de la Réunion, 2018. Français. NNT: 2018LARE0007.

Lefrançois E, Coat S, Lepoint G et al (2011) Epilithic biofilm as a key factor for small-scale river fisheries on Caribbean islands. Fish Manag Ecol 18:211–220. https://doi.org/10.1111/j.1365-2400.2010.00767.x

Lejeune L, Tabouret H, Taillebois L et al (2014) Larval traits of the Caribbean amphidromous goby Sicydium punctatum (Gobioidei: Sicydiinae) in Guadeloupe. Ecol Freshw Fish 25:272–280. https://doi.org/10.1111/eff.12208

March JG, Pringle CM (2003) Food web structure and basal resource utilization along a tropical island stream continuum, Puerto Rico. Biotropica 35:84–93. https://doi.org/10.1646/0006-3606(2003)035[0084:fwsabr]2.0.co;2

Masclaux H, Bourdier G, Jouve L et al (2014) Temporal changes in essential fatty acid availability in different food sources in the littoral macrophyte zone. Hydrobiologia 736:127–137. https://doi.org/10.1007/s10750-014-1898-1

McDowall RM (2007) On amphidromy, a distinct form of diadromy in aquatic organisms. Fish and Fish 8:1–13. https://doi.org/10.1111/j.1467-2979.2007.00232.x

Monti D, Lefrançois E, Lord C et al (2018) Selectivity on epilithic diatom consumption for two tropical sympatric gobies: Sicydium punctatum Perugia, 1986 and Sicydium plumieri (Bloch, 1786). Cybium 42:365–373. ISSN-0399–0974.

Monti D, Legendre P (2009) Shifts between biotic and physical driving forces of species organization under natural disturbance regimes. Can J Fish Aquat Sci 66:1282–1293. https://doi.org/10.1139/F09-075

Moyer RP, Bauer JE, Grottoli AG (2013) Carbon isotope biogeochemistry of tropical small mountainous river, estuarine, and coastal systems of Puerto Rico. Biogeochemistry 112:589–612. https://doi.org/10.1007/s10533-012-9751-y

Müller-Navarra DC, Brett MT, Liston AM, Goldman CR (2000) A highly unsaturated fatty acid predicts carbon transfer between primary producers and consumers. Nature 403:74–77

Pringle CM, Blake GA (1994) Quantitative effects of atyid shrimp (Decapoda: Atyidae) on the depositional environment in a tropical stream: use of electricity for experimental exclusion. Can J Fish Aquat Sci 51:1443–1450. https://doi.org/10.1139/f94-144

Sargent J, Bell G, McEvoy L et al (1999) Recent developments in the essential fatty acid nutrition of fish. Aquaculture 177:191–199. https://doi.org/10.1016/S0044-8486(99)00083-6

Tabouret H, Monti D, Martin J et al (2015) Do Sicydium punctatum adults move in the Caribbean estuaries? New insights from strontium isotopes. Life Environ 65:85–89

Teichert N, Valade P, Lim P et al (2014) Habitat selection in amphidromous Gobiidae of Reunion Island: Sicyopterus lagocephalus (Pallas, 1770) and Cotylopus acutipinnis (Guichenot, 1863). Environ Biol Fishes 97:255–266

Tidwell JH, Coyle SD, Webster CD et al (1997) Relative prawn production and benthic macroinvertebrate densities in unfed, organically fertilized, and fed pond systems. Aquaculture 149:227–242. https://doi.org/10.1016/S0044-8486(96)01452-4

Torres-Ruiz M, Wehr JD (2019) Complementary information from fatty acid and nutrient stoichiometry data improve stream food web analyses. Hydrobiologia 847:629–645

Torres-Ruiz M, Wehr JD, Perrone AA (2007) Trophic relations in a stream food web: importance of fatty acids for macroinvertebrate consumers. J North Am Benthol Soc 26:509–522

Wallis JG, Watts JL, Browse J (2002) Polyunsaturated fatty acid synthesis: What will they think of next? Trends Biochem Sci 27:467–473. https://doi.org/10.1016/S0968-0004(02)02168-0

Wasson J-G, Chandesris A, Pella H (2004) Hydro-écorégions de la Guadeloupe: Propositions de régionalisation des écosystèmes aquatiques en vue de l'application de la Directive Cadre Européenne sur l'Eau. Rapport du CEMAGREF, Laboratoire d'Hydroécologie Quantitative, Groupement de Lyon
Acknowledgments
This work was supported by funds from the Agence Française pour la Biodiversité to D. Monti. We thank Anthony Peressz and Antoine Lespagnol for their periodic assistance in fieldwork. The sampling and analyses comply with the current laws of France where they were performed.
Additional information
Publisher's Note
Springer Nature remains neutral with regard to jurisdictional claims in published maps and institutional affiliations.
Handling Editor: Télesphore Sime-Ngando.
Supplementary Information
Below is the link to the electronic supplementary material.
About this article
Cite this article
Frotté, L., Bec, A., Hubas, C. et al. Upstream/downstream food quality differences in a Caribbean Island River. Aquat Ecol 56, 311–317 (2022). https://doi.org/10.1007/s10452-021-09887-w
Received:

Accepted:

Published:

Issue Date:

DOI: https://doi.org/10.1007/s10452-021-09887-w
Keywords