Abstract
We analysed the relationship between functional and structural variables (leaf litter decomposition, biofilms growth, primary productivity, invertebrate communities' taxonomic structure, and biological traits) and environmental conditions from headwaters into the estuary, which remains under-investigated. Six river sections (headwaters, middle reach, and four large river sections with increasing salinity) and 18 sites were selected in the Mondego river (Central Portugal). Hypotheses of the expected variations were drawn, based on theory (e.g. River Continuum Concept—RCC) and previous studies. Abiotic conditions were strongly associated with macroinvertebrate communities' taxonomic composition, but the relationship with functional parameters was different than the predicted one. Decomposition rates were similar from headwaters to the first large river sections (not expected) but increased in the estuarine sections. The high rates of decomposition were associated with the low salinity and especially with the high densities of the shredder Gammarus sp. Biofilm growth rate peaked in intermediate sections and was lower in the headwaters and in the estuary (not expected). The lower algae productivity in the estuary was not compensated by the heterotrophic component of the biofilm. The use of multiple biological traits indicated an unexpected higher functional similarity among the upper river sections, and differences within large river sections (not evident with taxonomic composition). These results show contradictions to widely accepted river concepts, such as the RCC, and highlight the importance of management practices adjusted to each river section to keep the ecosystem functioning. They also increased the knowledge on the transition zone between fresh and estuarine water which is important in the context of mitigation of climate change effects, considering the expected intrusion of saline water upstream.
Access options
Buy single article
Instant access to the full article PDF.
US$ 39.95
Tax calculation will be finalised during checkout.
Subscribe to journal
Immediate online access to all issues from 2019. Subscription will auto renew annually.
US$ 79
Tax calculation will be finalised during checkout.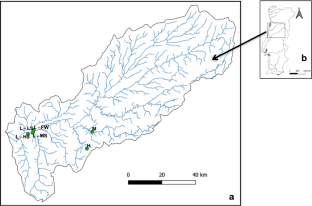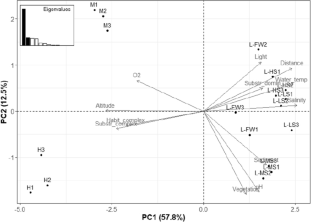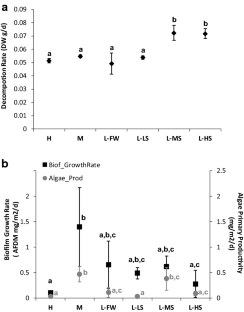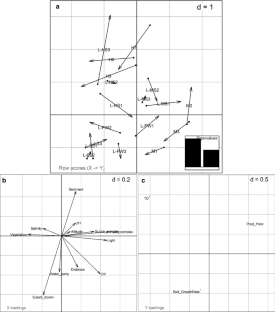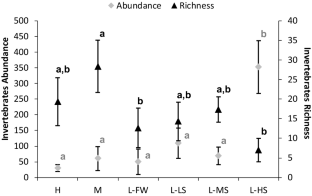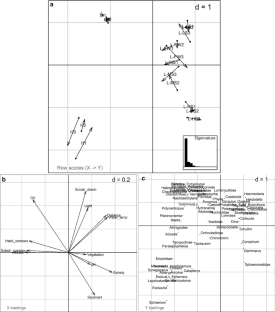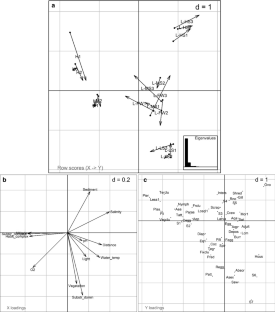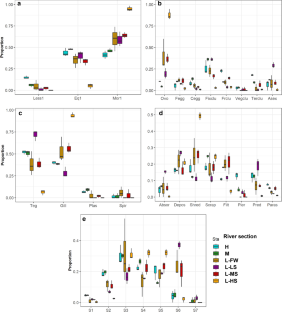 Data availability
Available upon request to the authors.
References
Altermatt F, Little CJ, Mächler E, Wang S, Zhang X, Blackman RC (2020) Uncovering the complete biodiversity structure in spatial networks: the example of riverine systems. Oikos 129:607–618. https://doi.org/10.1111/oik.06806

Anastácio PM, Marques JC (1996) Crayfish, Procambarus clarkii, effects on initial stages of rice growth in lower Mondego River valley (Portugal). Freshw Crayfish 11:608–617

Angilleta MJ, Steury TD, Sears MW (2004) Temperature, growth rate, and body size in ectotherms: fitting pieces of a life-history puzzle. Integr Comp Biol 44:498–509

Bady P, Dolédec S, Dumont B, Fruget J-F (2004) Multiple co-inertia analysis: a tool for assessing synchrony in temporal variability of aquatic communities. Comptes Rendus Biol 327:29–36

Baldy V, Chauvet E, Charcosset J-Y, Gessner MO (2002) Microbial dynamics associated with leaves decomposing in the mainstem and floodplain pond of a large river. Aquat Microb Ecol 28:25–36

Bayo MM, Casas JJ, Cruz-Pizarro L (2005) Decomposition of submerged Phragmites australis leaf litter in two highly eutrophic Mediterranean coastal lagoons: relative contribution of microbial respiration and macroinvertebrate feeding. Arch für Hydrobiol 163:349–367. https://doi.org/10.1127/0003-9136/2005/0163-0349

Berger E, Frör O, Schäfer RB (2019) Salinity impacts on river ecosystem processes: a critical mini-review. Philos Trans R Soc B 374:20180010. https://doi.org/10.1098/rstb.2018.0010

Chauvet E (1997) Leaf litter decomposition in large rivers: the case of the river Garonne. Limnetica 13:65–70

Chevenet F, Dolédec S, Chessel D (1994) A fuzzy coding approach for the analysis of long-term ecological data. Freshw Biol 31:295–309

Connolly CT, Sobczak WV, Findlay SEG (2014) Salinity effects on Phragmites decomposition dynamics among the Hudson river's freshwater tidal wetlands. Wetlands 34:575–582. https://doi.org/10.1007/s13157-014-0526-1

Culp JM, Davies RW (1982) Analysis of longitudinal zonation and the river continuum concept in the Oldman-South Saskatchewan river system. Can J Fish Aquat Sci 39:1258–1266. https://doi.org/10.1139/f82-167

Di Sabatino A, Cristiano G, Pinna M, Lombardo P, Miccoli FP, Marini G, Vignini P, Cicolani B (2014) Structure, functional organization and biological traits of macroinvertebrate assemblages from leaf-bags and benthic samples in a third-order stream of Central Apennines (Italy). Ecol Indic 46:84–91

Dolédec S, Chessel D (1994) Co-inertia analysis: an alternative method for studying species-environment relationships. Freshw Biol 31:277–294. https://doi.org/10.1111/j.1365-2427.1994.tb01741.x

Domisch S, Jähnig SC, Haase P (2011) Climate-change winners and losers: stream macroinvertebrates of a submontane region in Central Europe. Freshw Biol 56:2009–2020. https://doi.org/10.1111/j.1365-2427.2011.02631.x

Dray S, Chessel D, Thioulouse J (2003) Co-inertia analysis and the linking of the ecological data tables. Ecology 84:3078–3089. https://doi.org/10.1890/03-0178

Duran M (2007) Life cycle of Gammarus pulex (L) in River Yesilirmak. Turk J Zool 31:389–394

Elias CL, Calapez AR, Almeida SFP, Feio MJ (2015) Determining useful benchmarks for the bioassessment of highly disturbed areas based on diatoms. Limnologica 51:83–93. https://doi.org/10.1016/j.limno.2014.12.008

Feio MJ, Reynoldson TB, Ferreira V, Graça MAS (2007) A predictive model for the water quality bioassessment of the Mondego catchment, central Portugal. Hydrobiologia 589:55–68. https://doi.org/10.1007/s10750-006-0720-0

Feio MJ, Alves T, Boavida M, Medeiros A, Graça MAS (2010) Functional indicators of stream health: a river basin approach. Freshw Biol 55:1050–1065. https://doi.org/10.1111/j.1365-2427.2009.02332.x

Feio MJ, Dolédec S, Graça MAS (2015) Human disturbance affects the long-term spatial synchrony of freshwater invertebrate communities. Environ Pollut 196:300–308. https://doi.org/10.1016/j.envpol.2014.09.026

Feio MJ, Almeida SFP, Aguiar FA (2017) Functional associations between microalgae, macrophytes and invertebrates distinguish river types. Aquat Sci 79:909–923. https://doi.org/10.1007/s00027-017-0541-4

Ferreira V, Chauvet E (2011) Synergistic effects of water temperature and dissolved nutrients on litter decomposition and associated fungi. Glob Change Biol 17:551–564. https://doi.org/10.1111/j.1365-2486.2010.02185.x

Ferreira V, Gulis V, Graça MAS (2017) Whole-stream nitrate addition affects litter decomposition and associated fungi but not invertebrates. Oecologia 149:718–729. https://doi.org/10.1007/s00442-006-0478-0

Fuentes-Cid A, Chauvet E, Etcheber H, De-Oliveira E, Sottolichio A, Schmidt S (2015) Leaf litter degradation in highly turbid transitional waters: preliminary results from litter-bag experiments in the Gironde Estuary. Geodin Acta 27:60–66. https://doi.org/10.1080/09853111.2013.877233

Gomes PP, Ferreira V, Tonin AM, Medeiros AO, Gonçalves JF Jr (2018) Combined effects of dissolved nutrients and oxygen on plant litter decomposition and associated fungal communities. Microbiol Aquat Syst 75:854–862. https://doi.org/10.1007/s00248-017-1099-3

Graça MAS, Ferreira V, Canhoto C, Encalada AC, Guerrero-Bolaño F, Wantzen KM, Boyero L (2015) A conceptual model of litter breakdown in low order streams. Int Rev Hydrobiol 100:1–12

Grubaugh JW, Wallace JB, Houston ES (1996) Longitudinal changes of macroinvertebrate communities along an Appalachian stream continuum. Can J Fish Aquat Sci 53:896–909. https://doi.org/10.1139/f95-247

Guasch H, Martí E, Sabater S (1995) Nutrient enrichment effects on biofilm metabolism in a Mediterranean stream. Freshw Biol 33:373–383. https://doi.org/10.1111/j.1365-2427.1995.tb00399.x

Haase P, Pilotto F, Li F, Sundermann A, Lorenz AW, Tonkin JD, Stoll S (2019) Moderate warming over the past 25 years has already reorganized stream invertebrate communities. Sci Total Environ 658:1531–1538. https://doi.org/10.1016/j.scitotenv.2018.12.234

Hawkins CP, Sedell JR (1981) Longitudinal and seasonal changes in functional organization of macroinvertebrate communities in four Oregon streams. Ecology 62:387–397. https://doi.org/10.2307/1936713

Hemminga MA, de Leeuw J, de Munek W, Koutstaal BP (1991) Decomposition in estuarine salt marshes: the effect of soil salinity and soil water content. Vegetatio 94:25–31. https://doi.org/10.1007/BF00044913

Junk WJ, Wantzen KM (2004) The flood pulse concept New aspects approaches and applications an update. In: Welcomme R, Petr T (Eds.), Proceedings of the 2nd Large River Symposium LARS Pnom Penh Cambodia. Bangkok: RAP Publication

Karavin N, Yalman E, Kizir Z, Kocamaz A, Kartal B (2016) Variation in leaf litter decomposition rate according to salinity and water regime in Juglans regia L. Int J Adv Res Biol Sci 3:158–162

Larsen S, Bruno MC, Vaughan IP, Zolezzi G (2019) Testing the river continuum concept with geostatistical stream-network models. Ecol Complex 39:100773. https://doi.org/10.1016/j.ecocom.2019.100773

Lillehammer A, Brittain JE (1987) Longitudinal zonation of the benthic invertebrate fauna in the river Glomma. East Nor Fauna Norv Ser A8:1–10

Lopes M, Martins P, Ricardo F, Rodrigues AM, Quintino V (2011) In situ experimental studies in estuaries: a comparison of Phragmites australis and Fucus vesiculosus. Estuar Coast Shelf Sci 92:573–580. https://doi.org/10.1016/j.ecss.2011.02.014

Lourenço L (1986) Aproveitamento hidráulico do vale do Mondego. In: "Problemas do Vale do Mondego", 4º Colóquio Ibérico de Geografia, p. 45–59

Marques JC, Maranhão P, Pardal MA (1993) Human impact assessment on the subtidal microbenthic community structure in the Mondego Estuary (Western Portugal). Estuar Coast Shelf Sci 37:403–419. https://doi.org/10.1006/ecss.1993.1064

Marques JC, Graça MAS, Pardal MA (2002) Introducing the Montego river basin. In: Pardal MA, Marques JC, Graça MAS (eds) Aquatic ecology of the Mondego river basin. Global importance of local experience. Universidade de Coimbra, Portugal

Marques JC, Pardal MA, Maranhão P (2002) Characterisation of the macroinvertebrate benthic communities in the Mondego estuary. In: Pardal MA, Marques JC, Graça MAS (eds) Aquatic ecology of the Mondego river basin. Global importance of local experience. Universidade de Coimbra, Portugal, pp 169–197

McArthur JV, Aho JM, Rader RB, Mills GL (1994) Interspecific leaf interactions during decomposition in aquatic and floodplain ecosystems. J North Am Benthol Soc 13:57–67. https://doi.org/10.2307/1467265

Menéndez M, Hernández O, Sanmartí N, Comín FA (2004) Variability of organic matter processing in a Mediterranean coastal lagoon. Int Rev Hydrobiol 89:476–483. https://doi.org/10.1002/iroh.200410728

Múrias T, Cabral JA, Lopes R, Marques JC (1997) Low-water use of the Mondego Estuary (West Portugal) by waders (Charadrii). Ardeola 44:79–91

Naiman RJ, Decamps H (1997) The ecology of interfaces: riparian zones. Annu Rev Ecol Syst 28:621–658. https://doi.org/10.1146/annurev.ecolsys.28.1.621

Naiman RJ, Melillo JM, Lock MA, Ford TE, Reice SR (1987) Longitudinal patterns of ecosystem processes and community structure in a subarctic river continuum. Ecology 68:1139–1156. https://doi.org/10.2307/1939199

Neto JM, Flindt MR, Marques JC, Pardal MA (2008) Modelling nutrient mass balance in a temperate meso-tidal estuary: implications for management. Estuar Coast Shelf Sci 76:175–185. https://doi.org/10.1016/j.ecss.2007.06.013

Neto JM, Teixeira H, Patrício J, Baeta A, Veríssimo H, Pinto R, Marques JC (2010) The response of estuarine macrobenthic communities to natural-and human-induced changes: dynamics and ecological quality. Estuar Coasts 33:1327–1339. https://doi.org/10.1007/s12237-010-9326-x

Neto JM, Feio MJ, Teixeira H, Patrício J, Serra SRQ, Franco JN, Calapez AR, Constantino E (2014) Transitional and freshwater bioassessments: one site, two perspectives? Mar Pollut Bull 78:153–164. https://doi.org/10.1016/j.marpolbul.2013.10.048

Nicholls RJ, Cazenave A (2010) Sea-level rise and its impact on coastal zones. Science 328:1517–1520. https://doi.org/10.1126/science.1185782

Peterson EE, Ver Hoef JM, Isaak DJ, Falke JA, Fortin M-J, Jordan CE, McNyset K, Monestiez P, Ruesch AS, Sengupta A, Som N, Steel EA, Theobald DM, Torgersen CE, Wenger SJ (2013) Modelling dendritic ecological networks in space: an integrated network perspective. Ecol Lett 16:707–719. https://doi.org/10.1111/ele.12084

Piano E, Bona F, Falasco E, La Morgia V, Badino G, Isaia M (2015) Environmental drivers of phototrophic biofilms in an Alpine show cave (SW-Italian Alps). Sci Total Environ 536:1007–1018. https://doi.org/10.1016/j.scitotenv.2015.05.089

Rodríguez-Castillo T, Estévez E, González-Ferreras AM, Barquín J (2019) Estimating ecosystem metabolism to entire river networks. Ecosystems 22:892–911

Rundle SD, Attrill MJ, Arshad A (1998) Seasonality in macroinvertebrate community composition across a neglected ecological boundary, the freshwater-estuarine transition zone. Aquat Ecol 32:211–216. https://doi.org/10.1023/A:1009934828611

Sabater S, Muñoz I, Feio MJ, Romani AD, Graça MAS (2008) Iberian rivers. In: Tockner K, Robinson CT, Uehlinger U (eds) Rivers of Europe. Elsevier, San Diego

Sangiorgio F, Pinna M, Basset A (2004) Inter- and intra-habitat variability of plant detritus decomposition in a transitional environment (Lake Alimini, Adriatic Sea). Chem Ecol 20:353–366. https://doi.org/10.1080/02757540410001664594

Sangiorgio F, Basset A, Pinna M, Sabetta L, Abbiati M, Ponti M, Minocci M, Orfanidis S, Nicolaidou A, Moncheva S, Trayanova A, Georgescu L, Dragan S, Beqiraj S, Koutsoubas D, Evagelopoulos A, Reizopoulou S (2007) Ecosystem processes: litter breakdown patterns in Mediterranean and Black Sea transitional waters Transit. Waters Bull 1:51–55. https://doi.org/10.1285/i1825229Xv1n3p51

Sardiña P, Beardall J, Beringer J, Grace M, Thompson RM (2017) Consequences of altered temperature regimes for emerging freshwater invertebrates. Aquat Sci 79:265–276. https://doi.org/10.1007/s00027-016-0495-y

Southwood TRE (1977) Habitat, the templet for ecological strategies. J Anim Ecol 46:337–365

Statzner B, Higler B (1986) Stream hydraulics as a major determinant of benthic invertebrate zonation patterns. Freshw Biol 16:127–139. https://doi.org/10.1111/j.1365-2427.1986.tb00954.x

Sutcliffe DW (1993) Reproduction in gammarus (crustacea, amphipoda): female strategies. Freshw Forum 3:26–64

Tachet H, Richoux P, Bournaud M, Usseglio-Polatera P (2010) Invertébrés d'eau douce Systématique, biologie, écologie. CNRS Editions, France

Thorp JH, Delong MD (2002) Dominance of autochthonous autotrophic carbon in food webs of heterotrophic rivers. Oikos 96:543–550. https://doi.org/10.1034/j.1600-0706.2002.960315.x

Thorp JH, Thoms MC, Delong MD (2006) The riverine ecosystem synthesis: biocomplexity in river networks across space and time. River Res Appl 22:123–147. https://doi.org/10.1002/rra.901

Townsend CR, Hildrew AG (1994) Species traits in relation to a habitat templet for river systems. Freshw Biol 31:265–275

Townsend CR, Dolédec S, Scarsbrook M (1997) Species traits in relation to temporal and spatial heterogeneity in streams: a test of habitat templet theory. Freshw Biol 37:367–387

Vannote RJ, Minshall GW, Cummins KW, Sedell JR, Cushing CE (1980) The river continuum concept. Can J Fish Aquat Sci 37:130–137

Villanueva VD, Font J, Schwartz T, Romaní A (2010) Biofilm formation at warming temperature: acceleration of microbial colonization and microbial interactive effects. J Bioadhes Biofilm Res 27:59–71. https://doi.org/10.1080/08927014.2010.538841

Walters RJ, Hassal M (2006) The temperature-size rule in ectotherms: explanation exist after all? Am Nat 167:510–523

Winkler G, Dodson JJ, Bertrand N, Thivierge D, Vincent WF (2003) Trophic coupling across the St. Lawrence river estuarine transition zone. Mar Ecol Prog Ser 251:59–73. https://doi.org/10.3354/meps251059

Yarrow MM, Marin VH (2007) Toward conceptual cohesiveness: a historical analysis of the theory and utility of ecological boundaries and transition zones. Ecosystems 10:462–476. https://doi.org/10.1007/s10021-007-9036-9

Zeuss D, Brunzel S, Brandl R (2016) Environmental drivers of voltinism and body size in insect assemblages across Europe. Glob Ecol Biogeogr 26:154–165. https://doi.org/10.1111/geb.12525
Funding
The project was supported by the strategic project UIDB/04292/2020 attributed to MARE—Marine and Environmental Sciences Centre by FCT—Fundação para a Ciência e a Tecnologia, I.P; and by the project PHArA-On (H2020-SC1-FA-DTS-2018–2) through the post-doc grant of 2nd author.
Ethics declarations
Conflicts of interest
The authors declare that they have no conflicts of interest.
Consent to participate
All authors have agreed to participate in the manuscript.
Consent for publication
We authorize the publication of the manuscript—there is no need for additional authorizations.
Additional information
Publisher's Note
Springer Nature remains neutral with regard to jurisdictional claims in published maps and institutional affiliations.
Handling Editor: Télesphore Sime-Ngando.
Supplementary Information
About this article
Cite this article
Feio, M.J., R. Q. Serra, S. & M. Neto, J. From headwaters into the estuarine zone: changes in processes and invertebrate communities in response to abiotic conditions. Aquat Ecol 55, 149–168 (2021). https://doi.org/10.1007/s10452-020-09820-7
Received:

Accepted:

Published:

Issue Date:
Keywords
Litter decomposition

Biofilm growth

Primary production

Traits