Abstract
Aquatic macrophyte patches are natural features of wetland ecosystems that serve as habitat for aquatic animals. Previous studies suggest animal densities in Everglades, USA, wetlands are generally less numerous in sawgrass ridges than in deeper lily sloughs. We studied the density distribution of a population of Procambarus fallax in ridge and slough habitat types over a 2-year period, spanning two wet–dry cycles and estimated growth and survival rates under flooded conditions to understand comparative value of each to the crayfish population. Procambarus fallax individuals inhabited and recruited in both marsh habitats. During periods of high water, crayfish densities were similar in both habitats; however, densities in both habitats varied seasonally, leading us to postulate some degree of population redistribution in response to fluctuating water depths. Analysis of size distributions over time revealed juveniles in both habitats and two major recruitment periods each year; distinct juvenile cohorts were present in early winter (Nov–Dec) and mid-summer (July–Aug). An in situ experiment of juvenile growth demonstrated that slough habitat type supported faster growth over ridge habitat. To understand habitat-specific mortality risk, a tethering study during flooded conditions indicated that relative predation risk by aquatic predators was greater in sloughs for all sizes and higher for smaller individuals in both habitats. The comparative importance of ridge and slough balances growth potential and survival probability during flooded conditions. This is the first study through time and across both habitat types analyzing the distribution and size structure of P. fallax population in the Everglades.
This is a preview of subscription content, log in to check access.
Access options
Buy single article
Instant access to the full article PDF.
US$ 39.95
Price includes VAT for USA
Subscribe to journal
Immediate online access to all issues from 2019. Subscription will auto renew annually.
US$ 99
This is the net price. Taxes to be calculated in checkout.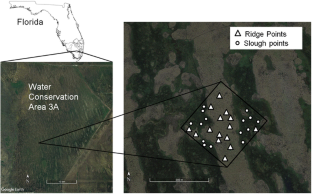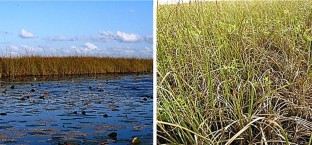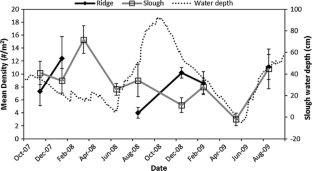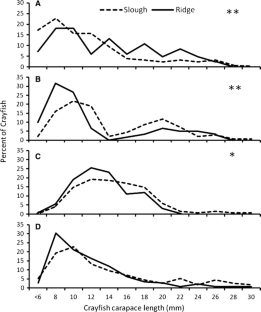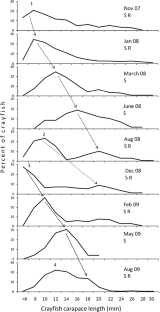 References
Abrams PA (2007) Habitat choice in predator-prey systems: spatial instability due to interacting adaptive movements. Am Nat 169:581–594

Adams AJ, Locascio JV, Robbins BD (2004) Microhabitat use by a post-settlement stage estuarine fish: evidence from relative abundance and predation among habitats. J Exp Mar Biol Ecol 2990:17–33

Allison PD (2010) Survival analysis using SAS: a practical guide, Second Edition. SAS Institute, Cary

Aronson RB, Heck KL Jr, Valentine JF (2001) Measuring predation with tethering experiments. Mar Ecol Prog Ser 214:311–312

Bancroft GT, Gawlik DE, Rutchey K (2002) Distribution of wading birds relative to vegetation and water depths in the northern Everglades of Florida, USA. Waterbirds 25:265–277

Barr BR (1997) Food habits of the American alligator, Alligator mississippiensis, in the southern Everglades. Dissertation, University of Miami

Beyer HL (2004) Hawth's analysis tools for ArcGIS. http://www.spatialecology.com/htools. Accessed 16 Oct 2007

Boyle RA, Dorn NJ, Cook MI (2014) Importance of crayfish prey to nesting White Ibis (Eudocimus albus) populations. Waterbirds 37:19–29

Bransky JW, Dorn NJ (2013) Prey use of wetland benthivorous sunfishes: ontogenetic, interspecific and seasonal variation. Environ Biol Fish 96:1329–1340

Chick JH, Ruetz CR III, Trexler JC (2004) Spatial scale and abundance patterns of large fish communities in freshwater marshes of the Florida Everglades. Wetlands 24:652–664

Chucholl C, Morawetz K, Groß H (2012) The clones are coming–strong increase in Marmorkrebs [Procambarus fallax (Hagen, 1870) f. virginalis] records from Europe. Aquat Invasions 7:511–519

Cook MI, Call EM, Kobza RM, Hill S, Saunders CJ (2014) Seasonal movements of crayfish in a fluctuating wetland: implications for restoring wading bird populations. Freshw Biol 59:1608–1621

Creed RP (1994) Direct and indirect effects of crayfish grazing in a stream community. Ecology 75:2091–2103

Danilowicz BS, Sale PF (1999) Relative intensity of predation on the French grunt, Haemulon flavolineatum, during diurnal, dusk, and nocturnal periods on a coral reef. Mar Biol 133:337–343

Dorn NJ, Cook MI (2015) Hydrological disturbance diminishes predator control in wetlands. Ecology 96:2984–2993

Dorn NJ, Trexler JC (2007) Crayfish assemblage shifts in a large drought-prone wetland: the roles of hydrology and competition. Freshw Biol 52:2399–2411

Dorn NJ, Volin JC (2009) Resistance of crayfish (Procambarus spp.) populations to wetland drying depends on species and substrate. J N Am Benthol Soc 28:766–777

Dorn NJ, Wojdak JM (2004) The role of omnivorous crayfish in littoral communities. Oecologia 140:150–159

Dorn NJ, Urgelles R, Trexler JC (2005) Evaluating active and passive sampling methods to quantify crayfish density in a freshwater wetland. J N Am Benthol Soc 24:346–356

Dorn NJ, Herring G, Gawlik DE (2008) Estimation of crayfish abundance and size-structure in diets of White Ibis chicks. Waterbirds 31:417–423

Dorn NJ, Cook MI, Herring G, Boyle RA, Nelson J, Gawlik DE (2011) Aquatic prey switching and urban foraging by the White Ibis Eudocimus albus are determined by wetland hydrological conditions. Ibis 153:323–335

Englund G, Krupa JJ (2000) Habitat use by crayfish in stream pools: influence of predators, depth and body size. Freshw Biol 43:75–83

Feria TP, Faulkes Z (2011) Forecasting the distribution of Marmorkrebs, a parthenogenetic crayfish with high invasive potential, in Madagascar, Europe, and North America. Aquat Invasions 6:55–67

Flinders CA, Magoulick DD (2007a) Habitat use and selection with Ozark lotic crayfish assemblages: spatial and temporal variation. J Crustacean Biol 27:242–254

Flinders CA, Magoulick DD (2007b) Effects of depth and crayfish size on predation risk and foraging profitability of a lotic crayfish. J N Am Benthol Soc 26:767–778

Forester JD, Ives AR, Turner MG, Anderson DP, Fortin D, Beyer HL, Smith DW, Boyce MS (2007) State-space models link elk movement patterns to landscape characteristics in Yellowstone National Park. Ecol Monogr 77:285–299

Frederick P, Gawlik DE, Ogden JC, Cook MI, Lusk M (2009) The White Ibis and Wood Stork as indicators for restoration of the Everglades ecosystem. Ecol Indic 9:S83–S95

Gawlik DE (2002) The effects of prey availability on the numerical response of wading birds. Ecol Monogr 72:329–346

Hanson WR (1967) Estimating the density of an animal population. J Res Lepidoptera 6:203–247

Haywood MDE, Manson FJ, Loneragan NR, Toscas PJ (2003) Investigation of artifacts from chronographic tethering experiments-interactions between tethers and predators. J Exp Mar Biol Ecol 290:271–292

Hendrix AN, Loftus WF (2000) Distribution and relative abundance of the crayfishes Procambarus alleni (Faxon) and P. fallax (Hagen) in southern Florida. Wetlands 20:194–199

Hobbs HH III (2001) Decapoda. In: Thorp JH, Covich AP (eds) Ecology and classification of North American freshwater invertebrates. Academic Press, New York

Jones JPG, Rasamy JR, Harvey A, Toon A, Oidtmann B, Randrianarison MH, Raminosoa N, Ravoahangimalala OR (2008) The perfect invader: a parthenogenic crayfish poses a new threat to Madagascar's freshwater biodiversity. Biol Invasions 11:1475–1482

Jordan F, DeLeon CL, McCreary C (1996) Predation, habitat complexity, and distribution of crayfish Procambarus alleni within a wetland mosaic. Wetlands 16:452–457

Kellison G, Eggleston D, Taylor J, Burke J (2003) An assessment of biases associated with caging, tethering, and trawl sampling of summer flounder (Paralichthys dentatus). Estuar Coast 26:64–71

Kershner MW, Lodge DM (1995) Effects of littoral habitat and fish predation on the distribution of exotic crayfish, Orconectes rusticus. J N Am Benthol Soc 14:414–422

Kneib RT, Scheele CEH (2000) Does tethering of mobile prey measure relative predation intensity? An empirical test using mummichogs and grass shrimp. Mar Ecol Prog Ser 198:181–190

Kouba A, Petrusek A, Kozák P (2014) Continental-wide distribution of crayfish species in Europe: update and maps. Knowl Manage Aquat Ecosyst 413:1–31

Kushlan JA (1979) Feeding ecology and prey selection of the white ibis. Condor 81:376–389

Kushlan JA, Kushlan MS (1975) Food of the White Ibis in southern Florida. Fla Nat 3:31–38

Lodge DM, Kershner MW, Aloi JE, Covich AP (1994) Effects of an omnivorous crayfish (Orconectes rusticus) on freshwater littoral food web. Ecology 75:1265–1281

Martin P, Dorn NJ, Kawai T, van der Heiden CA, Scholtz G (2010) The enigmatic Marmorkrebs (marbled crayfish) is the parthenogenetic form of Procambarus fallax (Hagen, 1870). Contrib Zool 79:107–118

Morris DW (1988) Habitat-dependent population regulation and community structure. Evol Ecol 3:379–388

Nyström P (2002) Ecology. In: Holdrich DM (ed) Biology of freshwater crayfish. Blackwell Science, Oxford, pp 192–235

Ogden JC (2005) Everglades ridge and slough conceptual ecological model. Wetlands 25:810–820

Osborne TZ, Newman S, Scheidt DJ, Kalla PI, Bruland GL, Cohen MJ, Scinto LJ, Ellis LR (2011) Landscape patterns of significant soil nutrients and contaminants in the Greater Everglades ecosystem: past, present, and future. Crit Rev Env Sci Tec 41:121–148

Parkos JJ III, Trexler JC (2014) Origins of functional connectivity in a human-modified wetland landscape. Can J Fish Aquat Sci 71:1–12

Parkos JJ III, Ruetz CR III, Trexler JC (2011) Disturbance regime and limits on benefits of refuge use for fishes in a fluctuating hydroscape. Oikos 120:1519–1530

Peterson CH, Black R (1994) An experimentalist's challenge: when artifacts of intervention interact with treatments. Mar Ecol Prog Ser 111:289–297

Pursche AR, Suthers IM, Taylor MD (2009) Tethering induces increased stress artifacts in social fish species. J Fish Biol 74:1525–1531

Richardson CJ (2010) The Everglades: North America's subtropical wetland. Wetl Ecol Manag 18:517–542

Robertson WB, Frederick PC (1994) The faunal chapters: contexts, synthesis, and departures. In: Davis SM, Ogden JC (eds) Everglades: the ecosystem and its restoration. St. Lucie Press, Delray Beach, pp 709–737

Shears N, Babcock R (2002) Marine reserves demonstrate top-down control of community structure on temperate reefs. Oecologia 132:131–142

Smith MH, Gardner RH, Gentry JB, Kaufamn DW, O'Farrell MJ (1975) Density estimations of small mammal populations. In: Golley FB, Petrusewicz K, Ryszekowski L (eds) Small mammals: their productivity and population dynamics. International biological programme 5. Cambridge University Press, Cambridge, pp 25–53

Tablado Z, Tella JL, Sánchez-Zapata JA, Hiraldo F (2010) The paradox of the long-term positive effects of a North American crayfish on a European community of predators. Conserv Biol 24:1230–1238

Tregenza T (1995) Building on the ideal free distribution. Adv Ecol Res 26:253–307

Turner AM, Trexler JC, Jordan CF, Slack SJ, Geddes P, Chick JH, Loftus WF (1999) Targeting ecosystem features for conservation: standing crops in the Florida Everglades. Conserv Biol 13:898–911

Ugarte CA, Rice KG, Donnelly MA (2007) Comparison of diet, reproductive biology, and growth of the Pig Frog (Rana grylio) from harvested and protected areas of the Florida Everglades. Copeia 2007:436–448

van der Heiden SR (2008) Differentiating decomposition rates within the ridge-slough microtopography of the central Florida Everglades. Master Thesis, Florida Atlantic University

van der Heiden CA (2011) Population distribution, habitat selection, and life history of the slough crayfish (Procambarus fallax) in the ridge-slough landscape of the central Everglades. Dissertation, Florida Atlantic University

Vogt G (2015) Bimodal annual reproduction pattern in laboratory-reared marbled crayfish. Invertebr Reprod Dev 59:218–223

Vogt G, Falkenhayn C, Schrimpf A, Schmid K, Hanna K, Panteleit J, Helm M, Schulz R, Lyko F (2015) The marbled crayfish as a paradigm for saltation speciation by autopolyploidy and parthenogenesis in animals. Biol Open 4:1583–1594

Werner EE, Gilliam JF, Hall DJ, Mittelbach GG (1983) An experimental test of the effects of predation risk on habitat use in fish. Ecology 64:1640–1658

Zweig CL, Kitchens WM (2009) Multi-state succession in wetlands: a novel use of state and transition models. Ecology 90:1900–1909
Acknowledgements
The research was supported in part by cooperate agreement between Florida Atlantic University and the South Florida Water Management District. We are extremely gratefully to S. van der Heiden, E. Peters, W. Mohler, R. Boyle, C. Kellogg, J. Guerra, and D. Cameron for the long hours they spent under the sun, in the rain, and in the lab. Hans van der Heiden also helped in the field and sorted specimen in the lab. We are also thankful to E. Noonburg, J. Volin, and E. Proffitt who improved earlier versions of the manuscript. Finally, we would like to thank two anonymous reviewers for their valuable feedback and editorial comments.
Additional information
Handling Editor: Piet Spaak.
About this article
Cite this article
van der Heiden, C.A., Dorn, N.J. Benefits of adjacent habitat patches to the distribution of a crayfish population in a hydro-dynamic wetland landscape. Aquat Ecol 51, 219–233 (2017). https://doi.org/10.1007/s10452-016-9612-1
Received:

Accepted:

Published:

Issue Date:
Keywords
Cohort

Habitat use

Procambarus fallax

Survival analysis

Risk-growth tradeoff

Growth rate estimates

Predation

Marmorkrebs