Abstract
Invasive species threaten native ecosystems worldwide. However, these species can interact positively with local communities, increasing their richness, or the abundance of some species. Many invasive species are capable of influencing the habitat itself, by ameliorating physical stress and facilitating the colonization and survival of other organisms. Barnacles are common engineer species that can change the physical structure of the environment, its complexity, and heterogeneity through their own structure. Balanus glandula is a native barnacle of the rocky shores of the west coast of North America. In Argentina, this invasive species not only colonizes rocky shores but it also has successfully colonized soft-bottom salt marshes, where hard substrata are a limiting resource. In these environments, barnacles form three-dimensional structures that increase the structural complexity of the invaded salt marshes. In this work, we compared the composition, density, richness, and diversity of the macroinvertebrate assemblages associated with habitats of different structural complexity in two Patagonian salt marshes where B. glandula is well established. Our results showed differences in the relative distribution and abundances of the invertebrate species between habitats of different complexities. Furthermore, the response of the communities to the changes in the structural complexity generated by B. glandula was different in the two marshes studied. This highlights the fact that B. glandula facilitates other invertebrates and affect community structure, mainly where the settlement substrata (Spartina vs. mussels) are not functionally similar to the barnacle. Thus, our work shows that the rocky shore B. glandula is currently a critical structuring component of the native invertebrate community of soft-bottom environments where this species was introduced along the coast of southern South America.
Access options
Buy single article
Instant access to the full article PDF.
US$ 39.95
Tax calculation will be finalised during checkout.
Subscribe to journal
Immediate online access to all issues from 2019. Subscription will auto renew annually.
US$ 79
Tax calculation will be finalised during checkout.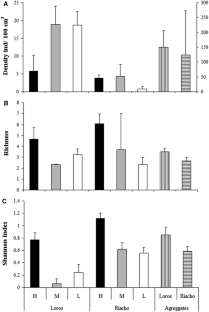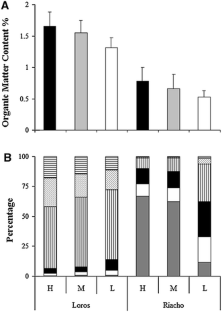 References
Adam P (1990) Saltmarsh ecology. Cambridge University Press, New York

Almany GR (2004) Does increased habitat complexity reduce predation and competition in coral reef fish assemblages? Oikos 106:275–284

Altieri AH, van Wesenbeeck BK, Bertness MD, Silliman BR (2010) Facilitation cascade drives positive relationships between native biodiversity and invasion success. Ecology 9:1269–1275

Anderson MJ (2001) A new method for non-parametric multivariate analysis of variance. Austral Ecol 26:32–46

Anderson MJ, Gorley RN, Clarke KR (2008) PERMANOVA for PRIMER: guide to software and statistical methods. PRIMER-E, Plymouth

Barnes M (2000) The use of intertidal barnacle shells. Oceanogr Mar Biol Annu Rev 38:157–187

Bortolus A (2008) Error cascades in the biological sciences: the unwanted consequences of using bad taxonomy in ecology. Ambio 37:114–118

Bortolus A (2012) Guiding authors to reliably use taxonomic names. Trends Ecol Evol 27:418

Bortolus A, Schwindt E, Bouza PJ, Idaszkin YL (2009) A characterization of Patagonian salt marshes. Wetlands 29:772–780

Buschbaum C, Dittmann S, Hong J-S, Hwang I-S, Strasser M, Thiel M, Valdivia N, Yoon SP, Reise K (2009) Mytilid mussels: global habitat engineers in coastal sediments. Helgol Mar Res 63:47–58

Callaway R (2003) Long-term effects of imitation polychaete tubes on benthic fauna: they anchor Mytilus edulis (L.) banks. Exp Mar Biol Ecol 283:115–132

Carver RE (1971) Procedures in sedimentary petrology. Wiley Interscience Publishers, New York

Connor EF, McCoy ED (2001) Species-area relationships. In: Levin S (ed) Encyclopedia of Biodiversity. Acad Press, London, pp 397–411

Crooks JA (2002) Characterizing ecosystem-level consequences of biological invasions: the role of ecosystem engineers. Oikos 97:153–166

Duarte C, Jaramillo E, Contreras H, Figueroa L (2006) Community structure of the macroinfauna in the sediments below an intertidal mussel bed (Mytilus chilensis (Hupe)) of southern Chile. Rev Chil Hist Nat 79:353–368

Hall SJ (1994) Physical disturbance and marine benthic communities: life in unconsolidated sediments. Oceanogr Mar Biol Annu Rev 32:179–239

Hedge P, Kriwokwen LK (2000) Evidence for effects of Spartina anglica invasion on benthic macrofauna in little swanport estuary, Tasmania. Austral Ecol 25:150–159

Isacch JP, Costa CSB, Rodríguez-Gallego L, Conde D, Escapa M, Gagliardini DA, Iribarne OO (2006) Distribution of salt marsh plant communities associated with environmental factors along a latitudinal gradient on the southwest Atlantic coast. J Biogeogr 33:888–900

Jones CG, Lawton JH, Shachak M (1997) Positive and negative effects of organisms as physical engineers. Ecology 78:1946–1957

Kado R (2003) Invasion of Japanese shores by the NE Pacific barnacle Balanus glandula and its ecological and biogeographical impact. Mar Ecol Prog Ser 249:199–206

Kelaher BP, Castilla JC, Prado L (2007a) Is there redundancy in bioengineering for molluscan assemblages on the rocky shores of central Chile? Rev Chil Hist Nat 80:173–186

Kelaher BP, Castilla JC, Prado L, York P, Schwindt E, Bortolus A (2007b) Spatial variation in molluscan assemblages from coralline turfs of Argentinean Patagonia. J Mollus Stud 73:139–146

Mendez MM, Schwindt E, Bortolus A (2013) Patterns of substrata use by the invasive acorn barnacle Balanus glandula in Patagonian salt marshes. Hydrobiologia 700:99–107

Mendez MM, Sueiro MC, Schwindt E, Bortolus A (2014) Invasive barnacle fouling on an endemic burrowing crab: mobile basibionts as vectors to invade a suboptimal habitat. Thalassas 30:39–46

Mitsch WJ, Gosselink JG (2000) Wetlands. Wiley, New York

Neira C, Levin LA, Grosholz ED (2005) Benthic macrofaunal communities of three sites in San Francisco Bay invaded by hybrid Spartina, with comparison to uninvaded habitats. Mar Ecol Prog Ser 292:111–126

Neira C, Grosholz ED, Levin LA, Blake R (2006) Mechanisms generating modification of benthos following tidal flat invasion by a Spartina (alterniflora x foliosa) hybrid. Ecol Appl 16:1391–1404

Netto SA, Lana PL (1999) The role of above- and below-ground components of Spartina alterniflora (Loisel) and detritus biomass in structuring macrobenthic associations of Paranaguá Bay (SE, Brazil). Hydrobiologia 400:167–177

Orensanz JM, Schwindt E, Pastorino G, Bortolus A, Casas G, Darrigran G, Elías R, López Gappa JJ, Obenat S, Pascual M, Penchaszadeh P, Piriz ML, Scarabino F, Spivak ED, Vallarino EA (2002) No longer a pristine confine of the world ocean-a survey of exotic marine species in the Southwestern Atlantic. Biol Invasions 4:115–143

Prado L, Castilla JC (2006) The bioengineer Perumytilus purpuratus (Mollusca: Bivalvia) in central Chile: biodiversity, habitat structural complexity and environmental heterogeneity. J Mar Biol Assoc UK 86:417–421

Sala OE, Chapin FS III, Armesto JJ, Berlow E, Bloomfield J, Dirzo R, Huber-Sanwald E, Huenneke LF, Jackson RB, Kinzig A, Leemans R, Lodge DM, Mooney HA, Oesterheld M, Leroy Poff N, Sykes MT, Walker BH, Walker M, Wall DH (2000) Global biodiversity scenarios for the year 2100. Science 287:1770–1774

Schwindt E (2007) The invasion of the acorn barnacle Balanus glandula in the south-western Atlantic 40 years later. J Mar Biol Assoc UK 87:1219–1225

Schwindt E, Bortolus A, Idaszkin YL, Savoya V, Mendez MM (2009) Salt marsh colonization by a rocky shore invader: Balanus glandula Darwin (1854) spreads along the Patagonian coast. Biol Invasions 11:1259–1265

Sellheim K, Stachowicz JJ, Coates RC (2010) Effects of a nonnative habitat-forming species on mobile and sessile epifaunal communities. Mar Ecol Progr Ser 398:69–80

Servicio de Hidrografía Naval (2012) http://www.hidro.gov.ar

Shannon CE, Weaver W (1949) The mathematical theory of communications. University of Illinois Press, Urbana

Simberloff D (2006) Invasional meltdown six years later- important phenomenon, unfortunate metaphor, or both? Ecol Lett 9:912–919

Simberloff D, Von Holle B (1999) Positive interactions of nonindigenous species: invasional meltdown? Biol Invasions 1:21–32

Simon-Blecher N, Granevitze Z, Achituv Y (2008) Balanus glandula: from North-west America to the west coast of South Africa. Afr J Mar Sci 30:85–92

Sousa R, Gutiérrez JL, Aldridge DC (2009) Non-indigenous invasive bivalves as ecosystem engineers. Biol Invasions 11:2367–2385

Spivak ED, L'Hoste SG (1976) Presencia de cuatro especies de Balanus en la costa de la Provincia de Buenos Aires. Distribución y aspectos ecológicos. Author's edition, Mar del Plata

Sueiro MC, Bortolus A, Schwindt E (2011) Habitat complexity and community composition: relationships between different ecosystem engineers and the associated macroinvertebrate assemblages. Helgol Mar Res 65:467–477

Sueiro MC, Bortolus A, Schwindt E (2012) The role of the physical structure of Spartina densiflora Brong. in structuring macroinvertebrate assemblages. Aquat Ecol 46:25–36

Sueiro MC, Schwindt E, Mendez MM, Bortolus A (2013) Interactions between ecosystem engineers: a native species indirectly facilitates a non-native one. Acta Oecol 51:11–16

Thiel M, Ullrich N (2002) Hard rock versus soft bottom: the fauna associated with intertidal mussel beds on hard bottoms along the coast of Chile, and considerations on the functional role of mussel beds. Helgol Mar Res 56:21–30

Thomsen MS, Wernberg T, Altieri A, Tuya F, Gulbransen D, McGlathery KJ, Holme M, Silliman BR (2010) Habitat cascades: the conceptual context and global relevance of facilitation cascades via habitat formation and modification. Integr Comp Biol 50:158–175

Vitousek PM, Mooney HA, Lubchenco J, Melillo JM (1997) Human domination of Earth's ecosystems. Science 277:494–499

Wallentinus I, Nyberg CD (2007) Introduced marine organisms as habitat modifiers. Mar Poll Bull 55:323–332

Zar JH (1999) Biostatistical analysis. Prentice-Hall Inc, New Jersey
Acknowledgments
We are particularly grateful to friends and colleagues for their generous and always kind help and support in the field and laboratory. We thank the generosity to several colleagues for the help with the taxonomic identifications: to the late G. Alonso (MACN, amphipods), M. E. Diez, B. Trovant (CENPAT, polychaetes), B. Doti (UBA, isopods), J. Fernández Alfaya (CENPAT, nemerteans), C. De Francesco (IIMyC, gastropods), M. Brögger (CENPAT, ophiurans), A. Huespe and E. Gómez Simes (UNPSJB, decapods), and L. Patitucci (MACN, insect larvae) for their essential assistance with taxonomic identification and M. L. Pili for assisting us with the English. The study was financially supported by ANPCyT-FONCyT (PICT 2206 to AB) and CONICET (PIP 089 and 508 to ES, and doctoral fellowship to MMM). The manuscript was greatly improved by the comments of two anonymous reviewers and the Associate Editor Dr. Monaghan. Special thanks to the provincial authorities of Río Negro and Chubut for allowing us to work inside natural protected areas. This study is part of the doctoral thesis of M. M. Mendez at the Universidad Nacional del Comahue.
Ethics declarations
Conflict of interest
The authors declare that they have no conflict of interest.
Additional information
Handling Editor: Michael T. Monaghan.
Electronic supplementary material
Below is the link to the electronic supplementary material.
Supplementary material 1 Online Resource 1: repeated measures PERMANOVA results for Loros (A) and Riacho (B) marsh (Community variables: d.f.Zone= 2, d.f.Month= 7, d.f.ZonexMonth= 14. Organic matter content: d.f.Zone= 2, d.f.Month= 3, d.f.ZonexMonth= 6) and for the aggregates survey (C. d.f.Marsh= 1, d.f.Month= 7, d.f.MarshxMonth= 7) (PDF 12 kb)
Supplementary material 2 Online Resource 2: pairwise comparison results for the repeated measures PERMANOVAs for the macroinvertebrate assemblage composition, density, richness and diversity of Loros (A), Riacho (B) and aggregates survey (C) (PDF 20 kb)
Supplementary material 3 Online Resource 3: SIMPER routine results showing the taxa which made the greatest contributions to dissimilarity for Loros (A), Riacho (B) and aggregates survey (C). Zones: H = high, M = middle and L = low. Marshes: L = Loros and R = Riacho. Lists were truncated when cumulative percentage reached 50% (PDF 18 kb)
About this article
Cite this article
Mendez, M.M., Schwindt, E. & Bortolus, A. Differential benthic community response to increased habitat complexity mediated by an invasive barnacle. Aquat Ecol 49, 441–452 (2015). https://doi.org/10.1007/s10452-015-9536-1
Received:

Accepted:

Published:

Issue Date:
Keywords
Exotic species

Marine invasions

Balanus glandula

Habitat-forming species

Facilitation

Spartina

Patagonia