Abstract
Barriers (culverts and dams) can impede fish passage and affect the overall habitat connectivity of rivers. However, a challenge lies in how to conceptualize and adequately measure passability at barriers. We hypothesize that estimates of barrier and watershed connectivity are dependent on assumptions about the nature of passability, and how it is measured. Specifically, we compare passability estimates in Terra Nova National Park, Canada for individual barriers for two barrier assessment methods (a rapid assessment and one based on FishXing software), two salmonid species, different fish sizes and swimming speeds, and varying hydrological conditions. Watershed connectivity was calculated using the Dendritic Connectivity Index (DCI). Lastly, we test to see what the impact of the various factors is on the practical goal: prioritizing barriers for restoration. Our results show that barrier passability estimates can vary drastically for some barriers (0–100%). In general, the rapid field-based assessment tended to give more conservative estimates of passability than those based on FishXing. Estimates of watershed connectivity were not as sensitive to the assumptions and methods used (DCI: 40–83). Fish size had the greatest effect on DCI. Importantly, variation in DCI had little impact on the restoration priorities. The same barrier was retained as the top priority >96% of the time. Thus, managers wishing to assess barriers for restoration need to carefully consider how passability is to be measured, but can reduce the impact of these decisions by considering barriers in their watershed context using a connectivity index such as the DCI.
Access options
Buy single article
Instant access to the full article PDF.
US$ 39.95
Tax calculation will be finalised during checkout.
Subscribe to journal
Immediate online access to all issues from 2019. Subscription will auto renew annually.
US$ 79
Tax calculation will be finalised during checkout.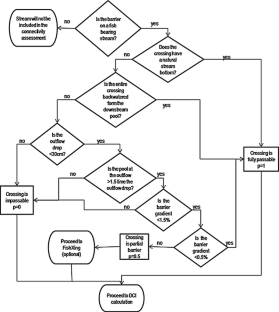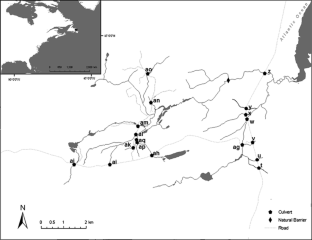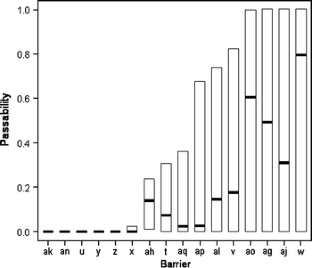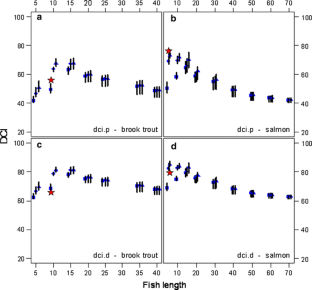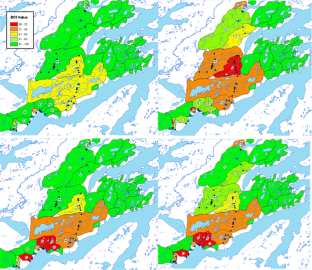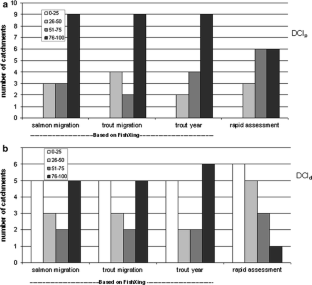 References
Belford DA, Gould WR (1989) An evaluation of trout passage through six highway culverts in Montana. N Am J Fish Manage 9:437–445

Bjornn TC, Peery CA (1992) A review of literature related to movements of adult salmon and steelhead past dams and through reservoirs in the lower snake river. Technical Report 92-1, US Fish and Wildlife Service, Idaho Cooperative Fish and Wildlife Research Unit, University of Idaho, Moscow

Blank M, Cahoon J, Burford D, McMahon T, Stein O (2005) Studies of fish passage through culverts in Montana. Conference proceedings of the 2005 international conference on ecology and transportation held in San Diego, CA, pp 647–661

Brater EF, King HW (1976) Handbook of hydraulics for the solution of hydraulic engineering problems, vol 6. McGraw-Hill, New York

Cahoon JE, McMahon T, Solcz A, Blank M, Stein O (2007) Fish passage in Montana culverts: phase II—passage goals. The State of Montana Department of Transportation, Helena, p 64

Clarkin K, Connor A, Furniss MJ, Gubernick B, Love M, Moynan K, WilsonMusser S (2005) National inventory and assessment procedure—for identifying barriers to aquatic organism passage at road-stream crossings (Report no. 7700), United States Department of Agriculture Forest Service, San Dimas

Cote D (2005) A compilation of fisheries research in ponds of Terra Nova National Park 1997–2003. Parks Canada technical reports in ecosystem science. Tech Rep Eco Sci 46:116

Cote D (2007) Measurements of salmonid population performance in relation to habitat in eastern Newfoundland streams. J Fish Biol 64:1134–1147

Cote D, Kehler DG, Bourne C, Wiersma YF (2009) A new measure of longitudinal connectivity for stream networks. Landsc Ecol 24:101–113

Cote D, Adams BK, Clarke KD, Langdon M (2011) Salmonid habitat and biomass relationships in small lakes. Environ Biol Fish. doi:10.1007/s10641-011-9845-8

Doehring K, Young RG, McIntosh AR (2011) Factors affecting juvenile galxiid fish passage at culverts. Mar Freshw Res 62:38–45

Dunham JB, Vinyard GL, Rieman BE (1997) Habitat fragmentation and extinction risk of Lahontan cutthroat trout. N Am J Fish Manage 17:1126–1133

Eby LA, Fagan WF, Minckley WL (2003) Variability and dynamics of a desert stream community. Ecol Appl 13:1566–1579

Fullerton AH, Burnett KM, Steel EA, Flitcroft RL, Press GR, Feist BE, Torgersen CE, Miller DJ, Sanderson BL (2010) Hydrological connectivity for riverine fish: measurement challenges and research opportunities. Freshw Biol 55:2215–2237

Gibson R, Haedrich R, Wernerheim C (2005) Loss of fish habitat as a consequence of inappropriately constructed stream crossings. Fisheries 30:10–17

Gillette DP, Tiemann JS, Edds DR, Wildhaber ML (2005) Spatiotemporal patterns of fish assemblage structure in a river impounded by low-head dams. Copeia 2005:539–549

Hall CJ, Jordaan A, Frisk MG (2011) The historic influence of dams on diadromous fish habitat with a focus on river herring and hydrologic longitudinal connectivity. Landsc Ecol 26:95–107

Helfrich LA, Liston C, Hiebert S, Albers M, Frazer K (1999) Influence of low-head diversion dams on fish passage, community composition, and abundance in the Yellowstone River, Montana. Rivers 7:21–32

Jones JA, Swanson FJ, Wemple BC, Snyder KU (2000) Effects of roads on hydrology, geomorphology, and disturbance patches in stream networks. Conserv Biol 14:76–85

Kemp PS, O'Hanley JR (2010) Procedures for evaluating and prioritising the removal of fish passage barriers: a synthesis. Fish Manag Ecol 17:297–322

Kemp PS, Williams JG (2008) Response of migrating Chinook salmon (Oncorhynchus tshawytscha) smolts to in-stream structure associated with culverts. River Res Appl 24:571–579

Kemp PS, Gessel MH, Williams JG (2005) Seaward migrating subyearling Chinook salmon avoid overhead cover. J Fish Biol 67:381–1391

Kemp PS, Gessel MH, Williams JG (2008) Response of downstream migrant juvenile Pacific salmonids to accelerating flow and overhead cover. Hydrobiologia 609:205–207

Khan B, Colbo MH (2008) The impact of physical disturbance on stream communities: lessons from road culverts. Hydrobiologia 600:229–235

Kibler KM, Tullos DD, Kondolf GM (2010) Learning from dam removal monitoring: challenges to selecting experimental design and establishing significance of outcomes. River Res Appl. doi:10.1002/rra.1415

Mangin SF, Stipetich M, Tritico HM (2010) Reducing the error associated with Manning's roughness in culvert design for improved fish passage. World environment and water resources congress 2010: challenge of change—proceedings of the world environmental and water resources congress, pp 1540–1553

McLaughlin RL, Porto L, Noakes DLG, Baylis JR, Carl LM, Dodd HR, Goldstein JD, Hayes DB, Randall RG (2006) Effects of low-head barriers on stream fishes: taxonomic affiliations and morphological correlates of sensitive species. Can J Fish Aquat Sci 63:766–779

Meizler MS, Bain MB, Walter MT (2009) Predicting barrier passage and habitat suitability for migratory fish species. Ecol Model 220:2782–2791

Morita K, Yamamoto S (2002) Effects of habitat fragmentation by damming on the persistence of stream-dwelling char populations. Conserv Biol 16:1318–1323

Neraas LP, Spruell P (2001) Fragmentation of riverine systems: the genetic effects of dams on bull trout (Salvelinus confluentus) in the Clark Fork River system. Mol Ecol 10:1153–1164

O'Hanley JR, Tomberlin D (2005) Optimizing the removal of small fish passage barriers. Env Model Assess 10:85–98

Padgham M, Webb JA (2010) Multiple structural modifications to dendritic ecological networks produce simple responses. Ecol Model 221:2537–2545

Park D, Sullivan M, Bayne E, Scrimgeour G (2008) Landscape-level stream fragmentation caused by hanging culverts along roads in Alberta's boreal forest. Can J Forest Res 38:566–575

Peake S, Farrel AP (2006) Fatigue is a behavioral response in respirometer‐confined smallmouth bass. J Fish Biol 68:1742–1755

Peake S, McKinley RS, Scruton DA (1997) Swimming performance of various freshwater Newfoundland salmonids relative to habitat selection and fishway design. J Fish Biol 51:710–723

Poplar-Jeffers IO, Petty JT, Anderson JT, Kite SJ, Strager MP, Fortney RH (2008) Culvert replacement and stream habitat restoration: Implications from brook trout management in an Appalachian watershed. USA Restoration Ecol 17:404–413

Porto MM, McLaughlin RL, Noakes DLG (1999) Low-head barrier dams restrict the movements of fishes in two Lake Ontario streams. N Am J Fisheries Manage 19:1028–1036

Potter AJ (1989) The movements of Brook trout (Salvelinus fontinalis) on a small Newfoundland stream system. B.Sc. Thesis. Memorial University of Newfoundland, St. John's, pp 65

Pringle C (2003) What is hydrolgic connectivity and why is it ecologically important? Hydrol Proces 17:2685–2689

Rolls RJ (2011) The role of life-history and location of barriers to migration in the spatial distribution and conservation of fish assemblages in a coastal river system. Biol Conserv 144:339–349

Scott WB, Crossman EJ (1973) Freshwater fishes of Canada. Bull Fish Res Board Can 184:966p

Sheldon AL (1988) Conservation of stream fishes: patterns of diversity, rarity and risk. Conserv Biol 2:149–156

Steig TW, Skalski JR, Ransom BH (2005) Comparison of acoustic and PIT tagged juvenile Chinook, steelhead and sockeye salmon (Oncorhynchus, spp.) passing dams on the Columbia River, USA. In: Spedicato MT, Lembo G, Marmulla G (eds) Aquatic telemetry: advances and applications. Proceedings of the fifth conference on fish telemetry. 9–13 June 2003. Ustica: FAO/COISPA, pp 295

Straub LG, Morris HM (1950a) Hydraulic tests on concrete culverts (Technical paper no. 4, series B.) University of Minnesota, Minneapolis

Straub LG, Morris HM (1950b) Hydraulic tests on corregated metal culvert pipes (Technical paper no. 5, series B.) University of Minnesota, Minneapolis

USFS (USForest Service) (2003) FishXing 3.0, Available at http://www.stream.fs.fed.us/fishxing/

Wiens JA (2002) Riverine landscapes: taking landscape ecology into the water. Freshwat Biol 47:501–515
Acknowledgments
Thanks to S. Peake for providing swim speed data and to R. Gubernick for insights into FishXing models. Also thanks to staff at Terra Nova National Park for assistance with collection of field data. S. Mahlum, P. Spaak and 3 anonymous reviewers provided helpful comments on an earlier draft of the manuscript. This research was funded by Parks Canada and by grants for the Canadian Foundation for Innovation and the Natural Science and Engineering Research Council grants to YFW.
Additional information
Handling Editor: Piet Spaak.
About this article
Cite this article
Bourne, C.M., Kehler, D.G., Wiersma, Y.F. et al. Barriers to fish passage and barriers to fish passage assessments: the impact of assessment methods and assumptions on barrier identification and quantification of watershed connectivity. Aquat Ecol 45, 389–403 (2011). https://doi.org/10.1007/s10452-011-9362-z
Received:

Accepted:

Published:

Issue Date:
Keywords
Barrier assessment

Connectivity

Dendritic connectivity index

Passability

Salmonids