Abstract
The benthic macroinvertebrate communities and ecological quality of eleven temporary rivers (seven intermittent and four ephemeral) in Dadia National Park, north-eastern Greece, were examined with respect to the degree of flow temporality. Sampling took place during the high flow season at both ephemeral and intermittent sites and during the low flow season only at the intermittent ones, which receded to pools. Despite the remarkable seasonal variation in both the hydrology and ecology of the intermittent rivers, the various metrics and indices as well as the multivariate analyses confirmed the clear distinction between the two river types (ephemeral and intermittent). Existing European quality indices do not sufficiently differentiate between ephemeral and intermittent river types, and thus cannot reliably discriminate the degree of natural variability from human induced stressors in temporary rivers.
Access options
Buy single article
Instant access to the full article PDF.
US$ 39.95
Tax calculation will be finalised during checkout.
Subscribe to journal
Immediate online access to all issues from 2019. Subscription will auto renew annually.
US$ 79
Tax calculation will be finalised during checkout.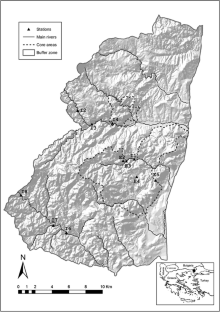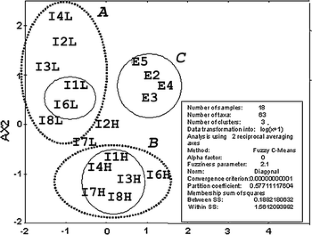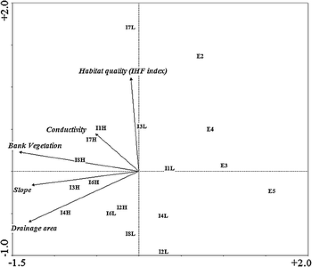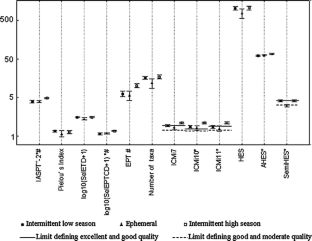 References
Adamakopoulos T, Gatzogiannis S, Poirazidis K (1995) Study on the assessment, the enhancement of the legal infrastructure and the management of the protected area in the forest of Dadia, Special environmental study. World Wildlife Fund–Greece, Athens

Alba-Tercedor J, Sanchez-Ortega A (1988) Un metodo rapido y simple para evaluar la calidad biologica de las aguas corrientes basado en el de Hellawell (1978) Limnetica 4:51–56

APHA (1985) Standard methods for the examination of water and wastewater, 16th edn. American Public Association, Washington D.C

Arab A, Lek S, Lounaci A, Park YS (2004) Spatial and temporal patterns of benthic invertebrate communities in an intermittent river (North Africa). Ann Limnol—Int J Lim 40:317–327

Armitage PD, Moss D, Wright JF, Furse MT (1983) The performance of a new biological water quality score system based on macroinvertebrates over a wide range of unpolluted running-water sites. Water Res 17:333–347

Artemiadou V, Lazaridou M (2005) Evaluation score and interpretation index for the ecological quality of running waters in central and northern Hellas. Environ Monit Assess 110:1–40

Bazzanti M, Seminara M, Tamorri C (1989) A note on Chironomids (Diptera) of temporary pools in the National Park of Circeo, Central Italy. Hydrobiol Bull 23:189–193

Bêche LA, McElravy EP, Resh VH (2006) Long-term seasonal variation in the biological traits of benthic-macroinvertebrates in two Mediterranean climate streams in California, U.S.A. Freshw Biol 51:56–75

Bernardo JM, Alves MH (1999) New perspectives for ecological flow determination in semi-arid regions: a preliminary approach. Regul River 15:221–229

Bonada N (2003) Ecology of the macroinvertebrate communities in Mediterranean rivers at different scales and organization levels, Doctoral thesis. University of Barcelona, Barcelona, Spain

Boulton AJ, Lake PS (1992a) The ecology of two intermittent streams in Victoria, Australia. II. Comparisons of faunal composition between habitats, rivers and years. Freshw Biol 27:99–121

Boulton AJ, Lake PS (1992b) The ecology of two intermittent streams in Victoria, Australia. III. Temporal changes in faunal composition. Freshw Biol 134:27–52

Boulton AJ (2003) Parallels and contrasts in the effects of drought on stream macroinvertebrate assemblages. Freshwat Biol 48:1173–1185

Buffagni A, Erba S, Birk S, Cazzola M, Feld C, Ofenböck T, Murray-Bligh J, Furse MT, Clarke R, Herring D, Soszka H, Van de Bund W (2005) Towards European inter-calibration for the water framework directive: procedures and examples for different river types from the E.C. Project STAR. Instituto di Ricerca Sulle Acque, Rome

Chatzinikolaou Y, Dakos V, Lazaridou M (2006) Longitudinal impacts of anthropogenic pressures on benthic macroinvertebrate assemblages in a large transboundary Mediterranean river during the low flow period. Acta Hydrochim Hydrobiol 34:453–463

Chatzinikolaou Y, Dakos V, Lazaridou M (2008) Assessing the ecological integrity of a major transboundary Mediterranean river based on environmental habitat variables and benthic macroinvertebrates (Aoos-Vjose River, Greece-Albania). Int Rev Hydrobiol 93:73–87

Clarke KR, Warwick MR (1994) Change in marine communities: an approach to statistical analysis and interpretation. Plymouth Marine Laboratory, Plymouth

Coimbra CN, Graça MAS, Cortes RM (1996) The effects of a basic effluent on macroinvertebrate community structure in a temporary Mediterranean river. Environ Pollut 94:301–307

Cuffney T, Gurtz M, Meador M (1993) Methods for collecting benthic invertebrate samples as part of the national water-quality assessment program, 1993. U.S. Geological Survey, Raleigh, North Carolina, open-file report 93–406, 18

Equihua M (1990) FUZZY clustering of ecological data. J Ecol 78:519–534

European Commission (2003) Common implementation strategy for the water framework directive (2000/60/EC). Guidance Document no. 10. Rivers and lakes—typology, reference conditions and classification Systems. Produced by Working Group 2.3—REFCOND. Office for Official Publications of the European Communities, Luxembourg

European Union Council (2000) Directive of the European Parliament and the Council establishing a framework for community action in the field of water policy, 2000/60/EC. Official Journal of the European Communities 43 (L327), Brussels

Extence CA, Bates AJ, Forbes WJ, Barham PJ (1987) Biologically based water quality management. Environ Pollut 45:221–236

Feminella JW (1996) Comparison of benthic macroinvertebrate assemblages in small streams along a gradient of flow permanence. J N Am Benthol Soc 15:651–669

Grill A, Cleary D (2003) Diversity patterns in butterfly communities of the Greek nature reserve Dadia. Biol Conserv 114:427–436

Gordon N, Mcmahon TA, Finlayson BL (1992) Stream hydrology. An introduction for ecologists. John Wiley and Sons, New York

Harper PP (1973) Life histories of Nemouridae and Leuctridae in Southern Ontario (Plecoptera). Hydrobiologia 41:309–356

Helmer W, Scholte P (1985) Herpetological research in Evros, Greece: Proposal for a biogenetic reserve. Research Institute for Nature Management, Arnhem and Department of Animal Ecology, Catholic University, Nijmegen

Hill MO (1979) TWINSPAN—A FORTRAN program for arranging multivariate data in an ordered two-way table by classification of individuals and attributes. Ecology and systematics. Cornell University, Ithaca, New York

Kati V, Devillers P, Dufrêne M, Legakis A, Vokou D, Lebrun P (2004) Testing the value of six taxonomic groups as biodiversity indicators at a local scale. Conserv Biol 18:667–675

Kati V, Sekercioglou CH (2006) Diversity, ecological structure, and conservation of the landbird community of Dadia reserve, Greece. Divers Distrib 12:620–629

Lautenschläger M, Kiel E (2005) Assessing morphological degradation in running waters using blackfly communities (Diptera, Simuliidae): Can habitat quality be predicted from land use? Limnologica 35:262–273

Meyer A, Meyer EI, Meyer C (2003) Lotic communities of two small temporary karstic stream systems (East Westphalia, Germany) along a longitudinal gradient of hydrological intermittency. Limnologica 33:271–279

Morais M, Pinto P, Guilherme P, Rosado J, Antunes I (2004) Assessment of temporary streams: the robustness of metric and multimetric indices under different hydrological conditions. Hydrobiologia 516:229–249

Muhar S, Muhar A, Schmutz S, Wimmer R, Wiesbauer H, Hozang B, Imhof G, Tschemernig P (1993) Ausweisung naturnaher Fließgewässerabschnitte in Österreich, Vorstudie. Blaue Reihe BM Umwelt, Jugend u. Familie, Wien. 175 pp

Munné A, Prat N, Sola C, Bonada N, Rieradewall (2003) A simple field method for assessing the ecological quality of riparian habitat in rivers and streams: QBR index. Aquat Conserv: Mar Freshw Ecosyst 13:147–163

Pardo I, Álvarez M, Casas JJ, Moreno JL, Vivas S, Bonada N, Alba-Tercedor J, Jáime P, Moyá G, Prat N, Robles S, Suárez ML, Toro M, Vidal-Abarca MR (2002) El hábitat de los ríos mediterráneos. Diseño de un índice de diversidad de hábitat. Limnetica 21:115–133

Peckarsky BL (1983) Biotic interactions or abiotic limitations? A model of lotic community structure. In: Fontaine TD III, Bartell SM (eds) Dynamics of lotic ecosystems. Ann Arbor Science Publishers, Ann Arbor, 238 pp

Poirazidis K, Goutner V, Skartsi T, Stamou G (2004) Nesting habitat modelling as a conservation tool for the Eurasian Black Vulture (Aegypius monachus) in Dadia Nature Reserve, northeastern Greece. Biol Conserv 118:235–248

Sheldon F (2005) Incorporating natural variability into the assessment of ecological health in Australian dryland rivers. Hydrobiologia 552:45–56

Shivoga WA (2001) The influence of hydrology on the structure of invertebrate communities in two streams flowing into Lake Nakuru, Kenya. Hydrobiologia 458:121–130

Schmutz S, Kaufmann M, Vogel B, Jungwirth M, Muhar S (2000) A multi-level concept for fish-based, river-type-specific assessment of ecological integrity. Hydrobiologia 422/423:279–289

Ter Braak CJF, Šmilauer P (1998) CANOCO Reference manual and user's guide to CANOCO for windows. Software for Canonical Community Ordination (version 4). Centre for Biometry, Wageningen

Uys M, O'Keeffe JH (1997) Simple words and fuzzy zones: early directions for temporary river research in South Africa. Environ Manage 21(4):517–531

Van de Bund W, Cardoso AC, Heiskanen AS, Nõges P (2004) Common implementation strategy for the water framework directive (2000/60/EC). Overview of common intercalibration types. Final version 5.1. Ecological Status Working Group 2.A

Vannote L, Minshall W, Cummins W, Sedall R, Cushing E (1980) The River Continuum Concept. Can J Fish Aquat Sci 37:130–137

Voshell JR (1982) Life history and ecology of Siphlonurus mirus Eaton (Ephemeroptera: Siphlonuridae) in an intermittent pond. Freshwat Invertebr Biol 1:17–26

Wentworth C (1922) A scale of grade and class terms for clastic sediments. J Geol 30:377–392

Williams DD (1987) The ecology of temporary waters. Croom Helm Ltd, Kent, UK

Williams DD (1996) Environmental constraints in temporary waters and their consequences for the insect fauna. J N Am Benthol Soc 15(4):634–650

Williams DD, Hynes HBN (1976) The ecology of temporary streams. I. The fauna of two Canadian streams. Internationales Archiv für Sogialgeschichte der Deutschen literature 61:761–787
Acknowledgments
This work was supported by W.W.F. Hellas funds. Field assistance was provided by V. Vasilakis, M. Katsikatsou, and L. Ilia.
About this article
Cite this article
Anna, A., Yorgos, C., Konstantinos, P. et al. Do intermittent and ephemeral Mediterranean rivers belong to the same river type?. Aquat Ecol 43, 465–476 (2009). https://doi.org/10.1007/s10452-008-9176-9
Received:

Accepted:

Published:

Issue Date:
Keywords
Benthic macroinvertebrates

Dadia National Park

Ephemeral rivers

Intermittent rivers