Abstract
Adsorption equilibria and kinetics of N2 and CH4 on four adsorbents, namely commercial activated carbon Norit RB3, zeolite 13X, zeolite 4A and molecular sieving carbon MSC-3K 172, were measured at temperatures of (273 and 303) K in the pressure range of (25–900) kPa using an improved dynamic breakthrough apparatus. Equilibrium adsorption measurements were performed with breakthrough experiments, and sorption kinetics were measured with a chromatographic pulse technique to eliminate undesirable systematics such as buoyancy and limitations imposed by heat transfer in conventional breakthrough techniques. The differential equations governing the spreading of a pulse passing through the column were solved in the Laplace domain to reduce numerical dispersion and artefacts associated with solving these equations for adsorption in the time domain on a finite grid. A method for identifying the reliable measurement range of sorption rates (mass transfer coefficients) from 10−4 to 1 s−1 was proposed and demonstrated with the four adsorbents. The sorption rates for Norit RB3 and zeolite 13X had values above the upper resolvable limit of 1 s−1. The measured sorption rates for MSC-3K 172 and zeolite 4A were compared with values obtained independently using a static volumetric method on the same adsorbents at the same temperatures but over a lower pressure range (0–110 kPa) (Xiao et al., Adsorption 23 (2017) 131–147). The sorption rates obtained for the two adsorbents via these two independent techniques were consistent within the measurement uncertainty of each method, which significantly increases the confidence with which these values can be used in simulations of industrial PSA processes.
This is a preview of subscription content, log in to check access.
Access options
Buy single article
Instant access to the full article PDF.
US$ 39.95
Price includes VAT for USA
Subscribe to journal
Immediate online access to all issues from 2019. Subscription will auto renew annually.
US$ 99
This is the net price. Taxes to be calculated in checkout.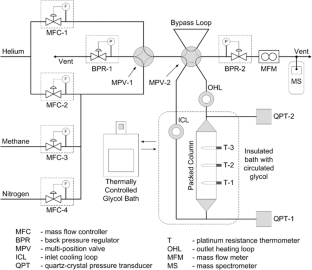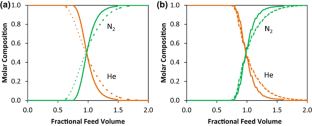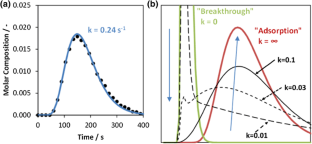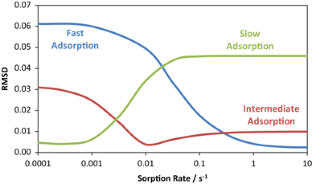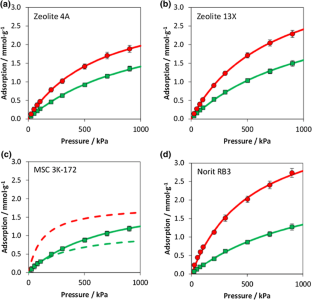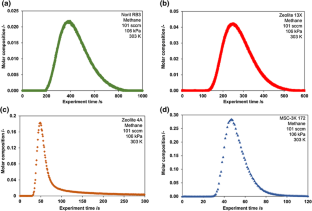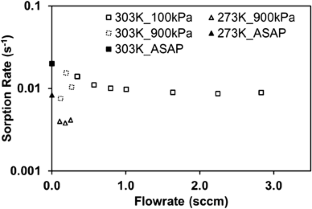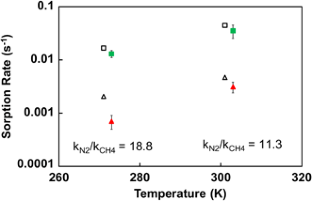 References
Casas, N., Schell, J., Pini, R., Mazzotti, M.: Fixed bed adsorption of CO2/H2 mixtures on activated carbon: experiments and modeling. Adsorption 18, 143–161 (2012)

Cavenati, S., Grande, C.A., Rodrigues, A.E.: Adsorption equilibrium of methane, carbon dioxide, and nitrogen on zeolite 13X at high pressures. J. Chem. Eng. Data 49, 1095–1101 (2004)

Cavenati, S., Grande, C.A., Rodrigues, A.E.: Separation of methane and nitrogen by adsorption on carbon molecular sieve. Sep. Sci. Technol. 40, 2721–2743 (2005)

Delgado, J.A., Uguina, M.A., Gomez, J.M., Ortega, L.: Adsorption equilibrium of carbon dioxide, methane and nitrogen onto Na- and H-mordenite at high pressures. Sep. Purif. Technol. 48, 223–228 (2006)

Delgado, J.A., Uguina, M.A., Sotelo, J.L., Ruiz, B., Rosario, M.: Carbon dioxide/methane separation by adsorption on sepiolite. J Nat Gas Chem. 16, 235–243 (2007)

Delgado, J.A., Uguina, M.A., Sotelo, J.L., Agueda, V.I., Gomez, P.: Numerical simulation of a three-bed PSA cycle for the methane/nitrogen separation with silicalite. Sep. Purif. Technol. 77, 7–17 (2011)

Dubner, H., Abate, J.: Numerical inversion of Laplace transforms by relating them to the finite Fourier cosine transform. J. ACM 15, 115–123 (1968)

Hofman, P.S., Rufford, T.E., Chan, K.I., May, E.F.: A dynamic column breakthrough apparatus for adsorption capacity measurements with quantitative uncertainties. Adsorption 18, 251–263 (2012)

Holland, F.A., Bragg R.: Fluid flow for chemical engineers, 2nd edn. Butterworth-Heinemann, Oxford (1995)

Hu, X., Mangano, E., Friedrich, D., Ahn, H., Brandani, S.: Diffusion mechanism of CO2 in 13X zeolite beads. Adsorption 20, 121–135 (2014)

IPCC: Working group I contribution to the fifth assessment report of the intergovernmental panel on climate change (2013)

Jensen, N.K., Rufford, T.E., Watson, G., Zhang, D.K., Chan, K.I., May, E.F.: Screening zeolites for gas separation applications involving methane, nitrogen, and carbon dioxide. J. Chem. Eng. Data 57, 106–113 (2012)

Kidnay, A.J., Parrish, W.: Fundamentals of natural gas processing. CRC Press, Boca Raton (2006)

Kouvelos, E., Kesore, K., Steriotis, T., Grigoropoulou, H., Bouloubasi, D., Theophilou, N., Tzintzos, S., Kanelopous, N.: High pressure N2/CH4 adsorption measurements in clinoptilolites. Microporous Mesoporous Mater. 99, 106–111 (2007)

Kowalczyk, P., Gauden, P.A., Terzyk, A.P., Furmaniak, S.: Microscopic model of carbonaceous nanoporous molecular sieves-anomalous transport in molecularly confined spaces. Phys. Chem. Chem. Phys. 12, 11351–11361 (2010)

Qamar, S., Abbasi, J.N., Javeed, S., Shah, M., Khan, F.U., Seidel-Morgenstern, A.: Analytical solutions and moment analysis of chromatographic models for rectangular pulse injections. J. Chromatogr. A 1315, 92–106 (2013)

Rodrigues, A.E., Cavenati, S., Grande, C.A.: Separation of CH4/CO2/N2 mixtures by layered pressure swing adsorption for upgrade of natural gas. Chem. Eng. Sci. 61, 3893–3906 (2006)

Rufford, T.E., G.C.Y. Watson, Saleman, T.L., Hofman, P.S., Jensen, N.K., May, E.F.: Adsorption equilibria and kinetics of methane + nitrogen mixtures on the activated carbon Norit RB3. Ind Eng Chem Res. 52, 14270–14281 (2013)

Ruthven, D.M.: Principles of adsorption and adsorption processes. Wiley, New York (1984)

Ruthven, D.M., Farooq, S., Knaebel, K.S.: Pressure swing adsorption. VCH Publishers, New York (1994)

Saleman, T.L.H., Watson, G.C.Y., Rufford, T.E., Hofman, P.S., Chan, K.I., May, E.F.: Capacity and kinetic measurements of methane and nitrogen adsorption on H+-mordenite at 243–303 K and pressures to 900 kPa using a dynamic column breakthrough apparatus. Adsorption 19, 1165–1180 (2013)

Sudibandriyo, M., Pan, Z., Fitzgerald, J.E., Robinson, R.L., K.A.M. Gasem: Adsorption of methane, nitrogen, carbon dioxide, and their binary mixtures on dry activated carbon at 318.2 K and pressures up to 13.6 MPa. Langmuir 19, 5323–5331 (2003)

Taghikhani, V., Salehi, E., Ghotbi, C., Lay, E.N., Shojaei, A.: Theoretical and experimental study on the adsorption and desorption of methane by granular activated carbon at 25 °C. J. Nat. Gas Chem. 16, 415–422 (2007)

Triebe R.W., Tezel F.H.: Adsorption of nitrogen, carbon-monoxide, carbon-dioxide and nitric-oxide on molecular-sieves. Gas Sep. Purif. 9, 223–230 (1995)

Triebe R.W., Tezel F.H., Khulbe K.C.: Adsorption of methane, ethane and ethylene on molecular sieve zeolites. Gas Sep. Purif. 10, (1996) 81–84

Wang, L.-C., Friend, C.M., Fushimi, R., Madix, R.J.: Active site densities, oxygen activation and adsorbed reactive oxygen in alcohol activation on npAu catalysts. Faraday Discuss. 188, 57–67 (2016)

Watson, G., May, E.F., Graham, B.F., Trebble, M.A., Trengove, R.D., Chan, K.I.: Equilibrium adsorption measurements of pure nitrogen, carbon dioxide, and methane on a carbon molecular sieve at cryogenic temperatures and high pressures. J. Chem. Eng. Data 54, 2701–2707 (2009)

Xiao G., Li Z., Saleman T.L., May E.F.: Adsorption equilibria and kinetics of CH4 and N2 on commercial zeolites and carbons. Adsorption 23, 131–147 (2017)
Acknowledgements
This research was supported by the Department of Environment Regulation of Western Australia through its Low Emissions Energy Development (LEED) Fund and by the Australian Research Council through GL's Discovery Early Career Researcher Award (DE140101824), and the Industrial Transformation Training Centre program (IC150100019).
About this article
Cite this article
Saleman, T., Xiao, G., Li, G. et al. A robust dynamic column breakthrough technique for high-pressure measurements of adsorption equilibria and kinetics. Adsorption 23, 671–684 (2017). https://doi.org/10.1007/s10450-017-9884-3
Received:

Revised:

Accepted:

Published:

Issue Date:
Keywords
Adsorption kinetics

Commercial adsorbents

Chromatographic pulse

Volumetric method

Nitrogen

Methane