Abstract
Hydrated SiO2(111) has been projected as a competent support of an anticancer drug, 5-fluorouracil (5-FU). Theoretical calculations using the Vienna Ab-initio Simulation Package (VASP) were performed to study the drug-silica interactions that control the adsorption of 5-fluorouracil (5-FU) on an hydrated SiO2(111) surface. Only dispersive interactions are presented during the drug adsorption on the hydrophobic surface while cooperation exists between directional H-bonds and dispersion forces on hydrated silica. H-bonds become dominant for the hydrophilic surface driven interactions with important energetic consequences on adsorption. The density of states slightly shifted towards lower energy values showing a stabilization of the electron states of the 5-FU molecule on hydrated silica, and the electronic charge transfer mainly happens on the interface between polar groups of 5-FU and the nearest silanol groups, in agreement with the formation of the H-bonding interactions. The results reveal the remarkable influence of H-bonds in the adsorption mechanism on hydrated silica.
Access options
Buy single article
Instant access to the full article PDF.
USD 39.95
Price excludes VAT (USA)
Tax calculation will be finalised during checkout.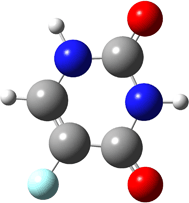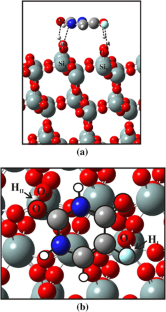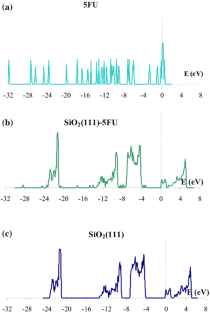 References
Andersson, J., Rosenholm, J., Areva, S., Lindén, M.: Influences of material characteristics on ibuprofen drug loading and release profiles from ordered micro- and mesoporous silica matrices. Chem. Mater. 16, 4160–4167 (2004)

Bloch, P.: Projector augmented-wave method. Phys. Rev. B 50, 17953–17979 (1994)

Gao, Q., Xu, Y., Wu, D., Shen, W., Deng, F.: Synthesis, characterization, and in vitro pH-controllable drug release from mesoporous silica spheres with switchable gates. Langmuir 26, 17133–17138 (2010)

Grimme, S.: Semiempirical GGA-type density functional constructed with a long-range dispersion correction. J. Comput. Chem. 27, 1787–1799 (2006)

Horcajada, P., Márquez-Alvarez, C., Rámila, A., Pérez-Pariente, J., Vallet-Regí, M.: Controlled release of ibuprofen from dealuminated faujasites. Solid State Sci. 8, 1459–1465 (2006)

Kresse, G., Hafner, J.: Ab initio molecular-dynamics simulation of the liquid-metal–amorphous-semiconductor transition in germanium. Phys. Rev. B 49, 14251–14269 (1994)

Kresse, G., Joubert, D.: From ultrasoft pseudopotentials to the projector augmented-wave method. Phys. Rev. B 59, 1758–1775 (1999)

Langer, R.: Drug delivery and targeting. Nature 392, 5–10 (1998)

Langer, R., Tirrell, D.A.: Designing materials for biology and medicine. Nature 428, 487–492 (2004)

Longley, D.B., Harkin, D.P., Johnston, P.G.: 5-fluorouracil: mechanisms of action and clinical strategies. Nat. Rev. Cancer 3, 330–338 (2003)

Methfessel, M., Paxton, A.T.: High-precision sampling for Brillouin-zone integration in metals. Phys. Rev. B 40, 3616–3621 (1989)

Meyerhardt, J.A., Mayer, R.J.: Systemic therapy for colorectal cancer. N. Engl. J. Med. 352, 476–487 (2005)

Monkhorst, H.J., Pack, J.D.: Special points for Brillouin-zone integrations. Phys. Rev. B 13, 5188–5192 (1976)

Perdew, J.P., Chevary, J.A., Vosko, S.H., Jackson, K.A., Pederson, M.R., Singh, D.J., Fiolhais, C.: Atoms, molecules, solids, and surfaces: applications of the generalized gradient approximation for exchange and correlation. Phys. Rev. B 48, 4978–4978 (1993)

Trewyn, B.G., Giri, S., Slowing, I.I., Chen, H.T., Lin, V.S.Y.: Synthesis and functionalization of a mesoporous silica nanoparticle based on the sol-gel process and applications in controlled release. Acc. Chem. Res. 40, 846–853 (2007a)

Trewyn, B.G., Giri, S., Slowing, I.I., Lin, V.S.Y.: Mesoporous silica nanoparticle based controlled release, drug delivery, and biosensor systems. Chem. Commun. 31, 3236–3245 (2007b)

Uhrich, K.E., Cannizzaro, S.M., Langer, R.S., Shakesheff, K.M.: Polymeric systems for controlled drug release. Chem. Rev. 99, 3181–3198 (1999)

Zhu, Y.-F., Shi, J.-L., Li, Y.-S., Chen, H.-R., Shen, W.-H., Dong, X.-P.: Storage and release of ibuprofen drug molecules in hollow mesoporous silica spheres with modified pore surface. Microporous Mesoporous Mater. 85, 75–81 (2005)

Zhuravlev, L.T.: Concentration of hydroxyl groups on the surface of amorphous silicas. Langmuir 3, 316–318 (1987)
Acknowledgements
Our work was supported by SCyT UTN, SCyT UNS and PIP-CONICET 0341. A. Juan, G. Brizuela and S. Simonetti are members of CONICET. A. Díaz Compañy is member of CIC Bs. As. We thank the reviewers for their valuable comments.
About this article
Cite this article
Compañy, A.D., Juan, A., Brizuela, G. et al. 5-fluorouracil adsorption on hydrated silica: density functional theory based-study. Adsorption 23, 321–325 (2017). https://doi.org/10.1007/s10450-016-9853-2
Received:

Revised:

Accepted:

Published:

Issue Date:

DOI: https://doi.org/10.1007/s10450-016-9853-2
Keywords
5-FU

Hydrated silica

Drug delivery

DFT