Abstract
Composite laminates are susceptible to the transverse impact loads resulting in significant damage such as matrix cracking, fiber breakage and delamination. In this paper, a micromechanical model is developed to predict the impact damage of composite laminates based on microstructure and various failure models of laminates. The fiber and matrix are represented by the isotropic and elastic-plastic solid, and their impact failure behaviors are modeled based on shear damage model. The delaminaton failure is modeling by the interface element controlled by cohesive damage model. Impact damage mechanisms of laminate are analyzed by using the micromechanical model proposed. In addition, the effects of impact energy and laminated type on impact damage behavior of laminates are investigated. Due to the damage of the surrounding matrix near the impact point caused by the fiber deformation, the surface damage area of laminate is larger than the area of ​​impact projectile. The shape of the damage area is roughly rectangle or elliptical with the major axis extending parallel to the fiber direction in the surface layer of laminate. The alternating laminated type with two fiber directions is more propitious to improve the impact resistance of laminates.
Access options
Buy single article
Instant access to the full article PDF.
USD 39.95
Price excludes VAT (USA)
Tax calculation will be finalised during checkout.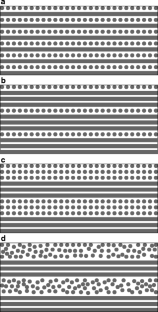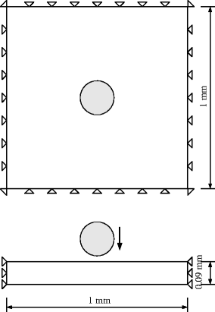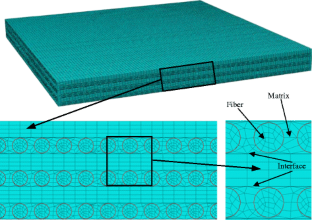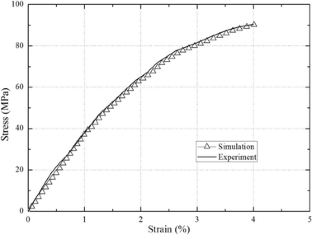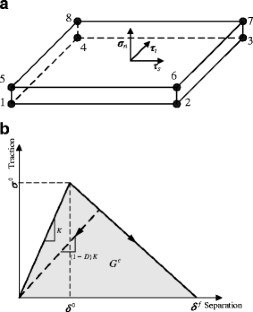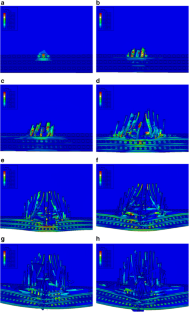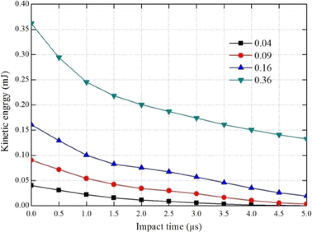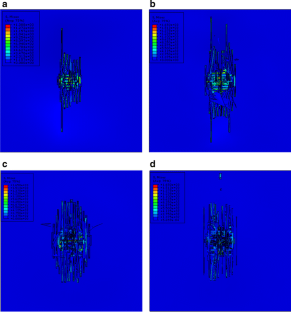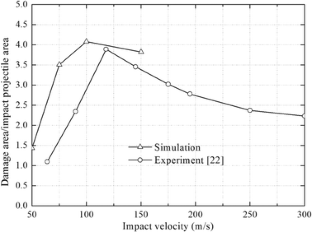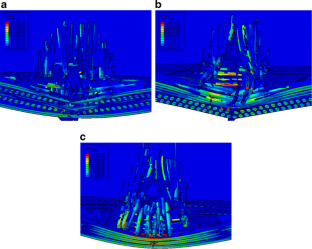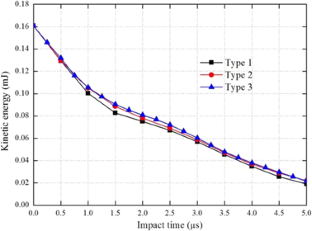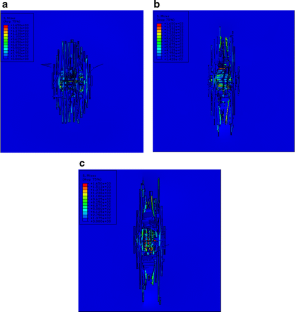 References
Richardson M.O.W., Wisheart M.J.: Review of low velocity impact properties of composite materials. Compos. Pt. A. 27, 1123–1131 (1996)

Elder D.J., Thomson R.S., Nguyen M.Q., Scott M.L.: Review of delamination predictive methods for low speed impact of composite laminates. Compos. Struct. 66, 677–683 (2004)

Agrawal S., Singh K.K., Sarkar P.K.: Impact damage on fibre-reinforced polymer matrix composite-a review. J. Compos. Mater. 48, 317–332 (2014)

Caprino G., Lopresto V., Scarponi C., Briotti G.: Influence of material thickness on the response of carbon-fabric/epoxy panels to low velocity impact. Compos. Sci. Technol. 59, 2279–2286 (1999)

Aslan Z., Karakuzu R., Okutan B.: The response of laminated composite plates under low-velocity impact loading. Compos. Struct. 59, 119–127 (2003)

Aktaş M., Atas C., İçten B.M., Karakuzu R.: An experimental investigation of the impact response of composite laminates. Compos. Struct. 87, 307–313 (2009)

Karakuzu R., Erbil E., Aktas M.: Impact characterization of glass/epoxy composite plates: an experimental and numerical study. Compos. Pt. B. 41, 388–395 (2010)

Sayer M., Bektas N.B., Sayman O.: An experimental investigation on the impact behavior of hybrid composite plates. Compos. Struct. 92, 1256–1262 (2010)

Pérez-Martín M.J., Enfedaque A., Dickson W., Gálvez F.: Impact behavior of hybrid glass/carbon epoxy composites. J. Appl. Mech. 80, 031803 (2013)

Choi H.Y., Chang F.K.: A model for predicting damage in graphite/epoxy laminated composites resulting from low-velocity point impact. J. Compos. Mater. 26, 2134–2169 (1992)

Collombet F., Lalbin X., Lataillade J.L.: Impact behavior of laminated composites: physical basis for finite element analysis. Compos. Sci. Technol. 58, 463–478 (1998)

Luo R.K., Green E.R., Morrison C.J.: Impact damage analysis of composite plates. Int. J. Impact Eng. 22, 435–447 (1999)

Hou J.P., Petrinic N., Ruiz C., Hallett S.R.: Prediction of impact damage in composite plates. Compos. Sci. Technol. 60, 273–281 (2000)

Naik N.K., Sekher Y.C., Meduri S.: Damage in woven-fabric composites subjected to low-velocity impact. Compos. Sci. Technol. 60, 731–744 (2000)

Johnson A.F., Pickett A.K., Rozycki P.: Computational methods for predicting impact damage in composite structures. Compos. Sci. Technol. 61, 2183–2192 (2001)

De Moura M.F.S.F., Marques A.T.: Prediction of low velocity impact damage in carbon-epoxy laminates. Compos. Pt. A. 33, 361–368 (2002)

Li C.F., Hu N., Yin Y.J., Sekine H., Fukunaga H.: Low-velocity impact-induced damage of continuous fiber-reinforced composite laminates. Part I. An FEM numerical model. Compos. Pt. A. 33, 1055–1062 (2002)

Iannucci L., Willows M.L.: An energy based damage mechanics approach to modelling impact onto woven composite materials-part I: numerical models. Compos. Pt. A. 37, 2041–2056 (2006)

Meng Q.H., Wang Z.Q.: Modeling analysis of fiber hybridization in hybrid glass/carbon composites under high-velocity impact. Polym. Compos. (2015). doi:10.1002/pc.23844

Meng Q.H., Wang Z.Q.: Prediction of interfacial strength and failure mechanisms in particle-reinforced metal-matrix composites based on a micromechanical model. Eng. Fract. Mech. 142, 170–183 (2015)

González C., LLorca J.: Mechanical behavior of unidirectional fiber-reinforced polymers under transverse compression: microscopic mechanisms and modeling. Compos. Sci. Technol. 67, 2795–2806 (2007)

Angelidis N., Irving P.E.: Detection of impact damage in CFRP laminates by means of electrical potential techniques. Compos. Sci. Technol. 67, 594–604 (2007)

Sultan M.T.H., Worden K., Staszewski W.J., Hodzic A.: Impact damage characterisation of composite laminates using a statistical approach. Compos. Sci. Technol. 72, 1108–1120 (2012)

Fiedler B., Hojo M., Ochiai S., Schulte K., Ando M.: Failure behavior of an epoxy matrix under different kinds of static loading. Compos. Sci. Technol. 61, 1615–1624 (2001)

Wells J.K., Beaumont P.W.R.: Debonding and pull-out processes in fibrous composites. J. Mater. Sci. 20, 1275–1284 (1985)

Wulf J., Schmauder S., Fischmeister H.F.: Finite element modeling of crack propagation in ductile fracture. Comput. Mater. Sci. 1, 297–301 (1993)
Acknowledgments
This work is supported by the National Natural Science Foundation of China (Nos.11472086, 11272096).
About this article
Cite this article
Meng, Q., Wang, Z. Micromechanical Modeling of Impact Damage Mechanisms in Unidirectional Composite Laminates. Appl Compos Mater 23, 1099–1116 (2016). https://doi.org/10.1007/s10443-016-9502-7
Received:

Accepted:

Published:

Issue Date:

DOI: https://doi.org/10.1007/s10443-016-9502-7
Keywords