Abstract
Acoustic signals serving intraspecific communication by predators are perceived by potential prey as warning signals. We analysed the acoustic characteristics of howling of wolves and found a striking similarity to the warning sounds of technical sirens. We hypothesize that the effectivity of sirens as warning signals has been enhanced by natural sensory predisposition of humans to get alerted by howling of wolves, with which they have a long history of coexistence. Psychoacoustic similarity of both stimuli seems to be supported by the fact that wolves and dogs perceive the sound of technical sirens as a relevant releasing supernormal stimulus and reply to it with howling. Inspiration by naturally occurring acoustic aposematic signals might become an interesting example of biomimetics in designing new warning sound systems.
Access options
Buy single article
Instant access to the full article PDF.
USD 39.95
Price includes VAT (USA)
Tax calculation will be finalised during checkout.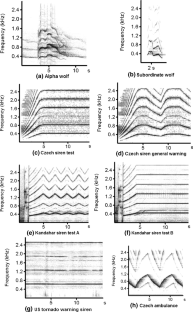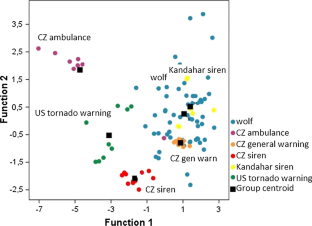 References
Baldwin CL, Runkle RS (1967) Biohazards symbol: development of a biological hazards warning signal. Science 158(798):264–265. https://doi.org/10.1126/science.158.3798.264.

Brodie Edmund DIII, Agrawal Anell F (2001) Maternal effects and the evolution of aposematic signals. Proc Natl Acad Sci 58(14):7884–7887. https://doi.org/10.1073/pnas.141075998

Beyer RT (1999) Sounds of our times, two hundred years of acoustics. Springer-Verlag, Inc, New York, p 444

Caro T (2009) Contrasting coloration in terrestrial mammals. Philosophical Transactions of the Royal Society B: Biological Sciences 364(1516):537–548. https://doi.org/10.1098/rstb.2008.0221. PMC 2674080. PMID 18990666

Eisner T, Grant RP (1981) Toxicity, Odor Aversion, and 'Olfactory Aposematism'. Science 213(4506):476. https://doi.org/10.1126/science.7244647. PMID 7244647

Gaubert P, Bloch C, Benyacoub S, Abdelhamid A, Pagani P, Adéyèmi C, Djagoun MC, Coloux A, Dufour S (2012) Reviving the African Wolf Canis lupus lupaster in North and West Africa: A mitochondrial lineage ranging more than 6,000 km wide. PLOS ONE 7(8):e42740

Harrington FH (1978) Ravens attracted to wolf howling. Condor 80:236–237

Harrington FH, Mech LD (1983) Wolf Pack Spacing: Howling as a Territory-Independent Spacing Mechanism in a Territorial Population. Behav Ecol Sociobiol 12:161–168

Hennelly L et al (2017) Howl variation across Himalayan, North African, Indian, and Holarctic wolf clades: tracing divergence in the world's oldest wolf lineages using acoustics. Curr Zool 63(3):341–348

Hermans EJ, Henckens MJ, Roelofs K, Fernández G (2013) Fear bradycardia and activation of the human periaqueductal grey. Neuroimage 66:278–287

Kershenbaum A et al (2016) Disentangling canid howls across multiple species and subspecies: Structure in a complex communication channel. Behav Proc 124:149–157

Lemaitre G, Susini P, Winsberg S, McAdams S (2009) The sound quality of car horns: Designing new representative sounds. Acta Acustica 95:356–372

Llaneza L, Ordiz A, Palacios V, Uzal A (2005) Monitoring wolf populations using howlings points combined with sign survey transects. Wild Biol Pract 1:108–117

Macdonald DW, Sillero-Zubiri C (2004) Biology and conservation of wild canids. Oxford University Press, Oxford, p 450

Merilaita S, Kaitala V (2002) Community structure and the evolution of aposematic coloration. Ecol Lett 5(4):495–501. https://doi.org/10.1046/j.1461-0248.2002.00362.x

Moen AN, DellaFera MA, Hiller AL, Buxton BA (1978) Heart rates of white-tailed deer fawns in response to recorded wolf howls. Canad J Zool 56:1207–1210

Nowak S, Jedrzejewski W, Krzysztof S, Theuerkauf J, Myslajek RW, Jedrzejewska B (2007) Howling activity of free-ranging wolves (Canis lupus) in the Bialowieza primeval forest and the Western Beskidy Mountains (Poland). J Ethol 25:231–237

Palacios V, Font E, Márquez R (2007) Iberian wolf howls: Acoustic structure, individual variation, and a comparison with North American populations. J Mammal 88:606–613

Palacios V, Font E, Marquez R, Carazo P (2015) Recognition of familiarity on the basis of howls: a playback experiment in a captive group of wolves. Behaviour 152:593–614

Palacios V et al (2017) Reliability of human estimates of the presence of pups and the number of wolves vocalizing in chorus howls: implications for decision-making processes. Eur J Wildl Res 63(3):59

Papin M et al (2018) Acoustic localization at large scales: a promising method for grey wolf monitoring. Front Zool 15(1):11

Passilongo D, Buccianti A, Dessi-Fulgheri F, Gazzola A, Zaccaroni M, Apollonio M (2010) The acoustic structure of wolf howls in some eastern Tuscany (Central Italy) free ranging packs. Bioacoustics 19:159–175

Passilongo D, Mattioli L, Bassi E, Szabó L, Apollonio M (2015) Visualizing sound: counting wolves by using a spectral view of the chorus howling. Front Zool 12:22

Patterson RD, Mayfield TF (1990) Warning sounds in the work environment. Philos Trans R Soc Lond Ser B Biol Sci 327(1241):485–492

Ruxton GD, Sherratt TN (2006) Aggregation, defense, and warning signals: the evolutionary relationship. Proc R Soc 273:2417–2424. https://doi.org/10.1098/rspb.2006.3570

Stevens M, Ruxton GD (2012) Linking the evolution and form of warning coloration in nature. Proc R Soc  Biol Sci 279:417–426. https://doi.org/10.1098/rspb.2011.1932

Tehrani JJ (2013) The Phylogeny of Little Red Riding Hood. PLOS ONE 8(11):e78871

Theberge JB, Falls JB (1967) Howling as a means of communication in Timber Wolves. Am Zool 7:331–338

Tooze ZJ, Harrington FH, Fentress JC (1990) Individually distinct vocalizations in timber wolves, Canis lupus. Anim Behav 40:723–730

Yoles I, Hod M, Kaplan B, Ovadia J (1993) Fetal 'fright-bradycardia' brought on by air-raid alarm in Israel. J Gynecol Obstet 40:157–160

Zaccaroni M et al (2012) Group specific vocal signature in free-ranging wolf packs. Ethol Ecol Evol 24(4):322–331
Acknowledgements
This research was supported by the Internal Grant Agency of Faculty of Forestry and Wood Sciences (IGA FLD, Reg. Number B0114/006).
Additional information
Publisher's Note
Springer Nature remains neutral with regard to jurisdictional claims in published maps and institutional affiliations.
About this article
Cite this article
Kořanová, D., Němcová, L., Policht, R. et al. Wolf Howling and Emergency Sirens: A Hypothesis of Natural and Technical Convergence of Aposematic Signals. Acta Biotheor 69, 53–65 (2021). https://doi.org/10.1007/s10441-020-09389-6
Received:

Revised:

Accepted:

Published:

Issue Date:
Keywords
Canis lupus

Acoustic communication

Wolf howl

Aposematism

Emergency signals