Abstract
This work presents a mathematical model describing the interactions between the cross-shore structure of small pelagic fish population an their exploitation by coastal and offshore fisheries. The complete model is a system of seven ODE's governing three stocks of small pelagic fish population moving and growing between three zones. Two types of fishing fleets are inter-acting with the fish population, industrial boats, constrained to offshore area, and artisanal boats, operating from the shore. Two time scales were considered and we use aggregation methods that allow us to reduce the dimension of the model and to obtain an aggregated model, which is a four dimension one. The analysis of the aggregated model is performed. We discuss the possible equilibriums and their meaning in terms of fishery management. An interesting equilibrium state can be obtained for which we can expect coexistence and a stable equilibrium state between fish stocks and fishing efforts. Some identification parameters are also given in the discussion part of the model.
Access options
Buy single article
Instant access to the full article PDF.
US$ 39.95
Tax calculation will be finalised during checkout.
Subscribe to journal
Immediate online access to all issues from 2019. Subscription will auto renew annually.
US$ 79
Tax calculation will be finalised during checkout.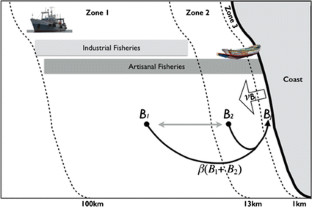 References
Alfaro-Shigueto J, Mangel JC, Pajuelo M, Dutton PH, Seminoff JA, Godley BJ (2010) Where small can have a large impact: structure and characterization of small-scale fisheries in Peru. Fish Res 106:8–17

Auger P, de la Parra RB (2000) Methods of aggregation of variables in population dynamics. C R Acad Sci 323:665–674

Auger P, de la Parra RB, Poggiale JC, Snchez E, Nguyen Huu T (2008a) Aggregation of variables and applications to population dynamics. In: Magal P, Ruan S (eds) Structured population models in biology and epidemiology, lecture notes in mathematics, vol 1936. Springer, Berlin, pp 209–263

Auger P, de la Parra RB, Poggiale JC, Snchez E, Sanz L (2008b) Aggregation methods in dynamical systems variables and applications in population and community dynamics. Phys Life Rev 5:79–105

Auger P, Mchich R, Raissi N, Koii B (2010) Effects of market price on the dynamics of a spatial fishery model: over-exploited fishery/traditional fishery. Ecol Complex 7(1):13–20

Bonnin M, Le Tixerant M, Ly I, Ould Zein A (2013) Atlas cartographique du droit de l'environnement marin: Senegal, Mauritania, Guinea. CSRP-IUCN, Research report, January. http://www.spcsrp.org/Atlas+cartographique. Accessed 19 Jan 2016

Brehmer P, Guillard J, Guenngan Y, Bigot J-L, Liorzou B (2006) Evidence of a variable "unsampled" biomass along the shallow water (\(< 20\) m) coastline in small pelagic fish stock assessment methods. ICES J Mar Sci 63:444–451

Charouki N, Rassi N, Auger P, Mchich R, Atmani H (2011) A management oriented competitive model with two time scales: the case of sardine fishery along the Atlantic coast between Cantin Cape and Blanc Cape. Ecol Model 222(6):1253–1261

Clark CM (1990) Mathematical bioeconomics: the optimal management of renewable resources, 2nd edn. A Wiley-Interscience, Hoboken

Clark CW, Clarke FH, Munro GR (1979) The optimal management of renewable resources stocks: problem of irreversible investment. Econometrica 47:25–47

Conand F (1977) Oeufs et larves de la sardinelle ronde (Sardinella aurita) au Sénégal: distribution, croissance, mortalité, variations d'abondance de 1971 à 1976. Cah ORSTOM Sér Océanogr 15:201–214

Cury P, Bakun A, Crawford RJ, Jarre A, Quinones RA, Shannon LJ, Verheye HM (2000) Small pelagics in upwelling systems: patterns of interaction and structural changes in "wasp-waist" ecosystems. ICES J Mar Sci J du Cons 57:603

Estrade P, Marchesiello P, De Verdire AC, Roy C (2008) Cross-shelf structure of coastal upwelling: a two dimensional extension of Ekman's theory and a mechanism for innershelf upwelling shut down. J Mar Res 66:589616

Kooi BW (2003) Numerical bifurcation analysis of ecosystems in a spatially homogeneous environment. Acta Biotheor 51:189222

Lafrance JT (1985) Linear demand functions in theory and practice. J Econ Theory 37:147166

Mchich R, Auger PM, de la Parra RB, Raïssi N (2002) Dynamics of a fishery on two fishing zones with fish stock dependent migrations: aggregation and control. Ecol Model 158(1–2):51–62

Mchich R, Auger P, Raïssi N (2005) The stabilizability of a controlled system describing the dynamics of a fishery. C R Biol 328(4):337–350

Metian AGJTM (2009) Fishing for feed or fishing for food: increasing global competition for small pelagic forage fish. AMBIO J Hum Environ 38:294302

Michalski J, Poggiale JC, Arditi R, Auger PM (1997) Macroscopic dynamic effects of migrations in patchy predator-prey systems. J Theor Biol 185:459–474

Pauly D, Watson R, Alder J (2005) Global trends in world fisheries: impacts on marine ecosystems and food security. Philos Trans R Soc B Biol Sci 360:512

Srinivasan UT, Cheung WWL, Watson R, Sumaila UR (2010) Food security implications of global marine catch losses due to overfishing. J Bioecon 12:183200

Tacon AGJ (2004) Use of fish meal and fish oil in aquaculture: a global perspective. Aquat Resour Cult Dev 1:314

Tacon AGJ, Metian M (2009) Fishing for aquaculture: non-food use of small pelagic forage fish—a global perspective. Rev Fish Sci 17:305–317
About this article
Cite this article
Mchich, R., Brochier, T., Auger, P. et al. Interactions Between the Cross-Shore Structure of Small Pelagic Fish Population, Offshore Industrial Fisheries and Near Shore Artisanal Fisheries: A Mathematical Approach. Acta Biotheor 64, 479–493 (2016). https://doi.org/10.1007/s10441-016-9299-7
Received:

Accepted:

Published:

Issue Date:
Keywords
Fishery model

Industrial and artisanal fisheries

Aggregation of variables

Parameters identification measures

National policy management