Abstract
This study examines ChatGPT's role in clinical decision support, by analyzing its scope, application, and limitations. By analyzing patient data and providing evidence-based recommendations, ChatGPT, an AI language model, can help healthcare professionals make well-informed decisions. This study examines ChatGPT's use in clinical decision support, including diagnosis and treatment planning. However, it acknowledges limitations like biases, lack of contextual understanding, and human oversight and also proposes a framework for the future clinical decision support system. Understanding these factors will allow healthcare professionals to utilize ChatGPT effectively and make accurate clinical decisions. Further research is needed to understand the implications of using ChatGPT in healthcare settings and to develop safeguards for responsible use.
Access options
Buy single article
Instant access to the full article PDF.
USD 39.95
Price excludes VAT (USA)
Tax calculation will be finalised during checkout.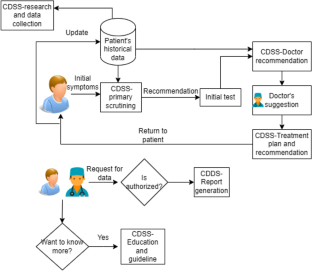 References
Ingraham, N. E., E. K. Jones, S. King, J. Dries, M. Phillips, T. Loftus, H. L. Evans, G. B. Melton, and C. J. Tignanelli. Re-aiming equity evaluation in clinical decision support: a scoping review of equity assessments in surgical decision support systems. Ann. Surg. 277(3):359–364, 2023.

Meunier, P.-Y., C. Raynaud, E. Guimaraes, F. Gueyffier, and L. Letrilliart. Barriers and facilitators to the use of clinical decision support systems in primary care: A mixed-methods systematic review. Ann. Fam. Med. 21(1):57–69, 2023.

Xu, Q., W. Xie, B. Liao, C. Hu, L. Qin, Z. Yang, H. Xiong, Y. Lyu, Y. Zhou, A. Luo, et al. Interpretability of clinical decision support systems based on artificial intelligence from technological and medical perspective: A systematic review. J. Healthcare Eng. 2023. https://doi.org/10.1155/2023/9919269.

Pierce, R. L., W. Van Biesen, D. Van Cauwenberge, J. Decruyenaere, and S. Sterckx. Explainability in medicine in an era of ai-based clinical decision support systems. Front. Genet. 13:903600, 2022.

Panigutti, C., Beretta, A., Giannotti, F., Pedreschi, D.: Understanding the impact of explanations on advice-taking: a user study for ai-based clinical decision support systems. In: Proceedings of the 2022 CHI Conference on Human Factors in Computing Systems, pp. 1–9 (2022)

Sloane, E.B., Silva, R.J.: Artificial intelligence in medical devices and clinical decision support systems. In: Clinical Engineering Handbook, pp. 556–568 (2020)

Wang, L., X. Chen, L. Zhang, L. Li, Y. Huang, Y. Sun, and X. Yuan. Artificial intelligence in clinical decision support systems for oncology. Int. J. Med. Sci. 20(1):79, 2023.

Wang, D., Wang, L., Zhang, Z., Wang, D., Zhu, H., Gao, Y., Fan, X., Tian, F.: "brilliant ai doctor" in rural clinics: Challenges in ai-powered clinical decision support system deployment. In: Proceedings of the 2021 CHI Conference on Human Factors in Computing Systems. CHI '21. Association for Computing Machinery, New York, NY, USA (2021). https://doi.org/10.1145/3411764.3445432

Introducing ChatGPT — openai.com. https://openai.com/blog/chatgpt. [Accessed 08-Jul-2023]

Biswas, S. S. Role of chat gpt in public health. Ann. Biomed. Eng. 51(5):868–869, 2023.

Sallam, M.: The utility of chatgpt as an example of large language models in healthcare education, research and practice: Systematic review on the future perspectives and potential limitations. medRxiv, 2023–02 (2023)

Garg, R.K., Urs, V.L., Agrawal, A.A., Chaudhary, S.K., Paliwal, V., Kar, S.K.: Exploring the role of chat gpt in patient care (diagnosis and treatment) and medical research: A systematic review. medRxiv, 2023–06 (2023)

Liu, J., C. Wang, and S. Liu. Utility of chatgpt in clinical practice. Journal of Medical Internet Research. 25:48568, 2023.

Temsah, M.-H., Aljamaan, F., Malki, K.H., Alhasan, K., Altamimi, I., Aljarbou, R., Bazuhair, F., Alsubaihin, A., Abdulmajeed, N., Alshahrani, F.S., et al.: Chatgpt and the future of digital health: a study on healthcare workers' perceptions and expectations. In: Healthcare, vol. 11, p. 1812 (2023). MDPI

Liu, S., Wright, A.P., Patterson, B.L., Wanderer, J.P., Turer, R.W., Nelson, S.D., McCoy, A.B., Sittig, D.F., Wright, A.: Using AI-generated suggestions from ChatGPT to optimize clinical decision support. Journal of the American Medical Informatics Association 30(7), 1237–1245 (2023) https://doi.org/10.1093/jamia/ocad072

Dave, T., S. A. Athaluri, and S. Singh. Chatgpt in medicine: an overview of its applications, advantages, limitations, future prospects, and ethical considerations. Front. Artif. Intell. 6:1169595, 2023.
Acknowledgements
The authors acknowledge that this article was partially generated by ChatGPT (powered by OpenAI's language model, GPT; http://openai.com). The editing was performed by the authors.
Ethics declarations
Conflict of interest
The authors declare no conflict of interest
Additional information
Associate Editor Stefan M. Duma oversaw the review of this article.
Publisher's Note
Springer Nature remains neutral with regard to jurisdictional claims in published maps and institutional affiliations.
About this article
Cite this article
Ferdush, J., Begum, M. & Hossain, S.T. ChatGPT and Clinical Decision Support: Scope, Application, and Limitations. Ann Biomed Eng (2023). https://doi.org/10.1007/s10439-023-03329-4
Received:

Accepted:

Published:

DOI: https://doi.org/10.1007/s10439-023-03329-4
Keywords