Abstract
The mechanical function of the uterus is critical for a successful pregnancy. During gestation, uterine tissue grows and stretches to many times its size to accommodate the growing fetus, and it is hypothesized the magnitude of uterine tissue stretch triggers the onset of contractions. To establish rigorous mechanical testing protocols for the human uterus in hopes of predicting tissue stretch during pregnancy, this study measures the anisotropic mechanical properties of the human uterus using optical coherence tomography (OCT), instrumented spherical indentation, and video extensometry. In this work, we perform spherical indentation and digital image correlation to obtain the tissue's force and deformation response to a ramp-hold loading regimen. We translate previously reported fiber architecture, measured via optical coherence tomography, into a constitutive fiber composite material model to describe the equilibrium material behavior during indentation. We use an inverse finite element method integrated with a genetic algorithm (GA) to fit the material model to our experimental data. We report the mechanical properties of human uterine specimens taken across different anatomical locations and layers from one non-pregnant (NP) and one pregnant (PG) patient; both patients had pathological uterine tissue. Compared to NP uterine tissue, PG tissue has a more dispersed fiber distribution and equivalent stiffness material parameters. In both PG and NP uterine tissue, the mechanical properties differ significantly between anatomical locations.
Access options
Buy single article
Instant access to the full article PDF.
US$ 39.95
Tax calculation will be finalised during checkout.
Subscribe to journal
Immediate online access to all issues from 2019. Subscription will auto renew annually.
US$ 119
Tax calculation will be finalised during checkout.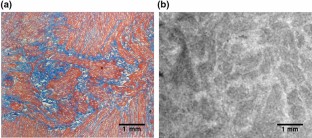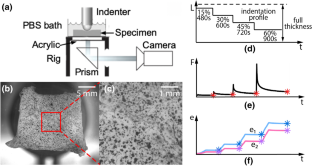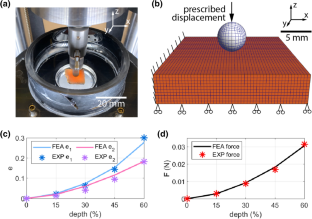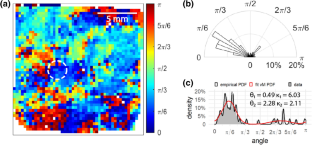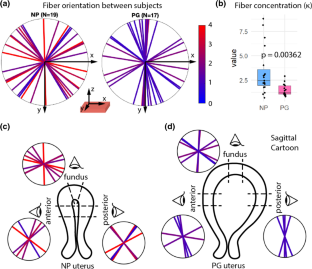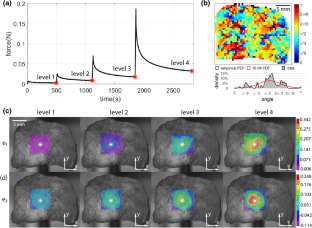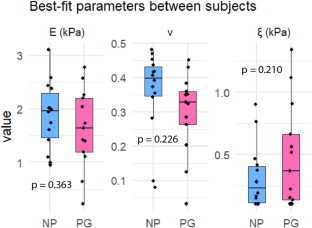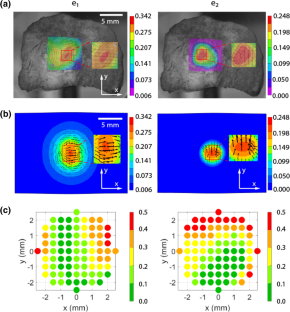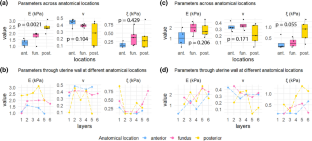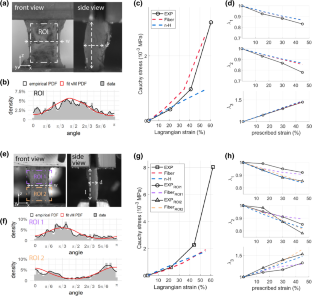 References
1.

Adham, M., J.-P. Gournier, J.-P. Favre, E. De La Roche, C. Ducerf, J. Baulieux, X. Barral, and M. Pouyet. Mechanical characteristics of fresh and frozen human descending thoracic aorta.J. Surg. Res. 64:32–34, 1996.

2.

Agostino, R. B. D., A. Belanger, and R. B. D. Agostino. A suggestion for using powerful and informative tests of normality.Commentaries 44:316–321, 1990.

3.

Al-Zirqi, I., B. Stray-Pedersen, L. Forsén, and S. Vangen. Uterine rupture after previous caesarean section: uterine rupture.BJOG 117:809–820, 2010.

4.

Allisoon R. Gillies, R. L. L. Structure and function of the skeletal muscle extracellular matrix.Muscle Nerve 44:318–331, 2011.

5.

Ambrosi, C. M., V. V. Fedorov, I. R. Efimov, R. B. Schuessler, and A. M. Rollins. Quantification of fiber orientation in the canine atrial pacemaker complex using optical coherence tomography.J. Biomed. Opt. 17:1, 2012.

6.

Catherino, W., H. Eltoukhi, and A. Al-Hendy. Racial and ethnic differences in the pathogenesis and clinical manifestations of uterine leiomyoma.Semin. Reprod. Med. 31:370–379, 2013.

7.

Chakraborty, S. and S. W. K. Wong. BAMBI: An R package for Fitting Bivariate Angular Mixture Models. arXiv:1708.07804 [stat] , 2019. ArXiv: 1708.07804.

8.

Conrad, J. T., W. L. Johnson, W. K. Kuhn, and C. A. Hunter Jr. Passive stretch relationships in human uterine muscle.Am. J. Obstet. Gynecol. 96:1055–1059, 1966.

9.

Cook, J. L., D. B. Zaragoza, D. H. Sung, and D. M. Olson. Expression of myometrial activation and stimulation genes in a mouse model of preterm labor: myometrial activation, stimulation, and preterm labor.Endocrinology 141:1718–1728, 2000.

10.

Delaine-Smith, R., S. Burney, F. Balkwill, and M. Knight. Experimental validation of a flat punch indentation methodology calibrated against unconfined compression tests for determination of soft tissue biomechanics.J. Mech. Behav. Biomed. Mater. 60:401–415, 2016.

11.

Delgadillo, J., S. Delorme, R. El-Ayoubi, R. Diraddo, and S. Hatzikiriakos. Effect of freezing on the passive mechanical properties of arterial samples.J. Biomed. Sci. Eng. 337088:645–652, 2010.

12.

Fernandez, M., M. House, S. Jambawalikar, N. Zork, J. Vink, R. Wapner, and K. Myers. Investigating the mechanical function of the cervix during pregnancy using finite element models derived from high-resolution 3D MRI.Comput. Methods Biomech. Biomed. Eng. 19:404–417, 2016.

13.

Fleming, C. P., C. M. Ripplinger, B. Webb, I. R. Efimov, and A. M. Rollins. Quantification of cardiac fiber orientation using optical coherence tomography.J. Biomed. Opt. 13:030505, 2008.

14.

Fonda, J. Ultrasound diagnosis of caesarean scar defects.Australas. J. Ultrasound Med. 14:22–30, 2011.

15.

Foot, N. C. The Masson trichrome staining methods in routine laboratory use.Stain Technol. 8:101–110, 1933.

16.

Fung, Y.-c. Biomechanics: Mechanical Properties of Living Tissues. New York: Springer, 2013.

17.

Gan, Y., W. Yao, K. M. Myers, J. Y. Vink, R. J. Wapner, and C. P. Hendon. Analyzing three-dimensional ultrastructure of human cervical tissue using optical coherence tomography.Biomed. Opt. Express 6:1090–1108, 2015.

18.

Gasser, T. C., R. W. Ogden, and G. A. Holzapfel. Hyperelastic modelling of arterial layers with distributed collagen fibre orientations.J. R. So. Interface 3:15–35, 2006.

19.

Gillespie, E. C. Principles of uterine growth in pregnancy.Am J Obstet Gynecol 59:949–959, 1950.

20.

Girton, T. S., V. H. Barocas, and R. T. Tranquillo. Confined compression of a tissue-equivalent: collagen fibril and cell alignment in response to Anisotropic Strain.J. Biomech. Eng. 124:568–575, 2002.

21.

Hall, M. S., F. Alisafaei, E. Ban, X. Feng, C. Y. Hui, V. B. Shenoy, and M. Wu. Fibrous nonlinear elasticity enables positive mechanical feedback between cells and ECMs.Proc. Natl. Acad. Sci. U.S.A. 113:14043–14048, 2016.

22.

Hansen, K. A., J. A. Weiss, and J. K. Barton. Recruitment of tendon crimp with applied tensile strain.J. Biomech. Eng. 124:72–77, 2002.

23.

Hefeda, M. M. and A. Zakaria. Shear wave velocity by quantitative acoustic radiation force impulse in the placenta of normal and high-risk pregnancy.Egypt. J. Radiol. Nucl. Med. 51, 2020.

24.

Holzapfel, G. A., T. C. Gasser, and R. W. Ogden. A new constitutive framework for arterial wall mechanics and a comparative study of material models.J. Elast. Phys. Sci. Solids 61:1–48, 2000.

25.

Holzapfel, G. A., R. W. Ogden, and S. Sherifova. On fibre dispersion modelling of soft biological tissues: a review. Proc. R. Soc. A 475: 20180736, 2019.

26.

Jayes, F. L., B. Liu, L. Feng, N. Aviles-Espinoza, S. Leikin, and P. C. Leppert. Evidence of biomechanical and collagen heterogeneity in uterine fibroids.PLoS ONE 14:e0215646, 2019.

27.

Jayyosi, C., N. Lee, and S. Nallasamy. Swelling behavior of the pregnant mouse cervix in physiological and hyperosmotic solutions. In: 8th World Congress of Biomechanics, pp. 8–12. 2018.

28.

Kauer, M., V. Vuskovic, J. Dual, G. Szekely, and M. Bajka. Inverse finite element characterization of soft tissues. Lecture Notes in Computer Science (including subseries Lecture Notes in Artificial Intelligence and Lecture Notes in Bioinformatics) 2208:128–136, 2001. ISBN: 3540426973.

29.

Komai, Y. and T. Ushikif. The three-dimensional organization of collagen fibrils in the human cornea and scleral. Invest. Ophthalmol. Vis. Sci. 32: 2244–2258, 1991.

30.

Krouskop, T. A., T. M. Wheeler, F. Kallel, B. S. Garra, and T. Hall. Elastic moduli of breast and prostate tissues under compression.Ultrason. Imaging 20:260–274, 1998.

31.

Lake, S. P. and V. H. Barocas. Mechanics and kinematics of soft tissue under indentation are determined by the degree of initial collagen fiber alignment.J. Mech. Behav. Biomed. Mater. 13:25–35, 2012.

32.

Lee, S. W., J. Y. Yoo, J. H. Kang, M. S. Kang, S. H. Jung, Y. S. Chong, D. S. Cha, K. H. Han, H. Y. Choi, and B. M. Kim. Diagnosis of cervical intraepithelial neoplasm (CIN) using polarization-sensitive optical coherence tomography. Optics InfoBase Conference Papers 16:2709–2719, 2007. ISBN: 1424411742.

33.

Liu, L., S. Oza, D. Hogan, Y. Chu, J. Perin, J. Zhu, J. E. Lawn, S. Cousens, C. Mathers, and R. E. Black. Global, regional, and national causes of under-5 mortality in 2000–15: an updated systematic analysis with implications for the sustainable development goals.Lancet 388:3027–3035, 2016.

34.

Lye, T. H., C. C. Marboe, and C. P. Hendon. Imaging of subendocardial adipose tissue and fiber orientation distributions in the human left atrium using optical coherence tomography.J. Cardiovasc. Electrophysiol. 30:2950–2959, 2019.

35.

Mak, A., W. Lai, and V. Mow. Biphasic indentation of articular cartilage–I. Theoretical analysis.J. Biomech. 20:703–714, 1987.

36.

Manoogian, S. J., J. A. Bisplinghoff, A. R. Kemper, and S. M. Duma. Dynamic material properties of the pregnant human uterus.J. Biomech. 45:1724–1727, 2012.

37.

Marsh, E. E., G. E. Ekpo, E. R. Cardozo, M. Brocks, T. Dune, and L. S. Cohen. Racial differences in fibroid prevalence and ultrasound findings in asymptomatic young women (18–30 years old): a pilot study.Fertil. Steril. 99:1951–1957, 2013.

38.

McLean, J., S. Fang, G. Gallos, K. Myers, and C. Hendon. 3-D collagen fiber mapping and tractography of human uterine tissue using OCT.Biomed. Opt. Express 11:5518–5541, 2020.

39.

Mizrahi, J., Z. Karni, and W. Z. Polishuk. Isotropy and anisotropy of uterine muscle during labor contraction.J. Biomech. 13:211–218, 1980.

40.

Myers, E. R. and V. C. Mow. Biomechanics of cartilage and its response to biomechanical stimuli. In Cartilage: Structure, Function, and Biochemistry pp. 313–341, 1983.

41.

Myers, K. M. and D. Elad. Biomechanics of the human uterus. Wiley Interdisciplinary Reviews. Systems Biology and Medicine 9, 2017.

42.

Myers, K. M., S. Socrate, A. Paskaleva, and M. House. A study of the anisotropy and tension/compression behavior of human cervical tissue.J. Biomech. Eng. 132, 2010.

43.

Nordin, M. and V. H. Frankel. Basic Biomechanics of the Musculoskeletal System. Philadelphia: Lippincott Williams & Wilkins, 2001.

44.

Orfanoudaki, I. M., D. Kappou, and S. Sifakis. Recent advances in optical imaging for cervical cancer detection.Arch. Gynecol. Obstet. 284:1197–1208, 2011.

45.

Oyelese, Y. and J. C. Smulian. Placenta previa, placenta accreta, and vasa previa.Obstet. Gynecol. 108:694, 2006.

46.

Pearsall, G. W. and V. L. Roberts. Passive mechanical properties of uterine muscle (myometrium) tested in vitro.J. Biomech. 11:167–176, 1978.

47.

Pino, J. H. Arrangement of muscle fibers in the myometrium of the human uterus: a mesoscopic study.MOJ Anat. Physiol. 4:280–283, 2017.

48.

Purslow, P. P. and J. A. Trotter. The morphology and mechanical properties of endomysium in series-fibred muscles: variations with muscle length.J. Muscle Res. Cell Motil. 15:299–308, 1994.

49.

Rashid, B., M. Destrade, and M. D. Gilchrist. Determination of friction coefficient in unconfined compression of brain tissue.J. Mech. Behav. Biomed. Mater. 14:163–171, 2012.

50.

Shi, L., W. Yao, Y. Gan, L. Y. Zhao, W. Eugene McKee, J. Vink, R. J. Wapner, C. P. Hendon, and K. Myers. Anisotropic material characterization of human cervix tissue based on indentation and inverse finite element analysis.J. Biomech. Eng. 141, 2019.

51.

Smith, R., M. Imtiaz, D. Banney, J. W. Paul, and R. C. Young. Why the heart is like an orchestra and the uterus is like a soccer crowd. American Journal of Obstetrics and Gynecology 213:181–185, 2015. Amsterdam: Elsevier.

52.

Solutions, C. Vic-2D v6. VIC-3D 2010 Reference Manual, p. 108, 2010.

53.

Sutton, M. A., J. J. Orteu, and H. Schreier. Image Correlation for Shape, Motion and Deformation Measurements: Basic Concepts, Theory and Applications. Springer, 2009.

54.

Tadepalli, S. C., A. Erdemir, and P. R. Cavanagh. Comparison of hexahedral and tetrahedral elements in finite element analysis of the foot and footwear.J. Biomech. 44:2337–2343, 2011.

55.

Tan, T. and R. De Vita. A structural constitutive model for smooth muscle contraction in biological tissues. Int. J. Non-Linear Mech. 75:46–53, 2015.

56.

Tanaka, E. and T. van Eijden. Biomechanical behavior of the temporomandibular joint disc.Crit. Rev. Oral Biol. 14:138–150, 2003.

57.

Thornton, G. M., C. B. Frank, and N. G. Shrive. Ligament creep behavior can be predicted from stress relaxation by incorporating fiber recruitment. J. Rheol. 45:493–507, 2001.

58.

Trotter, J. A. and P. P. Purslow. Functional morphology of the endomysium in series fibered muscles. J. Morphol. 212:109–122, 1992.

59.

Wang, Y., S. Son, S. M. Swartz, and N. C. Goulbourne. A mixed von mises distribution for modeling soft biological tissues with two distributed fiber properties.Int. J. Solids Struct. 49:2914–2923, 2012.

60.

Weiss, S., T. Jaermann, P. Schmid, P. Staempfli, P. Boesiger, P. Niederer, R. Caduff, and M. Bajka. Three-dimensional fiber architecture of the nonpregnant human uterus determined ex vivo using magnetic resonance diffusion tensor imaging.Anat. Rec. Part A 288:84–90, 2006.

61.

Xu, B., M.-J. Chow, and Y. Zhang. Experimental and modeling study of collagen scaffolds with the effects of crosslinking and fiber alignment.Int. J. Biomater. 2011, 2011.

62.

Yao, W., Y. Gan, K. M. Myers, J. Y. Vink, R. J. Wapner, and C. P. Hendon. Collagen fiber orientation and dispersion in the upper cervix of non-pregnant and pregnant women.PLoS ONE 11:1–20, 2016.

63.

Yoshida, K., C. Jayyosi, N. Lee, M. Mahendroo, and K. M. Myers. Mechanics of cervical remodelling: insights from rodent models of pregnancy.Interface Focus 9:20190026, 2019.

64.

Zhai, L., M. L. Palmeri, R. R. Bouchard, R. W. Nightingale, and K. R. Nightingale. An integrated indenter-arfi imaging system for tissue stiffness quantification.Ultrasonic Imaging 30:95–111, 2008.
Acknowledgments
The authors would like to thank Andrew Wilson from the Columbia University Department of International and Public Affairs for contributing to optimize the von Mises fitting algorithm, Dr. Arnold Advincula and Dr. Fady Collado from the Columbia University Irving Medical Center Department of Obstetrics and Gynecology for the uterine tissue specimen collection, and Dr. George Gallos from the Columbia University Irving Medical Center Department of Anesthesiology for teaching us the exquisite function of the uterus. Research reported in this publication was supported by the Eunice Kennedy Shriver National Institute Of Child Health & Human Development under Award Number R01HD091153 and R01HD072077 to KMM. The content is solely the responsibility of the authors and does not necessarily represent the official views of the National Institutes of Health.
Additional information
Publisher's Note
Springer Nature remains neutral with regard to jurisdictional claims in published maps and institutional affiliations.
Associate Editor Raffaella De Vita oversaw the review of this article.
About this article
Cite this article
Fang, S., McLean, J., Shi, L. et al. Anisotropic Mechanical Properties of the Human Uterus Measured by Spherical Indentation. Ann Biomed Eng (2021). https://doi.org/10.1007/s10439-021-02769-0
Received:

Accepted:

Published:
Keywords
Biomechanics

Human uterus

Anisotropy

Inverse finite element analysis