Abstract
Following the footprints of Bill Gates, Steve Jobs and Mark Zuckerberg, there has been a misconception that students are better off quitting their studies to bring to life their ideas, create jobs and monetize their inventions. Having historically transitioned from manpower to mind power, we live in one of the most rapidly changing times in human history. As a result, academic institutions that are supposed to be pioneers and educators of the next generations have started to realize that they need to adapt to a new system, and change their policies to be more flexible towards patent ownership and commercialization. There is an infrastructure being developed towards students starting their own businesses while continuing with their studies. This paper aims to provide an overview of the existing landscape, the exciting rewards as well as risks awaiting a student entrepreneur, the challenges of the present ecosystem, and questions to consider prior to embarking on such a journey. Various entities influencing the start-up environment are considered, specifically for the medical technology sector. These parties include but are not limited to: scientists, clinicians, investors, academic institutions and governments. A special focus will be set on the seemingly unbridgeable gap between founding a company and a scientific career.
This is a preview of subscription content, log in to check access.
Access options
Buy single article
Instant access to the full article PDF.
US$ 39.95
Price includes VAT for USA
Subscribe to journal
Immediate online access to all issues from 2019. Subscription will auto renew annually.
US$ 199
This is the net price. Taxes to be calculated in checkout.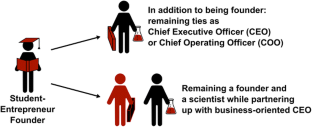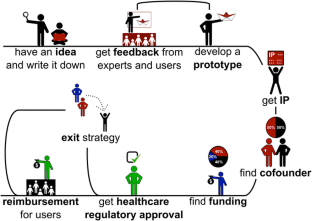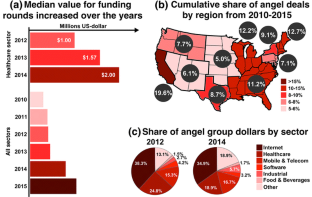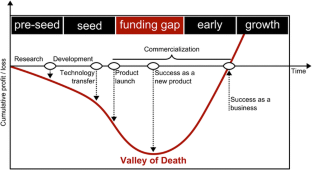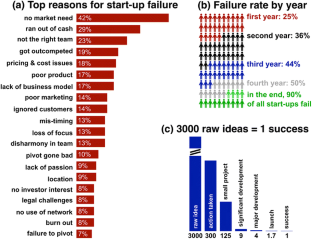 References
1.

5 Steps in the Journey of a Medical Device Startup (press release). Lassonde Entrepreneurship Institute (University of Utah), January 6, 2015, 2015.

2.

Acs, Z., S. Desai, and J. Hessels. Entrepreneurship, economic development and institutions. Small Bus. Econ. 31(3):219–234, 2008.

3.

Allen, R. H., S. Acharya, C. Jancuk, and A. A. Shoukas. Sharing best practices in teaching biomedical engineering design. Ann. Biomed. Eng. 41(9):1869–1879, 2013.

4.

Angel Resource Institute SVB, CB Insights. The HALO Report—US Angel Group Update: 2013 Year in Review. Angel Resource Institute and Silicon Valley Bank, CB Insights, 2014.

5.

Audretsch, D. Standing on the shoulders of midgets: the U.S. small business innovation research program (SBIR). Small Bus. Econ. 20(2):129–135, 2003.

6.

Cassar, G. The financing of business start-ups. J. Bus. Ventur. 19(2):261–283, 2004.

7.

Chun, A. L. Start-ups: how to be an entrepreneur scientist. Nat. Nanotechnol. 2015. doi:10.1038/nnano.2015.235.

8.

College startups on the rise as students flock to entrepreneurial pursuits. Red Herring, August 15, 2014, 2014.

9.

Di Gregorio, D., and S. Shane. Why do some universities generate more start-ups than others? Res. Policy 32(2):209–227, 2003.

10.

Diage, T. Planning for Successful Medical Device Reimbursement: So Your Device is Cleared, Now What?. Northwood: NAMSA, 2013.

11.

Geuna, A., and F. Rossi. Changes to university IPR regulations in Europe and the impact on academic patenting. Res. Policy 40(8):1068–1076, 2011.

12.

Goldfarb, B., and M. Henrekson. Bottom-up versus top-down policies towards the commercialization of university intellectual property. Res. Policy 32(4):639–658, 2003.

13.

Gura, T. Robert Langer: creating things that could change the world. Science Careers, 2014.

14.

Ham, S. T. Mapping the Medical Device Development Process. San Luis Obispo: California Polytechnic State University, 2010.

15.

Hologic to Acquire Sentinelle Medical (press release). HOLOGIC—The Science of Sure, 2010.

16.

Huggett, B. Top US universities and institutes for life sciences in 2013. Nat. Biotechnol. 32(11):1085, 2014.

17.

Kost, J., S. Mitragotri, R. A. Gabbay, M. Pishko, and R. Langer. Transdermal monitoring of glucose and other analytes using ultrasound. Nat. Med. 6(3):347–350, 2000.

18.

Lissoni, F. Academic patenting in Europe: an overview of recent research and new perspectives. World Pat. Inf. 34(3):197–205, 2012.

19.

Lissoni, F., and F. Montobbio. The ownership of academic patents and their impact. Rev. écon. 66:143–171, 2015.

20.

Monosoff, T. Creating a Product Prototype. Entrepreneur, 2005.

21.

Müller, E., and V. Zimmermann. The importance of equity finance for R&D activity. Small Bus. Econ. 33(3):303–318, 2009.

22.

Nazar, J. 16 Surprising statistics about small businesses. Forbes. September 9, 2013.

23.

Osawa, Y., and K. Miyazaki. An empirical analysis of the valley of death: large-scale R&D project performance in a Japanese diversified company. Asian J. Technol. Innov. 14(2):93–116, 2006.

24.

Palfrey, J. Intellectual Property Strategy. Cambridge: The MIT Press, 2011.

25.

Ries, E. The Lean Startup: How Today's Entrepreneurs Use Continuous Innovation to Create Radically Successful Business (1st ed.). New York: Crown Business, 2011.

26.

Robert, W., A. M. Farlie, E. J. Reedy, and J. Russell. The Kauffman Index 2015—Startup Activity. Kansas: Ewing Marion Kauffman Foundation, 2015.

27.

Schreyögg, J., M. Bäumler, and R. Busse. Balancing adoption and affordability of medical devices in Europe. Health Policy 92(2–3):218–224, 2009.

28.

Shreefal, M. Paths to entrepreneurship in the life sciences. Nat. Bioentrep. 2004. doi:10.1038/bioent831.

29.

Spross, J. Obama's middle-out economics is good. Bottom-up economics is better. Week, 2015.

30.

Stevens, G. A., and J. Burley. 3,000 Raw ideas equal 1 commercial success!. Res. Technol. Manag. 40(3):16–27, 1997.

31.

Tcherneva, P. R. Reorienting fiscal policy: a bottom-up approach. J. Post Keynes. Econ. 37(1):43–66, 2014.

32.

The European Medical Technology Industry in Figures. MedTech Europe, 2013. http://www.medtecheurope.org/sites/default/files/resource_items/files/MEDTECH_FactFigures_ONLINE3.pdf. Accessed 3 May 2017.

33.

The Top 20 Reasons Startups Fail. CB Insights, 2014.

34.

Volpatti, L. R., and A. K. Yetisen. Commercialization of microfluidic devices. Trends Biotechnol. 32(7):347–350, 2014.

35.

Walden, S. Startup Success by the Numbers. New York: Mashable, 2012.

36.

Wang, J., and P. Shapira. Partnering with universities: a good choice for nanotechnology start-up firms? Small Bus. Econ. 38(2):197–215, 2012.

37.

Willoughby, K. W. Intellectual property management and technological entrepreneurship. Int. J. Innov. Technol. Manag. 10(6):1, 2013.

38.

Yazdi, Y., and S. Acharya. A new model for graduate education and innovation in medical technology. Ann. Biomed. Eng. 41(9):1822–1833, 2013.

39.

Yetisen, A. K., L. R. Volpatti, A. F. Coskun, S. Cho, E. Kamrani, H. Butt, A. Khademhosseini, and S. H. Yun. Entrepreneurship. Lab Chip 15(18):3638–3660, 2015.
Acknowledgments
The authors would like to thank Professors Alireza Khademhosseini (Harvard-MIT Division of Health Sciences and Technology), Robert Langer (MIT) and President Ronald J. Daniels (Johns Hopkins University) for helpful discussions.
Ethics declarations
Conflicts of Interest
The authors report no conflicts of interest. AM and KTT are affiliated with a Canadian start-up called Spinesonics Medical, Inc. (this company is not mentioned in this manuscript). NT and ML are Entrepreneurial Neurosurgeons affiliated with start-ups, but their companies are not mentioned in this manuscript. HB was a Visionary in a product called Gliadel™, which is named in the manuscript as an example of successful academic entrepreneurship (no commercial endorsement). All individuals named in the case studies have agreed to their names being published in this article.
Additional information
Associate Editor Arash Kheradvar oversaw the review of this article.
About this article
Cite this article
Manbachi, A., Kreamer-Tonin, K., Walch, P. et al. Starting a Medical Technology Venture as a Young Academic Innovator or Student Entrepreneur. Ann Biomed Eng 46, 1–13 (2018). https://doi.org/10.1007/s10439-017-1938-x
Received:

Accepted:

Published:

Issue Date:
Keywords
Entrepreneurship

Bioentrepreneur

Student entrepreneurship

Medical devices