Abstract
Urinary incontinence is a largely spread disfunction that affects more than 300 million people worldwide. At present, no technological solutions are able to restore continence in a minimally invasive and effective way. In this article the authors report the design, fabrication, and testing of a novel artificial endourethral urinary sphincter able to fully restore continence. The device can be inserted/retracted in a minimally invasive fashion without hospital admission, does not alter the body scheme and can be applied to both women and men. The device core is a unidirectional polymeric valve and a magnetically activated system able to modulate its opening pressure. Bench tests and ex vivo tests on a human cadaver demonstrated that the device is able to fully restore continence and to allow urination when desired. Overall, the proposed system shows a high potential as a technological solution able to restore a normal daily life in patients affected by urinary incontinence.
This is a preview of subscription content, log in to check access.
Access options
Buy single article
Instant access to the full article PDF.
US$ 39.95
Price includes VAT for USA
Subscribe to journal
Immediate online access to all issues from 2019. Subscription will auto renew annually.
US$ 199
This is the net price. Taxes to be calculated in checkout.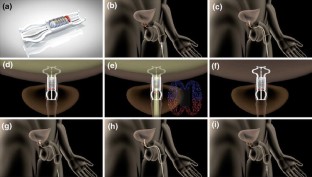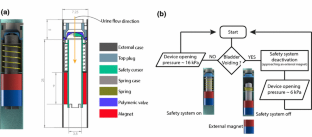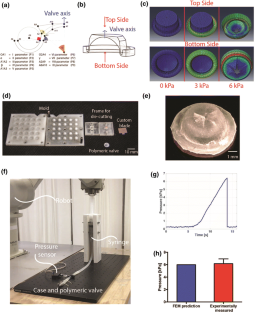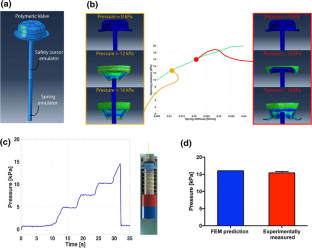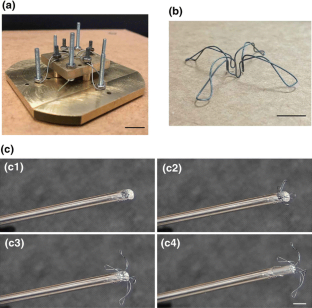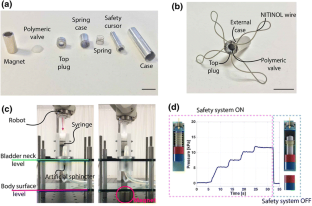 References
1.

Andersson, K. E. Antimuscarinics for treatment of overactive bladder. Lancet Neurol. 3:46–53, 2004.

2.

Bauer, R. M., C. Gozzi, W. Hübner, V. W. Nitti, G. Novara, A. Peterson, and C. G. Stief. Contemporary management of postprostatectomy incontinence. Eur. Urol. 59:985–996, 2011.

3.

Blaivas, J. G., and A. Groutz. Bladder outlet obstruction nomogram for women with lower urinary tract symptomatology. Neurourol. Urodyn. 19:553–564, 2000.

4.

Buckley, B. S., and M. C. M. Lapitan. Prevalence of urinary incontinence in men, women, and children—current evidence: findings of the Fourth International Consultation on Incontinence. Urology 76:265–270, 2010.

5.

Chancellor, M. B. and A. C. Diokno. The Underactive Bladder. Heidelberg: Springer International Publishing, 220 pp., 2016.

6.

Chung, E. A state-of-the-art review on the evolution of urinary sphincter devices for the treatment of post-prostatectomy urinary incontinence: past, present and future innovations. J. Med. Eng. Technol. 38:328–332, 2014.

7.

Chung, E., M. Ranaweera, and R. Cartmill. Newer and novel artificial urinary sphincters (AUS): the development of alternatives to the current AUS device. BJU Int. 110:5–11, 2012.

8.

Cody, J. D., M. L. Jacobs, K. Richardson, B. Moehrer, and A. Hextall. Oestrogen therapy for urinary incontinence in post‐menopausal women. The Cochrane Library. doi:10.1002/14651858.CD001405.pub3, 2012.

9.

Comiter, C. V. Surgery Insight: surgical management of postprostatectomy incontinence—the artificial urinary sphincter and male sling. Nat. Clin. Pract. Urol. 4:615–624, 2007.

10.

Elliott, D. S., and T. B. Boone. Urethral devices for managing stress urinary incontinence. J. Endourol. 14:79–83, 2000.

11.

Fiuk, J., Y. Bao, J. G. Calleary, B. F. Schwartz, and J. D. Denstedt. The use of internal stents in chronic ureteral obstruction. J. Urol. 193:1092–1100, 2015.

12.

Furlani, E. P. Permanent Magnet and Electromechanical Devices: Materials, Analysis, and Applications. San Diego: Academic Press, 518 pp., 2001.

13.

Hached, S., Z. Saadaoui, O. Loutochin, A. Garon, J. Corcos, and M. Sawan. Novel, Wirelessly controlled, and adaptive artificial urinary sphincter. IEEE/ASME Trans. Mech. 20:3040–3052, 2015.

14.

Herschorn, S., H. Bruschini, C. Comiter, P. Grise, T. Hanus, R. Kirschner-Hermanns, and P. Abrams. Surgical treatment of stress incontinence in men. Neurourol. Urodyn. 29:179–190, 2010.

15.

Irwin, D. E., Z. S. Kopp, B. Agatep, I. Milsom, and P. Abrams. Worldwide prevalence estimates of lower urinary tract symptoms, overactive bladder, urinary incontinence and bladder outlet obstruction. BJU Int. 108:1132–1138, 2011.

16.

Kujala, S., A. Pajala, M. Kallioinen, A. Pramila, J. Tuukkanen, and J. Ryhänen. Biocompatibility and strength properties of nitinol shape memory alloy suture in rabbit tendon. Biomaterials 25:353–358, 2004.

17.

Lai, L. C., D. R. Tyson, R. V. Clayman, and J. C. Earthman. Encrustation of nanostructured Ti in a simulated urinary tract environment. Mater. Sci. Eng. C 28:460–464, 2008.

18.

Lamraoui, H., A. Bonvilain, G. Robain, H. Combrisson, S. Basrour, A. Moreau-Gaudry, and P. Mozer. Development of a novel artificial urinary sphincter: a versatile automated device. IEEE/ASME Trans. Mech. 15:916–924, 2010.

19.

Lucas, M. G., R. J. Bosch, F. C. Burkhard, F. Cruz, T. B. Madden, A. K. Nambiar, and R. S. Pickard. EAU guidelines on surgical treatment of urinary incontinence. Eur. Urol. 62:1118–1129, 2012.

20.

Markland, A. D., H. E. Richter, C. W. Fwu, P. Eggers, and J. W. Kusek. Prevalence and trends of urinary incontinence in adults in the United States, 2001 to 2008. J. Urol. 186:589–593, 2011.

21.

Mata, A., A. J. Fleischman, and S. Roy. Characterization of polydimethylsiloxane (PDMS) properties for biomedical micro/nanosystems. Biomed. Microdev. 7:281–293, 2005.

22.

Mazzocchi, T., L. Ricotti, N. Pinzi, and A. Menciassi. Parametric design, fabrication and validation of one-way polymeric valves for artificial sphincters. Sensors Actuators A: 233:184–194, 2015.

23.

Milsom, I., K. S. Coyne, S. Nicholson, M. Kvasz, C. I. Chen, and A. J. Wein. Global prevalence and economic burden of urgency urinary incontinence: a systematic review. Eur. Urol. 65:79–95, 2014.

24.

Moore, K. L., A. F. Dalley, and A. M. Agur. Clinically Oriented Anatomy. Philadelphia: Lippincott Williams & Wilkins, 1134 pp, 2013.

25.

Morgan, N. B. Medical shape memory alloy applications—the market and its products. Mater. Sci. Eng. A 378:16–23, 2004.

26.

Nam, R. K., S. Herschorn, D. A. Loblaw, Y. Liu, L. H. Klotz, L. K. Carr, and C. H. Law. Population based study of long-term rates of surgery for urinary incontinence after radical prostatectomy for prostate cancer. J. Urol. 188:502–506, 2012.

27.

Ostrowski, I., E. Śledź, J. Ciechan, T. Golabek, J. Bukowczan, M. Przydacz, and P. L. Chłosta. Current interventional management of male stress urinary incontinence following urological procedures. Cent. Eur. J. Urol. 68:340–347, 2015.

28.

Patki, P., R. Hamid, P. J. R. Shah, and M. Craggs. Long-term efficacy of AMS 800 artificial urinary sphincter in male patients with urodynamic stress incontinence due to spinal cord lesion. Spinal Cord. 44:297–300, 2006.

29.

Pradhan, A., and R. Kearney. Surgical management of stress urinary incontinence. Obstet. Gynaecol. Reprod. Med. 20:207–211, 2010.

30.

Ramesh, M. V., D. Raj, and N. Dilraj. Design of wireless real time artificial sphincter control system for urinary incontinence. IEEE International Symposium on Technology Management and Emerging Technologies (ISTMET), pp. 44–49, 2014.

31.

Robinson, D., and L. D. Cardozo. The role of estrogens in female lower urinary tract dysfunction. Urology 62:45–51, 2003.

32.

Schäfer, W., P. Abrams, L. Liao, A. Mattiasson, F. Pesce, A. Spangberg, and P. V. Kerrebroeck. Good urodynamic practices: uroflowmetry, filling cystometry, and pressure-flow studies. Neurourol. Urodyn. 21:261–274, 2002.

33.

Shabalovskaya, S. A. Surface, corrosion and biocompatibility aspects of Nitinol as an implant material. Biomed. Mater. Eng. 12:69–109, 2002.

34.

Thompson, I., and M. R. Kaufman. Nonsurgical interventions for incontinence: where is the evidence? Curr. Bladder Dysfunct. Rep. 5:163–167, 2010.

35.

Thüroff, J. W., P. Abrams, K. E. Andersson, W. Artibani, C. R. Chapple, M. J. Drake, and A. Tubaro. EAU guidelines on urinary incontinence. Acta Urol. Esp. (Engl. Ed.) 35:373–388, 2011.

36.

Toews, H. A. Intraurethral and intravesical pressures in normal and stress-incontinent women. Obstet. Gynecol. 29:613–624, 1967.

37.

Vakalopoulos, I., S. Kampantais, L. Laskaridis, V. Chachopoulos, M. Koptsis, and C. Toutziaris. New artificial urinary sphincter devices in the treatment of male iatrogenic incontinence. Adv. Urol. 2012:439372, 2012.

38.

Wein, A. J., and R. R. Rackley. Overactive bladder: a better understanding of pathophysiology, diagnosis and management. J. Urol. 175:S5–S10, 2006.
Acknowledgments
The authors acknowledge the Fondazione Cassa di Risparmio di Lucca (Lucca, Italy) for providing financial support for this study, in the framework of the SUAVES (Artificial urinary system based on bladder and sphincter endoprostheses) and the VESPRO (Protesi di VEscica e Sfintere per il riPristino funzionale dell'apparato uRinariO) projects.
Additional information
Associate Editor Umberto Morbiducci oversaw the review of this article.
Electronic supplementary material
Below is the link to the electronic supplementary material.
Supplementary Video S1 (MP4 13797 kb)
Supplementary Video S2 (MP4 9303 kb)
Supplementary Video S3 (MP4 10986 kb)
Supplementary Video S4 (MP4 9094 kb)
Supplementary Video S5 (MP4 47361 kb)
About this article
Cite this article
Mazzocchi, T., Ricotti, L., Pinzi, N. et al. Magnetically Controlled Endourethral Artificial Urinary Sphincter. Ann Biomed Eng 45, 1181–1193 (2017). https://doi.org/10.1007/s10439-016-1784-2
Received:

Accepted:

Published:

Issue Date:
Keywords
Urinary incontinence

Artificial sphincter

Magnetic device

Minimally invasive therapy

Unidirectional valve