Abstract
N-cadherin (Ncad) mediates cell–cell interactions, regulates β-catenin (βcat) signaling, and promotes the chondrogenic differentiation of mesenchymal lineage cells. Here, we utilized confocal imaging to investigate the influence of Ncad interactions on single mesenchymal stem cell (MSC) behavior within 3-dimensional hydrogel environments under conditions that promote chondrogenic differentiation. Human MSCs were photoencapsulated in hyaluronic acid hydrogels functionalized with Ncad mimetic peptides and compared to cells in environments with control non-active peptides (Ctrl). Using single-cell imaging, we observed a significant increase in membrane βcat, nuclear βcat, and cell roundness after 3 days in Ncad hydrogels compared to Ctrl hydrogels. The extent of membrane and nuclear βcat localization and MSC roundness decreased to Ctrl hydrogel levels via pre-treatment with Ncad-specific antibodies prior to encapsulation in the Ncad hydrogels, confirming the activity of the peptide. Interestingly, there was a pronounced (>80%) increase in βcat nuclear localization in two-cell clusters within the Ctrl hydrogels, which was much greater than the increase (~30%) in βcat nuclear localization in two-cell clusters within the Ncad hydrogels. In summary, we utilized fluorescent imaging to demonstrate Ncad-mediated single cell responses to developmental cues within hydrogels towards chondrogenesis.
Access options
Buy single article
Instant access to the full article PDF.
US$ 39.95
Tax calculation will be finalised during checkout.
Subscribe to journal
Immediate online access to all issues from 2019. Subscription will auto renew annually.
US$ 119
Tax calculation will be finalised during checkout.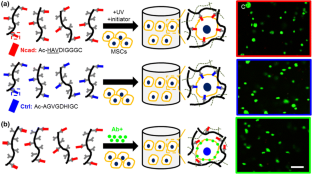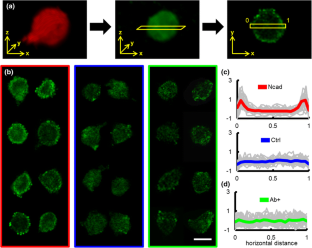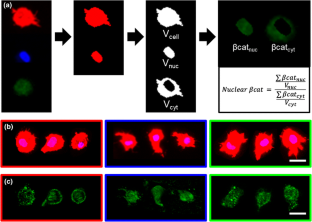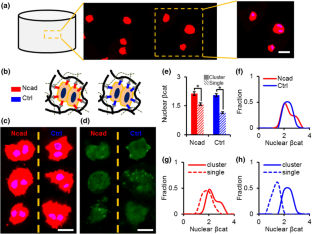 References
1.

Ahrens, P. B., M. Solursh, and R. S. Reiter. Stage-related capacity for limb chondrogenesis in cell culture. Dev. Biol. 60:69–82, 1977.

2.

Balsamo, J., T. Leung, H. Ernst, M. K. Zanin, S. Hoffman, and J. Lilien. Regulated binding of ptp1b-like phosphatase to n-cadherin: control of cadherin-mediated adhesion by dephosphorylation of beta-catenin. J. Cell Biol. 134:801–813, 1996.

3.

Beane, O. S., and E. M. Darling. Isolation, characterization, and differentiation of stem cells for cartilage regeneration. Ann. Biomed. Eng. 40:2079–2097, 2012.

4.

Bian, L., M. Guvendiren, R. L. Mauck, and J. A. Burdick. Hydrogels that mimic developmentally relevant matrix and n-cadherin interactions enhance msc chondrogenesis. Proc. Natl. Acad. Sci. U.S.A. 110:10117–10122, 2013.

5.

Blaschuk, O. W., R. Sullivan, S. David, and Y. Pouliot. Identification of a cadherin cell adhesion recognition sequence. Dev. Biol. 139:227–229, 1990.

6.

Chen, W. Y., and G. Abatangelo. Functions of hyaluronan in wound repair. Wound Repair Regen. 7:79–89, 1999.

7.

Connelly, J. T., A. J. Garcia, and M. E. Levenston. Inhibition of in vitro chondrogenesis in rgd-modified three-dimensional alginate gels. Biomaterials 28:1071–1083, 2007.

8.

Cote, A. J., C. M. Mcleod, M. J. Farrell, P. D. Mcclanahan, M. C. Dunagin, A. Raj, and R. L. Mauck. Single cell differences in matrix gene expression do not predict matrix deposition. Nat. Commun. 7:10865, 2016.

9.

Gao, L., R. Mcbeath, and C. S. Chen. Stem cell shape regulates a chondrogenic versus myogenic fate through rac1 and n-cadherin. Stem Cells 28:564–572, 2010.

10.

Guvendiren, M., and J. A. Burdick. Engineering synthetic hydrogel microenvironments to instruct stem cells. Curr. Opin. Biotechnol. 24:841–846, 2013.

11.

Hoschuetzky, H., H. Aberle, and R. Kemler. Beta-catenin mediates the interaction of the cadherin-catenin complex with epidermal growth factor receptor. J. Cell Biol. 127:1375–1380, 1994.

12.

Huang, A. H., M. J. Farrell, and R. L. Mauck. Mechanics and mechanobiology of mesenchymal stem cell-based engineered cartilage. J. Biomech. 43:128–136, 2010.

13.

Kilian, K. A., B. Bugarija, B. T. Lahn, and M. Mrksich. Geometric cues for directing the differentiation of mesenchymal stem cells. Proc. Natl. Acad. Sci. USA 107:4872–4877, 2010.

14.

Kim, W., M. Kim, and E. H. Jho. Wnt/beta-catenin signalling: from plasma membrane to nucleus. Biochem. J. 450:9–21, 2013.

15.

Knudson, C. B., and B. P. Toole. Hyaluronate-cell interactions during differentiation of chick embryo limb mesoderm. Dev. Biol. 124:82–90, 1987.

16.

Lee, H. J., C. Yu, T. Chansakul, N. S. Hwang, S. Varghese, S. M. Yu, and J. H. Elisseeff. Enhanced chondrogenesis of mesenchymal stem cells in collagen mimetic peptide-mediated microenvironment. Tissue Eng. A 14:1843–1851, 2008.

17.

Lisignoli, G., S. Cristino, A. Piacentini, C. Cavallo, A. I. Caplan, and A. Facchini. Hyaluronan-based polymer scaffold modulates the expression of inflammatory and degradative factors in mesenchymal stem cells: involvement of cd44 and cd54. J. Cell. Physiol. 207:364–373, 2006.

18.

Ma, B., E. B. Landman, R. L. Miclea, J. M. Wit, E. C. Robanus-Maandag, J. N. Post, and M. Karperien. Wnt signaling and cartilage: of mice and men. Calcif. Tissue Int. 92:399–411, 2013.

19.

Makris, E. A., A. H. Gomoll, K. N. Malizos, J. C. Hu, and K. A. Athanasiou. Repair and tissue engineering techniques for articular cartilage. Nat. Rev. Rheumatol. 11:21–34, 2015.

20.

Mcbeath, R., D. M. Pirone, C. M. Nelson, K. Bhadriraju, and C. S. Chen. Cell shape, cytoskeletal tension, and rhoa regulate stem cell lineage commitment. Dev. Cell 6:483–495, 2004.

21.

Modarresi, R., T. Lafond, J. A. Roman-Blas, K. G. Danielson, R. S. Tuan, and M. R. Seghatoleslami. N-cadherin mediated distribution of beta-catenin alters map kinase and bmp-2 signaling on chondrogenesis-related gene expression. J. Cell. Biochem. 95:53–63, 2005.

22.

Oberlender, S. A., and R. S. Tuan. Spatiotemporal profile of n-cadherin expression in the developing limb mesenchyme. Cell Adhes. Commun. 2:521–537, 1994.

23.

Otsu, N. Threshold selection method from gray-level histograms. IEEE Trans. Syst. Man Cybernet. 9:62–66, 1979.

24.

Russell, K. C., D. G. Phinney, M. R. Lacey, B. L. Barrilleaux, K. E. Meyertholen, and K. C. O'connor. In vitro high-capacity assay to quantify the clonal heterogeneity in trilineage potential of mesenchymal stem cells reveals a complex hierarchy of lineage commitment. Stem Cells 28:788–798, 2010.

25.

Sadot, E., I. Simcha, M. Shtutman, A. Ben-Ze'ev, and B. Geiger. Inhibition of beta-catenin-mediated transactivation by cadherin derivatives. Proc. Natl. Acad. Sci. USA 95:15339–15344, 1998.

26.

Schwartz, Z., D. J. Griffon, L. P. Fredericks, H. B. Lee, and H. Y. Weng. Hyaluronic acid and chondrogenesis of murine bone marrow mesenchymal stem cells in chitosan sponges. Am. J. Vet. Res. 72:42–50, 2011.

27.

Shapiro, L., A. M. Fannon, P. D. Kwong, A. Thompson, M. S. Lehmann, G. Grubel, J. F. Legrand, J. Als-Nielsen, D. R. Colman, and W. A. Hendrickson. Structural basis of cell-cell adhesion by cadherins. Nature 374:327–337, 1995.

28.

Smeds, K. A., and M. W. Grinstaff. Photocrosslinkable polysaccharides for in situ hydrogel formation. J. Biomed. Mater. Res. 54:115–121, 2001.

29.

Tavella, S., P. Raffo, C. Tacchetti, R. Cancedda, and P. Castagnola. N-cam and n-cadherin expression during in vitro chondrogenesis. Exp. Cell Res. 215:354–362, 1994.

30.

Tuli, R., S. Tuli, S. Nandi, X. Huang, P. A. Manner, W. J. Hozack, K. G. Danielson, D. J. Hall, and R. S. Tuan. Transforming growth factor-beta-mediated chondrogenesis of human mesenchymal progenitor cells involves n-cadherin and mitogen-activated protein kinase and wnt signaling cross-talk. J. Biol. Chem. 278:41227–41236, 2003.

31.

Wu, S. C., J. K. Chang, C. K. Wang, G. J. Wang, and M. L. Ho. Enhancement of chondrogenesis of human adipose derived stem cells in a hyaluronan-enriched microenvironment. Biomaterials 31:631–640, 2010.
Acknowledgments
This work was supported by a graduate research fellowship from the National Science Foundation (MK) and grants from the National Institutes of Health (R01 EB008722, T32 AR007132) and the Department of Veterans Affairs (I01 RX000700).
Additional information
Associate Editor Akhilesh K Gaharwar oversaw the review of this article.
About this article
Cite this article
Vega, S.L., Kwon, M., Mauck, R.L. et al. Single Cell Imaging to Probe Mesenchymal Stem Cell N-Cadherin Mediated Signaling within Hydrogels. Ann Biomed Eng 44, 1921–1930 (2016). https://doi.org/10.1007/s10439-016-1622-6
Received:

Accepted:

Published:

Issue Date:
Keywords
Hyaluronic acid

N-cadherin

Biomaterials

Tissue engineering