Abstract
In this study we compared Achilles tendon loading parameters during barefoot running among females with different foot strike patterns using open-source computer muscle modeling software to provide dynamic simulations of running. Muscle forces of the gastrocnemius and soleus were estimated from experimental data collected in a motion capture laboratory during barefoot running for 11 runners utilizing a rearfoot strike (RFS) and 8 runners utilizing a non-RFS (NRFS) pattern. Our results show that peak Achilles tendon force occurred earlier in stance phase (p = 0.007), which contributed to a 15% increase in average Achilles tendon loading rate among participants adopting a NRFS pattern (p = 0.06). Stance time, step length, and the estimated number of steps per mile were similar between groups. However, runners with a NRFS pattern experienced 11% greater Achilles tendon impulse each step (p = 0.05) and nearly significantly greater Achilles tendon impulse per mile run (p = 0.06). This difference equates to an additional 47.7 body weights for each mile run with a NRFS pattern. Runners considering a NRFS pattern may want to account for these novel stressors and adapt training programs accordingly.
Access options
Buy single article
Instant access to the full article PDF.
USD 39.95
Price includes VAT (USA)
Tax calculation will be finalised during checkout.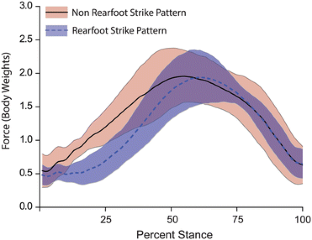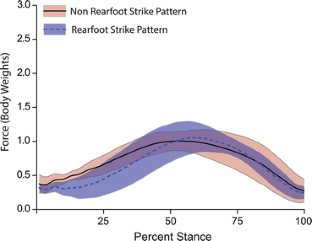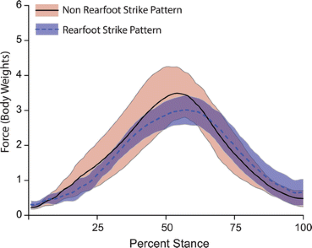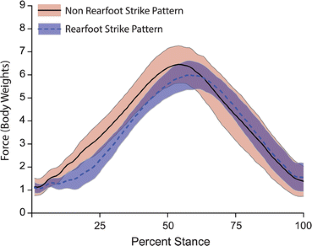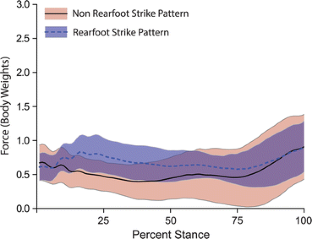 References
1.

2010 Participation—Ranked by Total Participation. National Sporting Goods Association. Website. Available at http://www.nsga.org/i4a/pages/index.cfm?pageid=3482.

2.

Altman, A. R., and I. S. Davis. A kinematic method for footstrike pattern detection in barefoot and shod runners. Gait Posture 35:298–300, 2012.

3.

Anderson, F. C., and M. G. Pandy. Dynamic optimization of human walking. J. Biomech. Eng. 123:381–390, 2001.

4.

Bisseling, R. W., and A. L. Hof. Handling of impact forces in inverse dynamics. J. Biomech. 39:2438–2444, 2006.

5.

Cavanagh, P. R., and M. A. Lafortune. Ground reaction forces in distance running. J. Biomech. 13:397–406, 1980.

6.

Crowninshield, R. D., and M. H. Pope. The strength and failure characteristics of rat medial collateral ligaments. J. Trauma 16:99–105, 1976.

7.

Daoud, A. I., G. J. Giessler, F. Wang, J. Saretsky, and Y. A. Daoud. Foot strike and injury rates in endurance runners: a retrospective study. Med. Sci. Sports Exerc. 44:1325–1334, 2012.

8.

Delp, S. L., F. C. Anderson, A. S. Arnold, P. Loan, A. Habib, C. T. John, E. Guendelman, and D. G. Thelen. OpenSim: open-source software to create and analyze dynamic simulations of movement. IEEE Trans. Biomed. Eng. 54:1940–1950, 2007.

9.

Delp, S. L., J. P. Loan, M. G. Hoy, F. E. Zajac, E. L. Topp, and J. M. Rosen. An interactive graphics-based model of the lower extremity to study orthopaedic surgical procedures. IEEE Trans. Biomed. Eng. 37:757–767, 1990.

10.

Divert, C., G. Mornieux, H. Baur, F. Mayer, and A. Belli. Mechanical comparison of barefoot and shod running. Int. J. Sports Med. 26:593–598, 2005.

11.

Edwards, W. B., J. C. Gillette, J. M. Thomas, and T. R. Derrick. Internal femoral forces and moments during running: Implications for stress fracture development. Clin. Biomech. (Bristol, Avon) 23:1269–1278, 2008.

12.

Giddings, V. L., G. S. Beaupre, R. T. Whalen, and D. R. Carter. Calcaneal loading during walking and running. Med. Sci. Sports Exerc. 32:627–634, 2000.

13.

Goss, D. L., and M. T. Gross. Relationships among self-reported shoe type, footstrike pattern, and injury incidence. US Army Med. Dep. J. Oct–Dec:25–30, 2012.

14.

Hardin, E. C., A. J. van den Bogert, and J. Hamill. Kinematic adaptations during running: effects of footwear, surface, and duration. Med. Sci. Sports. Exerc. 36:838–844, 2004.

15.

Hasegawa, H., T. Yamauchi, and W. J. Kraemer. Foot strike patterns of runners at the 15-km point during an elite-level half marathon. J. Strength Cond. Res. 21:888–893, 2007.

16.

Hatala, K. G., H. L. Dingwall, R. E. Wunderlich, and B. G. Richmond. Variation in foot strike patterns during running among habitually barefoot populations. PLoS ONE 8:e52548, 2013.

17.

Hof, A. L., J. P. Van Zandwijk, and M. F. Bobbert. Mechanics of human triceps surae muscle in walking, running and jumping. Acta Physiol. Scand. 174:17–30, 2002.

18.

Kirkendall, D. T., and W. E. Garrett. Function and biomechanics of tendons. Scand. J. Med. Sci. Sports 7:62–66, 1997.

19.

Komi, P. V. Relevance of in vivo force measurements to human biomechanics. J. Biomech. 23:23–34, 1990.

20.

Larson, P., E. Higgins, J. Kaminski, T. Decker, J. Preble, D. Lyons, K. McIntyre, and A. Normile. Foot strike patterns of recreational and sub-elite runners in a long-distance road race. J. Sports Sci. 29:1665–1673, 2011.

21.

Lieberman, D. E., V. Madhusudhan, W. A. Werbel, A. I. Daoud, S. D'Andrea, I. S. Davis, R. O. Mang'eni, and Y. Pitsiladis. Foot strike patterns and collision forces in habitually barefoot versus shod runners. Nature 463:531–535, 2010.

22.

Magnusson, S. P., H. Langberg, and M. Kjaer. The pathogenesis of tendinopathy: balancing the response to loading. Nat. Rev. Rheumatol. 6:262–268, 2010.

23.

Micheli, L. J. Lower extremity overuse injuries. Acta Med Scand. 711:171–177, 1986.

24.

Miller, B. F., M. Hansen, J. L. Olesen, P. Schwarz, J. A. Babraj, K. Smith, M. J. Rennie, and M. Kjaer. Tendon collagen synthesis at rest and after exercise in women. J. Appl. Physiol. 102:541–546, 2007.

25.

Milner, C. E., R. Ferber, C. D. Pollard, J. Hamill, and I. S. Davis. Biomechanical factors associated with tibial stress fracture in female runners. Med. Sci. Sports Exerc. 38:323–328, 2006.

26.

Moore, J. S. Function, structure, and responses of components of the muscle-tendon unit. Occup. Med. 7:713–740, 1992.

27.

Noyes, F. R., J. L. DeLucas, and P. J. Torvik. Biomechanics of anterior cruciate ligament failure: an analysis of stress-rate sensitivity and mechanisms of failure in primates. J. Bone Joint Surg. Am. 56:236–253, 1973.

28.

Oakley, T., and D. J. Pratt. Skeletal transients during heel and toe strike running and the effectiveness of some materials in their attenuation. Clin. Biomech. 3:159–165, 1988.

29.

Perl, D. P., A. I. Daoud, and D. E. Lieberman. Effects of footwear and strike type on running economy. Med. Sci. Sports Exerc. 44:1335–1342, 2012.

30.

Pohl, M. B., J. Hamill, and I. S. Davis. Biomechanical and anatomic factors associated with a history of plantar fasciitis in female runners. Clin. J. Sport Med. 19:372–376, 2009.

31.

Robbins, S. E., and G. J. Gouw. Athletic footwear and chronic overloading. A brief review. Sports Med. 9:76–85, 1990.

32.

Robbins, S. E., G. J. Gouw, and A. M. Hanna. Running-related injury prevention through innate impact-moderating behavior. Med. Sci. Sports Exerc. 21:130–139, 1989.

33.

Robbins, S. E., and A. M. Hanna. Running-related injury prevention through barefoot adaptations. Med. Sci. Sports Exerc. 19:148–156, 1987.

34.

Rothschild, C. E. Primitive running: a survey analysis of runners' interest, participation, and implementation. J. Strength Cond. Res. 26:2021–2026, 2012.

35.

Scott, S. H., and D. A. Winter. Internal forces at chronic running injury sites. Med. Sci. Sports Exerc. 22:357–369, 1990.

36.

Shih, Y., K. L. Lin, and T. Y. Shiang. Is the foot striking pattern more important than barefoot or shod conditions in running? Gait Posture, 2013. doi:10.1016/j.gaitpost.2013.01.030.

37.

Taunton, J. E., M. B. Ryan, D. B. Clement, D. C. McKenzie, D. R. Lloyd-Smith, and B. D. Zumbo. A prospective study of running injuries: the Vancouver Sun Run "In Training" clinics. Br. J. Sports Med. 37:239–244, 2003.

38.

Thelen, D. G., and F. C. Anderson. Using computed muscle control to generate forward dynamic simulations of human walking from experimental data. J. Biomech. 39:1107–1115, 2006.

39.

Thelen, D. G., F. C. Anderson, and S. L. Delp. Generating dynamic simulations of movement using computed muscle control. J. Biomech. 36:321–328, 2003.

40.

von Tscharner, V., B. Goepfert, and B. M. Nigg. Changes in EMG signals for the muscle tibialis anterior while running barefoot or with shoes resolved by non-linearly scaled wavelets. J. Biomech. 36:1169–1176, 2003.

41.

Welsh, R. P., I. Macnab, and V. Riley. Biomechanical studies of rabbit tendon. Clin. Orthop. Relat. Res. 81:171–177, 1971.

42.

Westh, E., M. Kongsgaard, J. Bojsen-Moller, P. Aagaard, M. Hansen, M. Kjaer, and S. P. Magnusson. Effect of habitual exercise on the structural and mechanical properties of the human tendon, in vivo, in men and women. Scand. J. Med. Sci. Sports 18:23–30, 2008.

43.

Yu, W. D., V. Panossian, J. D. Hatch, S. H. Liu, and G. A. Finerman. Combined effects of estrogen and progesterone on the anterior cruciate ligament. Clin. Orthop. Relat. Res. 383:268–281, 2001.

44.

Zajac, F. E. Muscle and tendon: properties, models, scaling, and application to biomechanics and motor control. Crit. Rev. Biomed. Eng. 17:359–411, 1989.
Acknowledgments
We would like to acknowledge the valuable insight of Kris O'Connor, PhD from the Department of Human Kinetics at the University of Wisconsin-Milwaukee and Dian Hong, PhD from the University of Wisconsin-La Crosse regarding the methods of musculoskeletal modeling with our laboratory data.
Additional information
Associate Editor Michael R. Torry oversaw the review of this article.
About this article
Cite this article
Almonroeder, T., Willson, J.D. & Kernozek, T.W. The Effect of Foot Strike Pattern on Achilles Tendon Load During Running. Ann Biomed Eng 41, 1758–1766 (2013). https://doi.org/10.1007/s10439-013-0819-1
Received:

Accepted:

Published:

Issue Date:
Keywords
Muscle force

Gastrocnemius

Soleus

Barefoot