Abstract
We describe an innovative program at the University of California, Davis for students to engage in clinical needs finding. Using a team-based approach, students participated in clinical rotations to observe firsthand the needs of clinicians at the university affiliated medical center. The teams were asked to develop documentary-style videos to capture key experiences that would allow future viewers to use the videos as "virtual" clinical rotations. This was conceived as a strategy to allow students in prohibitively large classes, or students in programs at institutions without associated medical or veterinary school programs, to experience clinical rotations and perform needs assessments. The students' perspectives on the experience as well as instructor analysis of best practices for this type of activity are presented and discussed. We found that the internship experience was valuable to the students participating, by not only introducing the practice of needs finding but also increasing the students' confidence in the practice of engineering design and their ability to work independently. The videos produced were of such high quality that instructors from other institutions have requested copies for instructional use. Virtual clinical rotations through video experiences may provide a reasonable substitute for students who do not have the ability to participate in rotations in person.
Access options
Buy single article
Instant access to the full article PDF.
US$ 39.95
Tax calculation will be finalised during checkout.
Subscribe to journal
Immediate online access to all issues from 2019. Subscription will auto renew annually.
US$ 119
Tax calculation will be finalised during checkout.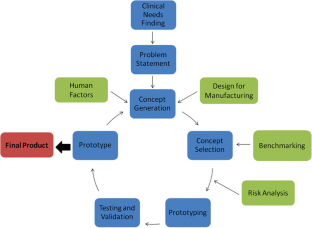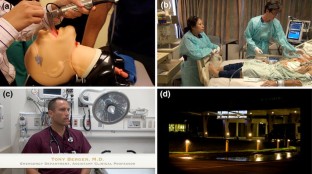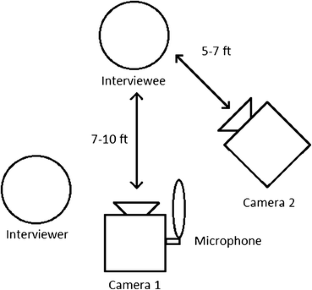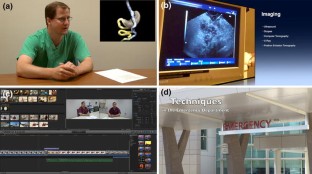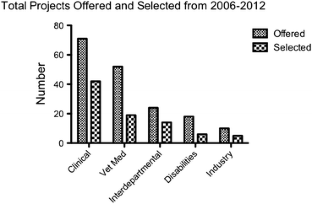 References
1.

Al-Kadi, A. S., T. Donnon, E. O. Paolucci, P. Mitchell, E. Debru, and N. Church. The effect of simulation in improving students' performance in laparoscopic surgery: a meta-analysis. Surg. Endosc. Other Interv. Tech. 26(11):3215–3224, 2012.

2.

Anthony, S. The Little Black Book of Innovation: How It Works, How to Do It. Boston, MA: Harvard Business Review Press, 2011.

3.

Bittner, J. G., J. E. Coverdill, T. Imam, A. M. Deladisma, M. A. Edwards, and J. D. Mellinger. Do increased training requirements in gastrointestinal endoscopy and advanced laparoscopy necessitate a paradigm shift? A survey of program directors in surgery. J. Surg. Educ. 65(6):418–430, 2008.

4.

Carter, F. J., M. P. Schijven, R. Aggarwal, T. Grantcharov, N. K. Francis, G. B. Hanna, et al. Consensus guidelines for validation of virtual reality surgical simulators. Surg. Endosc. Other Interv. Tech. 19(12):1523–1532, 2005.

5.

Dutson, A. J., R. H. Todd, S. P. Magleby, and C. D. Sorensen. A review of literature on teaching engineering design through project-oriented capstone courses. J. Eng. Educ. 17–28, 1997.

6.

Gillen, S., J. Grone, F. Knodgen, P. Wolf, M. Meyer, H. Friess, et al. Educational and training aspects of new surgical techniques: experience with the endoscopic-laparoscopic interdisciplinary training entity (ELITE) model in training for a natural orifice translumenal endoscopic surgery (NOTES) approach to appendectomy. Surg. Endosc. Other Interv. Tech. 26(8):2376–2382, 2012.

7.

Grimes, S. L. The future of clinical engineering: the challenge of change. IEEE Eng. Med. Biol. Mag. 91–99, 2003.

8.

Haycock, A. V., P. Youd, P. Bassett, B. P. Saunders, P. Tekkis, and S. Thomas-Gibson. Simulator training improves practical skills in therapeutic GI endoscopy: results from a randomized, blinded, controlled study. Gastrointest. Endosc. 70(5):835–845, 2009.

9.

Kelley, T. Field observations with fresh eyes 2008 [updated 2008; cited]; Available from: http://ecorner.stanford.edu/authorMaterialInfo.html?mid=2100, http://www.youtube.com/watch?v=XrpAveg7ZIg.

10.

Kruglikova, I., T. P. Grantcharov, A. M. Drewes, and P. Funch-Jensen. The impact of constructive feedback on training in gastrointestinal endoscopy using high-fidelity virtual-reality simulation: a randomised controlled trial. Gut 59(2):181–185, 2010.

11.

Lukasik, S. J. System, systems of systems, and the education of engineers. Artif. Intell. Eng. Des. Anal. Manuf. 12:55–60, 1998.

12.

Rosenthal, R., W. A. Gantert, C. Hamel, D. Hahnloser, J. Metzger, T. Kocher, et al. Assessment of construct validity of a virtual reality laparoscopy simulator. J. Laparoendosc. Adv. Surg. Tech. 17(4):407–413, 2007.

13.

Satava, R. M., and H. H. Sherk. Virtual reality surgical simulator—the first steps. Clin. Orthop. Relat. Res. 442:2–4, 2006.

14.

Scott, D. J., E. M. Ritter, S. T. Tesfay, E. A. Pimentel, A. Nagji, and G. M. Fried. Certification pass rate of 100% for fundamentals of laparoscopic surgery skills after proficiency-based training. Surg. Endosc. Other Interv. Tech. 22(8):1887–1893, 2008.

15.

Todd, R. H., S. P. Magleby, C. D. Sorensen, B. R. Swan, and D. K. Anthony. A Survey of capstone engineering courses in North America. J. Eng. Educ. 165–174, 1995.

16.

Ulrich, K., and S. Eppinger. Product Design and Development (5th ed.). NY: McGraw Hill, 2011.

17.

Walsh, C. M., M. E. Sherlock, S. C. Ling, and H. Carnahan. Virtual reality simulation training for health professions trainees in gastrointestinal endoscopy. Cochrane Database Syst. Rev. (6), 2012.

18.

Zenios, S., J. Makower, and P. Yock. Biodesign. NY: Cambridge University Press, 2010.

19.

Zinn, A. Unconventional wisdom about the obesity epidemic. Am. J. Med. Sci. 340(6):481–491, 2010.
Acknowledgments
We thank the National Institutes of Health for funding (1R25 EB012963). We thank Dr. Nicholas Kenyon, Dr. Aaron Bair, and Dr. Nam Tran for leading the clinical internships. In addition, we thank the following clinical personnel for their participation in the videos: Dr. Jonathan Pierce, Dr. Yasmeen Shaw, Dr. Nisha Gidwani, Dr. Nicholas Stollenwerk, Larry Baker, P. A, Ted Cohen, Cattuong Cooter, Ramsey Badawi, Chris Jarvinen, Marcus Christian, George Gonzales, Leana Aston, Leonid Krainov, Jeanne Kim, David Price, Kevin Murphy, Naomi Ross, Kyle Davis, Rocky Cervantez. We thank the following internship team members for participation in creating the videos: Eric Foo, Christopher Sanchez, Joanna Quach.
Additional information
Vaishali Mittal, Megan Thompson, Stuart M. Altman, Peter Taylor, Alexander Summers, and Kelsey Goodwin contributed equally to this work.
Associate Editor John Desjardins oversaw the review of this article.
About this article
Cite this article
Mittal, V., Thompson, M., Altman, S.M. et al. Clinical Needs Finding: Developing the Virtual Experience—A Case Study. Ann Biomed Eng 41, 1899–1912 (2013). https://doi.org/10.1007/s10439-013-0783-9
Received:

Accepted:

Published:

Issue Date:
Keywords
Design Education

Biomedical Engineering

Clinical Rotation

Biomedical Design