Abstract
Pediatricians in Africa requested a tool to improve caregiver dosing of liquid antiretroviral medication. We developed, evaluated and disseminated a clip to control the amount of medication drawn into an oral syringe. In a laboratory, a user tested clips of different lengths, corresponding to different volumes, by drawing water into a syringe with a clip. In Texas and Malawi, 149 adults attempted to measure Pepto-Bismol™ using a syringe with a clip, a syringe without a clip, and a dosing cup, in a randomly assigned order. In the laboratory, the volume of liquid, ranging from 1 to 4.5 mL, drawn into the syringe was always within at least 5 μL of the intended dose. In Texas, 84% of doses were accurate within ±10%, vs. 63% using the syringe alone, and 21% with the dosing cup. In Malawi, 98% of doses were accurate to within ±10%, vs. 90% using the syringe alone, and 27% with the dosing cup. For target accuracy values within ±45% (±21%), a significantly higher fraction of Houston (Kamangira) participants delivered an accurate dose using the syringe with the clip than with the syringe alone (p < 0.05). The clip enables a greater proportion of users to accurately measure liquid medication.
Access options
Buy single article
Instant access to the full article PDF.
US$ 39.95
Tax calculation will be finalised during checkout.
Subscribe to journal
Immediate online access to all issues from 2019. Subscription will auto renew annually.
US$ 119
Tax calculation will be finalised during checkout.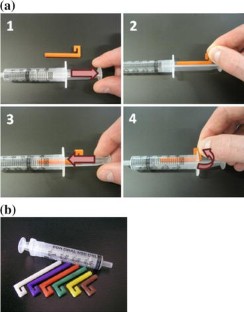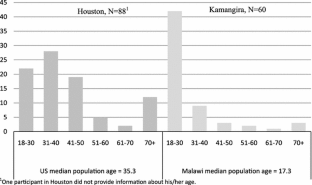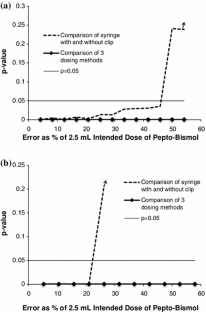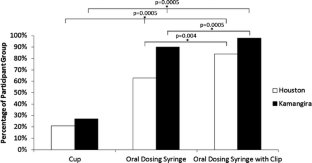 References
1.

Antiretroviral Drugs for Treating Pregnant Women and Preventing HIV Infection in Infants: Recommendations for a Public Health Approach. World Health Organization. 2010. http://whqlibdoc.who.int/publications/2010/9789241599818_eng.pdf. Accessed November 4, 2012.

2.

Bagenda, A., L. Barlow-Mosha, D. Bagenda, R. Sakwa, M. G. Fowler, and P. M. Musoke. Adherence to tablet and liquid formulations of antiretroviral medication for paediatric HIV treatment at an urban clinic in Uganda. Ann. Trop. Paediatr. 31:235–245, 2011.

3.

Davies, M. A., A. Boulle, T. Fakir, J. Nuttall, and B. Eley. Adherence to antiretroviral therapy in young children in Cape Town, South Africa, measured by medication return and caregiver self-report: a prospective cohort study. BMC Pediatr. 8:34, 2008.

4.

Frush, K. S., X. Luo, P. Hutchinson, and J. N. Higgins. Evaluation of a method to reduce over-the-counter medication dosing error. Arch. Pediatr. Adolesc. Med. 158(7):620–624, 2004.

5.

Gribetz, B., and S. A. Cronley. Underdosing of acetaminophen by parents. Pediatrics 80(5):630–633, 1987.

6.

Guidance for industry: dosage delivery devices for OTC liquid drug products. US Department of Health and Human Services. Food and Drug Administration. Center for Drug Evaluation and Research (CDER). http://www.fda.gov/downloads/Drugs/GuidanceComplianceRegulatoryInformation/Guidances/UCM188992.pdf. Accessed on November 15, 2010.

7.

Haberer, J., and C. Mellins. Pediatric adherence to HIV antiretroviral therapy. Curr. HIV/AIDS Rep. 6:194–200, 2009.

8.

Hawkins, N., and J. Golding. A survey of the administration of drugs to young infants. The Alspac Survey Team. Avon Longitudinal Study of Pregnancy and Childhood. Br. J. Clin. Pharmacol. 40:79–82, 1995.

9.

Hope, A. C. A. A simplified Monte Carlo significance test procedure. J. R. Stat. Soc. B 30:582–598, 1968.

10.

Li, S. F., B. Lacher, and E. F. Crain. Acetaminophen and ibuprofen dosing by parents. Pediatr. Emerg. Care 16(6):394–397, 2000.

11.

Madlon-Kay, D. J., and F. S. Mosch. Liquid medication dosing errors. J. Fam. Pract. 49:741–744, 2000.

12.

Malawi—Statistics. The United Nations Children's Fund. http://www.unicef.org/infobycountry/malawi_statistics.html. Accessed on November 4, 2012.

13.

McMahon, S. R., M. E. Rimsza, and R. C. Bay. Parents can dose liquid medication accurately. Pediatrics 100(3 pt 1):330–333, 1997.

14.

Mills, E. J., J. B. Nachega, D. R. Bangsberg, S. Singh, B. Rachlis, et al. Adherence to HAART: a systematic review of developed and developing nation patient-reported barriers and facilitators. PLoS Med. 3(11):2039–2064, 2006.

15.

Nahirya-Ntege, P., A. Cook, T. Vhembo, W. Opilo, R. Namuddu, et al. Young HIV-infected children and their adult caregivers prefer tablets to syrup antiretroviral medications in Africa. PLoS ONE 7(5):1–8, 2012.

16.

Oden, M., Y. Mirabal, M. Epstein, and R. Richards-Kortum. Engaging undergraduates to solve global health challenges: a new approach based on bioengineering design. Ann. Biomed. Eng. 38(9):3031–3041, 2010.

17.

Phelps, B. R., and N. Rakhmanina. Antiretroviral drugs in pediatric HIV-infected patients: pharmacokinetic and practical challenges. Pediatr. Drugs 13(3):175–192, 2011.

18.

Ravikiran, S. R., and Y. M. Shivarajashankara. Dosing ability of Indian parents for liquid medication. Indian Pediatr. 48:153–154, 2011.

19.

Richards-Kortum, R., L. V. Gray, and M. Oden. Engaging undergraduates in global health technology innovation. Science 336:430–431, 2012.

20.

Simon, H. K., and D. A. Weinkle. Over-the-counter medications: do parents give what they intend to give? Arch. Pediatr. Adolesc. Med. 151(7):654–656, 1997.

21.

Sobhani, P., J. Christopherson, P. J. Ambrose, and R. L. Corelli. Accuracy of oral liquid measuring devices: comparison of dosing cup and oral dosing syringe. Ann. Pharmacother. 42(1):46–52, 2008.

22.

Vreeman, R. C., S. E. Wiehe, E. C. Pearce, and W. M. Nyandiko. A systematic review of pediatric adherence to antiretroviral therapy in low- and middle-income countries. Pediatr. Infect. Dis. J. 27(8):686–691, 2008.

23.

World Data on Education. United Nations Educational, Scientific and Cultural Organization. International Bureau of Education. http://www.ibe.unesco.org/fileadmin/user_upload/Publications/WDE/2010/pdf-versions/Malawi.pdf. Accessed on November 4, 2012.

24.

Yin, H. S., B. P. Dreyer, L. Van Schaick, G. L. Foltin, C. Dinglas, and A. L. Mendelsohn. Randomized controlled trial of a pictogram-based intervention to reduce liquid medication dosing errors and improve adherence among caregivers of young children. Arch. Pediatr. Adolesc. Med. 162(9):814–822, 2008.

25.

Yin, H. S., M. Johnson, A. L. Mendelsohn, M. A. Abrams, L. M. Sanders, and B. P. Dreyer. The health literacy of parents in the United States: a nationally representative study. Pediatrics 124(suppl 3):S289–S298, 2009.

26.

Yin, H. S., A. L. Mendelsohn, M. S. Wolf, et al. Parents' medication administration errors: role of dosing instruments and health literacy. Arch. Pediatr. Adolesc. Med. 164(2):181–186, 2010.

27.

Yin, H. S., M. S. Wolf, B. P. Dreyer, L. M. Sanders, and R. M. Parker. Evaluation of consistency in dosing directions and measuring devices for pediatric nonprescription liquid medications. JAMA 304(23):2595–2602, 2010.
Acknowledgments
This work was supported in part by a grant to Rice University from the Howard Hughes Medical Institute through the Undergraduate Science Education Program.
Conflict of interest
Drs. Richards-Kortum, Oden, Ms. Dinh, Ms. Gutierrez, and Ms. Lukomnik submitted a patent application for the dosing clip described in this paper. Drs. Richards-Kortum and Oden have waived their financial interest in this patent.
Additional information
Associate Editor John Desjardins oversaw the review of this article.
About this article
Cite this article
Spiegel, G.J., Dinh, C., Gutierrez, A. et al. Design, Evaluation, and Dissemination of a Plastic Syringe Clip to Improve Dosing Accuracy of Liquid Medications. Ann Biomed Eng 41, 1860–1868 (2013). https://doi.org/10.1007/s10439-013-0780-z
Received:

Accepted:

Published:

Issue Date:
Keywords
Dosing error

Measuring devices

Medication administration

Medication errors

Global health

Low-resource settings