Abstract
Some reports have shown that head injuries in baseball may comprise up to 18.5% of all competitive sports-related head injuries. The objective of this study was to evaluate the response of catcher and umpire masks to impacts at these different regions to discover the impact conditions that represent the greatest risk of injury. A series of 10 events in which a catcher or umpire in Major League Baseball, who experienced a foul ball to the mask that resulted in a concussion, were analyzed through video and data on pitch characteristics. It was found that the impacts were distributed across the face, and the median plate speed was approximately 38 m/s (84 mph). To determine the relative severity of each identified impact location, an instrumented Hybrid III head outfitted with a catcher or umpire mask was impacted with baseballs. Testing at 27 and 38 m/s (60 and 84 mph) suggested that impacts to the center-eyebrow and chin locations were the most severe. Peak linear and rotational accelerations were found to be lower than the suggested injury thresholds. While impacts to a mask result in head accelerations which are near or below levels commonly associated with the lower limits for head injury, the exact injury mechanism is unclear, as concussions are still experienced by the mask wearers.
This is a preview of subscription content, log in to check access.
Access options
Buy single article
Instant access to the full article PDF.
US$ 39.95
Price includes VAT for USA
Subscribe to journal
Immediate online access to all issues from 2019. Subscription will auto renew annually.
US$ 199
This is the net price. Taxes to be calculated in checkout.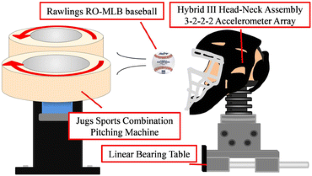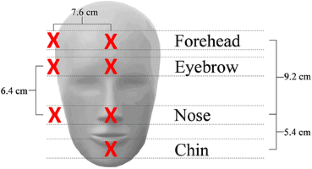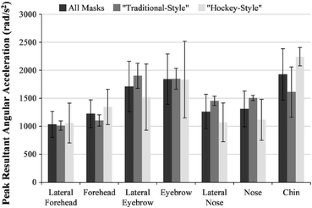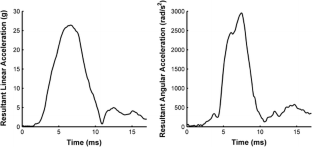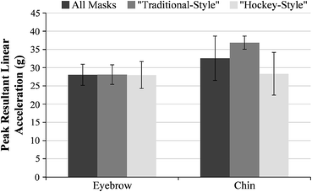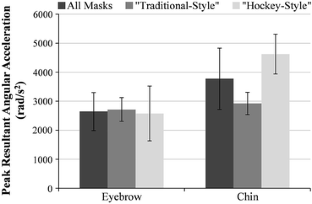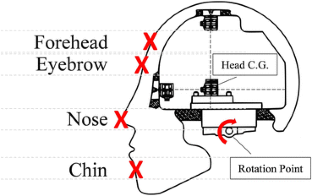 References
1.

Adair, R. K. The physics of baseball. Phys. Today. 43:103, 1990.

2.

Agel, J., T. P. Dompier, R. Dick, and S. W. Marshall. Descriptive epidemiology of collegiate men's ice hockey injuries: national collegiate athletic association injury surveillance system, 1988–1989 through 2003–2004. J. Athl. Train. 42:241–248, 2007.

3.

Albert, J. Baseball data at season, play-by-play, and pitch-by-pitch levels. J. Stat. Educ. 18:1–27, 2010.

4.

Albert, J. Using the count to measure pitching performance. J. Quant. Anal. Sports 6:1–28, 2010.

5.

Broglio, S. P., B. Schnebel, J. J. Sosnoff, S. Shin, X. Fend, X. He, and J. Zimmerman. Biomechanical properties of concussions in high school football. Med. Sci. Sports Exerc. 42:2064–2071, 2010.

6.

Brooks, D. BrooksBaseball.net PitchFX tool. www.brooksbaseball.net/pfxVB/pfx.php, 2011. Accessed February 2011.

7.

Cormier, J., S. Manoogian, J. Bisplinghoff, S. Rowson, A. Santago, C. McNally, S. Duma, and J.t Bolte. The tolerance of the frontal bone to blunt impact. J. Biomech. Eng. 133:021004, 2011.

8.

Duma, S. M., S. J. Manoogian, W. R. Bussone, P. G. Brolinson, M. W. Goforth, J. J. Donnenwerth, R. M. Greenwald, J. J. Chu, and J. J. Crisco. Analysis of real-time head accelerations in collegiate football players. Clin. J. Sport Med. 15:3–8, 2005.

9.

Duma, S. M., and S. Rowson. Past, present, and future of head injury research. Exerc. Sport Sci. Rev. 39:2–3, 2011.

10.

Funk, J. R., S. M. Duma, S. J. Manoogian and S. Rowson. Biomechanical risk estimates for mild traumatic brain injury. Annual Proceedings of the Association for the Advancement of Automotive Medicine. 51:343–361, 2007.

11.

Gadd, C. W. Use of a weighted-impulse criterion for estimating injury hazard. Proceedings of the 10th Stapp Car Crash Conference, SAE 660793, 1966.

12.

Greenwald, R. M., J. T. Gwin, J. J. Chu, and J. J. Crisco. Head impact severity measures for evaluating mild traumatic brain injury risk exposure. Neurosurgery. 62:789–798, 2008; discussion 98.

13.

Guskiewicz, K. M., J. P. Mihalik, V. Shankar, S. W. Marshall, D. H. Crowell, S. M. Oliaro, M. F. Ciocca, and D. N. Hooker. Measurement of head impacts in collegiate football players: relationship between head impact biomechanics and acute clinical outcome after concussion. Neurosurgery. 61:1244–1253, 2007.

14.

Heald, J. H., and D. A. Pass. Ball standards relevant to risk of head injury. Am. Soc. Test. Mater. 1229:223–238, 1994.

15.

Jones, I. S., and D. Mohan. Head Impact Tolerance: Correlation Between Dummy Impacts and Actual Head Injuries. Arlington, VA: Insurance Institute for Highway Safety, 1984.

16.

King, A. I., K. H. Yang, L. Zhang, W. Hardy and D. C. Viano. Is head injury caused by linear or angular acceleration? Proceedings of the International Research Conference on the Biomechanics of Impact (IRCOBI). 2003.

17.

Langlois, J. A., W. Rutland-Brown, and M. M. Wald. The epidemiology and impact of traumatic brain injury: a brief overview. J. Head Trauma Rehabil. 21:375–378, 2006.

18.

Melvin, J. W. Baseball Impacts to Dummy Heads. Ann Arbor, MI: The University of Michigan Transportation Research Institute, 1984.

19.

NOCSAE. Standard performance specification for newly manufactured baseball/softball catcher's helmets with faceguard. National Operating Committee on Standards for Athletic Equipment: NOCSAE DOC (ND) 024-10m10b, 2010.

20.

NOCSAE. Standard projectile impact test method and equipment used in evaluating the performance characteristics of protective headgear, faceguards or projectiles. National Operating Committee on Standards for Athletic Equipment: NOCSAE DOC (ND) 021-98m09, 2009.

21.

Padgaonkar, A. J., K. W. Kreiger, and A. I. King. Measurement of angular acceleration of a rigid body using linear accelerometers. J. Appl. Mech. 42:552–556, 1975.

22.

Pellman, E. J., D. C. Viano, A. M. Tucker, I. R. Casson, and J. F. Waeckerle. Concussion in professional football: reconstruction of game impacts and injuries. Neurosurgery. 53:799–812, 2003; discussion-4.

23.

Rowson, S., J. G. Beckwith, J. J. Chu, D. S. Leonard, R. M. Greenwald, and S. M. Duma. A six degree of freedom head acceleration measurement device for use in football. J. Appl. Biomech. 27:8–14, 2011.

24.

Rowson, S., G. Brolinson, M. Goforth, D. Dietter, and S. M. Duma. Linear and angular head acceleration measurements in collegiate football. J. Biomech. Eng. 131:061016, 2009.

25.

Rowson, S., and S. M. Duma. Development of the star evaluation system for football helmets: integrating player head impact exposure and risk of concussion. Ann. Biomed. Eng. 39:2130–2140, 2011.

26.

Rowson, S., C. McNally, and S. M. Duma. Can footwear affect Achilles tendon loading? Clin. J. Sport Med. 20:344–349, 2010.

27.

Rowson, S., D. E. McNeely, P. G. Brolinson, and S. M. Duma. Biomechanical analysis of football neck collars. Clin. J. Sport Med. 18:316–321, 2008.

28.

Shain, K. S., M. L. Madigan, S. Rowson, J. Bisplinghoff, and S. M. Duma. Analysis of the ability of catcher's masks to attenuate head accelerations on impact with a baseball. Clin. J. Sport Med. 20:422–427, 2010.

29.

Thurman, D. J., C. M. Branche, and J. E. Sniezek. The epidemiology of sports-related traumatic brain injuries in the United States: recent developments. J. Head Trauma Rehabil. 13:1–8, 1998.

30.

Versace, J. A Review of the Severity Index. SAE Technical Paper Series, SAE 710881, 1971.

31.

Zhang, L., K. H. Yang, and A. I. King. A proposed injury threshold for mild traumatic brain injury. J. Biomech. Eng. 126:226–236, 2004.
Acknowledgments
The authors would like to thank Craig McNally for his help in constructing the projectile testing system.
Additional information
Associate Editor Joel Stitzel oversaw the review of this article.
About this article
Cite this article
Beyer, J.A., Rowson, S. & Duma, S.M. Concussions Experienced by Major League Baseball Catchers and Umpires: Field Data and Experimental Baseball Impacts. Ann Biomed Eng 40, 150–159 (2012). https://doi.org/10.1007/s10439-011-0412-4
Received:

Accepted:

Published:

Issue Date:
Keywords
Mild traumatic brain injury

Linear

Rotational

Angular

Acceleration

Impact

Biomechanics