Abstract
While the percentage of women in biomedical engineering is higher than in many other technical fields, it is far from being in proportion to the US population. The decrease in the proportion of women and underrepresented minorities in biomedical engineering from the bachelors to the masters to the doctoral levels is evidence of a still leaky pipeline in our discipline. In addition, the percentage of women faculty members at the assistant, associate and full professor levels remain disappointingly low even after years of improved recruitment of women into biomedical engineering at the undergraduate level. Worse, the percentage of women graduating with undergraduate degrees in biomedical engineering has been decreasing nationwide for the most recent three year span for which national data are available. Increasing diversity in biomedical engineering is predicted to have significant research and educational benefits. The barriers to women's success in biomedical engineering and strategies for overcoming these obstacles—and fixing the leaks in the pipeline—are reviewed.
Access options
Buy single article
Instant access to the full article PDF.
US$ 39.95
Tax calculation will be finalised during checkout.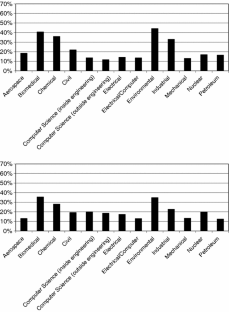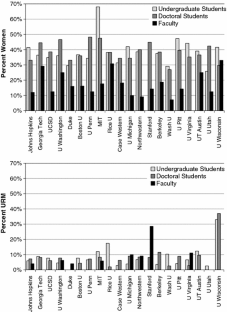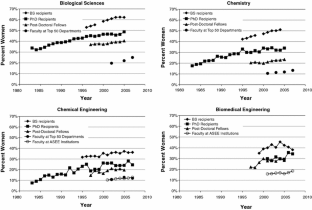 References
1.

A National Analysis of Diversity in Science and Engineering Faculties at Research Universities. Dr. Donna J. Nelson, Norman, OK, January, 2005. Available at http://chem.ou.edu/~djn/diversity/briefings/Diversity%20Report%20Final.pdf.

2.

American Society of Engineering Education. Profiles of Engineering and Engineering Technology Colleges, Washington, DC, 2008. Available at http://profiles.asee.org/.

3.

Banaji, M., K. Lemm, and S. Carpenter. The social unconscious. In: Blackwell Handbook of Social Psychology: Intraindividual Processes, edited by N. Schwarz and A. Tesser. Malden, MA: Blackwell Publishers Ltd, 2001, pp. 134–158.

4.

Bement, A. L., Jr. Remarks, Setting the Agenda for 21st Century Science. Presented at the Meeting of the Council of Scientific Society Presidents. December 5, 2005. Remarks available at http://www.nsf.gov/news/speeches/bement/05/alb051205_societypres.jsp.

5.

Blair, I. The malleability of automatic sterotypes and prejudice. Pers. Soc. Psychol. Rev. 6(3):242–261, 2002.

6.

Budden, A. E., T. Tregenza, L. W. Aarssen, J. Koricheva, R. Leimu, and C. J. Lortie. Double-blind review favours increased representation of female authors. Trends Ecol. Evol. 23(1):4–6, 2008.

7.

Busch-Vishniac, I. J., and J. P. Jarosz. Can diversity in the undergraduate engineering population be enhanced through curricular change? J. Women Minor. Sci. Eng. 10:255–282, 2004.

8.

Chesler, N. C., and M. A. Chesler. Mentoring undergraduate women in engineering: lessons learned from the sociology of gender. In: American Society of Engineering Education National Conference Proceedings, Albuquerque, NM, 2001.

9.

Chesler, N. C., and M. A. Chesler. Gender-informed mentoring strategies for women in engineering: on establishing a caring community. J. Eng. Educ. 91(1):49–56, 2002.

10.

Chesler, N. C., P. B. Single, and B. Mikic. On belay: peer-mentoring and adventure education for women faculty in engineering. J. Eng. Educ. 92(3):257–262, 2003.

11.

Committee on Gender Differences in the Careers of Science, Engineering, and Mathematics Faculty; Committee on Women in Science, Engineering, and Medicine; National Research Council. Gender Differences at Critical Transitions in the Careers of Science, Engineering, and Mathematics Faculty. The National Academies Press, 2009.

12.

Committee on Maximizing the Potential of Women in Academic Science and Engineering, National Academy of Sciences, National Academy of Engineering, and Institute of Medicine. Beyond Bias and Barriers: Fulfilling the Potential of Women in Academic Science and Engineering. The National Academies Press, 2007.

13.

Dovidio, J. F., and S. L. Gaertner. Aversive racism and selection decisions: 1989 and 1999. Psychol. Sci. 11(4):315–319, 2000.

14.

Duncan, G., J. Boisjoly, D. Levy, M. Kremer, and J. Eccles. Empathy or Antipathy? The Consequences of Racially and Socially Diverse Peers on Attitudes and Behaviors. Institute for Policy Research, Northwestern University, 2003.

15.

Gurin, P., E. Dey, S. Hurtado, and G. Gurin. Diversity in higher education: theory and impact on educational outcomes. Harv. Educ. Rev. 72(3):330–366, 2002.

16.

Handelsman, J., N. Cantor, M. Carnes, D. Denton, E. Fine, B. Grosz, V. Hinshaw, C. Marrett, S. Rosser, D. Shalala, and J. Sheridan. Careers in science. More women in science. Science 309(5738):1190–1191, 2005.

17.

Harding, S. Women, science and society. Science 281:1599–1600, 1998.

18.

Hewlett, S., C. Luce, L. Servon, L. Sherbin, P. Shiller, E. Sosnovich, and K. Sumberg. The Athena Factor: Reversing the Brain Drain in Science, Engineering and Technology. Cambridge, MA: Harvard Business Review, Center for Work-Life Policy, Harvard University, 2008.

19.

Hong, L., and S. E. Page. Groups of diverse problem solvers can outperform groups of high-ability problem solvers. Proc. Natl Acad. Sci. 101(46):16385–16389, 2004.

20.

Kosaraju, D. Vice President of Programs. Anita Borg Institute for Women and Technology, Personal Communication, 2008.

21.

Lane, N. Why are there so few women in science? Nat. Debates, 1999.

22.

Malone, K. R., and G. A. Barabino. Narrations of race in stem research settings: identity formation and its discontents. Sci. Educ. 93:485–510, 2009.

23.

Mason, M., A. Stacy, M. Goulden, C. Hoffman, and K. Frasch. Faculty Family Friendly Edge: An Initative for Tenure Track Faculty at the University of California. University of California, 2005.

24.

McLeod, P., S. Lobel, and T. Cox, Jr. Ethnic diversity and creativity in small groups. Small Group Res. 27(2):248–264, 1996.

25.

National Science Foundation, Division of Science Resources Statistics. Women, Minorities, and Persons with Disabilities in Science and Engineering: 2009, NSF 09-305, Arlington, VA, January 2009. Available at http://www.nsf.gov/statistics/wmpd/.

26.

Nemeth, C. Dissent, group process, and creativity. Adv. Group Process. 2:57–75, 1985.

27.

Orfield, G., and D. Whitla. Diversity and legal education: student experiences in leading law schools. In: Diversity Challenged: Evidence on the Impact of Affirmative Action, edited by G. Orfield, and M. Kurlaender. Cambridge, MA: Harvard Publishing Group and The Civil Rights Project, Harvard University, 2001.

28.

Paludi, M. A., and W. D. Bauer. Goldberg revisited: what's in an author's name. Sex Roles 9(1):387–390, 1983.

29.

Pettigrew, T., and L. Tropp. Does intergroup contact reduce prejudice? Recent meta-analytic findings. In: Reducing Prejudice and Discrimination, edited by S. Oskamp. Mahwah, NJ: Lawrence Erlbaum Associates, 2000, pp. 93–114.

30.

Related Resources. Women in Science and Engineering Leadership Institute (WISELI), University of Wisconsin. Available at http://wiseli.engr.wisc.edu/subject.php#balance and http://wiseli.engr.wisc.edu/subject.php#bias.

33.

35.

Seymour, N., and N. Hewitt. Talking About Leaving: Why Undergraduates Leave the Sciences. Boulder, CO: Westview Press, 1997.

36.

Steinpreis, R., K. A. Anders, and D. Ritzke. The impact of gender on the review of the curricula vitae of job applicants and tenure candidates: a national empirical study. Sex Roles 41(7):509–528, 1999.

37.

Tierney, J. A New Frontier for Title IX: Science Section, New York Times, New York, July 15, 2008. Available at http://www.nytimes.com/2008/07/15/science/15tier.html.

38.

Trower, C., and R. Chait. Faculty diversity. Harv. Mag. 33–37, 98, 2002.

39.

University of California. Creating a Family Friendly Department: Chairs and Deans Toolkit. Available at http://ucfamilyedge.berkeley.edu/toolkit.html.

40.

Valian, V. Why So Slow? The Advancement of Women. Cambridge, MA: MIT Press, 1998.

41.

Wenneras, C., and A. Wold. Nepotism and sexism in peer-review. Nature 387(6631):341–343, 1997.

42.

Wyden, R. Title ix and women in academics. Comput. Res. News 15(4):1–8, 2003.
Acknowledgments
The authors would like to acknowledge the BMES leadership for their support of diversity and equity initiatives.
Additional information
Associate Editor Julia E. Babensee oversaw the review of this article.
About this article
Cite this article
Chesler, N.C., Barabino, G., Bhatia, S.N. et al. The Pipeline Still Leaks and More Than You Think: A Status Report on Gender Diversity in Biomedical Engineering. Ann Biomed Eng 38, 1928–1935 (2010). https://doi.org/10.1007/s10439-010-9958-9
Received:

Accepted:

Published:

Issue Date:
Keywords
Women

Engineering

Barriers

Bias