Abstract
The effect of hemodynamic shear stress on endothelial gene expression was investigated in the porcine iliac arteries. A novel statistical approach was applied to computational fluid dynamics simulations of the iliac artery flow field to identify three anatomical regions likely to experience high, medium, and low levels of time average shear stress magnitude. Subsequently, endothelial cell mRNA was collected from these regions in the iliac arteries of six swine and analyzed by DNA microarray. Gene set enrichment analysis demonstrated a strong tendency for genes upregulated or downregulated in one of the extreme shear environments (low or high, relative to medium) to be regulated in the same direction in the other extreme shear environment. This tendency was confirmed for specific genes by real-time quantitative PCR. Specifically, β-catenin, c-jun, VCAM-1, and MCP-1 were all upregulated in low and high shear stress regions relative to the medium shear stress region. eNOS expression was not significantly different in any of the regions. These results are consistent with the notion that endothelial cells chronically exposed to abnormally low or high shear levels in vivo exhibit similar genetic responses. Alternative explanations of this outcome are proposed, and its implications for the role of shear stress in atherogenesis are examined.
Access options
Buy single article
Instant access to the full article PDF.
US$ 39.95
Tax calculation will be finalised during checkout.
Subscribe to journal
Immediate online access to all issues from 2019. Subscription will auto renew annually.
US$ 119
Tax calculation will be finalised during checkout.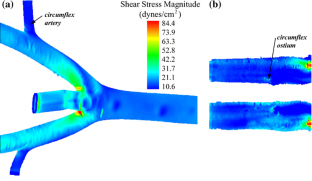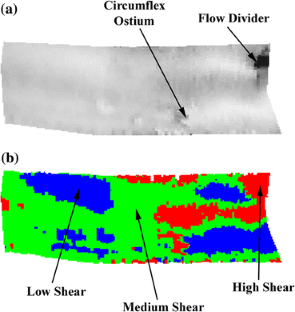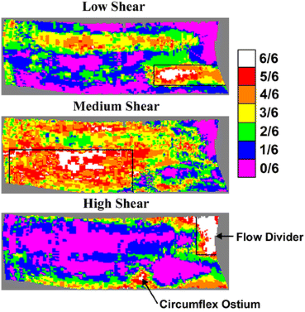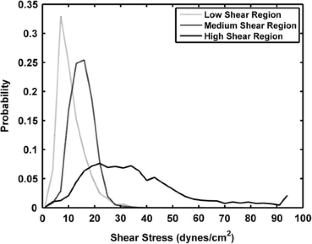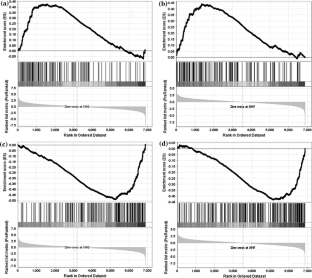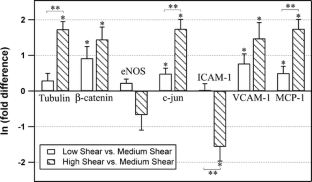 References
1.

Barnes, S. E., and P. D. Weinberg. Contrasting patterns of spontaneous aortic disease in young and old rabbits. Arterioscler. Thromb. Vasc. Biol. 18:300–308, 1998.

2.

Chan, B. P., W. M. Reichert, and G. A. Truskey. Synergistic effect of shear stress and streptavidin-biotin on the expression of endothelial vasodilator and cytoskeleton genes. Biotechnol. Bioeng. 88:750–758, 2004.

3.

Friedman, M. H., J. M. Henderson, J. A. Aukerman, and P. A. Clingan. Effect of periodic alterations in shear on vascular macromolecular uptake. Biorheology 37:265–277, 2000.

4.

Friedman, M. H., H. A. Himburg, and J. A. LaMack. Statistical hemodynamics: a tool for evaluating the effect of fluid dynamic forces on vascular biology in vivo. J. Biomech. Eng. 128:965–968, 2006.

5.

Heydarkhan-Hagvall, S., S. Chien, S. Nelander, Y. C. Li, S. Yuan, J. Lao, J. H. Haga, I. Lian, P. Nguyen, B. Risberg, and Y. S. Li. DNA microarray study on gene expression profiles in co-cultured endothelial and smooth muscle cells in response to 4- and 24-h shear stress. Mol. Cell. Biochem. 281:1–15, 2006.

6.

Himburg, H. A., and M. H. Friedman. Correspondence of low mean shear and high harmonic content in the porcine iliac arteries. J. Biomech. Eng. 128:852–856, 2006.

7.

Himburg, H. A., D. M. Grzybowski, A. L. Hazel, J. A. LaMack, X. M. Li, and M. H. Friedman. Spatial comparison between wall shear stress measures and porcine arterial endothelial permeability. Am. J. Physiol. Heart Circ. Physiol. 286:H1916–H1922, 2004.

8.

Hsieh, H. J., N. Q. Li, and J. A. Frangos. Pulsatile and steady flow induces c-fos expression in human endothelial cells. J. Cell. Physiol. 154:143–151, 1993.

9.

Huo, Y., T. Wischgoll, and G. S. Kassab. Flow patterns in three-dimensional porcine epicardial coronary arterial tree. Am. J. Physiol. Heart Circ. Physiol. 293:H2959–H2970, 2007.

10.

Ku, D. N., D. P. Giddens, C. K. Zarins, and S. Glagov. Pulsatile flow and atherosclerosis in the human carotid bifurcation. Positive correlation between plaque location and low oscillating shear stress. Arteriosclerosis 5:293–302, 1985.

11.

LaMack, J. A., and M. H. Friedman. Individual and combined effects of shear stress magnitude and spatial gradient on endothelial cell gene expression. Am. J. Physiol. Heart Circ. Physiol. 293:H2853–H2859, 2007.

12.

LaMack, J. A., H. A. Himburg, and M. H. Friedman. Distinct profiles of endothelial gene expression in hyperpermeable regions of the porcine aortic arch and thoracic aorta. Atherosclerosis 195:e35–e41, 2007.

13.

LaMack, J. A., H. A. Himburg, X. M. Li, and M. H. Friedman. Interaction of wall shear stress magnitude and gradient in the prediction of arterial macromolecular permeability. Ann. Biomed. Eng. 33:457–464, 2005.

14.

Livak, K. J., and T. D. Schmittgen. Analysis of relative gene expression data using real-time quantitative PCR and the 2(-Delta Delta C(T)) Method. Methods 25:402–408, 2001.

15.

Nagel, T., N. Resnick, W. J. Atkinson, C. F. Dewey, Jr., and M. A. Gimbrone, Jr. Shear stress selectively upregulates intercellular adhesion molecule-1 expression in cultured human vascular endothelial cells. J. Clin. Invest. 94:885–891, 1994.

16.

Noria, S., D. B. Cowan, A. I. Gotlieb, and B. L. Langille. Transient and steady-state effects of shear stress on endothelial cell adherens junctions. Circ. Res. 85:504–514, 1999.

17.

Passerini, A. G., D. C. Polacek, C. Shi, N. M. Francesco, E. Manduchi, G. R. Grant, W. F. Pritchard, S. Powell, G. Y. Chang, C. J. Stoeckert, Jr., and P. F. Davies. Coexisting proinflammatory and antioxidative endothelial transcription profiles in a disturbed flow region of the adult porcine aorta. Proc. Natl Acad. Sci. USA 101:2482–2487, 2004.

18.

Ranjan, V., Z. Xiao, and S. L. Diamond. Constitutive NOS expression in cultured endothelial cells is elevated by fluid shear stress. Am. J. Physiol. 269:H550–H555, 1995.

19.

Shyy, Y. J., H. J. Hsieh, S. Usami, and S. Chien. Fluid shear stress induces a biphasic response of human monocyte chemotactic protein 1 gene expression in vascular endothelium. Proc. Natl Acad. Sci. USA 91:4678–4682, 1994.

20.

Subramanian, A., P. Tamayo, V. K. Mootha, S. Mukherjee, B. L. Ebert, M. A. Gillette, A. Paulovich, S. L. Pomeroy, T. R. Golub, E. S. Lander, and J. P. Mesirov. Gene set enrichment analysis: a knowledge-based approach for interpreting genome-wide expression profiles. Proc. Natl Acad. Sci. USA 102:15545–15550, 2005.

21.

Tada, S., and J. M. Tarbell. A computational study of flow in a compliant carotid bifurcation-stress phase angle correlation with shear stress. Ann. Biomed. Eng. 33:1202–1212, 2005.

22.

Tsuboi, H., J. Ando, R. Korenaga, Y. Takada, and A. Kamiya. Flow stimulates ICAM-1 expression time and shear stress dependently in cultured human endothelial cells. Biochem. Biophys. Res. Commun. 206:988–996, 1995.

23.

Uematsu, M., Y. Ohara, J. P. Navas, K. Nishida, T. J. Murphy, R. W. Alexander, R. M. Nerem, and D. G. Harrison. Regulation of endothelial cell nitric oxide synthase mRNA expression by shear stress. Am. J. Physiol. 269:C1371–C1378, 1995.

24.

Ukropec, J. A., M. K. Hollinger, and M. J. Woolkalis. Regulation of VE-cadherin linkage to the cytoskeleton in endothelial cells exposed to fluid shear stress. Exp. Cell Res. 273:240–247, 2002.

25.

Won, D., S. N. Zhu, M. Chen, A. M. Teichert, J. E. Fish, C. C. Matouk, M. Bonert, M. Ojha, P. A. Marsden, and M. I. Cybulsky. Relative reduction of endothelial nitric-oxide synthase expression and transcription in atherosclerosis-prone regions of the mouse aorta and in an in vitro model of disturbed flow. Am. J. Pathol. 171:1691–1704, 2007.

26.

Xiao, Z., Z. Zhang, V. Ranjan, and S. L. Diamond. Shear stress induction of the endothelial nitric oxide synthase gene is calcium-dependent but not calcium-activated. J. Cell. Physiol. 171:205–211, 1997.
Acknowledgments
The authors would like to thank Charles S. Wallace, Ellen Dixon-Tulloch, Federico Lopez-Bertoni, and Kelley Burridge for technical assistance. Current affiliation of JAL is Milwaukee School of Engineering. This work was funded by NIH Grant HL-50442.
Additional information
Associate Editor Julia E. Babensee oversaw the review of this article.
About this article
Cite this article
LaMack, J.A., Himburg, H.A., Zhang, J. et al. Endothelial Gene Expression in Regions of Defined Shear Exposure in the Porcine Iliac Arteries. Ann Biomed Eng 38, 2252–2262 (2010). https://doi.org/10.1007/s10439-010-0030-6
Received:

Accepted:

Published:

Issue Date:
Keywords
Shear stress

Endothelium

Gene expression

In vivo