Abstract
In this article, we reassess the human remains from the Mumbwa Caves housed in the Raymond A. Dart Archaeological Human Remains Collection at the University of the Witwatersrand, South Africa. Based on new radiocarbon dates from human bone collagen and stable isotope analysis, our results revealed that the poorly preserved remains, comprising mostly crania and teeth, represent at least 16 individuals. Some of them have culturally modified anterior teeth. Enamel hypoplastic lesions were seen in a few individuals, which indicates disease and malnutrition during childhood. Radiocarbon dating revealed that all the individuals were buried at Mumbwa sometime between the late tenth and early twentieth century CE, with most dates clustering between the early sixteenth and the late nineteenth century. With the exception of a single individual who seems to have had a hunter-gatherer/forager diet, the carbon and nitrogen isotope values of others are consistent with what would be expected from a low-trophic farmer diet based on foodplants with C4 photosynthetic pathways. It is, therefore, our contention that, rather than being associated with the Stone Age as previously suggested, these individuals lived in more recent agricultural communities around the Mumbwa Caves.
Résumé
Dans cette étude, nous réexaminons les restes humains des grottes de Mumbwa conservés dans la collection archéologique Raymond A. Dart à l'Université Witwatersrand, en Afrique du Sud. Nous présentons de nouvelles datations au radiocarbone à partir du collagène osseux humain ainsi que des mesures des isotopes stables du carbone et de l'azote. Nos résultats ont révélé que les restes humains, composés majoritairement de crânes et de dents, appartiennent à au moins 16 individus. Certains d'entre eux présentent des modifications des dents antérieures dues à des pratiques culturelles. Des lésions hypoplasiques de l'émail ont été observées sur quelques individus, ce qui indique l'occurrence de maladies et/ou de malnutrition pendant l'enfance. La datation au radiocarbone a également révélé que tous les individus ont été enterrés à Mumbwa entre la fin des années 900 AD et le début du 20e siècle, la plupart des dates se regroupant du début du 16e siècle à la fin du 19e siècle. À l'exception d'un seul individu qui semble avoir eu un régime alimentaire de chasseur-cueilleur, les valeurs isotopiques du carbone et de l'azote sont toutes cohérentes avec ce que l'on pourrait attendre d'un régime alimentaire basé sur la consommation de plantes cultivées caractérisées par des mécanismes de photosynthèse en C4. Nous soutenons donc que, plutôt que d'être associés à l'âge de pierre comme suggéré précédemment, ces individus vivaient probablement dans des communautés d'agriculteurs autour des grottes de Mumbwa au moment de leur disparition.
Access options
Buy single article
Instant access to the full article PDF.
USD 39.95
Price excludes VAT (USA)
Tax calculation will be finalised during checkout.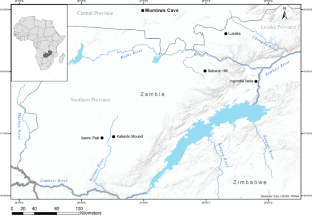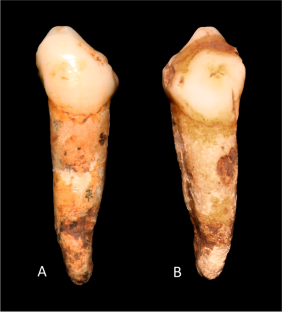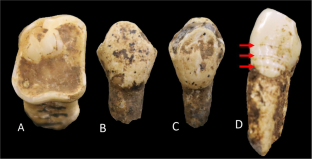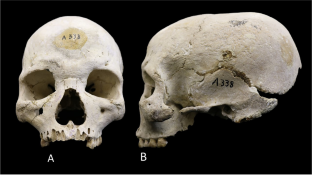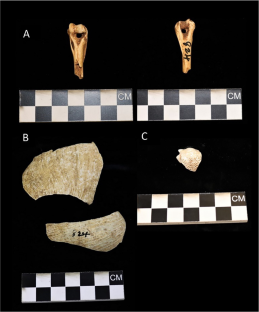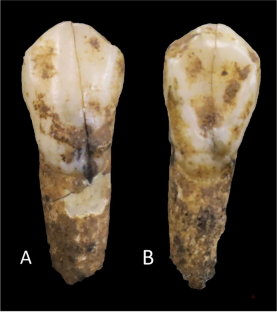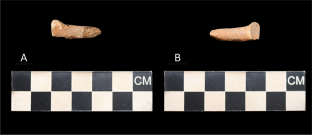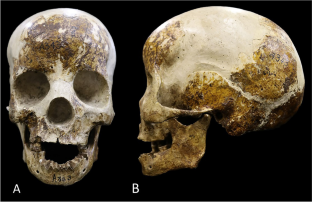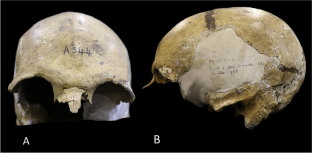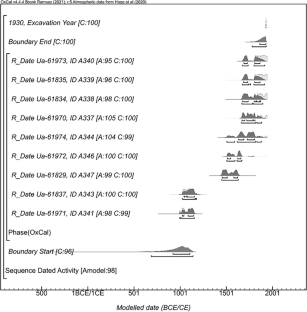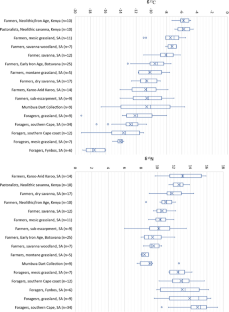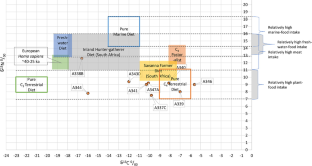 Data Availability
All data used in this publication are available for future studies.
References
AlQahtani, S. J., Hector, M. P., & Liversidge, H. M. (2010). Brief communication: The London atlas of human tooth development and eruption. Journal of Contemporary Dentist Practices, 4, 65–75.

Ambrose, S. H., & DeNiro, M. J. (1986). The isotopic ecology of East African mammals. Oecologia (Berlin), 69, 395–406.

Ambrose, S. H., & Norr, L. (1993). Experimental evidence for the relationship of the carbon isotope ratios of whole diet and dietary protein to those of bone collagen and carbonate. In J. B. Lambert & G. Grupe (Eds.), Prehistoric human bone: Archaeology at the molecular level (pp. 1–37). Springer-Verlag.

Barham, L. S. (1996). Recent research on the Middle Stone Age at Mumbwa Caves, central Zambia. In G. Pwiti & R. Soper (Eds.), Aspects of African prehistory (pp. 191–200). University of Zimbabwe Publications.

Barham, L. S. (Ed.). (2000). The Middle Stone Age of Zambia. Western Academic and Specialist Press.

Breton, G., Barham, L., Mudenda, G., Soodyall, H., Schlebusch, CM., & Jakobsson, M. "BaTwa" populations from Zambia retain ancestry of past hunter-gatherer groups. (Manuscript in preparation).

Breyer, R., & Kausch, B. (2004). Wissenschaftliches Fehlverhalten wird geprüft: öffentliche Vorwürfe gegen Frankfurter Professor [Reiner Protsch von Zieten] erhoben. Campus Aktuell October 2004, 4.

Bronk Ramsey, C. (2009). Bayesian analysis of radiocarbon dates. Radiocarbon, 51, 337–360.

Buikstra, JE., & Ubelaker, DH. (1994). Standards for data collection from human skeletal remains. Arkansas Archaeological Survey, Fayetteville, Arkansas.

Clark, J. D. (1942). Further excavations (1939) at the Mumbwa Caves, Northern Rhodesia. Transactions of the Royal Society of South Africa, 29(3), 133–201.

Clark, JD. (1989). The origin and spread of modern humans: A broad perspective on the African evidence. In P. A. Mellars, & C. Stringer, C. (Eds.), The human revolution: Behavioural and biological perspectives on the origins of modern humans (pp. 565–588). Edinburgh University Press.

Correia, M. A., Foley, R., O'Connell, T. C., Ramírez-Rozzi, F., & Mirazón Lahr, M. (2019). Carbon and nitrogen isotopic signatures of hair, nail, and breath from tropical African human populations. Rapid Communications in Mass Spectrometry, 33(22), 1761–1773.

Dart, R. A., & Del Grande, N. (1931). The ancient iron-smelting cavern at Mumbwa (pp. 379–427). Transactions of the Royal Society of South Africa.

Fagan, B. M., & Phillipson, D. W. (1965). Sebanzi: The Iron Age sequence at Lochinvar, and the Tonga. The Journal of the Royal Anthropological Institute of Great Britain and Ireland, 95(2), 253. https://doi.org/10.2307/2844428

Gabel, C. (1963). Further human remains from the Central African Late Stone Age. Man, 44, 38–43.

Gibbon, V. E., & Grimoud, A. M. (2014). Dental pathology, trauma and attrition in a Zambian Iron Age sample: A macroscopic and radiographic investigation. International Journal of Osteoarchaeology, 24(4), 439–458.

Gibbon, V. E., Gallagher, A., & Huffman, T. N. (2014). Bioarchaeological analysis of Iron Age human skeletons from Zambia. International Journal of Osteoarchaeology, 24(1), 100–110.

Goldstein, S. T., Crowther, A., Henry, E. R., Janzen, A., Katongo, M., Brown, S., Farr, J., Le Moyne, C., Picin, A., Richter, K. K., & Boivin, N. (2021). Revisiting Kalundu Mound, Zambia: Implications for the timing of social and subsistence transitions in Iron Age southern Africa. African Archaeological Review, 38(4), 625–655.

Goodman, A. H., & Rose, J. C. (1990). Assessment of systemic physiological perturbations from dental enamel hypoplasia and associated histological structures. Yearbook of Physical Anthropology, 33, 59–110.

Handler, J. (1994). Determining African birth from skeletal remains: A note on tooth mutilation. Historical Archaeology, 28, 113–119.

Hogg, A. G., Heaton, T. J., Hua, Q., Palmer, J. G., Turney, C. S. M., Southon, J., et al. (2020). SHCal20 Southern Hemisphere Calibration, 0–55,000 Years cal BP. Radiocarbon, 62(4), 759–778.

Howells, WW. (1973). Cranial variation in man: a study by multivariate analysis of patterns of difference among recent human populations. Papers of the Peabody Museum of Archaeology and Ethnology, vol. 67. Harvard University Press.

İşcan, M. Y., & Steyn, M. (2013). The human skeleton in forensic medicine (3rd ed.). Thomas.

Jim, S., Jones, V., Ambrose, S. H., & Evershed, R. P. (2006). Quantifying dietary macronutrient sources of carbon for bone collagen biosynthesis using natural abundance stable carbon isotope analysis. British Journal of Nutrition, 95(6), 1055–1062.

Jones, T. R. (1941). Human skeletal remains from the Mumbwa cave, North Rhodesia. South African Journal of Science, 37, 313–319.

Katzenberg, M. A., & Weber, A. (1999). Stable isotope ecology and palaeodiet in the Lake Baikal region of Siberia. Journal of Archaeological Science, 26(6), 651–659.

Lee-Thorp, JA., Sealy, JC., & Morris, AG. (1993). Isotopic evidence for diets of prehistoric farmers in South Africa. In J. B. Lambert, & G. Grupe, G. (Eds). Prehistoric human bone (pp. 99–120). Springer.

Lewis, M. C., & Sealy, J. C. (2018). Coastal complexity: Ancient human diets inferred from Bayesian stable isotope mixing models and a primate analogue. PLoS ONE, 13(12), e0209411.

Line, P. (2005). Upper Paleolithic blues: Consequences of recent dating fiasco on human evolutionary prehistory. Journal of Creation, 19(2), 7–9.

Mays, S. (1998). The archaeology of human bones. Routledge.

Meyer, A., Peyroteo-Stjerna, R., Jolly, C., Schlebusch, C. M., & Steyn, M. (2022). A reassessment of archaeological human remains recovered from rock shelters in Cathkin Peak, South Africa, Azania: Archaeological Research in Africa, https://doi.org/10.1080/0067270X.2021.2030947.

Miller, S. F. (1969). Contacts between the Later Stone Age and the Early Iron Age in southern central Africa Azania. Archaeological Research in Africa, 4(1), 81–90.

Mosothwane, M. N. (2010). Foragers among farmers in the Early Iron Age of Botswana?: Dietary evidence from Stable Isotopes. Ph.D. dissertation, University of Cape Town.

Musonda, F. B. (1987). The significance of pottery in Zambian Later Stone Age contexts. African Archaeological Review, 5(1), 147–158.

O'Connell, T. C., Kneale, C. J., Tasevska, N., & Kuhnle, G. G. (2012). The diet-body offset in human nitrogen isotopic values: A controlled dietary study. American Journal of Physical Anthropology, 149(3), 426–434.

Ousley, S., & Jantz, R. L. (2012). Fordisc 3 and statistical methods for estimating sex and ancestry. In D. Dirkmaat (Ed.), A companion to forensic anthropology (pp. 311–329). Blackwell Publishing Ltd.

Pearson, O., Grine, F., Barham, L., & Stringer, C. (2000). Human remains from the Middle and Later Stone Age of Mumbwa Caves. In L. Barham (Ed.), The Middle Stone Age of Zambia, South Central Africa (pp. 149–164). Western Academic and Specialist Press.

Phillipson, D. W. (1970). Excavations at Twickenham Road, Lusaka Azania. Journal of the British Institute in Eastern Africa, 5(1), 77–118.

Phillipson, D. W. (1976). The prehistory of Eastern Zambia. British Institute in Eastern Africa, Nairobi.

Protsch, R. R. R. (1977). Mumbwa: Its absolute chronology and archaeology. Zeitschrift Für Morphologie Und Anthropologie, 68(1), 1–7.

Ribot, I., Morris, A. G., Sealy, J., & Maggs, T. (2010). Population history and economic change in the last 2000 years in KwaZulu-Natal. RSA. Southern African Humanities, 22(1), 89–112.

Richards, M. P., & Trinkaus, E. (2009). Isotopic evidence for the diets of European Neanderthals and early modern humans. Proceedings of the National Academy of Sciences, 106(38), 16034–16039.

Rightmire, G. P. (1984). Human skeletal remains from eastern Africa. In J. D. Clark & S. A. Brandt (Eds.), From hunters to farmers: The causes and consequences of food production in Africa (pp. 191–199). University of California Press.

Robertson, J. H. (2000). Early Iron Age archaeology in central Zambia Azania. Journal of the British Institute in Eastern Africa, 35(1), 147–182.

Schwanebeck, W. (2014). Willkommen im Hochstapler-Biotop: Plagiarismus und andere universitäre Betrügereien. In W. Schwanebeck (Ed.), Über Hochstapelei: Perspektiven auf eine kulturelle Praxis (pp. 133–155). Neofelis Verlag.

Sealy, J., Pfeiffer, S., Yates, R., Willmore, K., Manhire, A., Maggs, T., et al. (2000). Hunter-gatherer child burials from the Pakhuis Mountains, Western Cape: Growth, diet and burial practices in the Late Holocene. South African Archaeological Bulletin, 55(171), 32–43.

Steyn, M. (2013). Sexing. In J. A. Siegel & P. J. Saukko (Eds.), Encyclopedia of Forensic Sciences (2nd ed., pp. 34–41). Academic Press.

Steyn, M., & İşcan, M. Y. (1999). Osteometric variation in the humerus: Sexual dimorphism in South Africans. Forensic Science International, 106(1999), 77–85.

Turner, G. A. (1911). Some of the tribal marks of the South African native races (pp. 3–15). Johannesburg: Argus.

Van Reenen, J. F. (1964). Dentition, jaws and palate of the Kalahari Bushman. Journal of the Dental Association of South Africa, 19, 1–15.

Van Reenen, J. F. (1986). Tooth mutilating and extracting practices amongst the peoples of South West Africa (Namibia). In R. Singer & J. K. Lundy (Eds.), Variation, culture and evolution in African opulations (pp. 159–169). Witwatersrand University Press.

De Villiers, H. (1968). Identification of the human skeleton. Unpublished manuscript, University of the Witwatersrand.

Webb, E. C., Lewis, J., Shain, A., Kastrisianaki-Guyton, E., Honch, N. V., Stewart, A., et al. (2017). The influence of varying proportions of terrestrial and marine dietary protein on the stable carbon-isotope compositions of pig tissues from a controlled feeding experiment. Science & Technology of Archaeological Research, 3(1), 28–44.
Acknowledgements
The authors would like to thank George Mudenda, Director of the Livingstone Museum, for his support and letter of approval to sample the remains housed in the Raymond A Dart collection. We are also indebted to the curators of the Raymond A. Dart Archaeological Human Remains Collection for permission to study the remains. CMS, CJ, and the 14C and isotopic measurements at Uppsala Tandem laboratories were funded by the Knut and Alice Wallenberg Foundation grant awarded to CMS. The remains were sampled and exported under SAHRA permit 2789.
Additional information
Publisher's Note
Springer Nature remains neutral with regard to jurisdictional claims in published maps and institutional affiliations.
Rights and permissions
Springer Nature or its licensor (e.g. a society or other partner) holds exclusive rights to this article under a publishing agreement with the author(s) or other rightsholder(s); author self-archiving of the accepted manuscript version of this article is solely governed by the terms of such publishing agreement and applicable law.
About this article
Cite this article
Steyn, M., Meyer, A., Peyroteo-Stjerna, R. et al. African Farmers, Not Stone Age Foragers: Reassessment of Human Remains from the Mumbwa Caves, Zambia. Afr Archaeol Rev (2022). https://doi.org/10.1007/s10437-022-09507-4
Accepted:

Published:

DOI: https://doi.org/10.1007/s10437-022-09507-4