Abstract
Unusually large ash heaps are a remarkable Late Iron Age feature of Kweneng, near Johannesburg. They are not randomly distributed across the site. What can a spatial analysis of their distribution tell us about their significance? Our results show that the prominent ash heaps of Kweneng are principally associated with only one of the three styles of stone-walled architecture found at this site. They also show that the ash heaps were associated with wealth in cattle. Furthermore, there is a clear spatial association with stone-lined avenues or roads, possibly cattle drives. The spatial analysis indicates that the prominent ash heaps of Kweneng were not ordinary household rubbish dumps. We propose that, by the terminal phase of occupation at Kweneng, they had become a significant part of a vast stage where the extraordinary wealth of this Sotho-Tswana city was displayed. Built of a supernaturally potent substance, the prominent ash heaps elevated and displayed the elite of Kweneng along the route of the cattle processions, which daily celebrated the wealth of the polity.
Résumé
Des amas de cendres inhabituellement grands sont une caractéristique remarquable de la fin de l'âge de fer à Kweneng, près de Johannesburg. Ils ne sont pas répartis au hasard sur le site. Que peut nous apprendre une analyse spatiale de leur distribution? Nos résultats montrent que ces amas de cendres proéminents de Kweneng sont principalement associés à un seul des trois styles d'architecture en pierre sèche trouvés sur ce site. Ils montrent également que les amas de cendres étaient liés à la richesse en bétail. En outre, il existe une association spatiale clair avec des avenues ou des routes bordées de pierres, possiblement des voies où cheminait le bétail. L'analyse spatiale indique que les amas de cendres proéminents de Kweneng n'étaient pas des dépotoirs ordinaires d'ordures ménagères. Nous proposons que, par la phase terminale de l'occupation de Kweneng, ils étaient devenus une partie remarquable d'une vaste scène pour afficher l'extraordinaire richesse de cette ville Sotho-Tswana. Construits d'une substance d'une robustesse surnaturelle, ces amas de cendres proéminents valorisaient et exhibaient l'élite de Kweneng tout au long de la route des processions de bétail, qui célébraient ainsi quotidiennement la richesse du régime.
Access options
Buy single article
Instant access to the full article PDF.
USD 39.95
Price excludes VAT (USA)
Tax calculation will be finalised during checkout.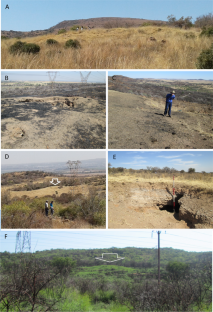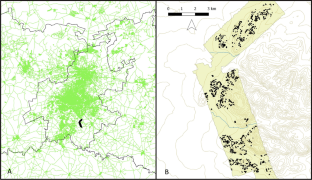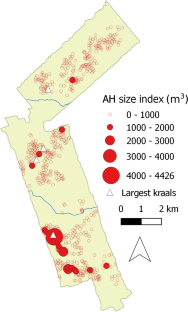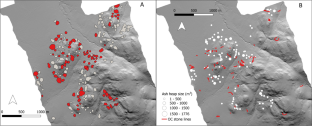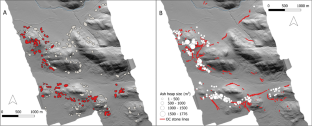 References
Allchin, F. R. (1963). Neolithic cattle-keepers of south India. Cambridge University Press.

Birss, C., & Green, N. (2007). Suikerbosrand Nature Reserve and extension ecological management plan, Department of Agriculture, Conservation and Environment. Gauteng Provincial Government.

Boeyens, J. C. A. (2000). In search of Kaditshwene. The South African Archaeological Bulletin, 55(171), 3–17.

Boeyens, J. C. A. (2003). The Late Iron Age sequence in the Marico and early Tswana history. The South African Archaeological Bulletin, 58, 63–78.

Boeyens, J. C. A., & Plug, I. (2011). "A chief is like an ash-heap on which is gathered all the refuse": The faunal remains from the central court midden at Kaditshwene. Annals of the Ditsong National Museum of Natural History, 1, 1–22.

Boivin, N. (2004). Landscape and cosmology in the south Indian Neolithic: New perspectives on the Deccan ashmounds. Cambridge Archaeological Journal, 14(2), 235–257.

Bradlow, E., & Bradlow, F. (Eds.). (1979). William Somerville's narrative of his journeys to the eastern Cape frontier and to Lattakoe 1799–1802. Van Riebeeck Society.

Breutz, P. L. (1956). Stone kraal settlements in South Africa. African Studies, 15(4), 157–175.

Breutz, P. L. (1989). History of the Batswana. Thumbprint.

Campbell, J. (1822). Travels in South Africa, undertaken at the request of the London Missionary Society; being a narrative of a second journey in the interior of that country (Vol. I). Francis Westley.

Comaroff, J. L., & Comaroff, J. (1990). Goodly beasts, beastly goods: Cattle and commodities in a South African context. American Ethnologist, 17(2), 195–216.

Deetz, J., & Dethlefsen, E. (1965). The Doppler effect and archaeology: A consideration of the spatial aspects of seriation. Southwestern Journal of Anthropology, 21(3), 196–206.

Dunnell, R. C. (1970). Seriation method and its evaluation. American Antiquity, 35(3), 305–319.

Ellenberger, F., & MacGregor, J. C. (1912). History of the Basuto, ancient and modern. Caxton.

Ellis, F., & Brody, J. (1964). Ceramic stratigraphy and tribal history at Taos Pueblo. American Antiquity, 29(3), 316–327.

Emmitt, J., Allely, K., Davies, B., Hoffman, E., & Holdaway, S. (2020). Preliminary archaeological survey and remote-sensing of shell mounds at Kwokkunum, Albatross Bay, Cape York Peninsula, Australia. Queensland Archaeological Research, 23, 9–24.

Ford, J. A. (1938). A chronological method applicable to the Southeast. American Antiquity, 3(3), 260–264.

Gardner, G. A. (1963). Mapungubwe (Vol. II). J. L. Van Schaik.

Hall, S. (2012). Identity and political centralisation in the western regions of Highveld c 1770–c 1830: An archaeological perspective. Journal of Southern African Studies., 38(2), 301–318.

Harris, W. C. (1839). The wild sports of southern Africa, being the narrative of an expedition from the Cape of Good Hope, through the territories of the Chief Moselekatse, to the tropic of Capricorn. John Murray.

Hattingh, S., & Hall, S. (2009). Shona ethnography and the archaeology of the K2 burials. Southern African Humanities, 21(1), 299–326.

Hodgson, C. (2021). The analysis of ceramic material excavated from two neighbouring Sotho-Tswana homesteads located on the South African Highveld. M.Sc. dissertation, University of the Witwatersrand, Johannesburg.

Huffman, T. N. (1986). Iron Age settlement patterns and the origins of class distinction in southern Africa. Advances in World Archaeology, 5, 291–338.

Huffman, T. N. (2007). Handbook to the Iron Age: The archaeology of pre-colonial farming societies in Southern Africa. KZN Press.

Jedrej, M. (1989). A note on ash symbolism in Africa. Zeitschrift für Ethnologie, 114(89), 11–23.

Klehm, C. E. (2017). Finding Russia in Botswana: AIDS, archaeology and the power of the ancestors. Journal of Archaeological Method and Theory, 24(1), 28–49.

Low, A. B., & Rebelo, A. G. (1996). Vegetation of South Africa, Lesotho and Swaziland. Department of Environmental Affairs and Tourism.

MaggsO'C, T. (1976). Iron Age communities of the southern Highveld. Pietermaritzburg: Council of the Natal Museum.

Mason, A. (1986). Origins of black people of Johannesburg and the southern western central Transvaal AD 350–1880. University of the Witwatersrand Archaeological Research Unit.

Moodie, D. C. F. (1888). The history of the battles and adventures of the British, the Boers, and the Zulus, etc. in southern Africa, from the time of Pharaoh Necho, to 1888 (Vol. I). Murray & St. Leger.

Paddayya, K. (2001). The problem of ashmounds of southern Deccan in light of Budihal excavations, Karnataka. Bulletin of the Deccan College Post-Graduate and Research Institute, 60, 189–225.

Pistorius, J. C. (1994). Molokwane, a seventeenth century Tswana village. South African Journal of Ethnology, 17(2), 38–53.

QGIS Development Team (2017). QGIS Geographic Information System, version 2.18.11. Beaverton, OR: Open Source Geospatial Foundation Project. http://qgis.osgeo.org

Ransford, O. (1972). The great trek. John Murray.

Rasmussen, R. K. (1978). Migrant kingdom: Mzilikazi Ndebele in South Africa. Collings.

Sadr, K. (2019a). Kweneng: A newly discovered pre-colonial capital near Johannesburg. Journal of African Archaeology, 17, 1–22.

Sadr, K. (2019b). Kweneng: How to lose a pre-colonial city. The South African Archaeological Bulletin, 74(209), 56–62.

Sadr, K. (2020). A pre-colonial town between Johannesburg and the Vaal river. Digging Stick, 37(3), 9–13.

Sadr, K. (2021). LiDAR, ground survey and the classification of stone walled compounds at Kweneng, South Africa. The South African Archaeological Bulletin, 76(214), 70–78.

Sadr, K. (2022). The stone towers of Kweneng in Gauteng Province. The South African Archaeological Bulletin, 77(217), xx–xx. (in press).

Sadr, K., & Hodgson, C. (2021). Report on the test pit excavations at two stone-walled compounds in Kweneng North. Kweneng Archaeological Project Occasional Reports 1. https://www.academia.edu/66764152/REPORT_ON_THE_TEST_PIT_EXCAVATIONS_AT_TWO_STONE_WALLED_COMPOUNDS_IN_KWENENG_NORTH_Occasional_Reports_Number_1. Accessed 22 July, 2022.

Sadr, K., & Mshuqwana, F. (2020). Kweneng: Spatial analysis of a stone walled compound using LIDAR and GIS. The South African Archaeological Bulletin, 75(212), 75–86.

Sadr, K., & Rodier, X. (2012). Google Earth, GIS and stone-walled structures in southern Gauteng, South Africa. Journal of Archaeological Science, 39, 1034–1042.

Schapera, I. (1953). The Tswana. International African Institute.

Schoeman, M. H. (1998). Excavating Ndzundza Ndebele identity at Kwamaza. Southern African Field Archaeology, 7(1), 42–52.

Tans, P. P., de Jong, A. F. M., & Mook, W. G. (1979). Natural atmospheric 14C variation and the Suess effect. Nature, 280(5725), 826–828.

Taylor, M. O. V. (1979). Late Iron Age settlements on the northern edge of the Vredefort Dome. MA thesis in Archaeology, University of the Witwatersrand.
Acknowledgements
Fieldwork was kindly permitted by the management of the Suikerbosrand Nature Reserve and the neighboring landowners, whose cooperation with this research project is gratefully acknowledged. Over the years, many Wits University postgraduate students helped with the Kweneng surveys, both remotely and on the ground. Their assistance is gratefully acknowledged. The helpful comments of two anonymous reviewers are greatly appreciated.
Funding
Funding for the Kweneng project was provided by the South African National Research Foundation grant numbers 77578 and 85978 and by the Faculty of Science at the University of the Witwatersrand.
Additional information
Publisher's Note
Springer Nature remains neutral with regard to jurisdictional claims in published maps and institutional affiliations.
Rights and permissions
Springer Nature or its licensor (e.g. a society or other partner) holds exclusive rights to this article under a publishing agreement with the author(s) or other rightsholder(s); author self-archiving of the accepted manuscript version of this article is solely governed by the terms of such publishing agreement and applicable law.
About this article
Cite this article
Chingono, P.H., Sadr, K. The Ash Heaps of Kweneng, South Africa. Afr Archaeol Rev (2022). https://doi.org/10.1007/s10437-022-09504-7
Accepted:

Published:

DOI: https://doi.org/10.1007/s10437-022-09504-7
Keywords
Late Iron Age

South Africa

Kweneng

Ash heaps

Cattle drives