Abstract
We present the results of fieldwork conducted at Igbo-Ukwu in 2019 and 2021 aimed at expanding the temporal and spatial record of the ancient settlement. Local participation and public engagement are central to the project, which has yielded a new dataset that enhances our understanding of the archaeological and landscape contexts of Thurstan Shaw's pioneering investigations. Extending southward by 2 km from the sites of Igbo Richard, Igbo Isaiah, and Igbo Jonah, a large ceramic assemblage of Igbo-Ukwu ware was recovered in four of our five areas of investigation. For the two areas discussed in this article, substantial quantities of cultural materials came from stratified contexts. From these, three radiocarbon dates fall between the end of the ninth and the second half of the thirteenth centuries CE. This article introduces various pilot studies conducted on samples collected from recent excavations. Soil analyses (pH and particle size distribution) indicate the presence of mostly acidic soils and differential preservation potential. Multi-method analysis of pottery from excavated trenches, including multivariate analysis and elemental (pXRF) measurements, recorded similar fabrics but with varying color and chemical compositions. Archaeobotanical analysis on samples from the new excavations reveals the presence of wood charcoal and, for the first time, remains of Vitex sp. and the palm oil tree associated with Igbo-Ukwu cultural deposits. This project has garnered new data on material culture, spatial distribution, subsistence, and environment. Thus, the research has demonstrated that a multi-scaler approach that combines various recovery and analytic methods may provide valuable insights into aspects of Igbo-Ukwu's past.
Résumé
Nous présentons les résultats de nouveaux travaux de terrain menés à Igbo-Ukwu en 2019 et 2021 dans le but d'élargir les données temporelles et spatiales pour le site. La participation locale et l'engagement public sont au cœur du projet, qui a donné lieu à un nouvel ensemble de données qui améliore notre compréhension du paysage et du contexte archéologique des enquêtes pionnières de Thurstan Shaw. S'étendant vers le sud sur 2 km à partir des sites d'Igbo Richard, d'Igbo Isaiah et d'Igbo Jonah, un important ensemble de céramiques d'Igbo-Ukwu a été retrouvé dans quatre de nos cinq zones d'investigation. Dans les deux zones discutées dans cet article, une quantité significative de matériaux culturels provenaient de contextes stratifiés. Parmi ceux-ci, trois dates radiocarbone se situent entre la fin du 9ème et la seconde moitié du 13ème siècle de notre ère. Cet article présente diverses études préliminaires menées sur des échantillons découverts et collectés lors des fouilles récentes. Les analyses de pH et de distribution granulométrique indiquent la présence de sols majoritairement acides et un potentiel de préservation différentiel. L'analyse multi-méthodes de la poterie, y compris l'analyse multivariée et les mesures élémentaires (pXRF), a enregistré des matériaux similaires mais de couleur et de composition chimique différentes. L'analyse archéobotanique d'échantillons provenant des nouvelles fouilles révèle la présence de charbon de bois et, pour la première fois, des restes de Vitex sp. et le palmier à huile associé aux gisements culturels d'Igbo-Ukwu. Ce projet a recueilli de nouvelles données sur la culture matérielle, la distribution spatiale, la subsistance et l'environnement. Ainsi, la recherche a démontré qu'une approche multi-échelle qui combine diverses méthodes de récupération et d'analyse peut fournir des informations précieuses sur les aspects du passé d'Igbo-Ukwu.
Access options
Buy single article
Instant access to the full article PDF.
USD 39.95
Price excludes VAT (USA)
Tax calculation will be finalised during checkout.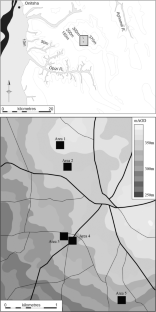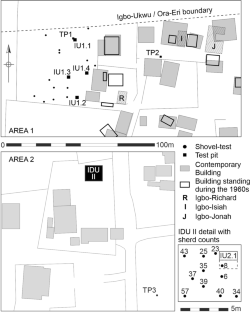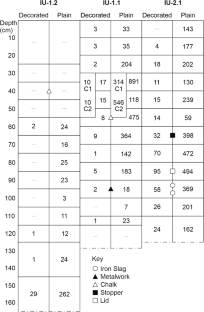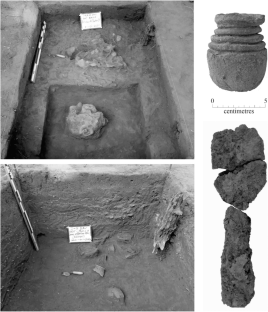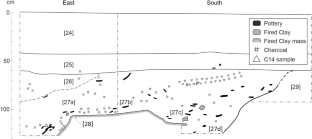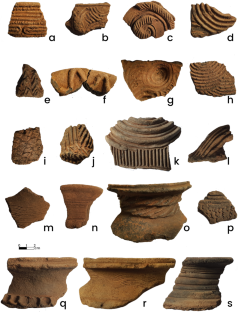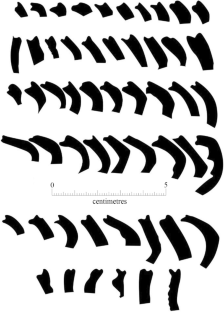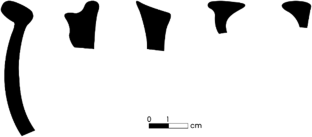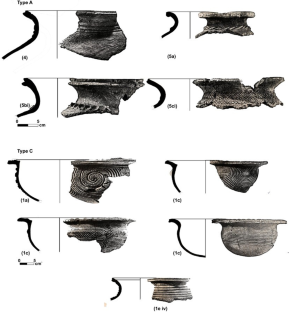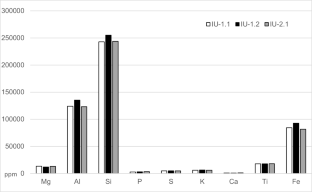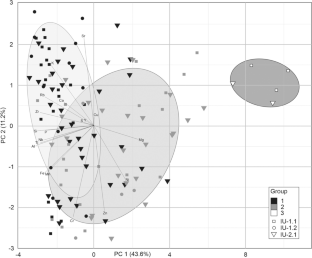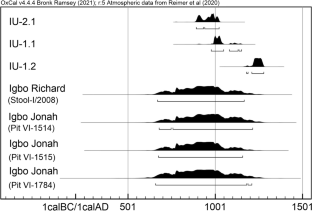 References
Akinade, O. A. (2010). A new focus on the archaeology of Igbo-Ukwu. Prints Xray Ltd.

Alabi, R. A. (2002). Environment and subsistence of the early inhabitants of coastal southwestern Nigeria. African Archaeological Review, 19(4), 183–201.

Anozie, F. N. (1985). Archaeology of Igbo land. Nimo, Anambra State: Asele Institute.

Ayadiuno, R. U., Ndulue, D. C., Mozie, A. T., & Phil-Eze, P. O. (2020). Geomorphological analysis and terrain characterization of the Du and Anambra rivers system of Southeastern Nigeria. Palarch's Journal of Archaeology of Egypt/egyptology, 17(9), 7704–7719.

Basu, P., & Chika-Kanu, G. (2020). Nzu, orhue, sacred chalk. [Re:]Entanglements. Retrieved October 6, 2022, from https://re-entanglements.net/chalk/

Champion, L., & Fuller, D. Q. (2018). New evidence on the development of millet and rice economies in the Niger River Basin: Archaeobotanical results from Benin. In A. M. Mercuri, C. D'Andrea, R. Fornaciari, & A. Höhn (Eds), Plants and people in the African past (529–547). Springer.

Champion, L., & Fuller, D. Q. (2019). Archaeobotany: Methods. Oxford research encyclopedia of African history. Accessed October 20, 2022 https://doi.org/10.1093/acrefore/9780190277734.013.204

Champion, L. (2019). The evolution of agriculture, food and drink in the ancient Niger River Basin: Archaeobotanical studies from Mali and Benin. Ph.D. dissertation, University College of London, United Kingdom.

Daraojimba, K. C. (2016). Humans and oil palm (Elaeis guineensis Jacq.) exploitation in Orile-Owu, southwest Nigeria, 1450–1640 A.D: Archaeobotanical evidence. Dig It, 2, 14–23.

Daraojimba, K. C. (2019). Short notes on the 2019 Igbo-Ukwu research project. West African Journal of Archaeology, 49, 177–184.

Daraojimba, K. C., Oyelaran, P. A., Barros, M. A., Cordeiro, J., & Luz, C. F. P. (2018). Archaeological deposit in Motako, southwest Nigeria, investigated by pollen analysis. In A. M. Mercuri, C. D'Andrea, R. Fornaciari, & A. Höhn (Eds), Plants and people in the African past (pp. 246–270). Springer.

Daraojimba, K. C. (2021). Archaeology education in Igbo-Ukwu, southeast Nigeria. Archaeologies: Journal of the World Archaeological Congress, 17 (2), 193–216. https://doi.org/10.1007/s11759-021-09426-x.

Egbueri, J. C., & Igwe, O. (2021). The impact of hydrogeomorphological characteristics on gullying processes in erosion-prone geological units in parts of Southeast Nigeria. Geology, Ecology, and Landscapes, 5(3), 227–240. https://doi.org/10.1080/24749508.2020.1711637

Folorunso, C.A (2020). Archaeology in the public space in Nigeria. AP: Online Journal in Public Archaeology, 10, 87–96.

Forster, N., Grave, P., Vickery, N., & Kealhofer, L. (2011). Non-destructive analysis using pXRF: Methodology and application to archaeological ceramics. X-Ray Spectrometry, 40(5), 389–398.

Hartle, D. D. (1967). Archaeology in Eastern Nigeria. Nigeria Magazine, 93, 134–143.

Hartle, D. D. (1980). Archaeology east of the Niger: A review of cultural-historical developments. In B. K. Swartz & R. E. Durnett (Eds.), West African culture dynamics: Archaeological and historical perspectives (pp. 195–203). Mouton.

Ige, O. A., Ogunfolakan, B. A., & Ajayi, E. O. (2009). Chemical characterization of some potsherd pavements from parts of Yorubaland in southwestern Nigeria. Journal of Archaeological Science, 36(1), 90–99.

Jones, A., Breuning-Madsen, H., Brossard, M., Dampha, A., Dewitte, O., Hallett, S., Jones, R., Kilasara, M., Le Roux, P., Micheli, E., Montanarella, L., Spaargaren, O., Tahar, G., Thiombiano, L., Van Ranst, E., Yemefack, M., & Zougmore, R. (2014). The major soil types of Africa (EUR 26857). Luxembourg, Publications Office of the European Union. https://doi.org/10.2788/17215

Kayode, O. T., Aizebeokhai, A. P., & Odukoya, A. M. (2019). Soil characterisation for precision agriculture using remotely sensed imagery in southeastern Nigeria. Journal of Physics: Conference Series, 1299, 012070. https://doi.org/10.1088/1742-6596/1299/1/012070

McIntosh, S. K. (1995). Pottery. In S. K. McIntosh (Ed.), Excavations at Jenné-Jeno, Hambarketolo, and Kaniana (Inland Niger Delta, Mali), the 1981 season (pp. 130–213). University of California Press.

Nfor, B. N., Olobaniyi, S. B., & Ogala, J. E. (2007). Extent and distribution of groundwater resources in parts of Anambra State, southeastern, Nigeria. Journal of Applied Science and Environmental Management, 11(2), 215–221.

Ngonadi, C. V. (2022). Early agricultural communities in Lejja, southeastern Nigeria: An archaeobotanical investigation. Ph.D. dissertation, University of Cambridge, United Kingdom

Ocheli, A., Ogbe, O. B., & Aigbadon, G. O. (2021). Geology and geotechnical investigations of part of the Anambra Basin, southeastern Nigeria: Implication for gully erosion hazards. Environmental Systems Research, 10, 23. https://doi.org/10.1186/s40068-021-00228-2

Ogbukagu, I. N. (1984). Hydrology and chemistry of surface and groundwater resources of the Aguata area, SE Nigeria. Journal of African Earth Sciences, 2(2), 109–117.

Okpoko, A. I. (1987). Pottery-making in Igboland, eastern Nigeria: An ethnoarchaeological study. Proceedings of the Prehistoric Society, 53, 445–455.

Okpoko, A. I., Ibeanu, A. M., & Umeokafor, C. E. (2009). Archaeological survey of Nri. West African Journal of Archaeology, 38(1&2), 79–92.

Orijemie, E. A. (2018). The archaeobotany of the Later Stone Age in Nigeria: A review. In A. M. Mercuri, C. D'Andrea, R. Fornaciari, & A. Höhn (Eds.), Plants and people in the African past (pp. 362–379). Springer.

Oyelaran, P. A. (1998). Early settlement and archaeological sequence of Northeast Yorubaland. African Archaeological Review, 15(1), 65–79.

Pansu, M., & Gautheyrou, J. (2006). Handbook of soil analysis. Springer.

Reimer, P., Austin, W., Bard, E., Bayliss, A., Blackwell, P., Bronk Ramsey, C., Butzin, M., et al. (2020). The IntCal20 Northern Hemisphere radiocarbon age calibration curve (0–55 cal kBP). Radiocarbon, 62, 725–757. https://doi.org/10.1017/RDC.2020.41

Shaw, C. T. (1970). Igbo-Ukwu: An account of archaeological discoveries in Eastern Nigeria (1–2). Faber and Faber Limited.

Shaw, C. T. (1977). Unearthing Igbo-Ukwu: Archaeological discoveries in eastern Nigeria. Oxford University Press.

Sowunmi, M. A. (1999). The significance of the oil palm (Elaeis guineensis Jacq.) in the late Holocene environments of West and West Central Africa: A further consideration. Vegetation History and Archaeobotany, 8, 199–210.

Usman, A. A., Speakman, R. J., & Glascock, M. D. (2005). An initial assessment of prehistoric ceramic production and exchange in northern Yoruba, north central Nigeria: Results of ceramic compositional analysis. African Archaeological Review, 22(3), 141–168.

Williamson, K. (1993). Linguistic evidence for the use of some tree and tuber food plants in southern Nigeria. In T. Shaw, P. Sinclair, B. W. Andah, & A. Okpoko (Eds.), The archaeology of Africa: Food, metals and towns (pp. 139–153). Routledge.
Acknowledgements
The new project at Igbo-Ukwu received funds from the Cambridge-Africa Alborada Research Fund, the Society of Antiquaries of London Research Grants, the Thriplow Charitable Trust, and the Robert Kiln Trust. Funding for the 2019 pilot project was generously provided by Dr. Pamela Jane Smith Shaw and the McDonald Institute for Archaeological Research (MIAR) at the University of Cambridge (via Professor Paul Lane's strategic research funds). The MIAR also funded the 2021 project through Dr. Babalola.
We thank the Department of Archaeology and Tourism, University of Nigeria, Nsukka; Dr. Mark Golitko of the Notre Dame Archaeological X-ray Fluorescence Laboratory (NDAXL); and Vincent Ojukwu and Curator Enyi Samuel from the National Commission for Museums and Monuments, Igbo-Ukwu, Nigeria, for their support. We are deeply grateful to the Igbo-Ukwu community compounds owners and officials: the Late HRH Igwe Dr. Barr Martin N Ezeh, IDU II, President General Sir Christian Ike, HRH Ocheze B Ezeh, HRH Eze Dr Alexander Anozie, Chief J C Major-Azike, Major Lieutenant Johnson Anozie, Raphael Anozie, the Late Chibuike Anozie, Patrick Anozie, Charles Okonkwo, Frank Umeh-Ozulumba, Walter Ugboaja, Okey Ezeh, Obum Anozie, Barr Clifford Ubabukoh, and Chief Okeke. We also thank our dedicated trainees, Abuchi, Nneamaka, Nonso, Victor, Nickson, Chidalu, Chibuko, Chidubem, Obiajulu, Ugoma, Ogechukwu, Blessing, Delight, Chiemerie, Chikwado, Ife, Udochukwu, Miracle, Chukwudi, Okechukwu, Chidera, Ebubechukwu, Chukwuebuka, Chukwuemeka, Kenechukwu, Ijenu, Ezeudegbunam, Caleb, Kelvin, and Chikamso. We are grateful to Oluwasegun Wahab and our amiable research team: Dr. M Mangut, Boluwaji Ajayi, Omokolade Omigbule, Mustakim Sulaiman, Stanley Onyemechalu, and Ayobami Diya. Ayobami also helped with some of the graphics. Special thanks to Professors Susan McIntosh and Akinwumi Ogundiran for the invitation to contribute to the symposium on Igbo-Ukwu at 50 at the 25th biennial conference of the Society of Africanist Archaeologists (SAfA) and this special issue, and for Susan's input and patience in helping to see this article comes to fruition.
Ethics declarations
Conflict of Interest
The authors declare no conflict of interest.
Additional information
Publisher's Note
Springer Nature remains neutral with regard to jurisdictional claims in published maps and institutional affiliations.
Rights and permissions
Springer Nature or its licensor (e.g. a society or other partner) holds exclusive rights to this article under a publishing agreement with the author(s) or other rightsholder(s); author self-archiving of the accepted manuscript version of this article is solely governed by the terms of such publishing agreement and applicable law.
About this article
Cite this article
Daraojimba, K.C., Babalola, A.B., Brittain, M. et al. Expanding Space and Time at Igbo-Ukwu: Insights from Recent Fieldwork. Afr Archaeol Rev 39, 437–459 (2022). https://doi.org/10.1007/s10437-022-09499-1
Accepted:

Published:

Issue Date:

DOI: https://doi.org/10.1007/s10437-022-09499-1
Keywords
Ceramic

Igbo-Ukwu

Stratigraphic excavation

Southeast Nigeria