Abstract
We study the recent Crimean Crisis and the sequence of outcomes that led to the intervention by the Russian Army, which directly affected equity prices in Russia, to investigate how informed traders may have used their advantage to trade prior to the moment markets fell. We compute the Volume-synchronized Probability of Informed Trading (VPIN) for the Russian RTS equity index and for individual stocks, documenting that levels of informed trading increased considerably between one and three trading days before market prices reflected the invasion. We also investigate the predictive power of the cumulative distribution of VPIN on future stock prices, showing a statistically significant (negative) relation during the period of elevated tensions between Russia and Ukraine. Last, we investigate the levels of VPIN measured for global depositary receipts of Russian firms, documenting a similar increasing pattern prior to the invasion date but generally subsequent to the spikes obtained from the corresponding securities locally traded in Russia. Overall, our results provide additional support for the use of VPIN as a tool for monitoring the likelihood of undesirable geopolitical events.
This is a preview of subscription content,
to check access.
Access this article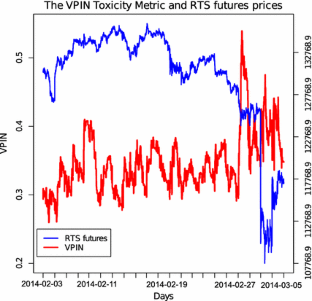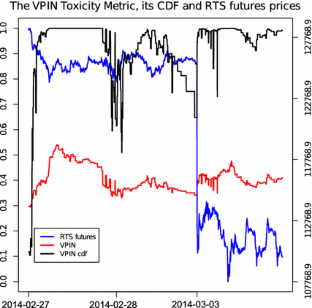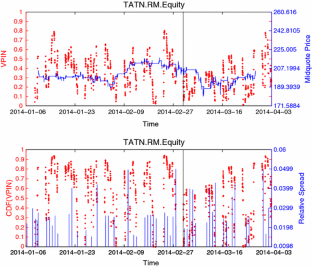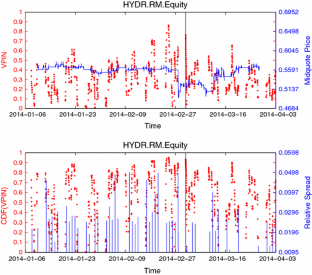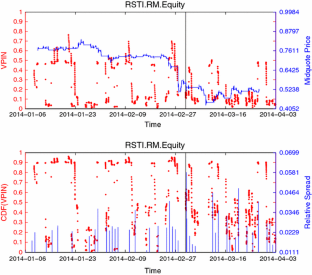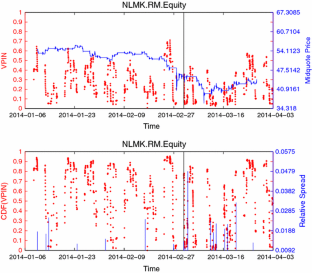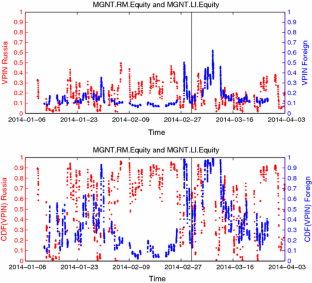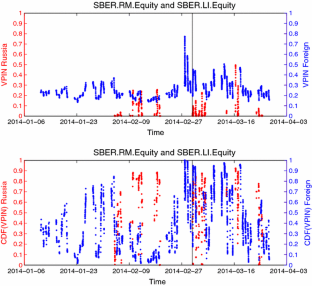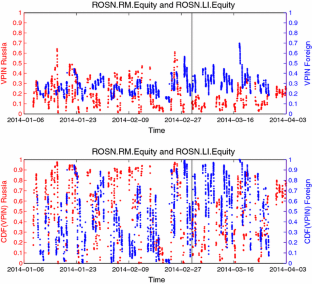 Notes
As most geopolitical crisis, escalation evolves gradually and the military invasion itself cannot be labeled as an abrupt exogenous shock. However as tensions evolve and the odds associated with the direct and indirect outcomes of a military intervention—economic externalities and possible sanctions from Western nations—become more likely to take place, information gets incorporated to market prices.

In fact since 2009 high frequency traders account for more than 70% of the trading volume in U.S. equity markets even though such firms comprise roughly 2% of the trading firms in the country.

According to Transparency International Russia scored 28 out of 100 on its 2013 Corruption Perceptions Index (lower values means higher corruption perception), which corresponds to a rank of 127 out of 177 countries (rank 1 being the less corrupt).

Russia has been abolishing its Daylights Savings since 2011 in different locations and has it completely terminated in 2014.

Government equity ownership is an important feature of State Capitalism and it is relevant in this case not only because government owned firms are likely to be more affected by a prospective war but also because high government ownership is associated with lower turnover ratios (as governments don't trade their stocks except in special cases such as privatizations).

This choice of the volume-bucket size ensures that, by construction, a day of typical trading volume would be spanned by 50 volume-buckets.
References
Amihud, Y., Wohl, A.: Political news and stock prices: the case of saddam hussein contracts. J Bank Financ 28(5), 1185–1200 (2004)

Ané, T., Geman, H.: Order flow, transaction clock, and normality of asset returns. J Financ 55(5), 2259–2284 (2000)

Bailey, W., Chung, Y.P.: Exchange rate fluctuations, political risk, and stock returns: some evidence from an emerging market. J Financ Quant Anal 30(04), 541–561 (1995)

Duarte, J., Young, L.: Why is pin priced? J Financ Econ 91(2), 119–138 (2009)

Easley, D., O'Hara, M.: Information and the cost of capital. J Financ 59(4), 1553–1583 (2004)

Easley, D., Kiefer, N.M., O'Hara, M., Paperman, J.B.: Liquidity, information, and infrequently traded stocks. J Financ 51(4), 1405–1436 (1996)

Easley, D., Hvidkjaer, S., O'Hara, M.: Is information risk a determinant of asset returns? J Financ 57(5), 2185–2221 (2002)

Easley, D., López de Prado, M.M., O'Hara, M.: The microstructure of the flash crash: flow toxicity, liquidity crashes and the probability of informed trading. J Portf Manag 37(2), 118–128 (2011)

Easley, D., López de Prado, M.M., O'Hara, M.: Flow toxicity and liquidity in a high-frequency world. Rev Financ Stud p hhs053 (2012)

Frey, B.S., Kucher, M.: History as reflected in capital markets: the case of world war ii. J Econ Hist 60(02), 468–496 (2000)

Gagnon, L., Karolyi, G.A.: Information, trading volume, and international stock return comovements: evidence from cross-listed stocks. J Financ Quant Anal 44(04), 953–986 (2009)

Gagnon, L., Karolyi, G.A.: Multi-market trading and arbitrage. J Financ Econ 97(1), 53–80 (2010)

Goriaev, A., Sonin, K.: Is political risk company-specific? The market side of the yukos affair (2005)

Karolyi, G.A.: Cracking the Emerging Markets Enigma. Oxford University Press, Oxford (2015)

Kato, K., Linn, S., Schallheim, J.: Are there arbitrage opportunities in the market for american depository receipts? J Int Financ Mark Inst Money 1(1), 73–89 (1990)

Lee, C., Ready, M.J.: Inferring trade direction from intraday data. J Financ 46(2), 733–746 (1991)

Leigh, A., Wolfers, J., Zitzewitz, E.: What Do Financial Markets Think of War in Iraq?. Tech. rep., (National Bureau of Economic Research, 2003)
Acknowledgements
We thank Warren Bailey, Andrew Karolyi, Kenneth Merkley, Roni Michaely, Maureen O'Hara, Gideon Saar, Blake Steenhoven, and Patrick Witz for their insightful comments and suggestions. We also thank Leonid Bershidsky (Bloomberg), Carl Schreck (Radio Free Europe), Geraldo Samor (VEJA Mercados, Brazil Journal), Matt O'Brien (Washington Post), Paula Barra (InfoMoney), and Andreas Sator (DerStandard) for their interest in this paper.
About this article
Cite this article
Silva, F.B.G., Volkova, E. Can VPIN forecast geopolitical events? Evidence from the 2014 Crimean Crisis. Ann Finance 14, 125–141 (2018). https://doi.org/10.1007/s10436-017-0314-z
Received:

Accepted:

Published:

Issue Date:

DOI: https://doi.org/10.1007/s10436-017-0314-z
Keywords
JEL Classification