Abstract
This study aimed to examine the underlying mechanism behind the association of age and intellectual curiosity. Previous studies generally showed a negative association between age and intellectual curiosity. To shed light on this association, we hypothesize that older adults become more selective in where they invest their curiosity compared with younger adults. The present study (N = 857) first examined the association between age and intellectual curiosity and then the mediation roles of future time perspective and perceived importance of curiosity in the association. The moderation effect of culture was also included to test the generalizability of this model across European Americans, Chinese Americans, and Hong Kong Chinese. The findings suggested that there was a significant negative association between age and intellectual curiosity, even after controlling for sex, culture, and education level. The moderated serial multiple mediation model demonstrated that the indirect effect of age on curiosity through future time perspective and importance of curiosity was significant across all three cultural groups while age did not have a direct effect on intellectual curiosity. This finding suggested that, as future time becomes more limited with age, curiosity is less valued; hence, curiosity is negatively associated with the advance of age. This study illustrates the importance of future time and perceived importance of curiosity in explaining age-related differences in curiosity and sheds light on the situations in which older adults may be as intellectually curious as younger adults.
Access options
Buy single article
Instant access to the full article PDF.
USD 39.95
Price includes VAT (USA)
Tax calculation will be finalised during checkout.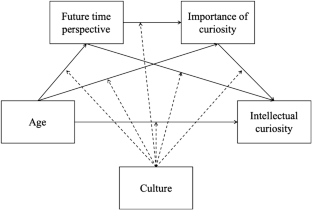 References
Barnard Y, Bradley MD, Hodgson F, Lloyd AD (2013) Learning to use new technologies by older adults: perceived difficulties, experimentation behaviour and usability. Comput Hum Behav 29(4):1715–1724. https://doi.org/10.1016/j.chb.2013.02.006

Brislin RW (1980) Translation and content analysis of oral and written material. In: Triandis HC, Berry JW (eds) Handbook of cross-cultural psychology: Methodology. Allyn and Bacon, Boston, pp 389–444

Camp CJ, Dietrich MS, Olson KR (1985) Curiosity and uncertainty in young, middle aged, and older adults. Educ Gerontol 11(6):401–412. https://doi.org/10.1080/0380127850110606

Carstensen LL (1995) Evidence for a life-span theory of socioemotional selectivity. Curr Dir Psychol Sci 4(5):151–156. https://doi.org/10.1111/1467-8721.ep11512261

Carstensen LL (2006) The influence of a sense of time on human development. Science 312(5782):1913–1916. https://doi.org/10.1126/science.1127488

Carstensen LL, Lang FR (1996) Future orientation scale. Unpublished Manuscript

Carstensen LL, Fung HH, Charles ST (2003) Socioemotional selectivity theory and emotion regulation in the second half of life. Motiv Emot 27(2):103–123. https://doi.org/10.1023/A:1024569803230

Chapman BP (2007) Bandwidth and fidelity on the NEO-Five Factor Inventory: replicability and reliability of Saucier's (1998) item cluster subcomponents. J Pers Assess 88(2):220–234. https://doi.org/10.1080/00223890701268082

Costa PT, McCrae RR (1992) Revised NEO personality inventory and five-factor inventory professional manual. Psychological Assessment Resources, Odessa

Costa PT, McCrae RR, Martin TA, Oryol VE, Senin IG, Rukavishnikov AA (2000) Personality development from adolescence through adulthood: further cross-cultural comparisons of age differences. In: Molfese VJ, Molfese DL (eds) Temperament and personality development across the life span. Psychology Press, New York, pp 235–252, https://doi.org/10.4324/9781410604873

Dellenbach M, Zimprich D (2008) Typical intellectual engagement and cognition in old age. Aging Neuropsychol Cogn 15(2):208–231. https://doi.org/10.1080/13825580701338094

Donnellan MB, Lucas RE (2008) Age differences in the big five across the life span: evidence from two national samples. Psychol Aging 23(3):558–566. https://doi.org/10.1037/a0012897.Age

Engel S (2011) Children's need to know: curiosity in schools. Harv Educ Rev 81(4):625–646. https://doi.org/10.17763/haer.81.4.h054131316473115

Engelhard G, Monsaas JA (1988) Grade curiosity level, gender, and school-related curiosity in urban elementary schools. J Educ Res 82(1):22–26. https://doi.org/10.1080/00220671.1988.10885860

Fung HH, Ng SK (2006) Age differences in the sixth personality factor: age differences in interpersonal relatedness among Canadians and Hong Kong Chinese. Psychol Aging 21(4):810–814. https://doi.org/10.1037/0882-7974.21.4.810

Fung HH, Lai P, Ng R (2001) Age differences in social preferences among Taiwanese and Mainland Chinese: the role of perceived time. Psychol Aging 16(2):351–356. https://doi.org/10.1037//0882-7974.16.2.351

Gallagher MW, Lopez SJ (2007) Curiosity and well-being. J Posit Psychol 2(4):236–248. https://doi.org/10.1080/17439760701552345

Gegenfurtner A, Vauras M (2012) Age-related differences in the relation between motivation to learn and transfer of training in adult continuing education. Contemp Educ Psychol 37(1):33–46. https://doi.org/10.1016/j.cedpsych.2011.09.003

Grossnickle EM (2016) Disentangling curiosity: dimensionality, definitions, and distinctions from interest in educational contexts. Educ Psychol Rev 28:23–60. https://doi.org/10.1007/s10648-014-9294-y

Hayes AF (2013) Introduction to mediation, moderation, and conditional process analysis: a regression-based approach. The Guilford Press, New York

Jiang D, Fung HH, Sims T, Tsai JL, Zhang F (2016) Limited time perspective increases the value of calm. Emotion 16(1):52–62. https://doi.org/10.1037/emo0000094

Jovanovic V, Brdaric D (2012) Did curiosity kill the cat? Evidence from subjective well-being in adolescents. Personal Individ Differ 52(3):380–384. https://doi.org/10.1016/j.paid.2011.10.043

Jovanović V, Gavrilov-Jerković V (2014) The good, the bad (and the ugly): the role of curiosity in subjective well-being and risky behaviors among adolescents. Scand J Psychol 55(1):38–44. https://doi.org/10.1111/sjop.12084

Kang MJ, Hsu M, Krajbich IM, Loewenstein G, McClure SM, Wang JT, Camerer CF (2009) The wick in the candle of learning: epistemic curiosity activates reward circuitry and enhances memory. Psychol Sci 20(8):963–973

Kashdan TB, Roberts JE (2004) Social anxiety's impact on affect, curiosity, and social self-efficacy during a high self-focus social threat situation. Cogn Therapy Res 28(1):119–141. https://doi.org/10.1023/B:COTR.0000016934.20981.68

Kashdan TB, Steger MF (2007) Curiosity and pathways to well-being and meaning in life: traits, states, and everyday behaviors. Motiv Emot 31(3):159–173. https://doi.org/10.1007/s11031-007-9068-7

Kashdan TB, McKnight PE, Fincham FD, Rose P (2011) When curiosity breeds intimacy: taking advantage of intimacy opportunities and transforming boring conversations. J Pers 79(6):1067–1099. https://doi.org/10.1111/j.1467-6494.2010.00697.x

Kashdan TB, DeWall CN, Pond RS, Silvia PJ, Lambert NM, Fincham FD, Savostyanova AA, Keller PS (2013a) Curiosity protects against interpersonal aggression: cross-sectional, daily process, and behavioral evidence. J Pers 81(1):87–102. https://doi.org/10.1111/j.1467-6494.2012.00783.x

Kashdan TB, Sherman RA, Yarbro J, Funder DC (2013b) How are curious people viewed and how do they behave in social situations? from the perspectives of self, friends, parents, and unacquainted observers. J Pers 81(2):142–154. https://doi.org/10.1111/j.1467-6494.2012.00796.x

Kashdan TB, Stiksma MC, Disabato DD, McKnight PE, Bekier J, Kaji J, Lazarus R (2018) The five-dimensional curiosity scale: capturing the bandwidth of curiosity and identifying four unique subgroups of curious people. J Res Pers 73:130–149. https://doi.org/10.1016/j.jrp.2017.11.011

Kooij DTAM, Zacher H (2016) Why and when Do learning goal orientation and attitude decrease with aging? The role of perceived remaining time and work centrality. J Soc Issues 72(1):146–168. https://doi.org/10.1111/josi.12160

Labouvie-Vief G, Diehl M, Tarnowski A, Shen J (2000) Age differences in adult personality: findings from the United States and China. J Gerontol 55B(1):4–17. https://doi.org/10.1093/geronb/55.1.P4

Lang FR, Carstensen LL (2002) Time counts: future time perspective, goals, and social relationships. Psychol Aging 17(1):125–139. https://doi.org/10.1037/0882-7974.17.1.125

Leonard NH, Harvey M (2007) The trait of curiosity as a predictor of emotional intelligence. J Appl Soc Psychol 37(8):1914–1929. https://doi.org/10.1111/j.1559-1816.2007.00243.x

Mascherek A, Zimprich D (2012) Stability and change in typical intellectual engagement in old age across 5 years. J Gerontol Ser B Psychol Sci Soc Sci 67B(3):309–316. https://doi.org/10.1093/geronb/gbr101

McCrae RR, Kurtz JE, Yamagata S, Terracciano A (2011) Internal consistency, retest reliability, and their implications for personality scale validity. Pers Soc Psychol Bull 15(1):28–50. https://doi.org/10.1177/1088868310366253.Internal

McGillivray S, Murayama K, Castel AD (2015) Thirst for knowledge: the effects of curiosity and interest on memory in younger and older adults. Psychol Aging 30(4):1–8. https://doi.org/10.1037/a0039801

Merk J, Schlotz W, Falter T (2017) The motivational value systems questionnaire (MVSQ): psychometric analysis using a forced choice thurstonian IRT model. Front Psychol. https://doi.org/10.3389/fpsyg.2017.01626

Mikels JA, Reed AE, Simon KI (2009) Older adults place lower value on choice relative to young adults. J Gerontol Ser B Psychol Sci Soc Sci 64(4):443–446. https://doi.org/10.1093/geronb/gbp021

Novak DL, Mather M (2007) Aging and variety seeking. Psychol Aging 22(4):728–737. https://doi.org/10.1037/0882-7974.22.4.728

Piotrowski JT, Litman JA, Valkenburg P (2014) Measuring epistemic curiosity in young children. Infant and Child Development 23:542–553. https://doi.org/10.1002/icd

Price J, Murray RG (2012) The region of proximal learning heuristic and adult age differences in self-regulated learning. Psychol Aging 27(4):1120–1129. https://doi.org/10.1037/a0029860

Radloff LS (1977) The CES-D scale: a self-report depression scale for research in the general population. Appl Psychol Meas 1:385–401

Rohr MK, John DT, Fung HH, Lang FR (2017) A three-component model of future time perspective across adulthood. Psychol Aging 32(7):597–607. https://doi.org/10.1037/pag0000191

Sakaki M, Yagi A, Murayama K (2018) Curiosity in old age: a possible key to achieving adaptive aging. Neurosci Biobehav Rev 88(January):106–116. https://doi.org/10.1016/j.neubiorev.2018.03.007

Saucier G (1998) Replicable item-cluster subcomponents in the NEO five-factor inventory. J Pers Assess 70:263–276

Schulz R, Wahl HW, Matthews JT, DeVito Dabbs A, Beach SR, Czaja SJ (2015) Advancing the aging and technology agenda in gerontology. The Gerontologist 55(5):724–734. https://doi.org/10.1093/geront/gnu071

Schwartz SH (1992) Universals in the content and structure of values: theory and empirical tests in 20 countries. In: Zanna M (ed) Advances in experimental social psychology. Academic Press, New York, pp 1–65

Swan GE, Carmelli D (1996) Curiosity and mortality in aging adults: a 5-year follow-up of the Western Collaborative Group Study. Psychol Aging 11(3):449–453. https://doi.org/10.1037/0882-7974.11.3.449

Tsai JL, Sims T, Qu Y, Thomas E, Jiang D, Fung HH (2018) Valuing excitement makes people look forward to old age less and dread it more. Psychol Aging 33:975–992. https://doi.org/10.1037/pag0000295

Wang H, Li J (2015) How trait curiosity influences psychological well-being and emotional exhaustion: the mediating role of personal initiative. Pers Individ Differ 75:135–140. https://doi.org/10.1016/j.paid.2014.11.020

Zhang Z, Mai Y (2018) WebPower: basic and advanced statistical power analysis. https://CRAN.R-project.org/package=WebPower. Accessed 6 Jan 2019

Zimprich D, Allemand M, Dellenbach M (2009) Openness to experience, fluid intelligence, and crystallized intelligence in middle-aged and old adults. J Res Pers 43(3):444–454. https://doi.org/10.1016/j.jrp.2009.01.018
Acknowledgements
This project was funded by the Hong Kong Research Grants Council General Research Fund #14613015 and a Direct Grant to Helene Fung and the National Institute of Aging Grant R03 AG023302 and National Institute of Mental Health Grant R01MH068879 awarded to Jeanne L. Tsai.
Additional information
Publisher's Note
Springer Nature remains neutral with regard to jurisdictional claims in published maps and institutional affiliations.
Responsible editor: Matthias Kliegel.
Electronic supplementary material
Below is the link to the electronic supplementary material.
About this article
Cite this article
Chu, L., Tsai, J.L. & Fung, H.H. Association between age and intellectual curiosity: the mediating roles of future time perspective and importance of curiosity. Eur J Ageing 18, 45–53 (2021). https://doi.org/10.1007/s10433-020-00567-6
Keywords
Aging

Curiosity

Value

Culture

Intellectual curiosity