Abstract
The emotional tone of nurses' voice toward residents has been characterized as overly controlling and less person-centered. However, it is unclear whether this critical imbalance also applies to acutely ill older patients, who represent a major subgroup in acute hospitals. We therefore examined nurses' emotional tone in this setting, contrasting care interactions with severely cognitively impaired (CI) versus cognitively unimpaired older patients. Furthermore, we included a general versus a geriatric acute hospital to examine the role of different hospital environments. A mixed-methods design combining audio-recordings with standardized interviews was used. Audio-recorded clips of care interactions between 34 registered nurses (Mage = 38.9 years, SD = 12.3 years) and 92 patients (Mage = 83.4 years, SD = 6.1 years; 50% with CI) were evaluated by 12 naïve raters (Mage = 32.8 years, SD = 9.3 years). Based on their impressions of the vocal qualities, raters judged nurses' emotional tone by an established procedure which allows to differentiate between a person-centered and a controlling tone (Cronbach's α = .98 for both subscales). Overall, findings revealed that nurses used rather person-centered tones. However, nurses' tone was rated as more controlling for CI patients and in the geriatric hospital. When controlling for patients' functional status, both effects lost significance. To our knowledge, this is the first study that examined nurses' emotional tone in the acute hospital setting. Findings suggest that overall functional status of older patients may play a more important role for emotional tone in care interactions than CI and setting differences.
Access options
Buy single article
Instant access to the full article PDF.
US$ 39.95
Tax calculation will be finalised during checkout.
Subscribe to journal
Immediate online access to all issues from 2019. Subscription will auto renew annually.
US$ 79
Tax calculation will be finalised during checkout.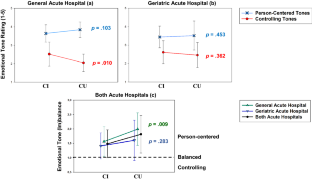 References
Baltes MM, Wahl H-W (1992) The dependency-support script in institutions: generalization to community settings. Psychol Aging 7:409–418. https://doi.org/10.1037/0882-7974.7.3.409

Bänziger T, Hosoya G, Scherer KR (2015) Path models of vocal emotion communication. PLoS ONE 10:e0136675. https://doi.org/10.1371/journal.pone.0136675

Buron B (2008) Levels of personhood: a model for dementia care. Geriatr Nurs 29:324–332. https://doi.org/10.1016/j.gerinurse.2007.11.001

Cohen J (1988) Statistical power analysis for the behavioral sciences. Lawrence Earlbaum Associates, Hillsdale, NJ

Cohen J (1992) A power primer. Psychol Bull 112:155–159

De Almeida Tavares JP, da Silva AL, Sá-Couto P, Boltz M, Capezuti E (2015) Portuguese nurses' knowledge of and attitudes toward hospitalized older adults. Scand J Caring Sci 29:51–61. https://doi.org/10.1111/scs.12124

Digby R, Moss C, Bloomer M (2012) Transferring from an acute hospital and settling into a subacute facility: the experience of patients with dementia. Int J Older People Nurs 7:57–64. https://doi.org/10.1111/j.1748-3743.2011.00282.x

Faul F, Erdfelder E, Lang A-G, Buchner A (2007) G* Power 3: a flexible statistical power analysis program for the social, behavioral, and biomedical sciences. Behav Res Methods 39:175–191. https://doi.org/10.3758/BF03193146

Ferguson CJ (2009) An effect size primer: a guide for clinicians and researchers. Prof Psychol Res Pract 40:532–538. https://doi.org/10.1037/a0015808

Frank MG, Griffin DJ, Svetieva E, Maroulis A (2015) Nonverbal elements of the voice. In: Kostić A, Chadee D (eds) The social psychology of nonverbal communication. Palgrave Macmillan, London, pp 92–113. https://doi.org/10.1057/9781137345868_5

Fried LP, Ferrucci L, Darer J, Williamson JD, Anderson G (2004) Untangling the concepts of disability, frailty, and comorbidity: implications for improved targeting and care. J Gerontol A Biol Sci Med Sci 59:255–263. https://doi.org/10.1093/gerona/59.3.M255

George J, Long S, Vincent C (2013) How can we keep patients with dementia safe in our acute hospitals? A review of challenges and solutions. J R Soc Med 106:355–361. https://doi.org/10.1177/0141076813476497

Hendlmeier I, Bickel H, Hessler JB, Weber J, Junge MN, Leonhardt S, Schäufele M (2018) Demenzsensible Versorgungsangebote im Allgemeinkrankenhaus. Repräsentative Ergebnisse aus der General Hospital Study (GHoSt) [Dementia friendly care services in general hospitals. Representative results of the general hospital study (GHoSt)]. Z Gerontol Geriatr 51:509–516. https://doi.org/10.1007/s00391-017-1339-7

Hessler JB, Schäufele M, Hendlmeier I, Junge MN, Leonhardt S, Weber J, Bickel H (2017) The 6-item cognitive impairment test as a bedside screening for dementia in general hospital patients: results of the General Hospital Study (GHoSt). Int J Geriatr Psychiatry 32:726–733. https://doi.org/10.1002/gps.4514

Hessler JB, Schäufele M, Hendlmeier I, Junge MN, Leonhardt S, Weber J, Bickel H (2018) Behavioural and psychological symptoms in general hospital patients with dementia, distress for nursing staff and complications in care: results of the General Hospital Study. Epidemiol Psychiatr Sci 27:278–287. https://doi.org/10.1017/S2045796016001098

Hudelson P, Kolly V, Perneger T (2010) Patients' perceptions of discrimination during hospitalization. Health Expect 13:24–32. https://doi.org/10.1111/j.1369-7625.2009.00577.x

Hummert ML (1994) Stereotypes of the elderly and patronizing speech. In: Hummert ML, Wiemann JM, Nussbaum JF (eds) Interpersonal communication in older adulthood: interdisciplinary theory and research. Sage Publications, Thousand Oaks, pp 162–184. https://doi.org/10.4135/9781483326832.n8

Hummert ML, Ryan EB (1996) Toward understanding variations in patronizing talk addressed to older adults: psycholinguistic features of care and control. Int J Psycholinguist 12:149–169

Hummert ML, Shaner JL, Garstka TA, Henry C (1998) Communication with older adults: the influence of age stereotypes, context, and communicator age. Hum Commun Res 25:124–151. https://doi.org/10.1111/j.1468-2958.1998.tb00439.x

Keller AC, Bergman MM, Heinzmann C, Todorov A, Weber H, Heberer M (2014) The relationship between hospital patients' ratings of quality of care and communication. Int J Qual Health Care 26:26–33. https://doi.org/10.1093/intqhc/mzt083

Koo TK, Li MY (2016) A guideline of selecting and reporting intraclass correlation coefficients for reliability research. J Chiropr Med 15:155–163. https://doi.org/10.1016/j.jcm.2016.02.012

Kuemmel A, Haberstroh J, Pantel J (2014) CODEM instrument. Developing a tool to assess communication behavior in dementia. GeroPsych 27:23–31. https://doi.org/10.1024/1662-9647/a000100

Liu Y-E, Norman IJ, While AE (2013) Nurses' attitudes towards older people: a systematic review. Int J Nurs Stud 50:1271–1282. https://doi.org/10.1016/j.ijnurstu.2012.11.021

Mahoney FI, Barthel DW (1965) Functional evaluation: the Barthel Index: a simple index of independence useful in scoring improvement in the rehabilitation of the chronically ill. MD State Med J 14:61–65

Mathôt S, Schreij D, Theeuwes J (2012) OpenSesame: an open-source, graphical experiment builder for the social sciences. Behav Res Methods 44:314–324. https://doi.org/10.3758/s13428-011-0168-7

Mehl MR, Carey AL (2014) The iEAR 2.1 (electronically activated recorder for the iPod touch): a researcher's guide. OSF Publishing. https://osf.io/2tx35/

Mukadam N, Sampson EL (2011) A systematic review of the prevalence, associations and outcomes of dementia in older general hospital inpatients. Int Psychogeriatr 23:344–355. https://doi.org/10.1017/S1041610210001717

Pedone C, Ercolani S, Catani M, Maggio D, Ruggiero C, Quartesan R, Senin U, Mecocci P, Cherubini A (2005) Elderly patients with cognitive impairment have a high risk for functional decline during hospitalization: the GIFA Study. J Gerontol A Biol Sci Med Sci 60:1576–1580. https://doi.org/10.1093/gerona/60.12.1576

Rosseel Y (2012) Lavaan: an R package for structural equation modeling and more. J Stat Softw 48:1–36. https://doi.org/10.18637/jss.v048.i02

Ryan EB, Hummert ML, Boich LH (1995) Communication predicaments of aging: patronizing behavior toward older adults. J Lang Soc Psychol 14:144–166. https://doi.org/10.1177/0261927X95141008

Sachweh S (1998) Granny darling's nappies: Secondary babytalk in German nursing homes for the aged. J Appl Commun Res 26:52–65. https://doi.org/10.1080/00909889809365491

Savundranayagam MY, Sibalija J, Scotchmer E (2016) Resident reactions to person-centered communication by long-term care staff. Am J Alzheimers Dis Other Demen 31:530–537. https://doi.org/10.1177/1533317515622291

Schermelleh-Engel K, Moosbrugger H, Müller H (2003) Evaluating the fit of structural equation models: tests of significance and descriptive goodness-of-fit measures. MPR Online 8:23–74

Schmidt T, Schütte W (2015) FOLKER Transkriptionseditor für das "Forschungs- und Lehrkorpus gesprochenes Deutsch"(FOLK). Transkriptionshandbuch. [FOLKER transcription editor for the research and teaching corpus of spoken German (FOLK). Transcription manual]. http://agd.ids-mannheim.de/download/FOLKER-Transkriptionshandbuch_preview.pdf. Accessed 12 Au 2019

Sousa VD, Rojjanasrirat W (2011) Translation, adaptation and validation of instruments or scales for use in cross-cultural health care research: a clear and user-friendly guideline. J Eval Clin Pract 17:268–274. https://doi.org/10.1111/j.1365-2753.2010.01434.x

Tropea J, LoGiudice D, Liew D, Roberts C, Brand C (2017) Caring for people with dementia in hospital: findings from a survey to identify barriers and facilitators to implementing best practice dementia care. Int Psychogeriatr 29:467–474. https://doi.org/10.1017/S104161021600185X

Williams KN (2006) Improving outcomes of nursing home interactions. Res Nurs Health 29:121–133. https://doi.org/10.1002/nur.20117

Williams KN, Herman RE (2011) Linking resident behavior to dementia care communication: effects of emotional tone. Behav Ther 42:42–46. https://doi.org/10.1016/j.beth.2010.03.003

Williams K, Kemper S, Hummert ML (2003) Improving nursing home communication: an intervention to reduce elderspeak. Gerontologist 43:242–247. https://doi.org/10.1093/geront/43.2.242

Williams KN, Boyle DK, Herman RE, Coleman CK, Hummert ML (2012) Psychometric analysis of the emotional tone rating scale: a measure of person-centered communication. Clin Gerontol 35:376–389. https://doi.org/10.1080/07317115.2012.702648

Williams KN, Perkhounkova Y, Jao Y-L, Bossen A, Hein M, Chung S, Starykowicz A, Turk M (2017) Person-centered communication for nursing home residents with dementia: four communication analysis methods. West J Nurs Res 40:1012–1031. https://doi.org/10.1177/0193945917697226

Zieschang T, Dutzi I, Müller E, Hestermann U, Grünendahl K, Braun AK, Hüger D, Kopf D, Specht-Leible N, Oster P (2010) Improving care for patients with dementia hospitalized for acute somatic illness in a specialized care unit: a feasibility study. Int Psychogeriatr 22:139–146. https://doi.org/10.1017/S1041610209990494
Acknowledgements
We thank all participating patients and nursing staff as well as the directors of both acute hospitals involved in this study for their cooperation. Furthermore, we thank Christina Streib, Sandra Schmitt, and Agnieszka Marciniak for their help in collecting and processing the data. A special thanks goes to Thomas Schmidt, Thomas Spranz-Fogasy, Evi Schedl, and Swantje Westpfahl, Institute of German Language in Mannheim, Germany, for their cooperative role and valuable recommendations in collecting, preparing, and analyzing the linguistic data. We also thank Hannah Stocker and Jonathan Griffiths for proofreading the manuscript with respect to linguistic issues.
Funding
This study was funded by the Robert Bosch Foundation Stuttgart within the Graduate Program People with Dementia in Acute Care Hospitals (GPPDACH), located at the Network Aging Research (NAR), University of Heidelberg, Germany.
Ethics declarations
Conflict of interest
The authors declare that they have no conflict of interest.
Ethical approval
All procedures performed in the study were in accordance with the ethical standards of the ethical board of the Faculty of Behavioral and Cultural Studies at Heidelberg University and with the 1964 Helsinki declaration and its later amendments or comparable ethical standards.
Informed consent
Informed consent was obtained from all individual participants included in the study.
Additional information
Publisher's Note
Springer Nature remains neutral with regard to jurisdictional claims in published maps and institutional affiliations.
Responsible editor: Matthias Kliegel.
Electronic supplementary material
Below is the link to the electronic supplementary material.
About this article
Cite this article
Schnabel, EL., Wahl, HW., Schönstein, A. et al. Nurses' emotional tone toward older inpatients: Do cognitive impairment and acute hospital setting matter?. Eur J Ageing 17, 371–381 (2020). https://doi.org/10.1007/s10433-019-00531-z
Keywords
Inpatient

Cognitive impairment

Functional status

Elderspeak

Person-centered communication