Abstract
The objective of our study is to validate the Caregiver Abuse Screen (CASE) as an instrument for detecting the maltreatment of people with dementia in Spain. In total, 326 informal caregivers of people with different types of dementia were interviewed in several cities in northwest Spain. The caregivers were selected from outpatient neurology clinics and associations of relatives of people with Alzheimer's disease and other dementias. A comprehensive sociodemographic questionnaire was administered to all participants, and several standardized scales were used to assess burden, anxiety, depression, social support and resilience. The "Psychological Aggression" and "Physical Assault" dimensions of the Revised Conflicts Tactics Scale were used as risk factors of caregivers' maltreatment for the construct validation. To establish the probability of maltreatment, a latent class analysis was carried out according to the item responses obtained from the CASE. The internal consistency (Cronbach's alpha) of the CASE was 0.71. The construct validity was explored through factorial analysis, and we found that two dimensions of CASE—i.e., interpersonal abuse and neglect/dependency—explained 62.5% of the variability. According to the latent class probabilities, 20.4% of participants were categorized as possible abusers and 21.4% as non-abusers. The optimal maltreatment cutoff point was six points on the CASE. The validation of the CASE provides us a brief and easy instrument for detecting possible cases of maltreatment of Spanish people with dementia.
Access options
Buy single article
Instant access to the full article PDF.
USD 39.95
Price excludes VAT (USA)
Tax calculation will be finalised during checkout.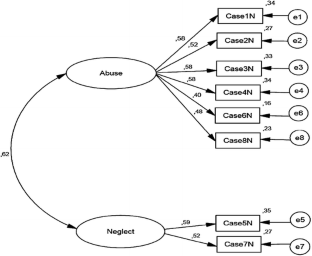 References
Beach SR, Schulz R, Williamson GM, Miller LS, Weiner MF, Lance CE (2005) Risk factors for potentially harmful informal caregiver behavior. J Am Geriatr Soc 53:255–261. doi:10.1111/j.1532-5415.2005.53111.x

Biering-Sørensen F, Alexander MS, Burns S, Charlifue S, DeVivo M, Dietz V et al (2011) Recommendations for translation and reliability testing of international spinal cord injury data sets. Spinal Cord 49:357–360. doi:10.1038/sc.2010.153

Broadhead WE, Gehlbach SH, de Gruy FV, Kaplan BH (1988) The Duke-UNC functional social support questionnaire. Measurement of social support in family medicine patients. Med Care 26:709–723. doi:10.1097/00005650-198807000-00006

Coma M, Muñoz J, Postigo P, Ayuso M, Sierra C, Syrol T (2007) Primary care doctors' and nurses' opinion of elder abuse and neglect. Gac Sanit 21:235–241. doi:10.1157/13106807

Compton SA, Flanagan P, Gregg W (1997) Elder abuse in people with dementia in Northern Ireland: prevalence and predictors in cases referred to a psychiatry of old age service. Int J Geriatr Psychiatry 12:632–635. doi:10.1002/(SICI)1099-1166(199706)12:6<632:AID-GPS570>3.0.CO;2-9

Connelly CD, Newton RR, Aarons GA (2005) A psychometric examination of English and Spanish versions of the Revised Conflict Tactics Scales. J Interpers Violence 20:1560–1579. doi:10.1177/0886260505280341

Connor KM, Davidson JRT (2003) Development of a new resilience scale: the Connor–Davidson Resilience Scale (CD-RISC). Depress Anxiety 18:76–82. doi:10.1002/da.10113

Cooney C, Howard R, Lawlor B (2006) Abuse of vulnerable people with dementia by their carers: can we identify those most at risk? Int J Geriatr Psychiatry 21:564–571. doi:10.1002/gps.1525

Cooper C, Katona C, Finne-Soveri H, Topinková E, Carpenter GI, Livingston G (2006) Indicators of elder abuse: a crossnational comparison of psychiatric morbidity and other determinants in the Ad-HOC study. Am J Geriatr Psychiatry 14:489–497. doi:10.1097/01.JGP.0000192498.18316.b6

Cooper C, Selwood A, Blanchard M, Walker Z, Blizard R, Livingston G (2009) Abuse of people with dementia by family carers: representative cross sectional survey. BMJ 338:b155. doi:10.1136/bmj.b155

Cooper C, Selwood A, Blanchard M, Walker Z, Blizard R, Livingston G (2010) The determinants of family carers' abusive behaviour to people with dementia: results of the CARD study. J Affect Disord 121:136–142. doi:10.1016/j.jad.2009.05.001

Cortina JM (1993) What is coefficient alpha? An examination of theory and applications. J Appl Psychol 78:98–104. doi:10.1037/0021-9010.78.1:98

Coyne AC, Reichman WE, Berbig LJ (1993) The relationship between dementia and elder abuse. Am J Psychiatry 150:643–646. doi:10.1176/ajp.150.4.643

Dakin E, Pearlmutter S (2009) Older women's perceptions of elder maltreatment and ethical dilemmas in adult protective services: a cross-cultural, exploratory study. J Elder Abus Negl 21:15–57. doi:10.1080/08946560802571896

Davier MV (1997). Bootstrapping goodness-of-fit statistics for sparse categorical data: results of a Monte Carlo study. MPR online 2:29-48. http://www.pabst-publishers.de/mpr/. Accessed 26 Oct 2015

De Donder L, Luoma ML, Penhale B, Lang G, Santos AJ, Tamutiene I, Koivusilta M, Schopf A, Alves JF, Reingarde J, Perttu S, Savola T, Verté D (2011) European map of prevalence rates of elder abuse and its impact for future research. Eur J Ageing 8:129–143. doi:10.1007/s10433-011-0187-3

Del-Ser T, Morales JM, Barquero MS, Cantón R, Bermejo F (1997) Application of a Spanish version of the "Informant Questionnaire on Cognitive Decline in the Elderly" in the clinical assessment of dementia. Alzheimer Dis Assoc Disord 11:3–8. doi:10.1097/00002093-199703000-00002

Dong X, Simon MA (2010) Gender variations in the levels of social support and risk of elder mistreatment in a Chinese community population. J Appl Gerontol 29:720–739. doi:10.1177/0733464809348057

Dong X, Chen R, Simon MA (2014a) Elder abuse and dementia: a review of the research and health policy. Health Aff 33:642–649. doi:10.1377/hlthaff.2013.1261

Dong X, Simon M, Beck T, Evans D (2014b) Decline in cognitive function and elder mistreatment: findings from the Chicago health and aging project. Am J Geriatr Psychiatry 22:598–605. doi:10.1016/j.jagp.2012.11.004

Garcia-Moreno C, Jansen HA, Ellsberg M, Heise L, Watts CH, WHO Multi-country Study on Women's Health and Domestic Violence against Women Study Team (2006) Prevalence of intimate partner violence: findings from the WHO multi-county study on women's health and domestic violence. Lancet 368:1260–1269. doi:10.1016/S0140-6736(06)69523-8

Goodman LA (1974) Exploratory latent structure analysis using both identifiable and unidentifiable models. Biometrika 61:215–231. doi:10.1093/biomet/61.2.215

Hardin KS (2010) The Spanish notion of lie: revisiting Coleman and Kay. J Pragmat 42:3199–3213. doi:10.1016/j.pragma.2010.07.006

Herrero MJ, Blanch J, Peri JM, De Pablo J, Pintor L, Bulbena A (2003) A validation study of the hospital anxiety and depression scale (HADS) in a Spanish population. Gen Hosp Psychiatry 25:277–283. doi:10.1016/S0163-8343(03)00043-4

Higginson IJ, Gao W, Jackson D, Murray J, Harding R (2010) Short-form Zarit Caregiver Burden Interviews were valid in advanced conditions. J Clin Epidemiol 63:535–542. doi:10.1016/j.jclinepi.2009.06.014

Johannesen M, LoGiudice D (2013) Elder abuse: a systematic review of risk factors in community-dwelling elders. Age Ageing 42:292–298. doi:10.1093/ageing/afs195

Jung T, Wickrama KAS (2008) An introduction to latent class growth analysis and growth mixture modeling. Soc Personal Psychol Compass 2:302–317. doi:10.1111/j.1751-9004.2007.00054.x

Kishimoto Y, Terada S, Takeda N, Oshima E, Honda H, Yoshida H, Uchitomi Y (2013) Abuse of people with cognitive impairment by family caregivers in Japan (a cross-sectional study). Psychiatry Res 209:699–704. doi:10.1016/j.psychres.2013.01.025

Lachs MS, Pillemer K (2004) Elder abuse. Lancet 364:1263–1272. doi:10.1016/S0140-6736(04)17144-4

Lachs MS, Williams C, O'Brien S, Hurst L, Horwitz R (1997) Risk factors for reported elder abuse and neglect: a nine-year observational cohort study. Gerontologist 37:469–474

Lee M, Kolomer S (2005) Caregiver burden, dementia, and elder abuse in South Korea. J Elder Abuse Negl 17:61–74. doi:10.1300/J084v17n01_04

Loinaz I, Echeburúa E, Ortiz-Tallo M, Amor PJ (2012) Psychometric properties of the Conflict Tactics Scales (CTS-2) in a Spanish simple of partner-violent men. Psicothema 24:142–148

Markowitz FE (2001) Attitudes and family violence: linking Intergenerational and cultural theories. J Fam Violence 16:205–218. doi:10.1023/A:1011115104282

McCausland B, Knight L, Page L, Trevillion K (2016) A systematic review of the prevalence and odds of domestic abuse victimization among people with dementia. Int Rev Psychiatry 28:475–484

Pérez-Rojo G, Nuevo R, Sancho M, Penhale B (2014) Validity and reliability of the Spanish version of Caregiver Abuse Screen (CASE). Res Aging 37:63–81. doi:10.1177/0164027514522275

Pfeffer RI, Kurosaki TT, Harrah CH, Chance JM, Filos S (1982) Measurement of functional activities in older adults in the community. J Gerontol 37:323–329. doi:10.1093/geronj/37.3.323

Pillemer K, Burnes D, Riffin C, Lachs MS (2016) Elder abuse: global situation, risk factors, and prevention strategies. Gerontologist 56:S194–S205. doi:10.1093/geront/gnw004

Quinn MJ, Tomita MSW (1997) Elder abuse and neglect: causes, diagnosis, and intervention. Springer, New York

Reichenheim ME, Paixão CM, Moraes CL (2009) Reassessing the construct validity of a Brazilian version of the instrument Caregiver Abuse Screen (CASE) used to identify risk of domestic violence against the elderly. J Epidemiol Community Health 63:878–883. doi:10.1136/jech.2008.084095

Reis M, Nahmiash D (1995) Validation of the Caregiver Abuse Screen (CASE). C J Aging 14:45–60. doi:10.1017/S0714980800005584

Rivera J, Bermejo F, Franco M, Morales-González JM, Benito-León J (2009) Understanding care of people with dementia in Spain: cohabitation arrangements, rotation and rejection to long term care institution. Int J Geriatr Psychiatry 24:142–148. doi:10.1002/gps.2081

Schiamberg LB, Gans D (1999) An ecological framework for contextual risk factors in elder abuse by adult children. J Elder Abuse Negl 11:79–103. doi:10.1300/J084v11n01_05

Selwood A, Cooper C, Owens C, Blanchard M, Livingston G (2009) What would help me stop abusing? The family carer's perspective. Int Psychogeriatr 21:309–313. doi:10.1017/S104161020800834X

Serrano-Aguilar PG, Lopez-Bastida J, Yanes-Lopez V (2006) Impact on health-related quality of life and perceived burden of informal caregivers of individuals with Alzheimer's disease. Neuroepidemiology 27:136–142. doi:10.1159/000095760

Serrano-Parra DM, Garrido-Abejar M, Notario-Pacheco B, Bartolomé-Gutiérrez R, Solera-Martínez M, Martínez-Vizcaíno V (2013) Validity of the Connor–Davidson Resilience Scale (10 items in a population of elderly). Enferm clin 23:14–21. doi:10.1016/j.enfcli.2012.11.006

Straus MA, Douglas EM (2004) A short form of the revised conflicts tactics scales, and typologies for severity and mutuality. Violence Vict 19:507–520. doi:10.1891/vivi.19.5.507.63686

Vandeweerd C, Paveza GJ (2005) Verbal mistreatment in older adults; a look at persons with Alzheimer's disease and their caregivers in the state of Florida. J Elder Abuse Negl 17:11–30. doi:10.1300/JO84v17n04_02

Vandeweerd C, Paveza GJ, Walsh M, Corvin J (2013) Physical mistreatment in persons with Alzheimer's Disease. J Aging Res 2013:920324. doi:10.1155/2013/920324

Wiglesworth A, Mosqueda L, Mulnard R, Liao S, Gibbs L, Fitzgerald W (2010) Screening for abuse and neglect of people with dementia. J Am Geriatr Soc 58:493–500. doi:10.1111/j.1532-5415.2010.02737.x

Wilks SE, Littl KG, Gough HR, Spurlock WJ (2011) Alzheimer's aggression: influences on caregiver coping and resilience. J Gerontol Soc Work 54:260–275. doi:10.1080/01634372.2010.544531

Yan E, Kwok T (2011) Abuse of older Chinese with dementia by family caregivers: an inquiry into the role of caregiver burden. Int J Geriatric Psychiatry 26:527–535. doi:10.1001/gps.2561
Acknowledgements
We received support from two public grants: "Detección de la violencia familiar ejercida sobre el anciano con demencia" (ref: CSO2010-20721) and "Trayectorias laborales y reproductivas de la población inmigrante en tiempo de crisis. España y el contexto interno" (ref: CSO2013-41828-R). We would like to express our sincere thanks to the associations of relatives of persons with Alzheimer's disease and other dementias from Valladolid, Zamora, Burgos, Aranda del Duero, the Merindades area and Árevalo for their collaboration in the study. We would like to extend our gratitude to all caregivers who participated in this research. We are also grateful to the neurology departments of the Hospital Divino Vallés (Burgos) and University Hospital Río Hortega (Valladolid) for facilitating access to informal caregivers of people with dementia. Finally, we thank Elizabeth Nestor, Peter Grelak and Caolán O'Crualaoich for their linguistic assistance and their useful suggestions for this manuscript.
Additional information
Responsible editor: H.-W. Wahl.
About this article
Cite this article
Rivera-Navarro, J., Sepúlveda, R., Contador, I. et al. Detection of maltreatment of people with dementia in Spain: usefulness of the Caregiver Abuse Screen (CASE). Eur J Ageing 15, 87–99 (2018). https://doi.org/10.1007/s10433-017-0427-2
Published:

Issue Date:

DOI: https://doi.org/10.1007/s10433-017-0427-2
Keywords
Dementia

Psychosocial assessment

Detection

Maltreatment

Informal caregiving