Abstract
Several debates have emerged across the literature about the conceptualisation of active ageing. The aim of this study is to develop a model of the construct that is focused on the individual, including different elements of people's lives that have the potential to be modified by intervention programs. Moreover, the paper examines the contributions of active ageing to life satisfaction, as well as the possible predictive role of coping styles on active ageing. For this purpose, a representative sample of 404 Galician (Spain) community-dwelling older adults (aged ≥60 years) were interviewed using a structured survey. The results demonstrate that the proposed model composed of two broad categories is valid. The model comprises status variables (related to physical, psychological, and social health) as well as different types of activities, called processual variables. This model is tested using partial least squares (PLS) regression. The findings show that active ageing is a fourth-order, formative construct. In addition, PLS analyses indicate that active ageing has a moderate and positive path on life satisfaction and that coping styles may predict active ageing. The discussion highlights the potential of active ageing as a relevant concept for people's lives, drawing out policy implications and suggestions for further research.
Access options
Buy single article
Instant access to the full article PDF.
USD 39.95
Price excludes VAT (USA)
Tax calculation will be finalised during checkout.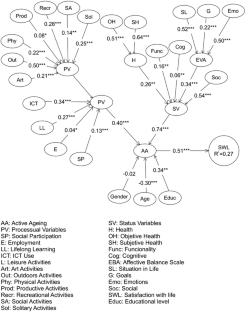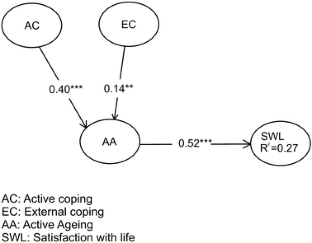 References
Avramov D, Maskova M (2003) Active ageing in Europe. Population studies, 41, Council of Europe Publishing, Ottawa

Bass S, Caro F, Chen YP (1993) Achieving a productive aging society. Auburn House, West-port

Bellón JA, Delgado A, Luna J et al (1996a) Validez y fiabilidad del cuestionario de apoyo social funcional Duke-UNC-11 [Validity and reliability of the Duke-UNC-11 functional social support questionnaire]. Aten Primaria 18:153–163

Bellón JA, Delgado A, Luna J et al (1996b) Validez y fiabilidad del cuestionario de función familiar Apgar-familiar [Validity and reliability of the Apgar-family questionnaire on family function]. Aten Primaria 18:289–295

Berg AI (2008) Life satisfaction in late life: markers and predictors of level and change among 80 + year olds. University of Gothenburg, Gothenburg

Blanco M (2010) Predictores psicosociales del envejecimiento activo: evidencias en una muestra de personas adultas mayores [Psychosocial predictors of active aging: evidence in a sample of older adults]. Anales en Gerontología 6:11–29

Borg C, Hallberg IR, Blomqvist K (2006) Life satisfaction among older people (65+) with reduced self-care capacity: the relationship to social, health and financial aspects. J Clin Nurs 15:607–618. doi:10.1111/j.1365-2702.2006.01375.x

Boudiny K (2013) 'Active ageing': from empty rhetoric to effective policy tool. Ageing Soc 33:1077–1098. doi:10.1017/So144686X1200030X

Boudiny K, Mortelmans D (2011) A critical perspective: towards a broader understanding of "active ageing". E J Appl Psychol 7:8–14

Bowling A (2005) Ageing well: quality of life in old age. Open University Press, New York

Bowling A (2008) Enhancing later life: how older people perceive active ageing? Aging Ment Health 12:293–301. doi:10.1080/13607860802120979

Caprara M, Molina MA, Schettini R et al (2013) Active aging promotion: results from the vital aging program. Curr Gerontol Geriatr Res 2013:817813. doi:10.1155/2013/817813

Clarke A, Warren L (2007) Hopes, fears and expectations about the future: what do older people's stories tell us about active ageing? Ageing Soc 27:465–488. doi:10.1017/S0144686X06005824

Colcombe S, Kramer AF (2003) Fitness effects on the cognitive function of older adults: a meta-analytic study. Psychol Sci 14:125–130. doi:10.1111/1467-9280.t01-1-01430

Davey JA (2002) Active ageing and education in mid and later life. Ageing Soc 22(1):95–113

Diener ED, Emmons RA, Larsen RJ et al (1985) The satisfaction with life scale. J Pers Assess 19(1):71–75

Dury S, De Donder L, De Witte N et al (2015) Is volunteering in later life impeded or stimulated by other activities? Res Aging 38:51–75. doi:10.1177/0164027515574777

European Commission (1999) New paradigms in ageing societies. European Commission. http://ec.europa.eu/employment_social/soc-prot/ageing/news/paradigm_en.htm. Accessed 9 Nov 2015

European Commission (2008) The use of ICT to support innovation and lifelong learning for all—a report on progress. http://www.europarl.europa.eu/registre/docs_autres_institutions/commission_europeenne/sec/2008/2629/COM_SEC(2008)2629_EN.pdf. Accessed 9 Nov 2015

Fernández-Ballesteros R et al (2006) Estudio longitudinal sobre envejecimiento activo (ELEA) [Longitudinal Study on Active Aging]. Madrid. http://www.imsersomayores.csic.es/documentos/documentos/imserso-estudiosidi-38.pdf

Fernández-Ballesteros R (2008) Active aging. The contribution of psychology. Hogrefe & Huber, Gottingen

Fernández-Ballesteros R (2011) Positive ageing: objective, subjective and combined outcomes. E J Appl Psychol 7(1):22–30

Fernández-Mayoralas G, Rojo-Pérez F, Martínez-Martín P et al (2015) Active ageing and quality of life: factors associated with participation in leisure activities among institutionalized older adults, with and without dementia. Aging Ment Health 19:1031–1041. doi:10.1080/13607863.2014.996734

Ferring D, Filipp S-H (2000) Coping as a ''reality construction'': on the role of attentive, comparative, and interpretative processes in coping with cancer. In: Harvey J, Miller E (eds) Loss and trauma. General and close relationship perspectives. Brunner/Mazel, Philadelphia, pp 146–165

Ferring FD, Balducci C, Burholt V et al (2004) Life satisfaction of older people in six European countries: findings from the European study on adult well-being. Eur J Ageing 1:15–25

Foster L, Walker A (2013) Gender and active ageing in Europe. Eur J Ageing 10:3–10. doi:10.1007/s10433-013-0261-0

Foster L, Walker A (2015) Active and successful aging: a European policy perspective. Gerontologist 5:83–90. doi:10.1093/geront/gnu028

Gjevjon ER, Øderud T, Wensaas GH et al (2014) Toward a typology of technology users: how older people experience technology's potential for active aging. Stud Health Technol Inform 201:25–31. doi:10.3233/978-1-61499-415-2-25

Godoy-Izquierdo D, Martínez A, Godoy JF (2008) La «Escala de Balance Afectivo». Propiedades psicométricas de un instrumento para la medida del afecto positivo y negativo en población española [The «Affect Balance Scale». Its psychometric properties as a tool for measuring positive and negative affect in the spanish population]. Clínica y Salud 19:157–189

Good GA, La Grow SJ, Alpass FM (2011) A study of older adults: observation of ranges of life satisfaction and functioning. NZ J Psychol 40:96–103

Hasmanová J (2011) Leisure in old age: disciplinary practices surrounding the discourse of active ageing. Int J Ageing Later Life 6:5–32

Havighurst RJ (1961) Successful aging. Gerontologist 1:8–13

Lawton MP, Brody EM (1969) Assessment of older people: self-maintaining and instrumental activities of daily living. Gerontologist 9:179–186

Litwin H, Shiovitz-Ezra S (2006) The association between activity and wellbeing in later life: what really matters? Ageing Soc 26:225–242. doi:10.1017/S0144686X05004538

Lobo A, Saz P, Marcos G et al (1999) Revalidación y normalización del Mini-Examen Cognoscitivo (primera versión en castellano del Mini-Mental Status Examination) en la población general geriátrica [Re-validation of the Mini-Examen Cognoscitivo (first Spanish version of the Mini-Mental Status Examination) and population-based norms in the elderly community]. Med Clin 112:767–774

Lowry PB, Gaskin J (2014) Partial least squares (PLS) structural equation modeling (SEM) for building and testing behavioral causal theory: when to choose it and how to use it. IEEE Trans Prof Commun 57:123–146. doi:10.1109/TPC.2014.2312452

Mahoney F, Barthel D (1965) Functional evaluation: the Barthel index. Md State Med J 14:56–61

Marsillas S (2016) Development and validation of an active ageing personal index, adapted to the Galician context. University of Santiago de Compostela, Santiago de Compostela

Morrow-Howell N (2000) Productive engagement of older adults: Effects on well-being. Center for Social Development, St. Louis

Neugarten BL, Havighurst RJ, Tobin SS (1961) The measurement of life satisfaction. J Gerontol 16:134–143

Ouwehand C, de Ridder DT, Bensing JM (2007) A review of successful aging models: proposing proactive coping as an important additional strategy. Clin Psychol Rev 27(8):873–884

Oxley H (2009) Policies for healthy ageing: an overview. organisation for economic co-operation and development (OECD) health working papers no. 42. OECD Publishing, Paris

Paúl C, Ribeiro O, Teixeira L (2012) Active ageing: an empirical approach to the WHO model. Curr Gerontol Geriatr Res 382972:1–10. doi:10.1155/2012/382972

Peel N, Bartlett H, McClure R (2004) Healthy ageing: how is it defined and measured? Australas J Ageing 23:115–119. doi:10.1111/j.1741-6612.2004.00035.x

Perales J, Martin S, Ayuso-Mateos SL et al (2014) Factors associated with active aging in Finland, Poland, and Spain. Int Psychogeriatr 26:1363–1375. doi:10.1017/S1041610214000520

Phillipson C, Ogg J (2010) Active ageing and universities: engaging older learners. Universities UK, London

Rowe JW, Kahn RL (1987) Human aging: usual and successful. Science 237:143–149

Rowe JW, Kahn RL (1997) Successful aging. Gerontologist 37:433–440. doi:10.1093/geront/37.4.433

Scarmeas N, Zarahn E, Andreson KE et al (2003) Association of life activities with cerebral blow in Alzheimer disease. Arch Neurol 60:359–365

Schulz R, Heckhausen J (1996) A life-span model of successful aging. Am Psychol 51:702–714

Silverstein M, Parker MG (2002) Leisure activities and quality of life among the oldest old in Sweden. Res Aging 24:528–547. doi:10.1177/0164027502245003

Small GW, Moody TD, Siddarth P (2009) Your brain on Google: patterns of cerebral activation during internet searching. Am J Geriatr Psychiatry 17:116–126. doi:10.1097/JGP.0b013e3181953a02

Stenner P, McFarquhar T, Bowling A (2011) Older people and "active ageing": subjective aspects of ageing actively. J Health Psychol 16:467–477. doi:10.1177/1359105310384298

Tam M (2011) Active ageing, active learning: policy and provision in Hong Kong. Stud Contin Educ 33:289–299. doi:10.1080/0158037X.2010.515573

Tareque MI, Hoque N, Islam TM et al (2013) Relationships between the active aging index and disability-free life expectancy: a case study in the Rajshahi district of Bangladesh. Can J Aging 32:417–432. doi:10.1017/S0714980813000494

van Beuningen J (2012) The satisfaction with life scale examining construct validity. https://www.cbs.nl/nl-nl/achtergrond/2012/26/the-satisfaction-with-life-scale-examining-construct-validity Accessed 2 Jan 2017

Vargas-Manzanares SP, Herrera-Olaya GP, Rodríguez-García L et al (2010) Confiabilidad del cuestionario brief COPE Inventory en versión en español para evaluar estrategias de afrontamiento en pacientes con cáncer de seno [Reliability of the Questionnaire Brief COPE Inventory in Spanish Version for Assessing Coping Strategies in Patients with Breast Cancer]. Investigación en Enfermería: Imagen y Desarrollo, 12:7–24. http://www.redalyc.org/articulo.oa?id=145216903002

Vázquez C, Duque A, Hervás G (2013) Satisfaction with life scale in a representative sample of Spanish adults: validation and normative data. Span J Psychol 16(e82):1–15. doi:10.1017/sjp.2013.82

Vitaliano PP, Russo J, Young HM et al (1991) The screen for caregiver burden. Gerontologist 31:76–83

Walker A (2002) A strategy for active ageing. Int Soc Secur Rev 55:121–139

WHO (2002) Active aging. A policy framework. World Health Organization, Geneva

Zaidi A, Gasior K, Hofmarcher MM et al (2013) Active ageing index 2012: concept, methodology and final results. http://www1.unece.org/stat/platform/display/AAI/Active+Ageing+Index+Home. Accessed 9 Nov 2015
Acknowledgements
Sara Marsillas received a fellowship from the Fundación Barrié (Spain). We would like to thank this organisation for its support.
Ethics declarations
Conflict of interest
Even though Sara Marsillas has received a fellowship from the Fundación Barrié (Spain), the authors declare no competing interests that have influenced the submitted work. The funders have provided financial support but have had no role in data collection, analysis, interpretation of data, or in authoring the manuscript. To this extent, the authors are independent from the funders.
Additional information
Responsible editor: H. Litwin.
About this article
Cite this article
Marsillas, S., De Donder, L., Kardol, T. et al. Does active ageing contribute to life satisfaction for older people? Testing a new model of active ageing. Eur J Ageing 14, 295–310 (2017). https://doi.org/10.1007/s10433-017-0413-8
Published:

Issue Date:

DOI: https://doi.org/10.1007/s10433-017-0413-8
Keywords
Active ageing

Satisfaction with life

Coping

Status variables

Processual variables